Rather than meat, fill your next shawarma wrap with seitan served with a lovely sauce and bright cucumber-tomato salad.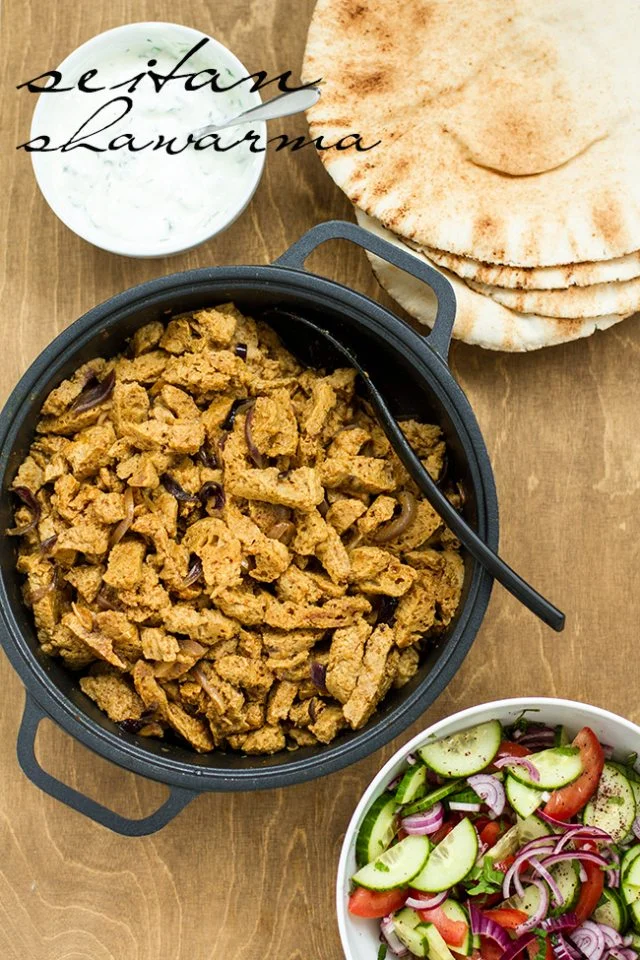 Friday nights at our place have become wrap nights, and this seitan shawarma is our absolute favourite.
I like to prepare this in the morning and let it spend the day marinating then reheat it before serving. It works equally well served on a plate with a fork, or wrapped in fresh pita bread.
Click here for the seitan recipe.

Homemade Seitan Shawarma
Ingredients
The seitan
Click the link above for the recipe.
The sauce
2 tablespoons olive oil
1 large red onion, sliced
3 garlic cloves, minced
1 Tbsp ground cumin
2 tsp ground coriander seeds
1 tsp sweet paprika
½ tsp cayenne pepper
½ tsp turmeric
½ tsp ground cinnamon
¼ tsp ground cloves
¼ tsp black pepper
2 Tbsp lemon juice
4 Tbsp soy sauce
2 Tbsp tomato paste
The salad
2 large tomatoes, seeded and sliced
about 20cm cucumber, halved lengthwise and thinly sliced
1 small red onion, halved and finely sliced
2 tablespoons lemon juice
2 tablespoons chopped fresh mint
½ teaspoon sumac
Salt and pepper to taste
The accompaniments
pita bread
greek yoghurt (or greek-style soy yoghurt) mixed with a pinch of salt, a squeeze of lemon juice, a crushed garlic clove and a handful of finely chopped parsley
Instructions
Whisk together the dry ingredients for the seitan, add the cold water until mix by hand until it is fully combined and kind of spongey. Form into a log and slice about 1cm (about ½?) thick. Make sure to keep the pieces separate or they will stick together as the gluten does what gluten does, which is bond.
In a large saucepan, bring the stock to the boil, add the seitan, cover, reduce heat to minimum and simmer for one hour. Remove from heat and drain seitan in a colander while you prepare the sauce.
Heat the olive oil in a large skillet on medium heat. Add the onion and cook until soft, about 5 minutes. Add the garlic and cook for a minute, then add the cumin, coriander, paprika, cayenne pepper, turmeric, cinnamon, cloves and black pepper. Stir together for about 1 minute to bring out the flavour of the spices.
Add the the soy sauce, lemon juice and tomato paste to the skillet and stir to combine. Slice the seitan into strips, add to the skillet and cook for about 5 minutes, until the sauce has thickened – cooking time will depend on how wet the seitan is.