This traditional rosemary focaccia bread is at least as soft as it looks and for sure as delicious as one that you'd find in a bakery in Italy.
By Manuela Mazzocco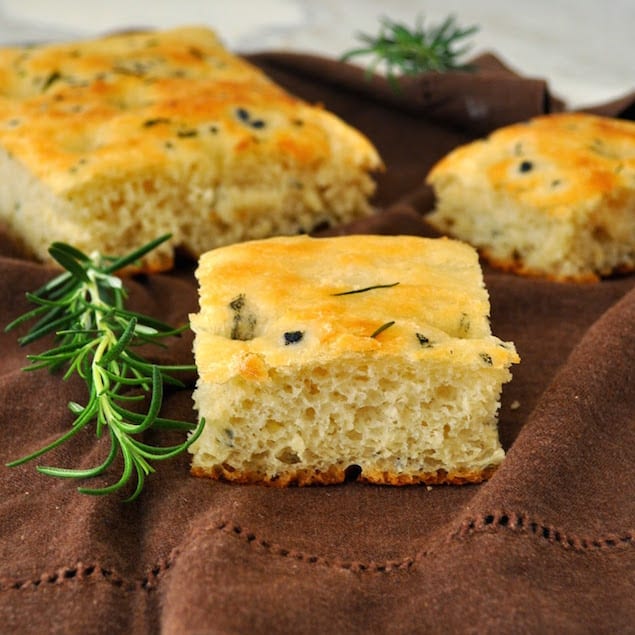 I absolutely love freshly-baked bread. The mouth-watering aroma and the irresistible flavor of right-out-of-the-oven bread is unique and unmatchable.
Any time I visit my family back in Italy I always eat a lot of bread.
In Italy it's customary to buy fresh bread from the panificio (bakery) around the corner every day to serve with lunch, snack or dinner. Yes! Every. Single. Day. But Sundays, of course! That's the way I grew up and, I have to say, one of the thing I really miss. Here in the States there is no such habit, for some reason I have yet to figure out.
Anyways, I would like to start baking bread on a regular basis. Why not?!? It's no harder than the pizza dough I prepare quite often. So this weekend, I made for the first time this rosemary focaccia bread. I looked at several Italian recipes and came up with this one. I have to say: it was a big hit at the dinner table, and it turned out surprisingly perfect: thick, flat, soft, with the sweet flavor of fresh rosemary and extra virgin olive oil. As soft and delicious as I would find in a great bakery in Italy. I'm serious. First time I baked it, and for sure not the last time!

Homemade Rosemary Focaccia Bread
This traditional rosemary focaccia bread is at least as soft as it looks and for sure as delicious as one that you'd find in a bakery in Italy.
Serves:
makes a 9 x 12 in focaccia bread
Ingredients
1 medium russet potato (mine was 6.5 oz, 185 gr)
2.5 cups (400 gr) of bread flour
2 teaspoons (7 gr) of active dry yeast
1 pinch of sugar
4 tablespoons of extra virgin olive oil (divided)
3 rosemary sprigs
2 teaspoons (12 gr) of salt
10 fl oz (300 ml) of water
coarse sea salt (I used lava black sea salt) to sprinkle on top
Instructions
Cook the potato (peeled) in slightly salted water. It should take about 20 minutes. Test with a fork for readiness.
In a large bowl add the flour, yeast, sugar, 2 tablespoons of olive oil and most of the rosemary leaves chopped in small pieces. Save one rosemary sprig for the end. Pass the potato (when still hot) through a ricer into the bowl.
Dissolve the salt in 10 fl oz of warm water. Add to the bowl. Mix with a spoon first, until most of the flour is absorbed. Once the dough come together, move it to a clean, lightly floured counter and knead for a few minutes, pushing with your palm down and forward. The dough should be sightly sticking to your hand. Add some flour if too sticky, or add a tiny bit of water if too hard to work.
Place the dough back in the bowl, cover with plastic wrap and a kitchen towel. Keep it in a warm place. As I do for my pizza dough, I place it in the oven (turned off obviously!). Let the dough rise for about an hour and a half.
Line a 9 x 12 in baking pan with parchment paper. Place the dough on the paper, and flatten it down with your fingers. Sprinkle with sea salt and the remaining rosemary. Drizzle with olive oil. With your finger, punch some holes around the dough, just like in the picture.
Put the pan back in the off-oven, and let the dough rise for another hour and a half, or so.
Remove the pan from the oven, and preheat to 400 degrees. Bake the focaccia bread for about 25 minutes, until slightly golden on top
Cut in squares and serve warm or at room temperature ... always delicious! Enjoy!
#mc_embed_signup{background:#fff; border: 3px double black; clear:left; font:14px Georgia,serif;  width:635px;}
/* Add your own MailChimp form style overrides in your site stylesheet or in this style block.
  We recommend moving this block and the preceding CSS link to the HEAD of your HTML file. */