Miracle is a Christmas-themed pop-up cocktail bar that serves holiday cocktails in a festive setting. With kitschy holiday décor, professionally-developed cocktails and the nostalgic energy of the best office party you've ever been to, Miracle's goal is to get even the grouchiest grinch in the holiday spirit.
If Santa had a drink to wind down after his busiest night of the year, it would be Miracle's Snowball Old-Fashioned. The seasonal take on this classic drink includes familiar ingredients of rye, bitters, and a touch of orange zest. What's the difference? It replaces cherries with gingerbread syrup, guaranteeing that this holiday cocktail dashes through the snow with sugar and spice. Not only would Santa cherish it after a long wintry night, but you will too.
With a deep sweetness and slightly smoky flavor balanced by the brightness of citrus, when pairing this cocktail, opt for foods with salty, sharp, or nutty profiles like these Candied Holiday Peanuts.
See Also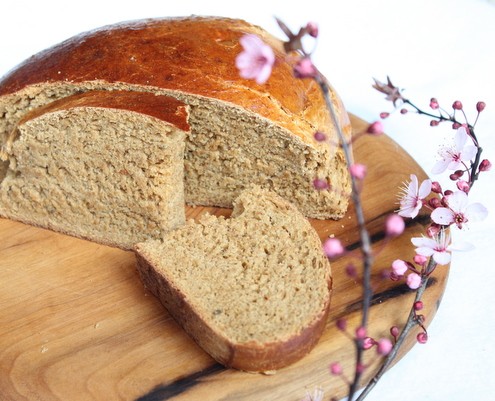 These flavors can cut the sugary element of the drink and provide a complimentary counterpoint to the bourbon notes, especially if it's made with a spicier rye whiskey.
Print

Miracle's Snowball Old-Fashioned
---
Description
Miracle's Snowball Old-Fashioned, is a holiday cocktail with a modern twist, featuring ingredients such as rye, gingerbread syrup, and two types of bitters. If Santa had a drink to wind down after his busiest night of the year, it would be this.
---
Gingerbread Syrup
40

fl oz water 

1700 grams

white sugar

110 grams

molasses (Grandma's Original)

36 grams

cinnamon sticks, whole

2 grams

cloves, whole 

2 grams

allspice, whole 

5 grams

nutmeg, ground 

80 grams

fresh ginger, peeled and chopped 
Snowball Old-Fashioned
2 oz

rye (Rittenhouse)

1/2 oz

"scant" oz gingerbread syrup

2

dashes aromatic bitters (Angostura)

2

dashes Cocktail Kingdom® Wormwood Bitters
orange zest (to express and discard)
snowball ice
---
Instructions
Gingerbread Syrup
Combine chopped ginger and approximately half of the water to a blender cup or food processor, and mix. Set aside. 
Crack and grind all the dried spices and add to a large saucepan. 
Toast over medium-low heat until aromatic, mixing regularly so as to not burn.
Add remaining water to saucepan and bring to a boil. Boil for 3 minutes. 
Lower heat and add sugar, blended ginger, and molasses and heat again until simmering and sugar has dissolved. 
Remove from heat and allow to cool. 
Strain using a bouillon strainer. 8 Bottle, date, and refrigerate.
Snowball Old-Fashioned
In a mixing glass, combine all ingredients with cracked ice and stir well.
Strain into a Miracle Double Rocks Glass.
Add the snowball ice.
Express orange zest over the drink and discard the peel.
Category:

Alcoholic drinks, christmas cocktail, holiday cocktail
Keywords: christmas cocktail, holiday cocktail, old fashioned, rye whisky