Herbed Falafel in a Rich Almond Sauce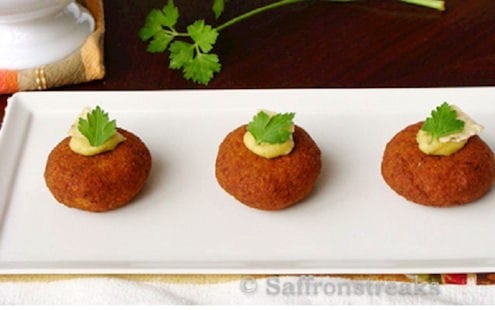 An Indian twist to Mediterranean street food. Herbed falafel dunked in rich almond sauce.
By Sukanya Ghosh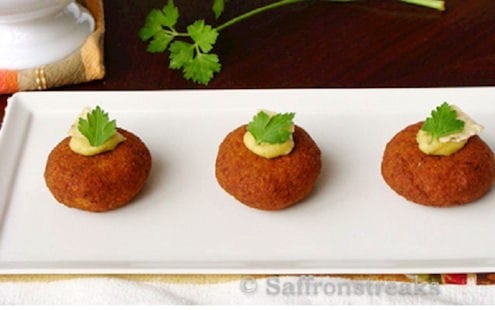 This is falafel, the middle eastern chickpea fritters, but not your average one. Like my earlier baingan ka bharta, this one too comes with a twist and has been adapted to Indian palate. This is herbed falafel, sounds exotic..eh..with goodness of three different kind of herbs, mint, cilantro and parseley.
This recipe is partly inspired from a cookbook – step-by-step finger food series , but the comparison ends there. If you love Indian food, then you have to love koftas, with vegetables, paneer or meat, koftas are simply my favourite one, dunked in rich sauce, they are just irresistable. Once the idea starts dancing in my mind, I can not wait further, I added almond paste, ginger paste with garam masala, coated with bread crumbs and deep fried them in hot oil. Deep fried ??? eek..so much oil…beleive me I have tried the baked one too, but it lacks all the crispyness….cant help it. see
See Also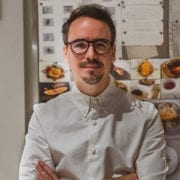 So you can either enjoy these herbed falafel wrapped in pita bread with a dash of hummus over it or dunked them as a kofta in rich ginger-almond sauce, falafels wont mind it and you will never regret your decision. If you did not like the twist, blame your chickpeas or spices, but not me.
Herbed Falafel in a Rich Almond Sauce
An Indian twist to a Mediterranean street food- herbed falafel dunked in rich almond sauce
Ingredients
•Dried chickpeas : 1 cup
•Bulghur (cooked / steamed ) or fava beans :1/2 cup
•Cumin seeds : 1 tsp
•Corainder seeds : 1 tsp
•Chopped fresh mint : 1 tbsp
•Chopped fresh cilantro : 1 tbsp
•Chopped fresh parseley : 1 tbsp
•Garlic and ginger (chopped) : 2 tsp
•Garam masala : 1 tsp (if using)
•Almond paste : 1 tbsp
•Bread crumbs : 1-2 tbsp
•Oil for deep frying
•Hummus for garnishing
•Pita bread or chips or any lebanese bread to serve with
•
•Ginger-Almond sauce:
•Boiled Onion paste: 2 tbsp
•Almond-pistachio paste : 1 cup
•White pepper powder : 2 tsp
•Hot paprika : 2 tsp (if you like it spicy)
•Ginger paste : 1 tsp
•Salt to taste
Instructions
Soak the chickpeas overnight in water, drain and reserve them.
Cook the chickpeas in pressure cooker or slow cook them till they are just tender. Do not overcook them, they should not be mushy.
Toast the cumin and corainder seeds in a dry frying pan over low heat for 2-3 minutes until fragrant.
Cool slightly then finely grind into a powder.
Add to the bowl of chickpeas, then add the fava beans or cooked bulghur, garlic and ginger, parsely, mint and cilantro,almond paste, bread crumbs, salt and garam masala if using to the same bowl.
Transfer to a food processor and puree the mixture.
Using your hands, form the mixture into flat rounds, 3-4 cm in diameter.
Place on a tray, cover and refrigerate for 30 minutes.
You can prepare this mixture one day before too and refrigerate it until use.
Deep fried the falafel at high heat in hot oil until golden and crispy.
To make the sauce:
Heat a tablespoon of oil in a pan and add the boiled onion paste. Saute till the onion becomes translucent, do not brown them.
Add the ginger paste, followed by almond-pistachio paste and saute on low heat for few minutes.
Sprinkle white pepper powder and paprika over it, salt to taste and add 1 cup warm water, simmer them on low heat till the sauce thickens.
Sukanya Ghosh
Sukanya writes the blog Saffronstreaks, a food and travel blog where she experiments in the kitchen spiced up with interesting food stories and gourmet travelogues. She loves to cook with fresh produce, enjoy both spicy and sweet and her many dining out experiences become cherished memories. Sukanya is from India but now lives in North Carolina, USA.