Denise Sakaki with some salivating insider tips to finding truly great food on Hawaii's Big Island.
Text And Photos By Denise Sakaki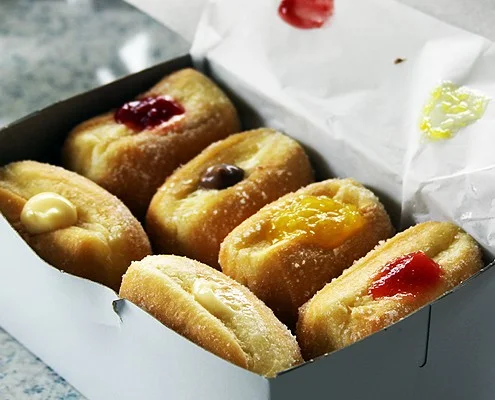 Hawaii is most certainly a food culture state, with each island having its own signature offerings of food and flavor, thanks to the unique mixed plate of cultures from all over the world, including countries in Asia, Europe and the Americas. Each brought tastes of home that inevitably wove their way into the edible fabric of Hawaii's history. When visiting the island of Hawaii, the largest of the chain of islands, it's worth driving around and exploring the different regions. Exploring the "Big Island" of Hawaii, this is the best opportunity to sample the regional offerings, many of which are places that have been around for several generations, still family-operated and seek to celebrate Hawaii's rich agricultural legacy.
East Island Eats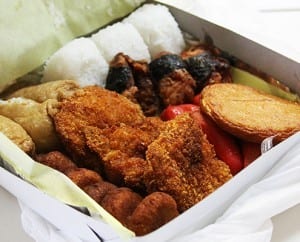 The eastern part of the island, closer to Volcanoes National Park, has a lot of smaller towns with a few larger working cities like Hilo. These provide the opportunity to eat like the locals do, enjoying the same favorite comfort foods that have been around for generations.
Nori's Saimin and Snack Shop – located in Hilo, it's a favorite lunch spot that serves all the classics like the Hawaiian version of the Japanese noodle soup ramen, called saimin, topped with slices of char siu pork, fish cake, shreds of egg, and scallions. Order the saimin and teriyaki burger combo if your appetite can handle it, and even if there's no room for dessert, pick up a little loaf of chocolate mochi cake to-go, Nori's combination of a traditional rice cake and a rich brownie. Located at 688 Kinoole St., Ste 124, in Hilo, (808) 935-9133
Kawamoto Store – This shop still serves the okazuya-style Japanese comfort foods that locals have been enjoying for generations, in their same little shop on Kilauea Avenue in Hilo. Go in early, right when they open to place your lunchtime order of a bento box full of their crispy fried chicken, their house-made tempura or fish cakes, little fried corned beef hash patties, and of course the ubiquitous Spam musubi, a block of rice topped with a slice of Spam, wrapped with nori. It tastes best sitting at the beach or at the park, overlooking Hilo Bay. Located at: 784 Kilauea Ave, in Hilo, (808) 935-8209
Itsu's Fishing Supplies Inc. – It seems odd to go to a fishing supply shop to get shave ice, or ice shave, as the Big Island calls it, but this little pink shack has been serving it up for decades, using the same  metal beast of an ice-shaver. The vintage equipment guarantees an incredibly fine texture of  ice, not grainy or crunchy like most modern equipment produces. Itsu's ice shave becomes creamy and flavorful as it absorbs sweet syrups that you can mix and match to create your own combination, and you can have it with ice cream or adzuki (sweet red beans). Be patient — this place is definitely on "island time," with irregular afternoon hours for ice shave, usually served after 1 or 2pm. Located at 810 Piilani Street, in Hilo, (808) 935-8082
Hilo Bay Café – A dining experience offering local flavors prepared in an elegant manner, this is the tastiest spot that isn't actually on Hilo Bay itself – it's nestled in a shopping center, like a hidden gem saved for those in-the-know. Their food is fresh and vibrant, mixing Asian, Hawaiian and European styles, with a menu that changes regularly based on whatever came from the sea or the farm that week. Emphasizing a push towards organic and sustainable ingredients, their carpaccio made with paper-thin slices of local beef, drizzled with oil and capers is so good, plan or ordering two. Their cocktails are a true oasis – keep an eye out for drinks made with Ocean Vodka, from a distillery on Maui. It's popular for dinner, so make reservations. Located at: 315 Makaala Street, in Hilo, (808) 935-4939
Kaleo's Bar and Grill – This is the little town of Pahoa's tastiest treasure, and it's worth the drive out to find it. Make it a point to stop by for lunch or dinner after a visit to Volcanoes National Park. Their menu offers food that combines traditional Hawaiian foods with modern twists, like wontons filed with savory, slow-roasted kalua pork. They source ingredients fromlocal farmers, like the goat cheese and spinach in their creamy signature lemon chicken. Save room for their passionfruit or lilikoi cheesecake – the perfect dessert of tropical sweet with rich, creamy cheese. Located at: 15-2969 Pahoa Village Rd, in Pahoa, (808) 965-5600
Howdy, I Mean, Aloha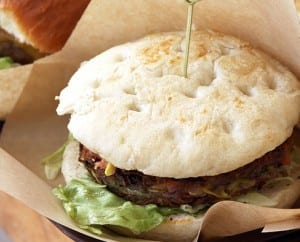 Driving north along the upper region of the island, the landscape transforms dramatically from rocky shores to rolling hills and forests. It reflects the agriculture community that thrives in the cooler, high-elevation region, making it more ideal for livestock and farming. Considered Hawaii's own cowboy country, the area has the influence of the Mexican and Portuguese immigrants who were brought in to work the ranches, where wide-open grazing fields of horses and cattle remain today.
Tex's Drive In – Malasadas are airy, yeasty doughnuts sprinkled with sugar, originally introduced by the Portuguese immigrants and now a local breakfast pastry staple. They're reminiscent of beignets, minus the powdered sugar. Tex's giant sign, proclaiming it as the "home of 'ono kine' food and hot malasadas,"  takes the pastries up a notch, filling theirs with chocolate or vanilla cream, or a whole menu of fruit fillings that include guava and strawberry. Their dough is a little heavier than most malasadas, to support the filled center, and while the filling is not typical, one bite of the sugary dough and fruity or creamy filling, and you're hooked. Located at: 945-690 Pakalana St # 19 (Highway 19), in Honokaa, (808) 775-0598
Village Burger Waimea – It's the most delicious lesson in sustainable eating you'll ever have, enjoying a meal at Village Burger. Local ranchers supply the meat that makes up the incredibly tender, made-to-order burgers, and the vegetables that become the beautiful condiments like their caramelized onions or tomato relish, also come from local farms. Even the vegetarian mushroom burger is locally-sourced, from the Hamakua area where mushroom farms are located. Every item on their menu has a story about where the ingredients come from and the farmers that produced it. The flavor of the food reflects the care and quality with incredible richness and unforgettable taste. Located at the Parker Ranch Center, 67-1185 Mamalahoa Hwy, in Waimea, (808) 885-7319
Feast Like a King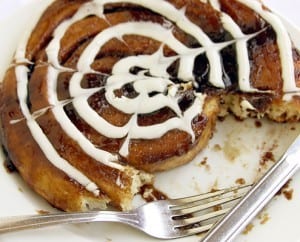 The western Kona-Kailua side of the island is historically known as the birthplace of King Kamehameha, the great and beloved Native Hawaiian leader who united the islands. It's also a popular place most visitors go, as the weather tends to be more dry and sunny, with more ocean attractions and activities available. But in between surfing lessons and snorkeling, there's still good food finds that won't leave you feeling trapped into going to the same-old chain restaurants.
Island Lava Java – Offering breakfast, lunch and dinner, your stomach could easily live at this popular spot along the main coastal street of Alii Drive. Breakfast is a good bet, as their Kona-grown coffee selections are as ample as their food menu. With rocket-fuel choices like "The Depth Charge," a combination of Kona coffee espresso shots in already-strong brewed coffee, you literally hover away with a caffeine buzz. Much like their coffee, they do everything with gusto, offering caramel-sweet cinnamon rolls the size of dinner plates and heaping breakfasts like the Waipio Stack, nearly toppling over with eggs, bacon and fresh avocado. Despite the hearty portions, the food is fresh, locally-sourced and organic – healthy eating that feels like a vacation indulgence. Located at: 75-5799 Alii Dr., in Kailua-Kona, (808) 327-2161
Huggo's – Opened more than forty years ago, this restaurant has been a local dining landmark for generations. Perched along the water's edge, showcasing an incredible view of the setting sun over the ocean horizon, it's the picture-perfect way to end a day in Kona, with the sound of the crashing waves on the rocks below. Their menu changes frequently, reflecting their attention to fresh ingredients from the sea. A combination of Asian and Hawaiian styles influence their dishes like their fresh catch of the day served with a spicy, creamy coconut sauce, sitting on a mash of sweet purple Okinawan or Alii potatoes. Their new prix fixe menu is a good way to sample their signature dishes, using the freshest items, along with a sweet finish like their macadamia nut version of pecan pie. Located at: 75-5828 Kahakai Road, in Kailua-Kona, (808) 329-1493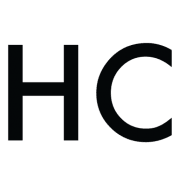 Denise Sakaki
Denise Sakaki is a freelance food writer and photographer who is always searching for the connections between food and personal experience. She is the creator of the food blog Wasabi Prime and contributor to Serious Eats, 425 Magazine and Drink Me Magazine.