Gua Bao: Asian Steamed Buns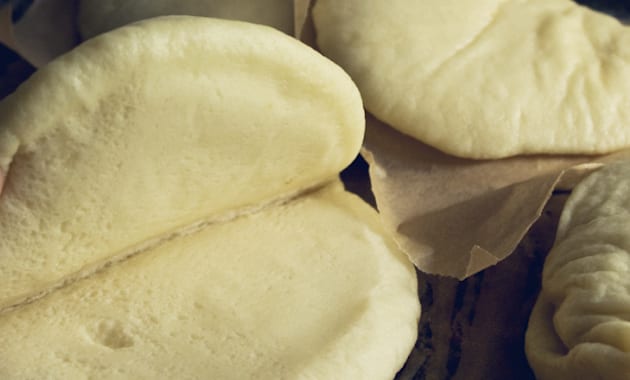 There are many variation of this basic dough recipe and something similar to these buns exist in most of the cuisines from the Himalayan region. Fill with kimchi, fresh flavors, and your favorite fillings.
By Pallavi Gupta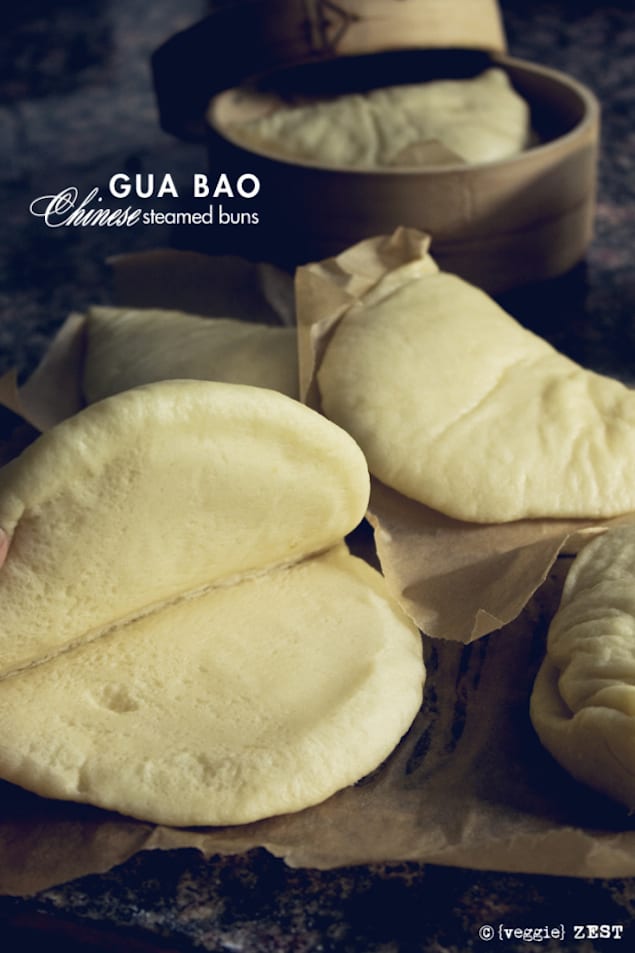 During my stay in Toronto, I ate a lot of…..A LOT OF food out. Not because I didn't have an access to a kitchen or I didn't have the time to cook – but because Toronto is a food mecca and there is an insane amount of vegetarian options available. I loved it! One of the places that I ate a lot at was Pho Hung in Chinatown. I love Vietnamese food and used to visit the restaurant very frequently for their stir fry, summer roll and pho. There was another placed that I went to – Banh Mi Boys on Queen street…I loved their sandwiches. Although there was only one option (vegetarian) for me (lemongrass tofu) I still enjoyed it very much and went there a few times to try the sandwich in different buns. One of my favorite was the steamed bun…..soft, airy and melt in mouth good. Ever since I had that, I've been looking for a recipe for it. All you guys who have tried it will know exactly what I am talking about. If you haven't tried it as yet, then you are going to love it.
There are many variation of this basic dough recipe and something similar to these buns exist in most of the cuisines from the Himalayan region. I had buns that were similar in flavor at a restaurant that served Ladakhi and Tibetan cuisine served along with stir fry made with black bean paste – very delicious! The recipe for that meal is for a post in the future..but for now check out these buns. Think fresh flavors like cucumbers, basil, mint and or cilantro leaves and scallions etc. Kimchi should taste pretty nice too.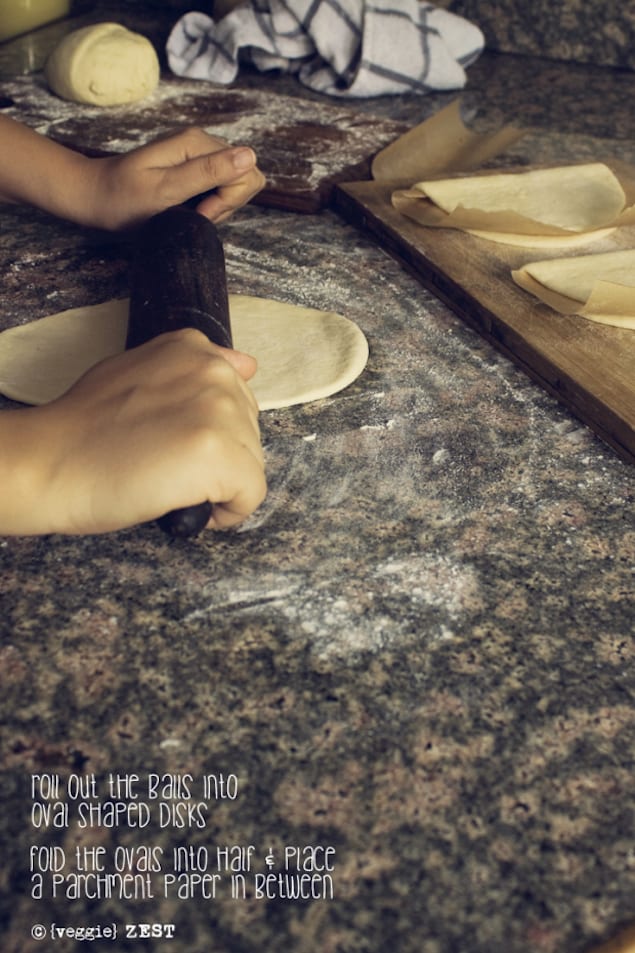 See Also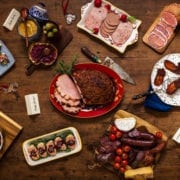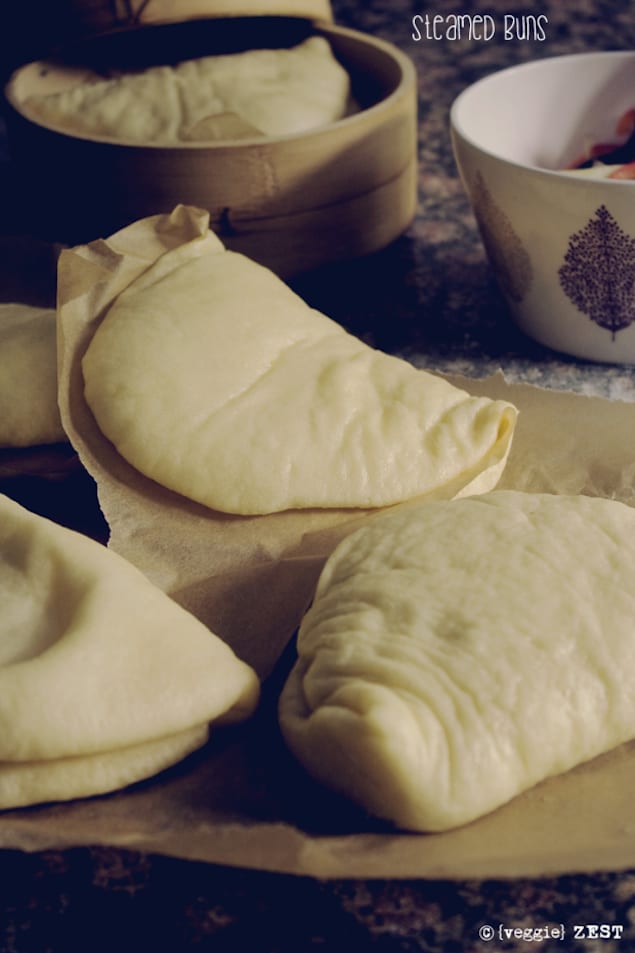 Gua Bao: Asian Steamed Buns
There are many variation of basic buns that exist in most cuisines from the Himalayan region. Fill with kimchi, fresh flavors, and your favorite fillings.
Serves:
4 big or 5 smaller buns
Ingredients
2½ cups all purpose flour
1 cup lukewarm water
2 tsp dry active yeast
2 tsp baking powder
1 tbsp sugar
1 tbsp vegetable oil + a little more for brushing
a couple pinches of salt
Instructions
Activate the yeast by dissolving it in the warm water.
In a large bowl mix the rest of the ingredients. Lightly whisk to mix well.
Pour the activated yeast mixture into the mixing bowl and start mixing and kneading and bringing the dough together.
Pull it out on a well floured surface and knead the dough for 5 to 7 minutes. Sprinkle the dough with little dry flour if the dough is too sticky.
Transfer the dough into an oiled bowl and brush some more oil on the surface. Cover with a kitchen towel and keep in a warm place to proof for 1½ to 2 hours or till it doubles in size.
Once the dough doubles in size take it out on a floured surface. lightly press to knock the air out. Roll the dough into a log shape and divide in 4 equal parts if making bigger buns or 5 equal parts if making smaller buns.
Roll the parts into a ball shape, cover and keep in the warm spot again to proof for 30 minutes. The balls will double in size.
Roll the balls out into oval shaped of about ¼ inch thickness. Fold in half and place a parchment paper in between to avoid sticking. Repeat with other balls. Proof for another 30 minutes.
Steam the buns in a steamer for 10 minutes. Remove the buns from the steamer and fill with desired combination of veggies and sauces. Serve.
Pallavi Gupta
Pallavi is a vegetarian globetrotter, who currently lives in the southern part of India. Past ten years of her life includes living in six cities in three different countries. It has added to her vast exposure of cuisines from different parts of the world which is now reflected in her cooking. She shares her knowledge of vegetarian and vegan recipe from around the world via her blog Veggie Zest. When not cooking or photographing, she does graphic design.