PARTNER POST: We've teamed up with Bonne Maman to bring you the best homemade breakfast and brunch recipes to show Mom you care this Mother's Day and all spring long.
This weekend, dig into this warm, gooey, gruyere-filled French toast served with raspberry preserves.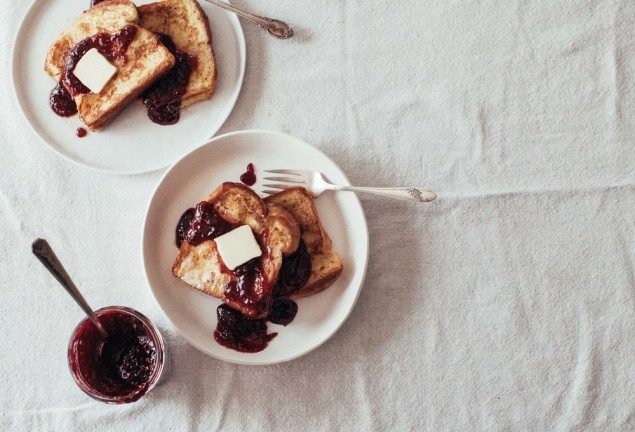 Going out to breakfast sounds nice. Pre-child, John and I used to go out to breakfast a lot. Now we don't. Myles is in the "grab everrrrrrything he sees" phase so it makes for a difficult eating time. This kid has the strongest grip. Even his doctor laughed out loud commenting on how strong he is. By the way he's crawling. Yes, ladies and gentleman I have a crawler at 7 months old. I mean, I know I'm bias but this little guy is really smart and a really fast learner. He loves to dance and sing with me and I swear this kid can already understand a beat. He is the happiest, most energetic baby.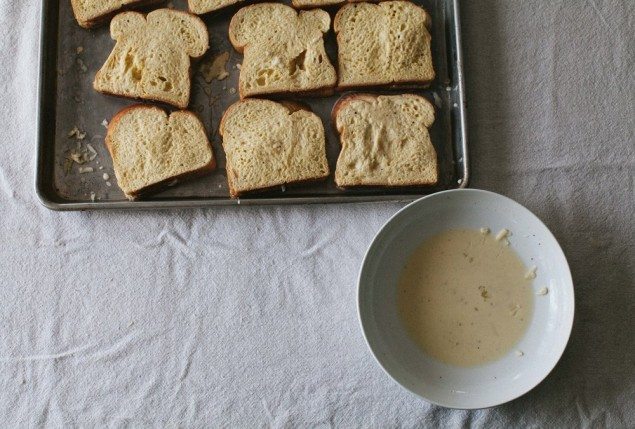 Let's get back to breakfast and how you don't need to go out to breakfast this Mother's Day either.
Because I have this for you: it's warm, gooey, gruyere cheese-filled French toast smothered in salted butter and beautiful raspberry preserves. I may or may not be salivating as I type this out.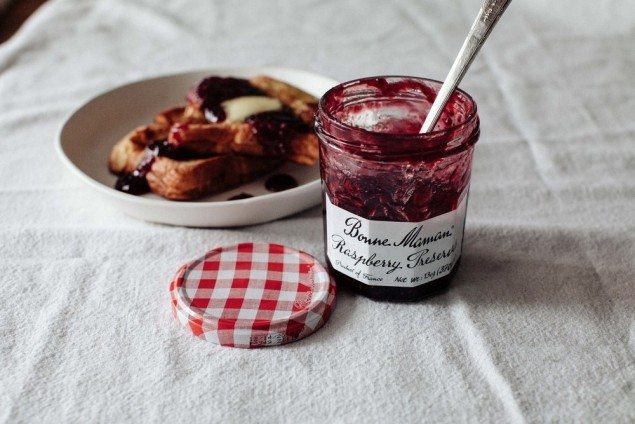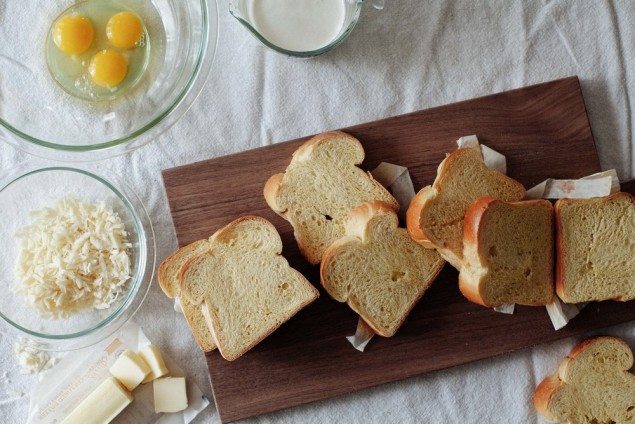 With this French toast, we get both savory and sweet my indecisive friends, and it IS HEAVEN.
It's the perfect weekend breakfast.
It's the perfect breakfast to make your mom.
Or you.
Or a lady you love that means a lot to you.
Or yourself. You should treat yo-self.
Speaking of treat-yo self…
See Also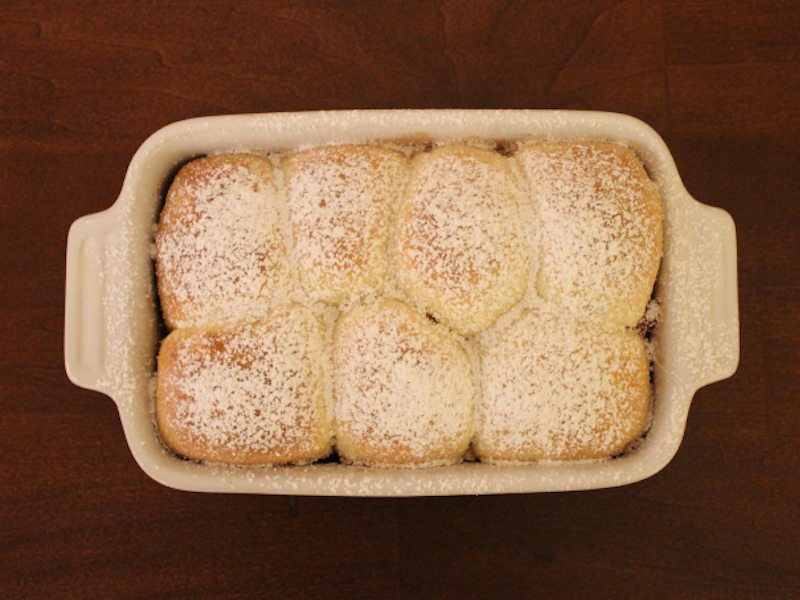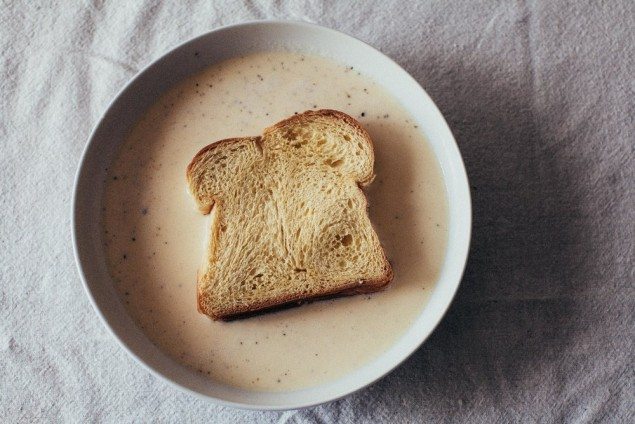 I've partnered with Bonne Maman for this post and in honor of Mother's Day they are giving away a 12 piece Le Crueset cookware set. Bonne Maman is delicious and made from simple, wholesome ingredients that can be found in anyone's pantry. You guys!! Go enter!! TWELVE PIECE SET! I mean you'll be set for life!
For more recipe ideas, check out these fun toasts.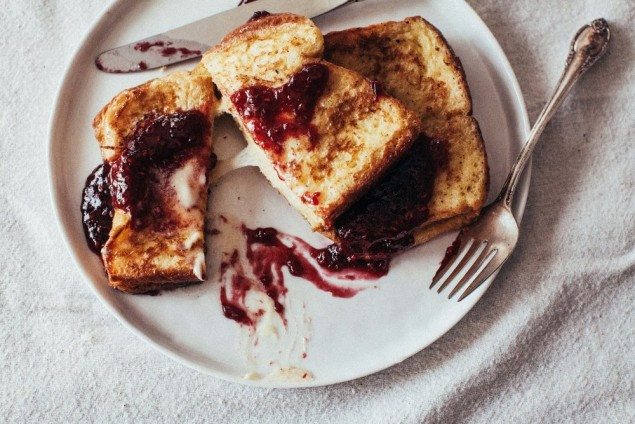 Gruyere and Raspberry French Toast
Robyn Holland
This weekend, dig into this warm, gooey, gruyere-filled French toast served with raspberry preserves.
Ingredients
½

cup

/ 115ml cream

preferably grass fed

½

cup

/ 115ml whole milk

preferably grass fed

3

eggs

preferably pasture raised, lightly beaten

1

generous cup / 125g gruyere cheese

shredded

¼

teaspoon

kosher salt

¼

teaspoon

freshly ground black pepper

1

loaf brioche or challah bread

sliced into 1 inch / 2.5cm slices (day-old bread works best)

salted butter for cooking and to serve

raspberry preserves to serve
Instructions
Preheat your oven to 250°F / 120°C and put a wire cooling rack inside a sheet pan and place in the oven to get warm. This is the method I use to keep the french toast warm after it's been made. The wire wrack insures that the toast will stay slightly crisp on the outside and not get soggy.

In a medium sized, bowl, whisk together eggs, milk, cream and salt and pepper and set aside. You may want to transfer the mixture to a shallow bowl/container for easier, even dipping.

Use a serrated knife to slice your bread into 1 inch slices. Now go back and cut your bread slices in half - starting from the bottom of the bread and working your way up to the top but don't cut all the way through the top of the bread - leave the tops of your slices intact. Put a generous amount of shredded gruyere cheese in between the bread but avoiding the edges, like you're making a cheese sandwich. *See the picture of me lifting the bread revealing the cheese underneath as a reference.

Lay out all of your dry, cheese-filled slices on a sheet pan.

Quickly dip each slice into your cream + egg + milk mixture, flipping the bread carefully so each side soaks up some of the mixture, and the cheese still stays in the middle. Don't let your bread linger too long or it will get soggy.
Notes
Low heat is key for cooking these just right. It ensures that the cheese in the middle will melt. Also. Be mindful of your cream + milk + egg mixture. This bread-to-wet mixture ratio worked just perfectly for me, but depending on the size of your brioche or challah loaf, you may need a little more cream and eggs or you may need a little less. Just use your best judgement. It's French toast for Pete's sake, it's forgiving. :)
I dipped all of my bread slices in the cream mixture all at once and then laid them on a sheet pan. This ensures that I can cook my french toast as I go, without worrying about dipping, cooking, dipping and cooking and making a mess. As soon as a piece of french toast is finished cooking, put it in the oven on your cooling rack + sheet pan set up and so it can stay warm.
On a low heat, warm your skillet until butter starts to bubble but not brown. Cook each wet bread slice until golden brown, making sure that you "re-butter" the pan after each slice. I find that low heat works best for this because it allows the cheese to melt without overcooking the outside of the bread.
This is the best part: Serve french toast warm with more salted butter and warmed raspberry preserves. Bonne Maman preserves is my jam, so I encourage you to get a jar to go with this recipe just because the tangy sweetness of the raspberry goes so stinking perfectly with the buttery brioche and the savory cheese. I'm still drooling about this breakfast. John, make this again for me will you?
Robyn Holland
Robyn Holland, creator of the bakery-inspired blog, Sweetish.co is a whole foods enthusiast on a mission to teach women a whole new way to treat and feed themselves (and the people they love)!