Sip something fun this summer and relax with Portugal's Casal Garcia wines. Fun enough for a gathering and versatile enough to pair with easy patio meals.
Keep your kitchen cool and quickly grill up nectarines outside on the grill. Layer them with burrata cheese, basil, and prosciutto for an easy and delicious summer crostini served with Portuguese white or rosé wines.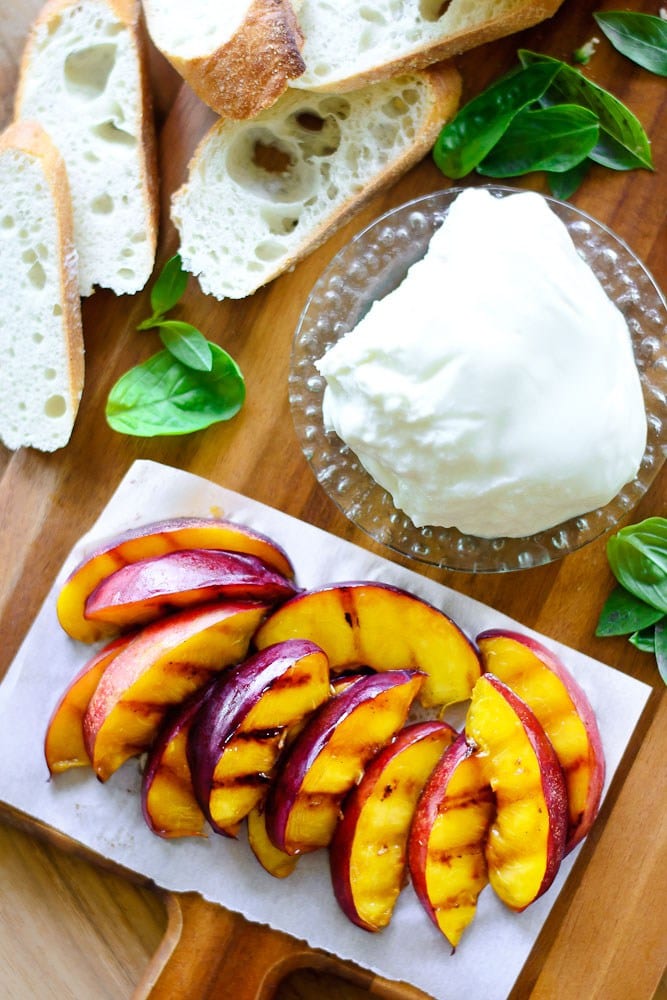 When you don't want to heat up your kitchen, fire up the grill for a few minutes to make these grilled crostini. Have you ever tasted grilled peaches/necartines? Di-vine!
The internet tells me that applying heat to fruit speeds up the enzymes that break starches down into sugars, and that's why it becomes extra sweet and delicious when you get it all charred and caramelized on the grill. If that's the case, I should probably start throwing all my fruit on the grill before I eat it, because these nectarines got super juicy and sweet, with nicely caramelized bits from the charring.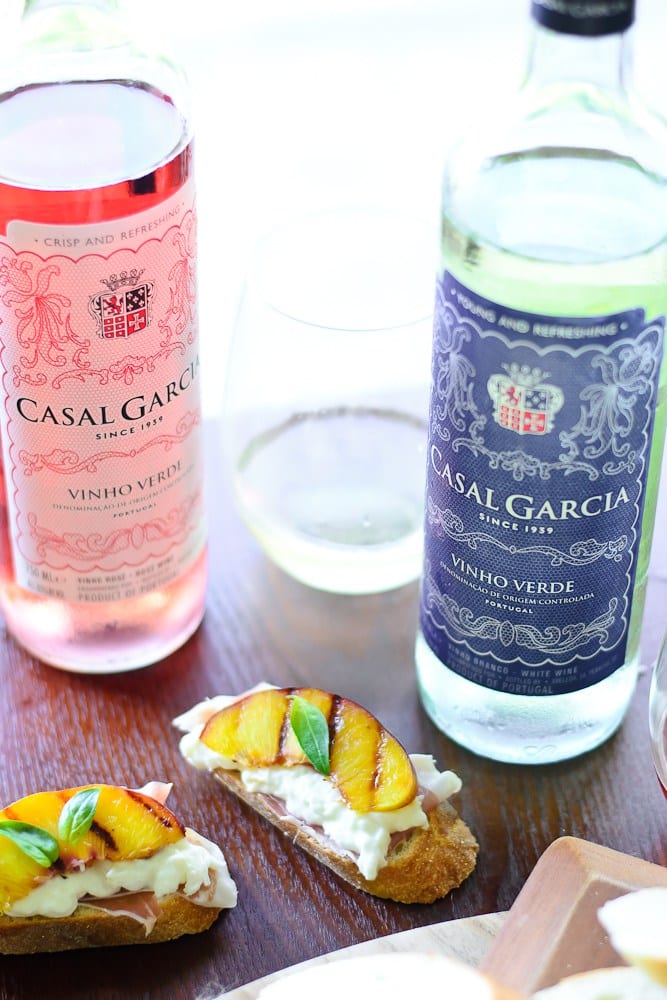 Now picture this: sweet grilled peaches + creamy burrata + salty prosciutto + fragrant basil on toasted French bread. When you take your first bite, the first thing you'll taste is the juicy sweetness of your grilled peaches bursting in your mouth. The rich creaminess of the burrata (which, in my mind, is like a super soft mozzarella) will then wrap itself around your tongue, followed by the salty, fatty, porky goodness of prosciutto. As you keep chewing, the bright, herbaceous flavor of basil will cut through the richness of cheese and pork, and you'll get some nice crunch/texture from the toasted bread.
Is that not the most perfect bite?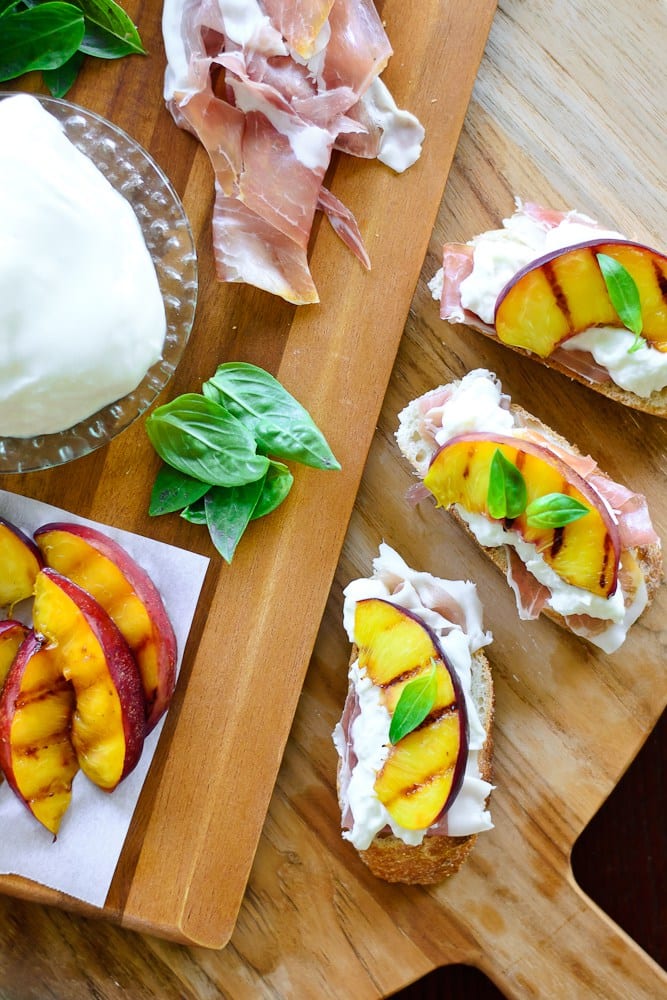 As hot as it's been, the only thing that could improve these crostinis is some chilled wine to wash everything down. Thankfully, for me, Casal Garcia sent me two bottles of their wines to try: Vinho Verde White, and Vinho Verde Rose.
I've mentioned before that I'm usually a red wine drinker – whites and roses tend to be too tart for me. But I'm starting to think maybe I've become a convert, because the last few times Dan and I went wine tasting, the whites and roses won out over the reds! These Casal Garcia wines were no exception: both light and refreshing, and perfect for summer. The white tasted lightly citrus-y, and the rose had hints of berries. I'm pretty sure neither was sparkling, but I could swear bubbles tickled my tongue when I drank them (which added to the refreshing-ness). Either way, both tasted wonderful with the flavors of these crostini.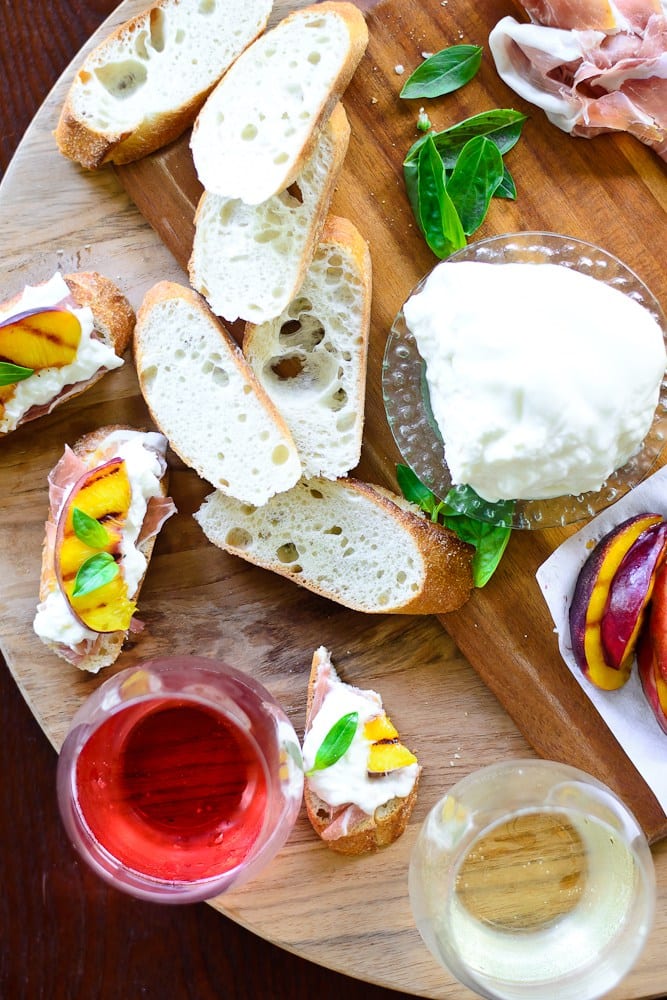 Celebrate summer with a refreshing poke bowl video recipe that pairs perfectly with Casal Garcia's crisp wines.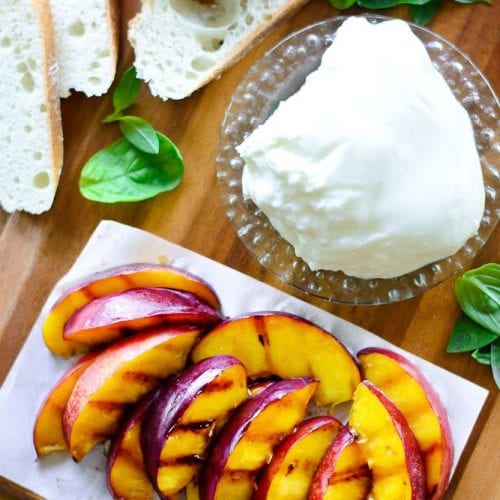 Tina Putzing
Ingredients
3-4

nectarines

on the firm side

Burrata

Prosciutto

French baguette

sliced on an angle and toasted (if desired)

Basil
Instructions
To grill your nectarines:
Heat grill to medium-high heat, and lightly spray with cooking spray.

Using a sharp knife, slice your nectarines in half, then carefully separate the halves.

Remove the pit, and the cut both halves into thin slices.

Once grill is heated, place nectarine slices directly onto the grill.

Cook for about 1 minute on one side, then flip and allow other side to cook for another 1 minute.

Carefully remove grilled fruit from the grill and onto a plate.
To serve
Arrange grilled peaches, burrata, prosciutto slices, and basil leaves on a large plate, serving tray, or cheese board, along with plenty of toasted sliced bread. OR

Serve each crostini pre-assembled: bread -> prosciutto -> burrata -> grilled nectarine slice -> basil.
Tina Putzing
I am an attorney, a lover of reality television (esp if food is involved), a stress-eater, a voracious reader, and a shameless sci-fi/fantasy nerd. I love to eat, I love to cook, and I love to make other people eat what I cook.