Juicy, caramelised and crusted with burnished spices – this is an easy Indian-spiced pork loin with foraged greens, crispy fried onions and turmeric chat potatoes.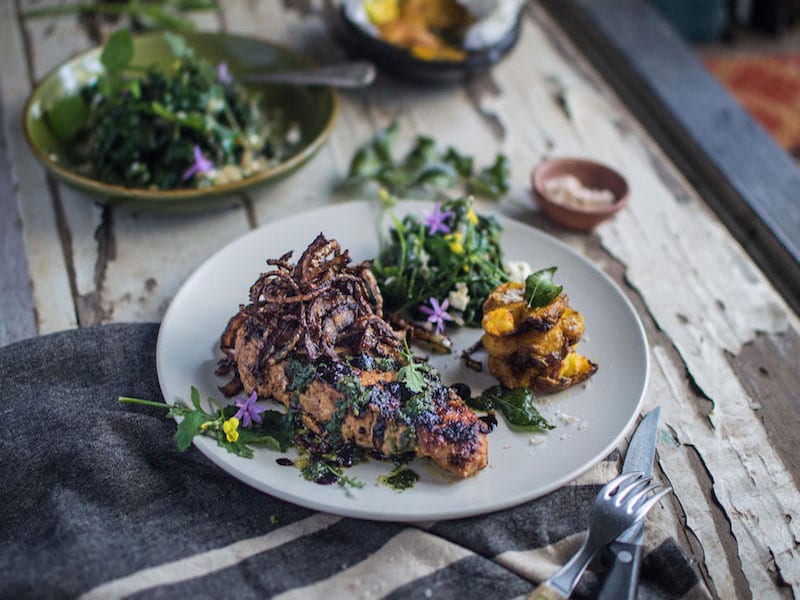 Ok, when I say easy I refer to the pork component, as everything else requires a little preparation. To be honest, the other bits I've mentioned don't even need to be brought into the picture; although all of them make for one very flavoursome meal.
If you've ever wanted to cook a piece of pork steak to juicy perfection, there are a couple of easy steps that'll get you there without fail.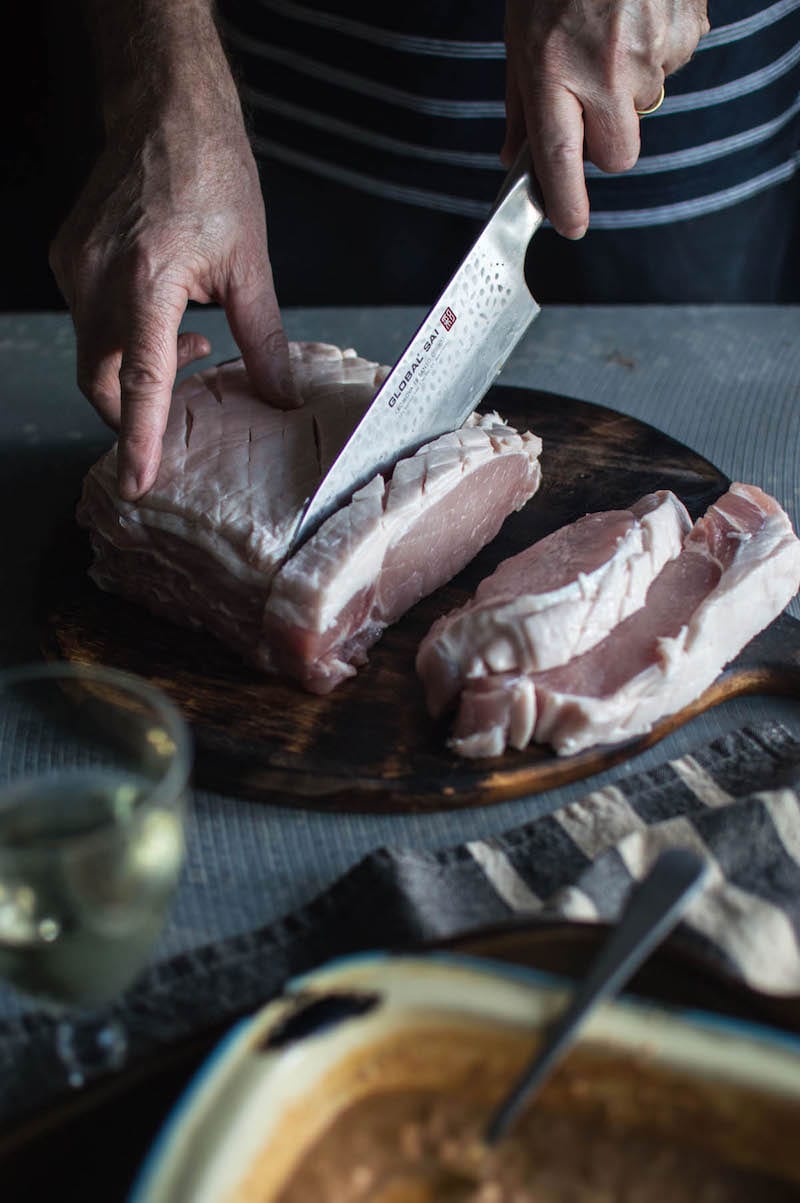 First, you need to start with a steak that's 2 cm thick – no more than an inch. And then you need to remember these numbers.
6 – 2 – 2
It's the 6-2-2 method that'll achieve the juicy result that a quality piece of pork deserves. 6 minutes over medium heat on one side, 2 minutes on the other, then let the little darling rest out of the pan for another 2 minutes.
A simple piece of pan-fried swine is perfection, in my eyes. A little salt and pepper, perhaps a smear of mustard or horseradish and I'm a happy man. For this recipe, I've done a bit of flavour injection by marinading the meat in a bunch of spices and yoghurt.
Aside from that, I've given it crunch with a simple pile of crispy fried onions.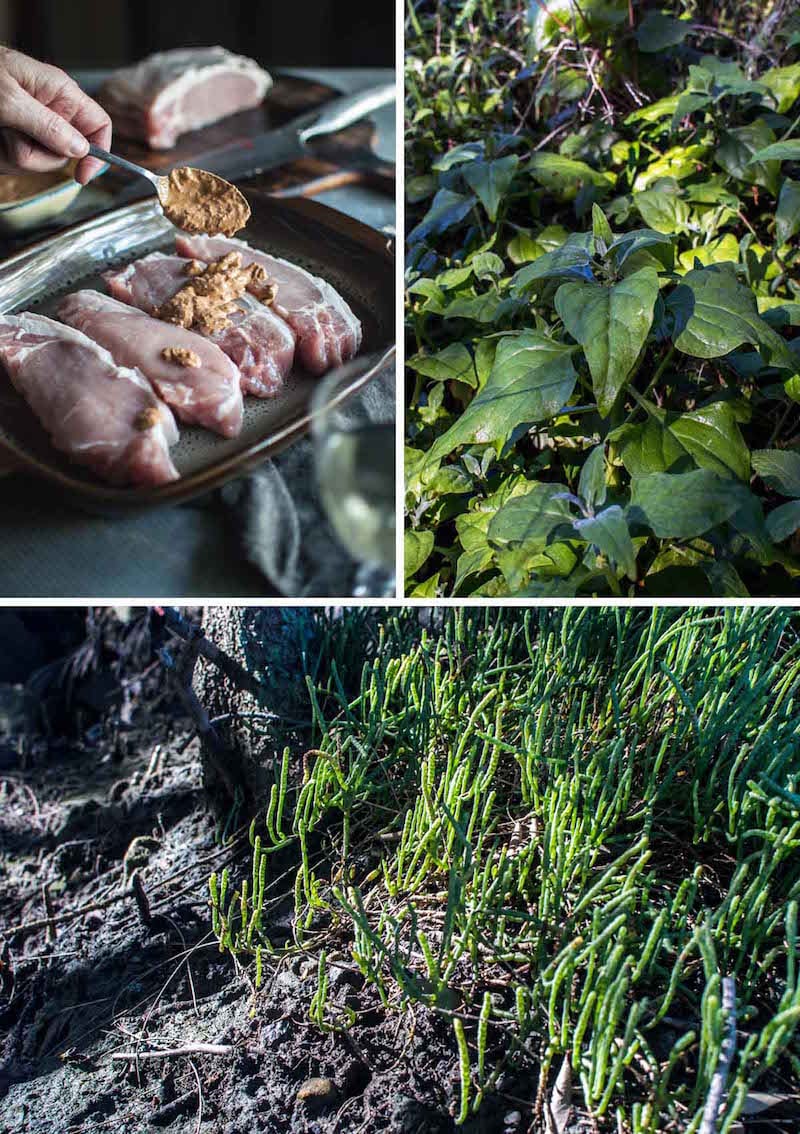 And then come the greens I foraged. Warrigal greens, wild mustard and samphire. These have all been wilted through some sautéed onion and a few spices, turning them into a warm and mildly spiced vegetable accompaniment. To top it off, some crumbled paneer cheese; just to echo the Indian flavours of the pork.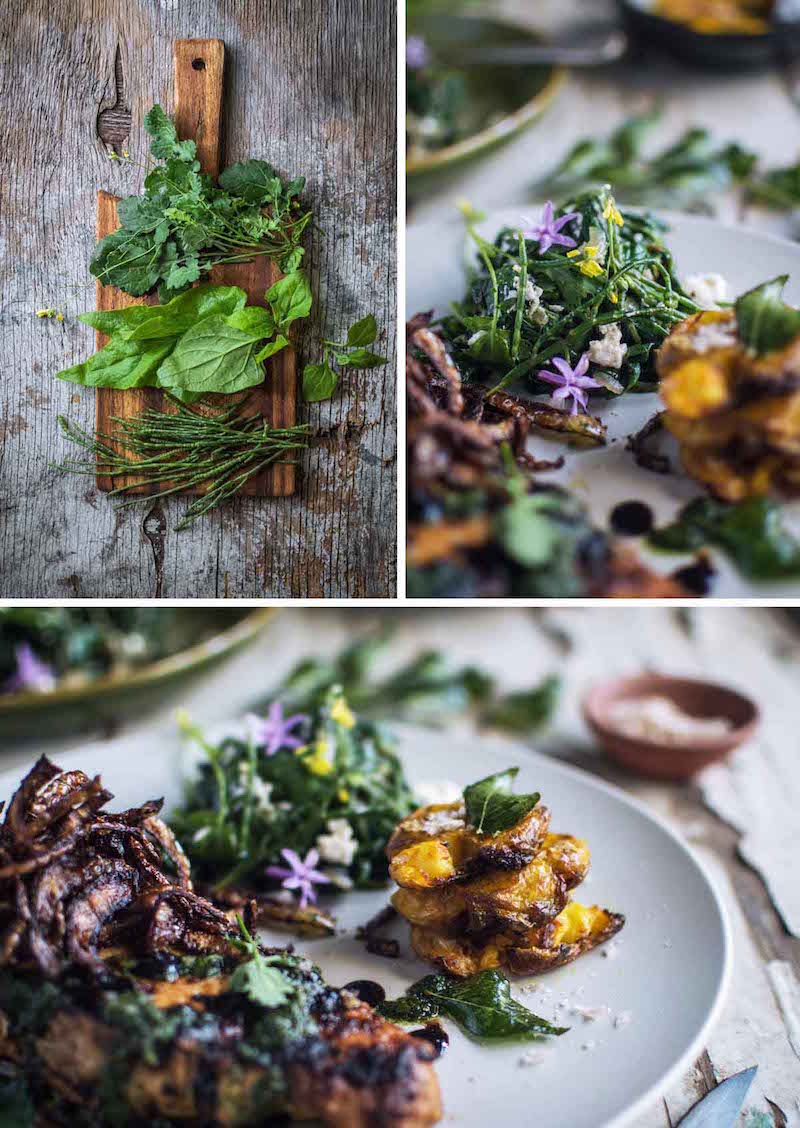 The golden potatoes follow suit in their own way.
See Also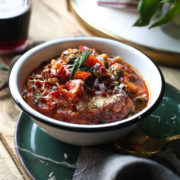 As a final flourish, I've drizzled the cooked pork with some sweet, spicy and tangy tamarind chutney. It's a cinch to make and keeps in the fridge for a few weeks. Also, I drizzled the pork with zhoug. Something that's Middle Eastern, not Indian; but it works an absolute treat.
All together it's an absolute harmony of flavours.
Grab my recipe for tamarind chutney here and my recipe for zhoug here, both of which can be made a few days in advance.
Finally, if you've got some fresh curry leaves to spare, fry them in oil for 2 or 3 minutes until crisp. They're the most perfect garnish and so easy to nibble on.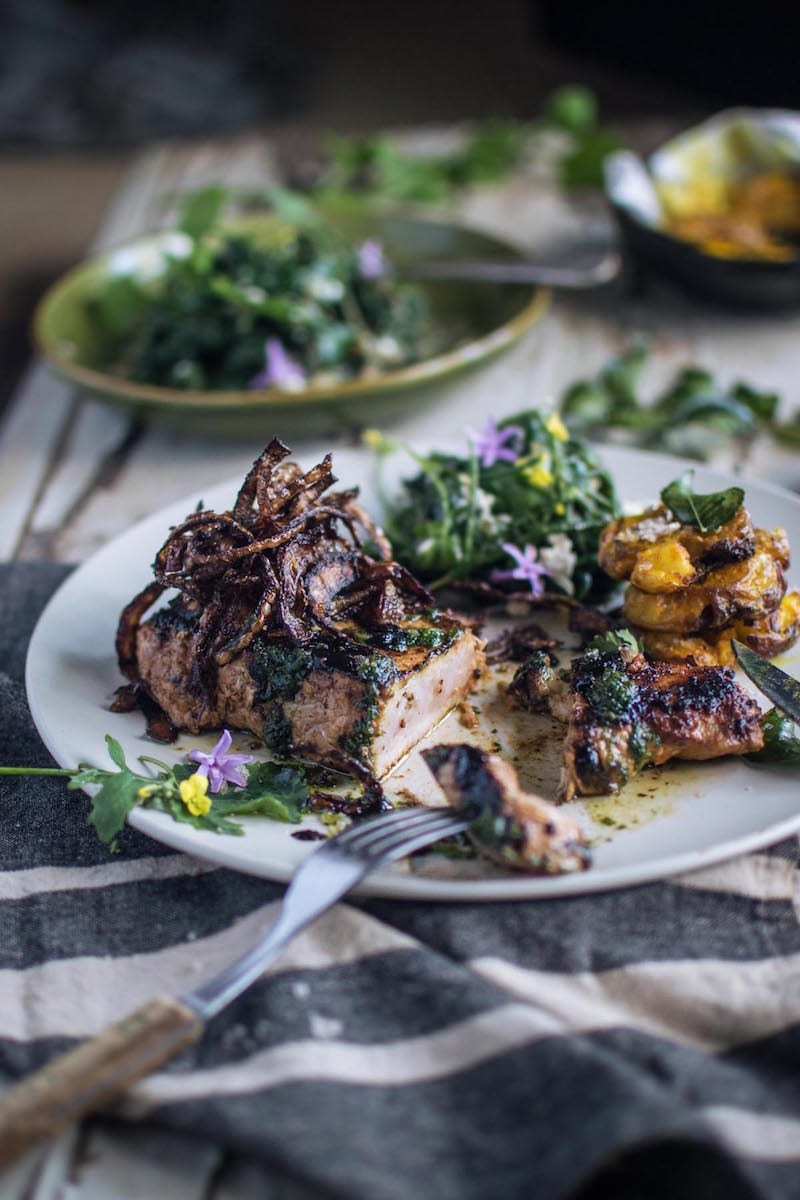 Print
Author:

John Bek

Yield:

0

Serves 6

1

x
Category:

Main
Indian Spice Marinade
1

heaped tsp ground cumin

½ tsp

chilli <g class="gr_ gr_155 gr-alert gr_gramm gr_disable_anim_appear Punctuation only-del replaceWithoutSep" id="155″ data-gr-id="155″>flakes (</g> or powder)

½ tsp

ground cardamom

¼

heaped tsp ground cloves

1 tsp

cinnamon

1 tsp

black pepper

2

dried bay leaves (finely crushed)

1 tsp

salt

3 tsp

apple cider vinegar (or lemon juice)

2 tbsp

mustard oil (or olive oil)

1½ tbsp

honey

100 g

greek yoghurt

6

x 200 g pork loin steaks* (

2

cm or

1

inch thick)

2 tbsp

olive oil (for cooking)
The Greens:
3 tbsp

butter

1 tbsp

olive oil

1 tbsp

brown mustard seeds

10

fresh curry leaves

1

onion (finely diced)

100 g

samphire (trimmed if necessary)

400 g

warrigal greens leaves (washed & rinsed well (or used baby spinach leaves))

100 g

wild mustard leaves (washed & rinsed well)

4 tbsp

water

100 g

paneer (crumbled (or use firm feta cheese))
salt & freshly milled black pepper (to taste)
Fried Onions:
3

–

4

large brown onions

1

– litre vegetable oil (for frying)
sea salt flakes
cumin seeds (to garnish)
The Potatoes:
18

chats (baby potatoes – 3 per person)

3 tbsp

mustard oil (or olive oil)
salt & pepper (to taste)
turmeric powder
Instructions
Pork
Combine all ingredients (except pork and 2 tbsp olive oil) and stir well. Lay the pork loin steaks into a flat, non-corrosive dish and smear on all sides with the marinade. Alternatively, put the pork into a plastic bag, add the marinade and give it a good massage.
Allow the pork to marinade overnight.
Scrape off any excess marinade before cooking the following day. Too much will make it burn.
To cook the pork, heat a pan over medium heat. Add the 2 tbsp olive oil, swirl it around and lay the pork steaks even over the pan. You may need to do this in two pans, or in batches.
Cook the pork for 6 minutes, without turning. Turn the pork over and cook the other side for 2 minutes. Remove the pork from the pan and allow it to rest on a plate or board for a further 2 minutes, <g class="gr_ gr_153 gr-alert gr_spell gr_disable_anim_appear ContextualSpelling" id="153″ data-gr-id="153″>after-which</g> it will be perfectly juicy. Serve immediately.
Greens
Heat a large saucepan over med-high, toss in the butter and oil and allow it to melt. Scatter in the mustard seeds and curry leaves (they will pop and crackle!) and stir with a wooden spoon for about 1 minute.
Add the onion and sauté for about 5 minutes, or until opaque. Add the samphire to the onions and quickly stir to incorporate, then add the warrigal greens and mustard leaves.
Stir constantly so the leaves wilt from the heat. After about 10-20 seconds, add the water and keep mixing it around, then crumble in the paneer. Turn off the heat and season to taste.
You can serve it immediately or at room <g class="gr_ gr_150 gr-alert gr_gramm gr_disable_anim_appear Punctuation only-del replaceWithoutSep gr-progress" id="150″ data-gr-id="150″>temperature,</g> if you like.
Fried Onions
Peel the onions, cut them in half and slice them thinly. Break up each slice so that they fry easier.
Put the oil into a large saucepan over medium heat. Simply fry the sliced onion in the oil, in batches, until nicely browned and slightly golden. Don't add too many as the oil may bubble over. Scoop the onions out and drain on paper towels. Season with the salt and cumin seeds while still hot. Allow to cool completely before using.
Potatoes
Boil the chats until just cooked. Drain and press them down slightly, to flatten.
Preheat the oven to 230°C.
Line a baking tray with baking paper, top with the oil and put it into the oven for 10 minutes.
Arrange the potatoes on the hot pan, turn over to coat the other side in oil, then season with salt, pepper and turmeric. Bake for 15-20 minutes, or until golden and crispy around the edges.
Serve immediately, scattered with a little more turmeric, of you like.
John Bek
John Bek is a trained chef that decided to throw in his professional apron and move into retail management. He's the guy behind heneedsfood.com - a platform that showcases recipes that cover the likes of everyday cooking, use of native Australian ingredients, as well as Croatian creations that come from his heritage. John also writes about where he's travelled around the world as well as any farmers markets he's visited.