Grilled Chicken Sun Dried Tomato and Basil Pesto Pizza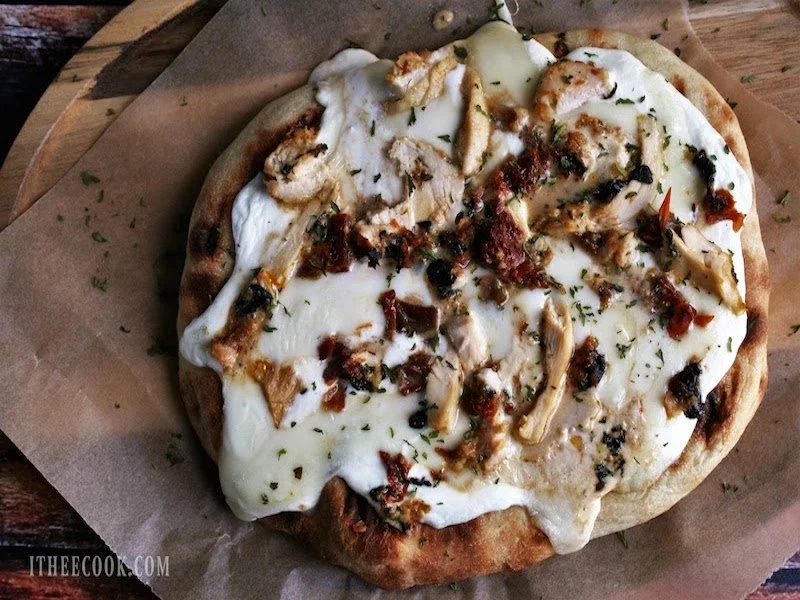 Who doesn't love a good slice of pizza? Even better if it's a grilled pizza topped with all this amazing gooey goodness.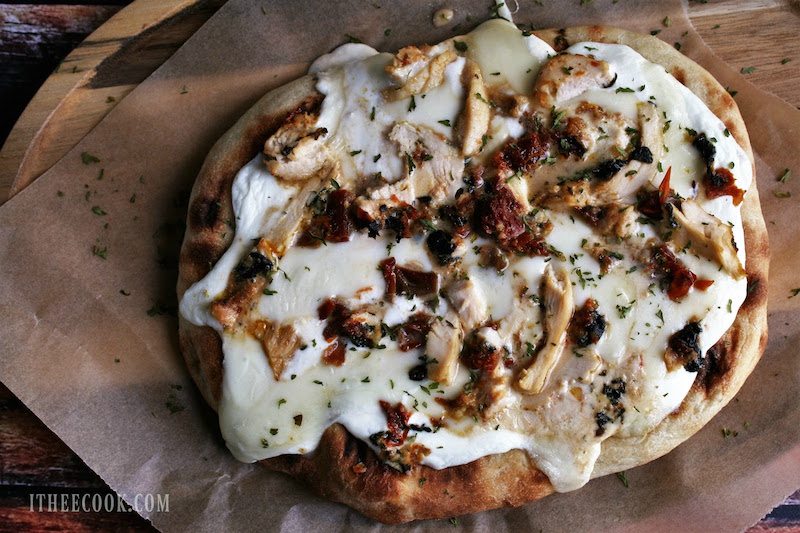 I know everyone is all about healthy new year recipes this time of year but…I have never met a carb or a pizza I didn't like. Sometimes you just have to eat the pizza. I love turning plain things into something spiffy. This flavor combination is definitely spiffy.
Pizza is comfort food to me. It makes everything all better. Even if it is all dressed up.
So go ahead and eat the carb once in a while I sure do!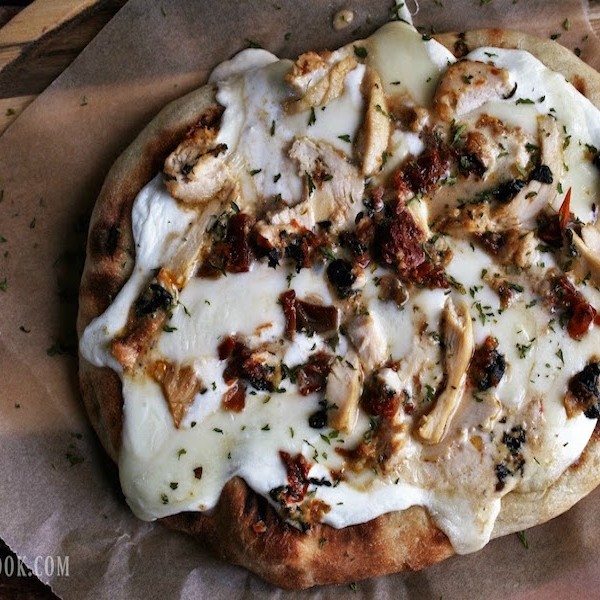 I Thee Cook
Ingredients
1

recipe pizza dough

1

cup

leftover or rotisserie chicken

1/2

cup

frozen spinach

1

clove

garlic chopped

1

cup

ricotta cheese

1

cup

mozzarella cheese

1/2

cup

sun-dried tomato pesto

salt and pepper

parmesan cheese

fresh basil leaves
Instructions
Light a gas or charcoal grill to high heat. Brush the grill with a bit of oil.

Shape the dough into 2 medium-ish pizzas while on a clean floured surface. Let the dough sit for 5 minutes and then re-form to make sure they are as big as you'd like. Place the pizza dough on a lightly floured rimless baking sheet, or pizza peel.

Transfer the dough over to the grill, and slide the pizza dough directly onto the grill. Grill the dough for about 2 minutes with the lid closed. Using a pair of tongs, lift the lid, and flip the dough over onto the other side and cook for about 2 minutes more. The dough should be golden brown with grill marks on both sides.

Once the dough is cooked, remove it from the grill and place it back onto the baking sheet.

Brush the olive oil over the pizza and sprinkle with garlic. Spread with ricotta cheese. Arrange the mozzarella, spinach, chicken and dollop the pesto on top and place back onto the grill until the cheese has melted.

Using tongs, remove the pizza from the grill and season with salt and pepper as needed. Garnish with long strips of parmesan cheese and basil leaves. Slice and serve immediately.
I Thee Cook
Mom, Food Blogger, Recipe Developer, Photographer, Long Island, NY