PARTNER POST — Grilling season is here and it is time to explore Italian grilling with authentic ingredients from Colavita.
Marinated in balsamic and pesto, these simple skewers are a delightful backyard meal served with a flavorful orzo salad.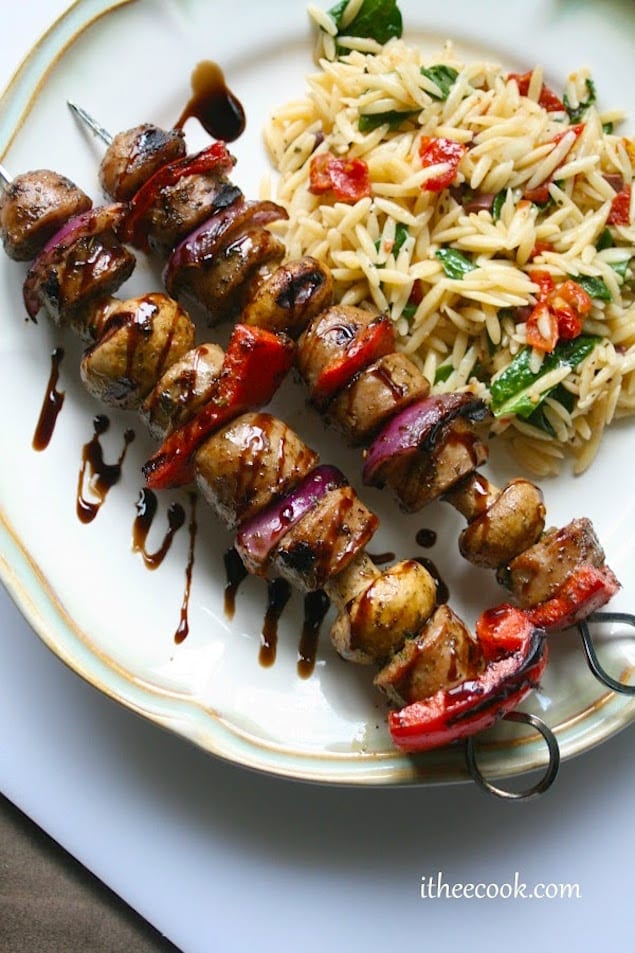 I am so excited to share this. The generous folks over at the Colavita sent me an amazing smorgasbord of fantastic products to try. I had so much fun using each and every one.
Colavita was founded in the village of Sant'Elia a Pianisi, located in the Molise region of Italy, by the joining of two families. One family produced fine extra virgin olive oil from the local olives and the other milled durum wheat into semolina grain to make fresh pasta for the village. As prominent producers in their area and with the same name, Colavita, the two became one company and today create a variety of gourmet ingredients for Italian cooking.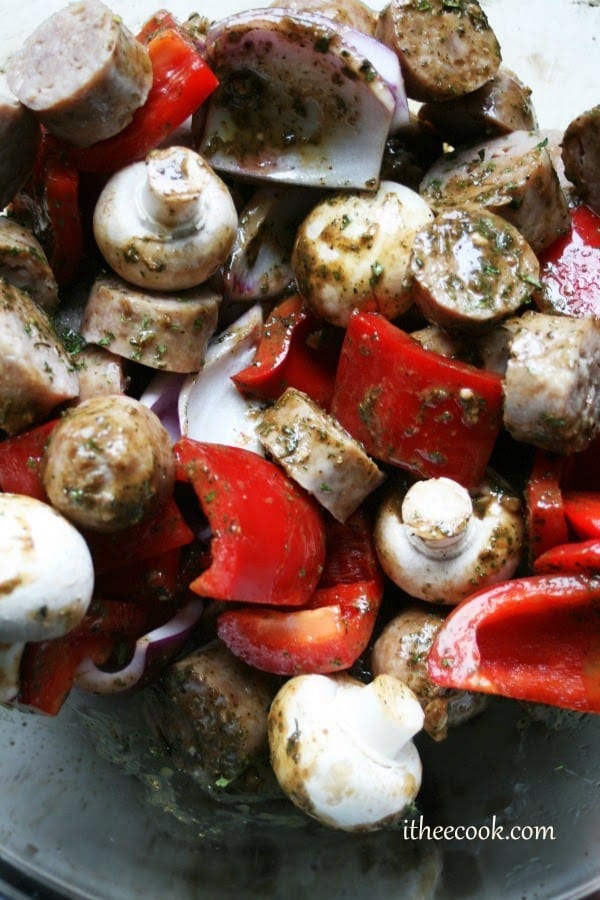 For this grilled dish I took the traditional Italian sausage and peppers dish to a new level by turning it into kebabs and an Italian orzo salad side dish. Perfect for any day of summer grilling, it is a super simple meal to put together.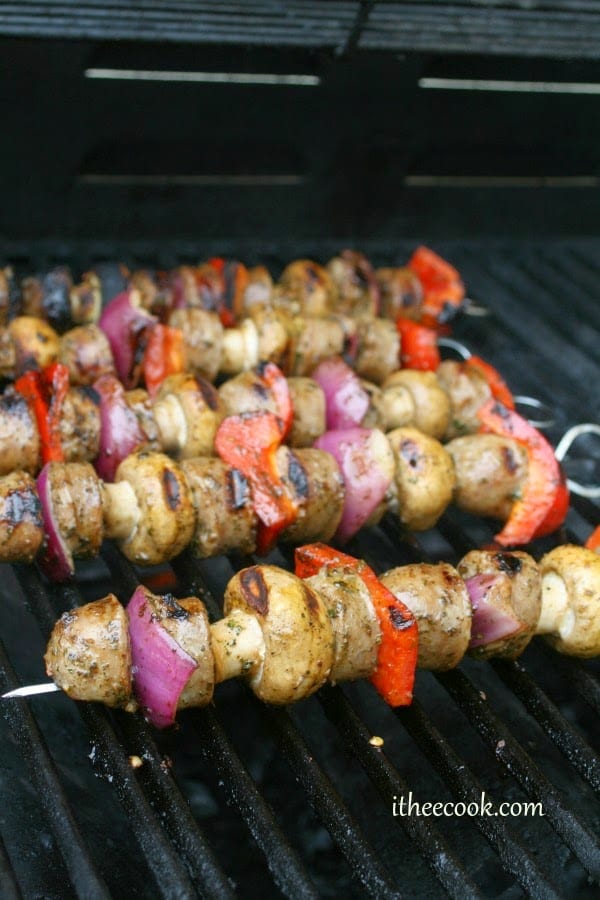 When they are ready to devour, finish with delicious balsamic glace and serve them with by this fantastic Orzo salad.
Italian Sausage Kebabs with Orzo Salad
Marinated in balsamic and pesto, these simple skewers are a delightful backyard meal served with a flavorful orzo salad.
Recipe Type:
Primi, Secondi
Cuisine:
Italian-Inspired
Ingredients
Italian Sausage Kebabs
1 clove garlic
6 tablespoons Colavita Roasted Garlic Oil
3 tablespoons Colavita Balsamic Vinegar
2 tablespoons Colavita Pesto
Colavita Balsamic Glace
fresh cracked pepper
sea salt
6 Italian sausage links
12 baby bella mushrooms, cleaned
1 large bell pepper, cut into 1 inch pieces
1 medium red onion, cut into inch pieces
6 metal or wooden skewers
Orzo Salad
1 (16-ounce) package uncooked Colavita orzo pasta
1 (10-ounce) package baby spinach leaves, finely chopped
½ red onion, finely chopped
¾ cup toasted pine nuts
½ teaspoon dried basil
¼ teaspoon black pepper
½ cup Colavita extra virgin olive oil
½ cup Colavita White Balsamic Vinegar
½ cup Colavita Sun-Dried Tomatoes, chopped
½ cup kalamata olives
Instructions
Italian Sausage Kebabs
In a small bowl grate the garlic, add the roasted garlic oil, balsamic vinegar, pesto, add salt and pepper and mix well with a fork. Set aside.
Par boil the sausages for 10-15 minutes. This will ensure less time on the grill and even cooking. This can also be done ahead of time. Once they are done slice them into 1 inch chunks and place them into a bowl with the mushrooms, peppers, and onion. Pour the marinade over and let sit while you heat your grill to medium heat.
When your grill is ready, Thread two of each ingredients onto a skewer, sprinkle a little salt on top and grill the kabobs for 8 to 10 minutes while flipping them over now and then. Finish my drizzling the balsamic glace over each kebab.
Orzo Salad
Bring a large pot of water to a boil. Add the orzo and cook for about 8 minutes or until al dente. Drain, rinse in cold water and set aside.
Toss the spinach, onion, pine nuts, basil and pepper in a large bowl. Add the orzo and stir well. Mix together the olive oil and balsamic vinegar in a small bowl. Pour over the spinach and orzo salad and toss.
Mix in the sun dried tomatoes and kalamata olives.
Refrigerate and serve cold.