PARTNER POST – Inspire your spring cooking with refreshing meals featuring Eggland's Best Eggs.
Switch up your breakfast routine with these flavorful tacos loaded with eggs, green chilies, cheese, and cilantro lime crema.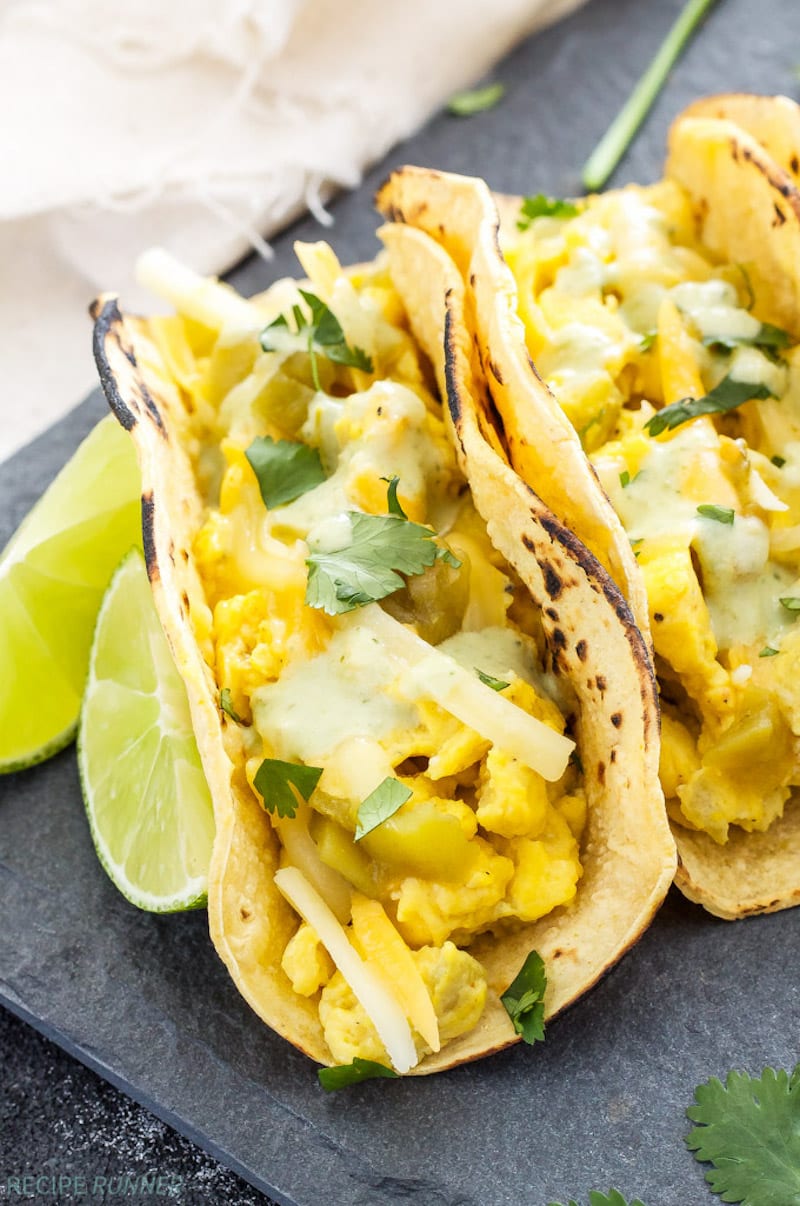 Corn tortillas filled with fluffy, cheesy scrambled eggs and green chiles, topped with cilantro lime crema. These egg, green chile and cheese breakfast tacos are the perfect hearty breakfast that won't disappoint!
Eggs are my absolute favorite thing to eat for breakfast. I eat them at least five mornings during the week usually in the form of an omelet. When I'm not eating them for breakfast I'm snacking on them hard-boiled in the afternoon. I have to say though my favorite way to eat eggs for breakfast is in taco form. Ever since my first experience eating a breakfast taco on a trip to Austin some years ago, I've been obsessed. Who knew something so simple could be so amazingly delicious! These breakfast tacos are a recreation of one that I had during my last visit and I can't get enough of them!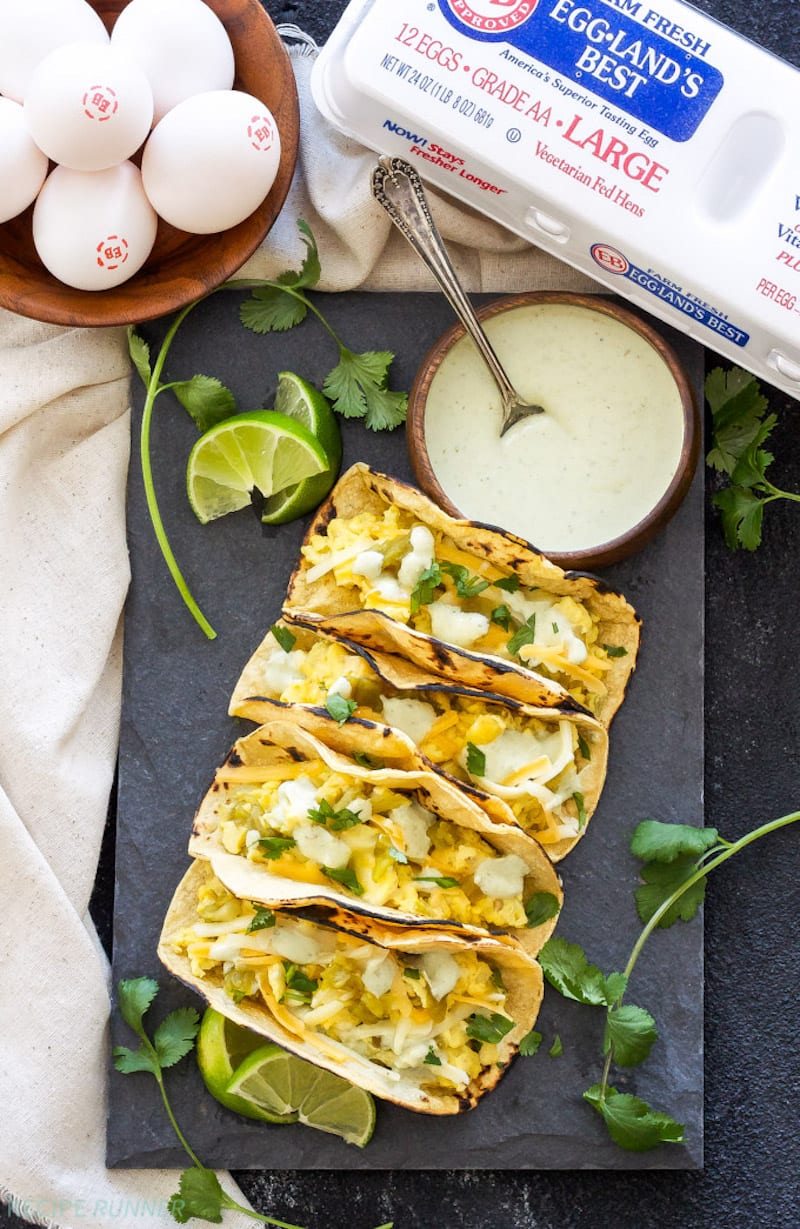 I love starting my day with eggs for so many reasons. They keep me full longer than any other breakfast food, they taste delicious and they are a great choice when you want a healthy breakfast. Since March is National Nutrition Month, what better way to celebrate than with the simple perfect little egg! I've started purchasing Eggland's Best eggs because of their added nutritional benefits. Eggland's Best eggs contain 10 times more Vitamin E, more than double the Omega-3, and 4 times more Vitamin D than ordinary eggs. If I'm already eating eggs I might as well get the extra benefits! I love that Eggland's Best offers classic eggs, organic, cage free, liquid egg whites and even hard-cooked peeled eggs so there's something for everyone.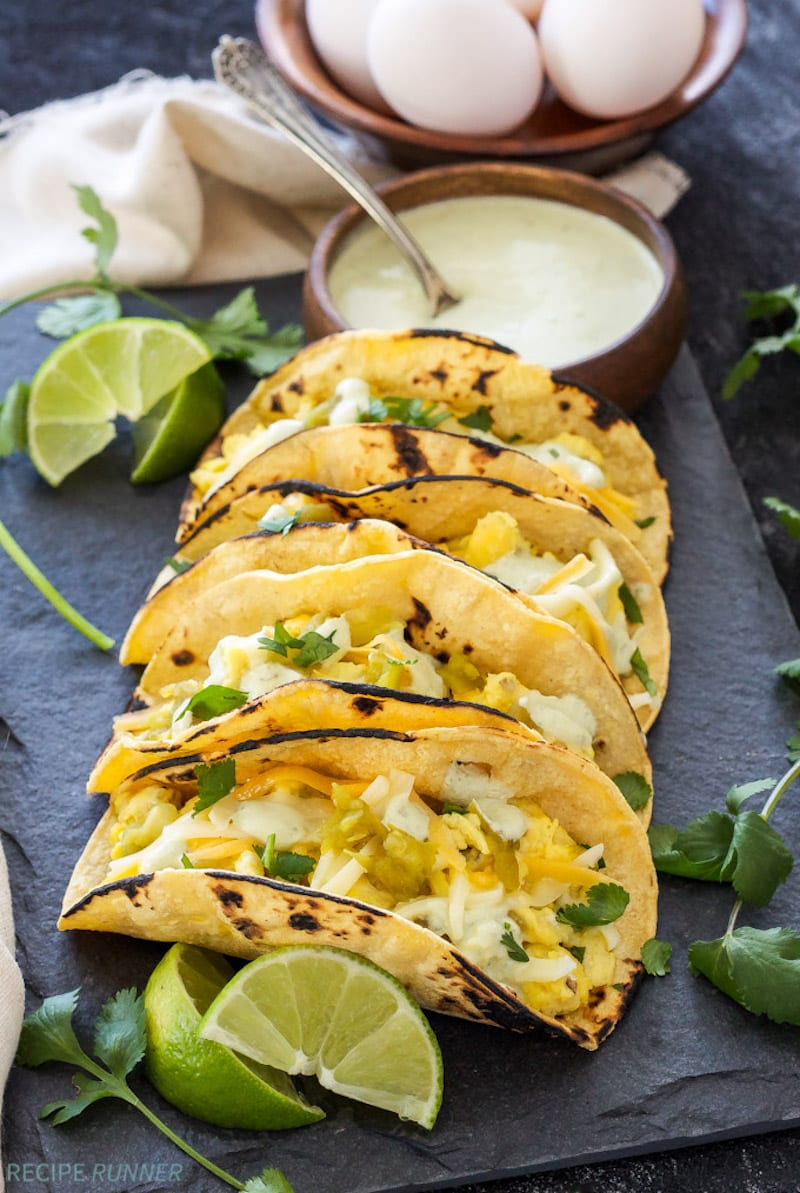 The cilantro lime crema is optional, but it adds amazing flavor and reminds me of the breakfast tacos I had in Austin. It's made using Greek yogurt so it's perfectly healthy to top the tacos with. It can even be made a day or two in advance and there is enough to last through several rounds of these Egg, Green Chile and Cheese Breakfast Tacos. Change up your usual egg and toast breakfast routine and try making these fun and flavor packed breakfast tacos instead!

Green Chile Breakfast Tacos
Switch up your breakfast routine with these flavorful tacos loaded with eggs, green chilies, cheese, and cilantro lime crema.
Recipe Type:
Main, Breakfast
Ingredients
Egg, Green Chile and Cheese Breakfast Taco Ingredients:
3 whole Eggland's Best eggs + 1 egg white
1 tablespoon milk
½ of a 4 ounce can diced green chiles, save the remaining chiles for the crema
Salt, pepper and hot sauce to taste
2 tablespoons shredded cheddar or Monterey Jack cheese plus extra for topping
4 corn tortillas
Cilantro Lime Crema Ingredients
¼ cup plain non-fat Greek yogurt
½ teaspoon lime zest
1 teaspoon lime juice
½ of a 4 ounce can diced green chiles, uses the remainder from the taco filling
1 tablespoon cilantro leaves, chopped
½ teaspoon honey
¼ teaspoon cumin
pinch of garlic powder
salt and pepper to taste
Instructions
Add all of the Cilantro Lime Crema ingredients to a blender and blend until smooth.
Pour the crema into a small bowl, cover and refrigerate until ready to serve.
In a medium sized bowl or glass measuring cup, whisk together the Eggland's Best eggs, milk, green chiles, salt, pepper and hot sauce.
Heat a medium sized skillet sprayed with cooking spray over medium-low heat.
Pour in the egg mixture and stir it around constantly with a rubber spatula until the desired doneness.
Remove from the heat and stir in the shredded cheese until it melts.
Divide the filling evenly into 4 warmed corn tortillas and top with the cilantro lime crema.
Serve immediately.