Cooking the Magazines: Green Bean, Grape and Bacon Pasta Salad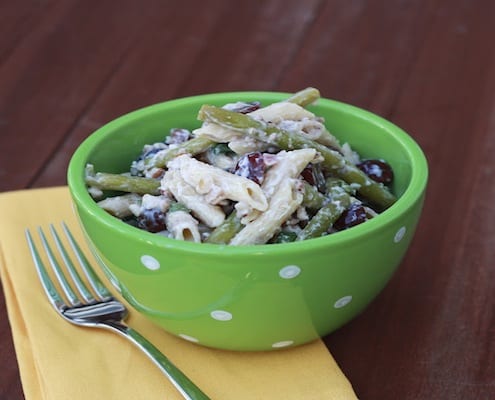 Natalie McLaury considers herself a bit of a hoarder when it comes to magazines. Never one to pass up a good deal on a subscription, it's to the point where she now finds herself receiving a magazine in the mail several times a week. Most of the time, she rips out pages of recipes but fails to actually create the recipe in her kitchen. Not anymore! Join Natalie as she cooks the magazines.
By Natalie McLaury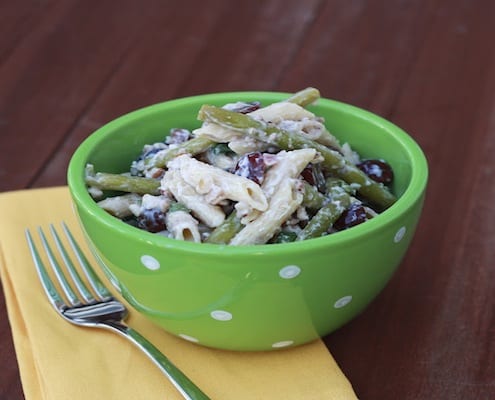 The fact of the matter is, I'm short on time today. I ran errands after work, came home to prep stuff for a few different recipes, and then spent an hour cleaning the house. I threw together a quick dinner and am now trying to get caught up on blog posts. Right now I have no shortage of recipes to share with you–it's the writing and all of the behind the scenes work that I'm a little behind on. So instead of sharing a story with you or going on and on about this pasta salad, we're going short and sweet today. You understand, right?!
Don't let my brevity in this post deter you from making this pasta salad. Earlier this summer we were visiting my parents and there were leftovers of this salad in the fridge. We sampled it, were huge fans, and I nabbed the recipe from my mom when we left at the end of the weekend. I finally got around to making it and it was just as good as we remembered. I used Greek yogurt instead of mayo, simply because I'm convinced my mayo had been in my fridge for WAY too long. You could use either, or even a combination. Enjoy!

Green Bean, Grape, and Bacon Pasta Salad
An untraditional spin on pasta salad starring green beans, grapes, and bacon.
Recipe Type:
entree, main, salad, side dish
Ingredients
1 cup chopped pecans
8 bacon slices
1 lb fresh green beans, trimmed and cut in half
1 (8 oz) package penne pasta
1 cup mayonnaise or Greek yogurt
⅓ cup sugar
⅓ cup red wine vinegar
1 tsp salt
2 cups seedless red grapes, halved
⅓ cup diced red onion
salt, to taste
Instructions
Preheat oven to 350F. Arrange pecans in a single layer on a baking sheet and bake for 5-7 minutes, until lightly toasted.
Cook bacon in a large skillet over medium high heat for 5-7 minutes, until crisp. Remove bacon, drain, and crumble.
Cook beans in boiling salted water for 5 minutes, or until crisp-tender. Drain and rinse with cold water.
Cook pasta according to package directions and drain.
In a large bowl, whisk together mayo (or Greek yogurt), sugar, red wine vinegar, and salt. Add pecans, green beans, pasta, grapes, and red onion to the mixture, tossing to coat. Season with salt to taste. Cover and refrigerated for 3 hours, or overnight. Just before serving, stir in bacon.
Notes
from Southern Living Magazine
Natalie McLaury
Natalie McLaury is a St Louis based food writer with a passion for real food and experimenting in the kitchen. Her cooking ranges from healthy three course meals to decadent desserts, and she shares many of her food tips and recipes on her successful The Sweets Life blog . As an avid runner and fitness expert, she also gives the occasional tips on how to combine a serious interest in health with a sweet tooth.