Sasha Gora makes a classic porcini risotto brighter and slightly sexier by adding red grapefruit.
By Sasha Gora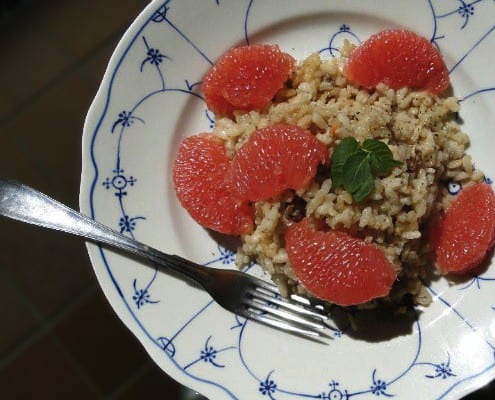 Last weekend I was in Italy. A perk of living in Munich is that Italy is only a three hour drive away and that drive includes a chunk of the Austrian Alps. Coming from Canada, Europe still feels magically small to me no matter how long I live here. I am too North American to not be charmed by living in Germany and being able to drive to Italy for a weekend.
But the part of Italy I was in was the German speaking part: Südtirol in German and Alto Adige in Italian. It was a fascinating mix of languages, cultures and food. I had heard that its food is something special. Mix my chronic case of the travel bug with my obsession with food and I am pretty much willing to go anywhere to eat (and sight-see, of course). I am also a pretty loyal drinker of the region's cocktail: Hugo. A Hugo is prosecco, a few sprigs of fresh mint, and elderflower syrup. Sometimes it has mineral or soda water and a squeeze of fresh lime. With or without the water and lime, it is good. Really good. The Hugo alone had me dreaming of a trip to Südtirol.
And the trip did not disappoint. There was Südtiroler Speck (a dry-cured ham), Shüttelbrot (a flatbread similar to knäckebrot made with dried fennel – it is ideal for hiking trips or just long train rides) and Käseknödel(a bread dumpling made with cheese). There was also a magical wedding in a castle as well as a feast and bottles and bottles of local wine to go along.
Before coming back to Munich I spent a day in Bozen/Bolzano. There I heard plenty more Italian which made the weekend trip to Italy actually feel like it was in Italy. I also took advantage of the Italian grocery stores and filled our small suitcase with some edible souvenirs. I brought back some of the regional specialties as described above as well as a few staple ingredients for risotto.
The risotto part of this recipe was inspired by Südtirol and the grapefruit and porcini part was inspired by my lovely friend Shirin. She is quite the cook and the two of us are completely on the same page when it comes to food. This means that our visits are always delicious. Very delicious. A few weeks ago we went to Little Otik in Berlin. They serve the type of food I could eat everyday. They use local organic ingredients and they put so much love into their menu that it is easy to become obsessed. It only took one meal to give me buckets of inspiration. That and a (intense) craving for icecream sandwiches with mint icecream and homemade cookies.
Shirin told me about a risotto she had at Little Otik that was made with grapefruit and porcini mushrooms. She had recreated a version at home with blood oranges (Shirin, am I getting this right or am I confused? Was it grapefruit at Little Otik and blood orange chez toi or the other way around?). My memory is a strange thing. The times table has no chance with me, but good food combinations are a different story (hopefully the brackets above don't suggest otherwise).
Grapefruit and Porcini Risotto
Red grapefruit brightens up a classic porcini risotto.
Ingredients
15 grams dried porcini mushrooms
olive oil
1 red onion, finely sliced
1 cup rice (220g) vialone nano or carnaroli, or arborio if you are in a grind)
4 cups (1 liter) vegetable broth
¼ cup (60ml) dry white wine
⅓ cup (30 grams) grated pamigiano-reggiano
salt and pepper to taste
2 red grapefruits, peeled with the membrane removed
fresh mint for garnish
Instructions
Bring some water to boil in a kettle and then soak the dried porcini mushrooms in hot water for half an hour. Once soaked, drain the mushrooms but reserve the soaking liquid. Squeeze out any access water the mushrooms may be holding.
Heat the vegetable broth in a pot and bring to a simmer.
In another pot heat the olive oil over medium heat and then add the onion. Let soften for about 2 minutes and then add the rice. Stir well so the rice is coated with the olive oil and onion. Add the white wine and stir until the rice absorbs the wine. Once absorbed, add a ladle of the hot broth. Repeat until the rice is al dente. Tdd the soaking water from the mushrooms and the mushrooms and stir until absorbed.
Turn off the heat and add the pamigiano-reggiano. Season with salt and pepper to taste.
Add the grapefruit, garnish with fresh mint and serve right away.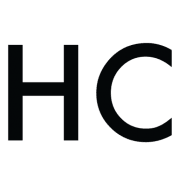 Sasha Gora
By day Sasha works in art and by night she beats up her pans by baking too much, or over-packs her suitcase with edible souvenirs. She takes breakfast very seriously and rarely turns down the opportunity to add maple syrup to a recipe. She is from Canada, but has lived in France, Denmark and Sweden. She is currently based in Munich. Sasha writes the food and inspiration blog Paper Doll Parade.