This is a great light and crisp salad – perfect for warm summer days and nights.
By Deena Wachtel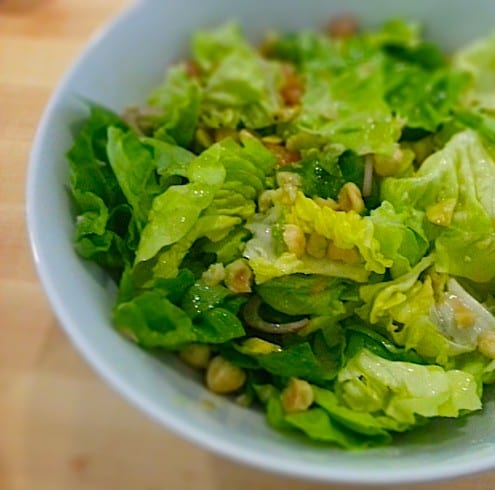 Every so often I feel the need to keep my family on their proverbial toes by throwing a non-iceberg salad their way.  Now, my husband won't eat "weeds" and my kids won't eat anything dark green – even if its smothered in ranch dressing – but I had to give it a try.
You see, I've been craving fresh, summer salad from on of my favorite local lunch spots – Clementine's.  But the parking around there has been awful lately.  Like, really really awful.  Non existent awful.   It's summer.  I know.  Soon things will be back to  just the normal awful parking situation and I can go and get my salad anytime.  But here's the thing about Clementine's… they change the menu seasonally!  Which is awesome!  But it also means that I may miss my perfect summer salad once the summer parking situation had resolved itself.
Why not just pick up the salad at the curbside take-out?  Well, if you must know, it's because salads just don't travel well.  Trust me.  I've tried.  Even when the dressing is packed on the side, it's just not the same.
So, instead of getting all mad at all of the other people who are craving the delicious lunches over at my favorite eatery, I decided to make my own version of this summer Grapefruit and Hazelnut salad.
At first, nobody was too keen on the salad.  Not even my mom.
But after a few bites, everyone – even my picky husband – was gobbling up the greens and even asking for more!  There was NOTHING left by the end of dinner.
I'm calling that a huge success.
This salad is perfect.  Crunchy.  Sweet.  A little sour.  It has a good bite but isn't rich.  It's perfect for a hot summer evening if you can't get out here to LA to have it for lunch.
See Also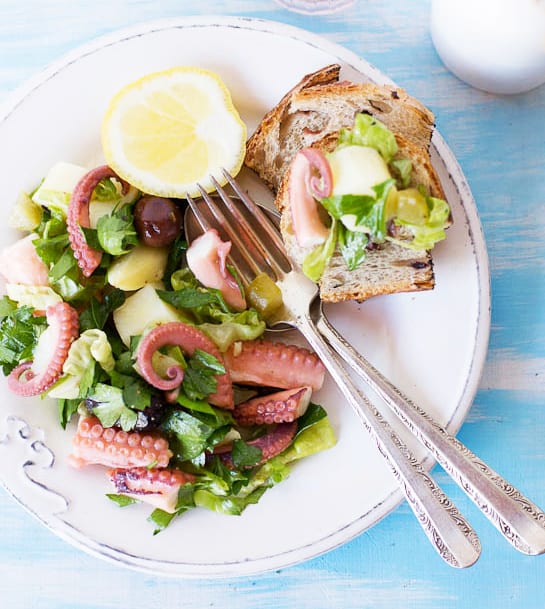 Go ahead.
Try it.
You'll be obsessing about it soon enough too.
Grapefruit and Hazelnut Salad
This is a great light and crisp salad - perfect for warm summer days (or nights!)
Ingredients
1 head butter lettuce
½ red onion, sliced thin
1 grapefruit - zest, supremes and juice
1 cup hazelnuts, toasted
1 teaspoon champagne vinegar
olive oil
salt / pepper to taste
Instructions
Wash and tear the butter lettuce into bite size pieces. Place into a big bowl.
On a mandolin or with a sharp knife, slice the red onion into the thinnest slices possible. Soak in vinegar for 10 minutes. After 10 minutes, add onion / vinegar to the bowl with the lettuce.
Toast the hazelnuts in a 350 oven for 10 minutes until just golden brown. Add to the salad when cooled.
Zest ½ of the grapefruit and sprinkle over the lettuce mixture. Supreme the grapefruit so that only the fleshy pieces are incorporated into the salad, and then squeeze the remaining juice over the salad.
Drizzle with olive oil.
Sprinkle salt and pepper to taste.
Toss and serve immediately.
Enjoy!
Want to get the kids involved?  Here's how:
wash and tear lettuce
zest grapefruit
juice grapefruit
drizzle olive oil
season with salt / pepper
toss all ingredients
Enjoy!
Deena Wachtel
Deena is a stay at home foodie, obsessed with food and intent on changing her finicky family into a foodie family. She lives by a set of FOODosophies and has pledged to get her kids into the kitchen to teach them how to cook and love good tasting food. It's not always pretty and there are nights when the kids go hungry. But, for her, it's all for the greater good. She blogs daily at stayathomeFOODIE.com.