Bursting with anti-inflammatory turmeric, warming and lightly sweetened, this golden turmeric milk with ghee is packed with nutrients and comforting spices.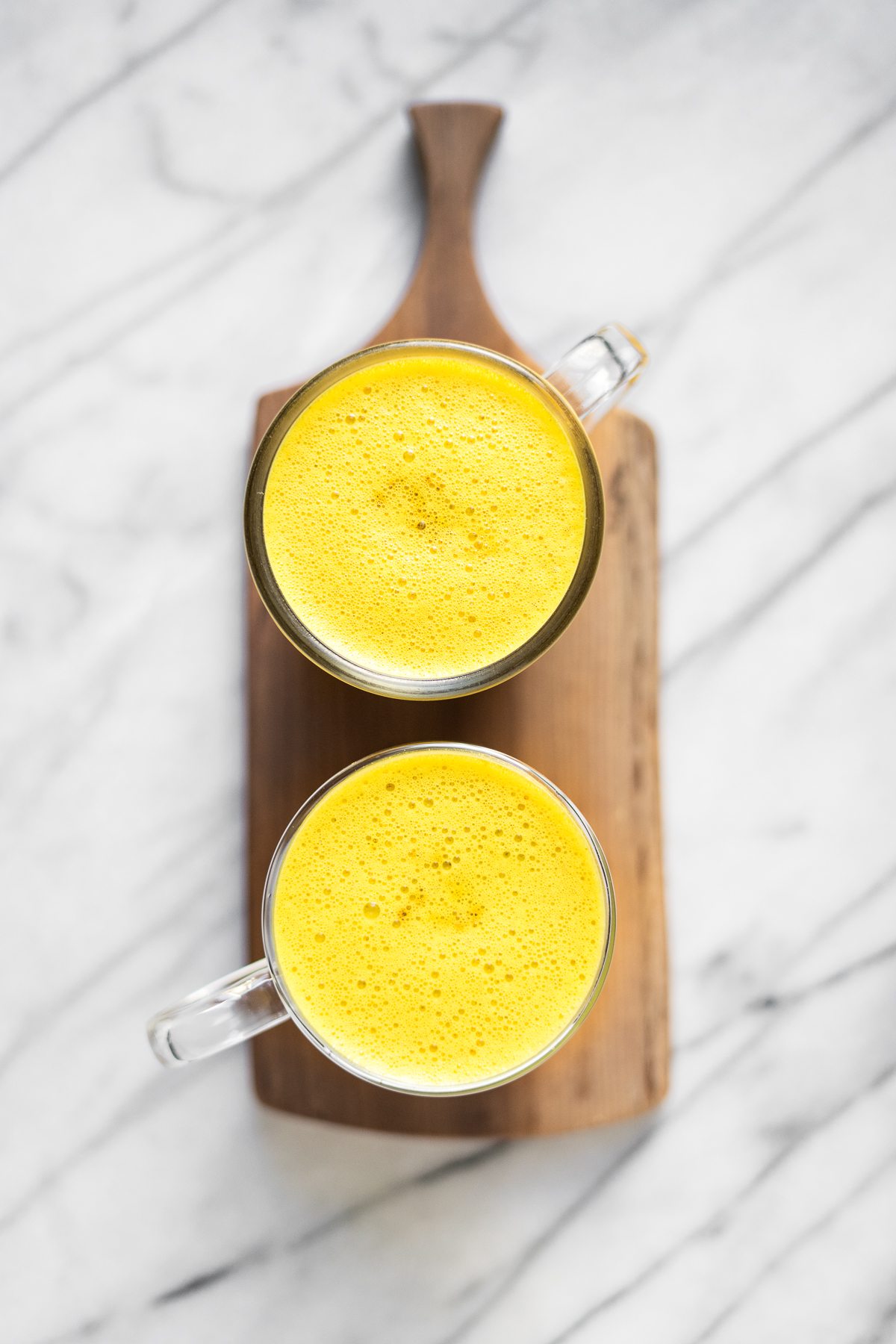 I recently fell head over heels for golden milk, and have been making a golden milk ghee latte almost every day since. I was planning on posting a different recipe today, but when I shared the photo above on Instagram the other night, people were so excited about golden milk that I moved it to the top of the queue.
In case you're not familiar with golden milk, it's basically a hot drink infused with turmeric that has been enjoyed for its purported health benefits as part of Ayurvedic tradition for centuries. Research indicates that turmeric is a powerful antioxidant and anti-inflammatory agent (read more about its benefits here). My golden milk ghee latte also incorporates several other good-for-you ingredients: ghee and almond butter for healthy fat, cinnamon for helping to stabilize blood sugar, date nectar for fiber and minerals, and ginger to soothe the digestive system.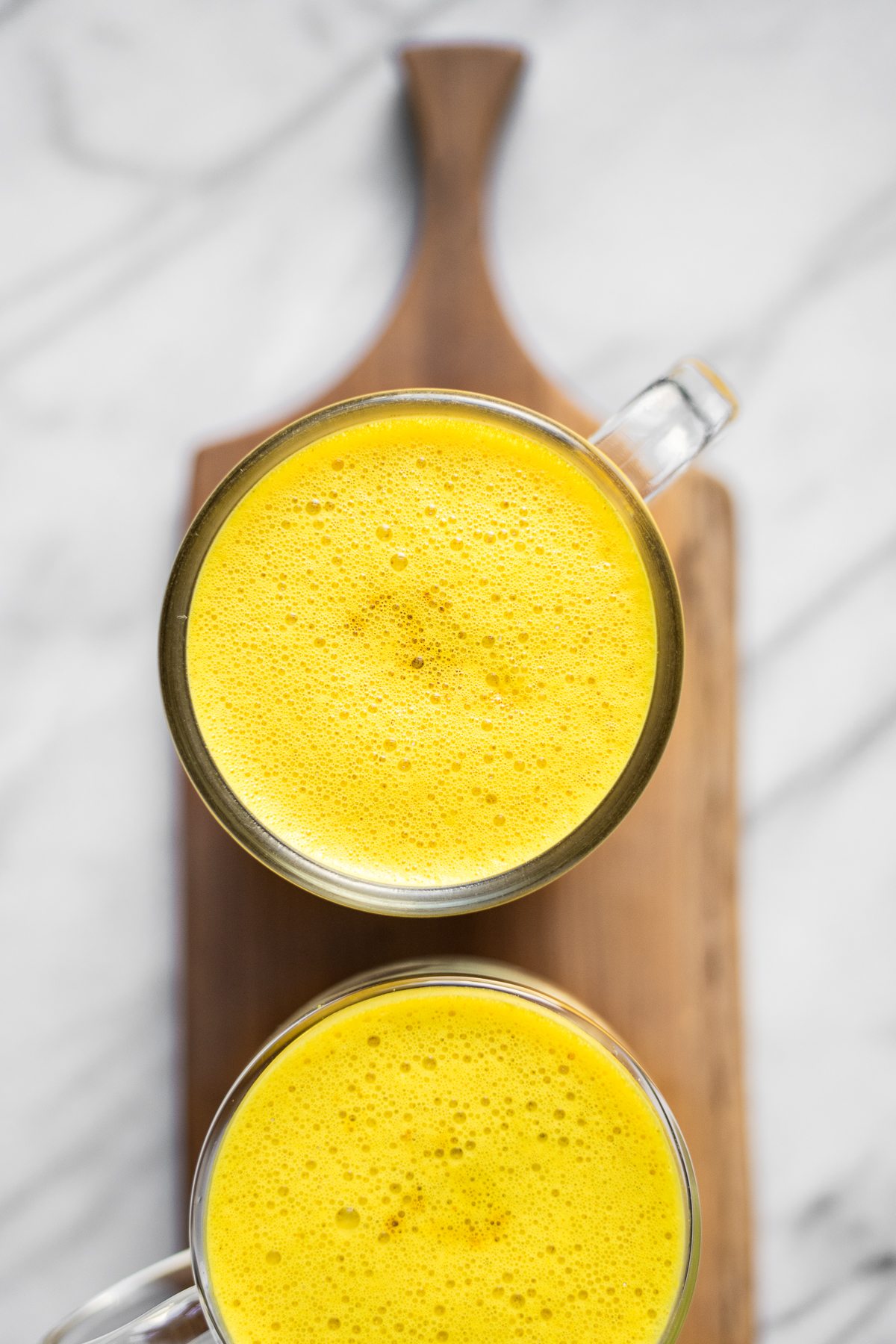 I started with the delicious golden milk recipe recently posted on My New Roots, and tweaked it bit by bit to make it my own. I use ghee instead of coconut oil because I'm allergic to coconut, and I'll take every chance I can get to enjoy more of my homemade ghee (you can even make it in the Instant Pot!). I added collagen for a healthy, unobtrusive hit of protein–also, the collagen and ghee help make the latte foamy! I adjusted the spices to suit my tastes, and added a bit of salt and vanilla to bring out the other flavors. I love to use date nectar to sweeten my golden milk ghee latte, but honey is also delicious.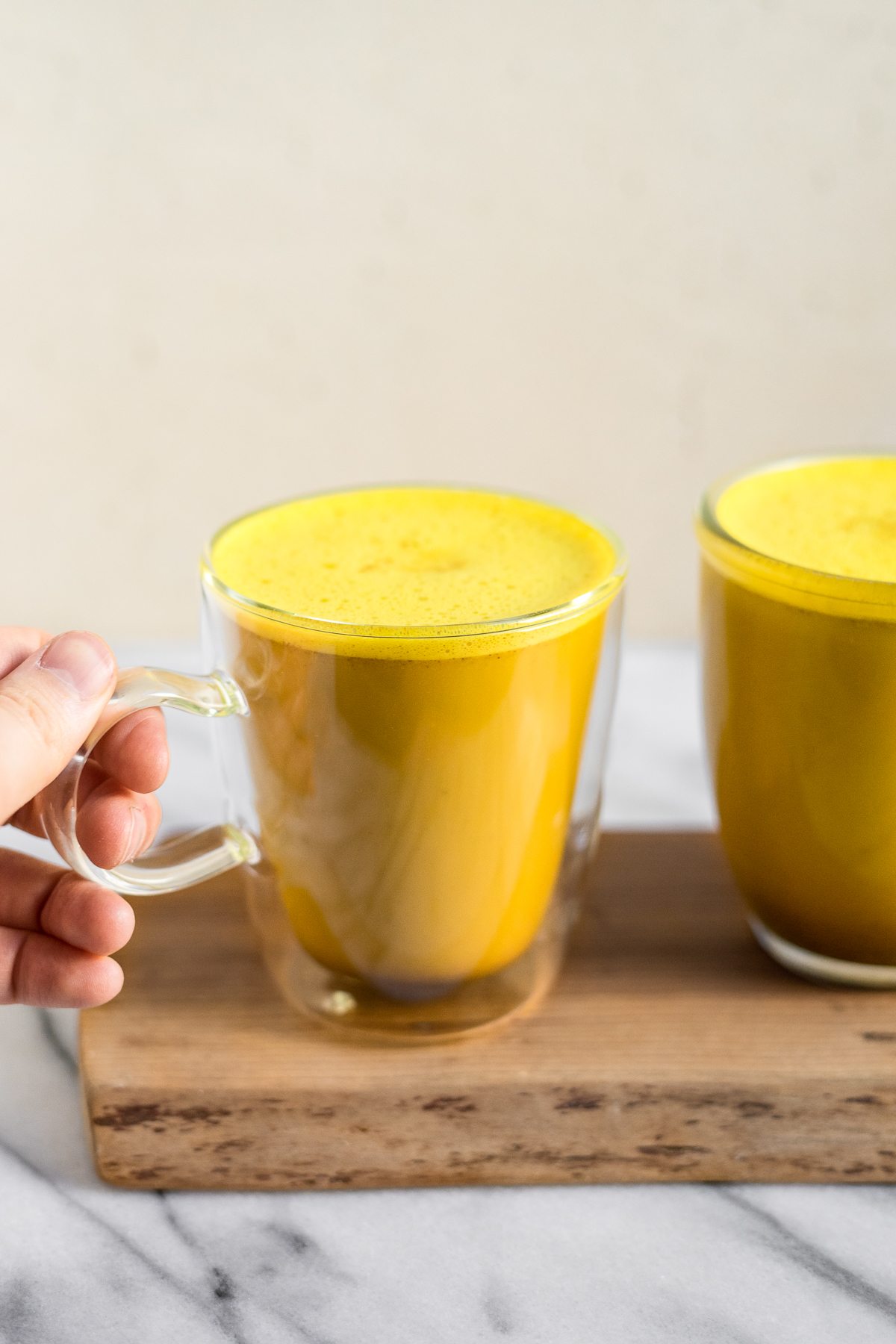 Perhaps most importantly, I omitted the nut milk and decided to use water and almond butter instead. Why? It's so much more convenient. I love to make homemade almond milk, but it's a process I don't always have time for and it doesn't keep for long. Store-bought almond milk is pricey and not as good as homemade. Almond butter, though, keeps for a long time and is something I always have on hand. I find that I don't miss the nut milk at all with the water + almond butter combo!
As for the spices, you can mix them up each time you make golden milk, or make a big batch to have on hand to speed up the process. (While I wish the spice mix could always look like sand art as it does in the above photo, you do have to stir it before you use it!). If you're not sure you'll love golden milk, start with a smaller batch to try it out.
See Also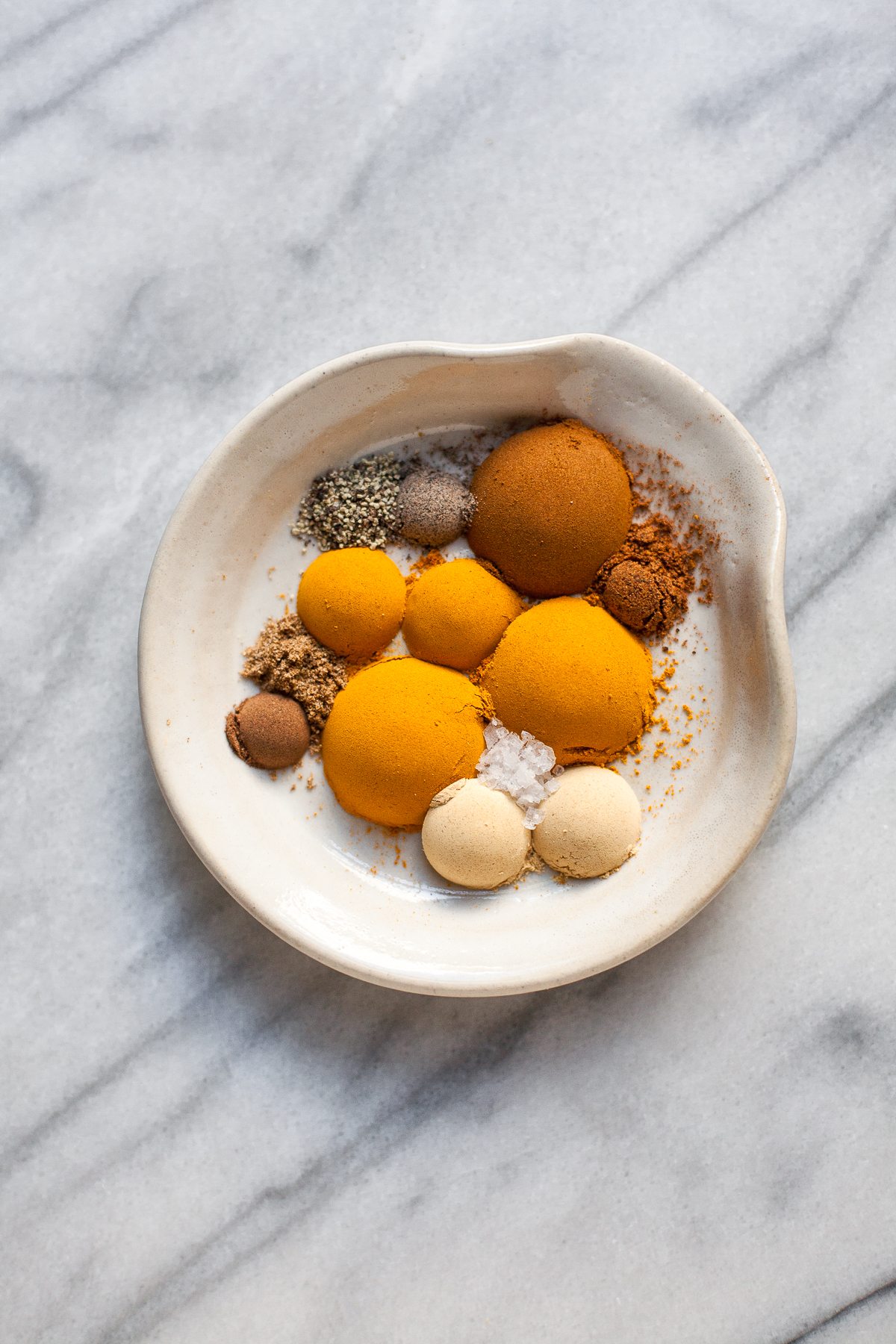 I really think you'll love this golden milk ghee latte, though! It's rich, comforting, invigorating, and beautiful–just looking at the bright color gives my mood a little boost. (Between these and my dragonfruit smoothies, I'm going to be in a good mood all day long!) I've been enjoying this most as an afternoon snack, but it's also great first thing in the morning or right before bed.
Click here for the recipe to make your own ghee.
Print

Golden Turmeric Milk with Ghee
---
Author:

Becky Winkler

Total Time:

20 minutes
Description
Bursting with anti-inflammatory turmeric, warming and lightly sweetened, this golden turmeric milk with ghee is packed with nutrients and comforting spices.
---
2½ cups

20 ounces filtered water

2 tablespoons

almond butter*

1 tablespoon

ghee (homemade is best!**, click the link above for the homemade recipe)

1 tablespoon

date nectar (honey, or sweetener of choice (adjust to taste))

½ teaspoon

vanilla extract (I use Rodelle***)

2

–

4

scoops collagen (I use Vital Proteins)

1 tablespoon

plus 2 teaspoons golden milk spice blend (see recipe below OR:)

2½ teaspoons

ground turmeric

1 teaspoon

ground cinnamon

½ teaspoon

ground ginger

1/8 teaspoon

finely ground black pepper

1/8 teaspoon

ground allspice

1/8 teaspoon

ground cardamom

1/8 teaspoon

ground cloves

1/8 teaspoon

ground coriander

1/8 teaspoon

ground nutmeg

2

small pinches of finely ground sea salt
---
Instructions
Heat the water in a medium saucepan until almost boiling. Turn off the heat and add the remaining ingredients. Blend with an immersion blender (or transfer to and blend in a regular blender) until smooth and frothy. Taste and add more sweetener if desired. Serve hot.
Leftover golden milk keeps well in the fridge for a day or two, and can be reheated and blended again when you're ready to enjoy it.
Notes
*Although I haven't tried them, other nut butters should also work.
**If you don't have or don't tolerate ghee, try coconut oil!
***Omit the vanilla or use vanilla powder instead if you're avoiding all alcohol.
Prep Time:

10 minutes

Cook Time:

10 minutes
Becky Winkler
Becky Winkler is an enthusiastic eater who shares paleo and gluten-free recipes on her blog, A Calculated Whisk. She enjoys chopping chocolate, salting dessert, searing short ribs, and taking pictures. In her other life, she's a grad student in Boston.