Instead of baking the caramelized mangoes with the usual sponge cake batter, here, they are paired with a golden yellow cake.
By Nandita Nataraj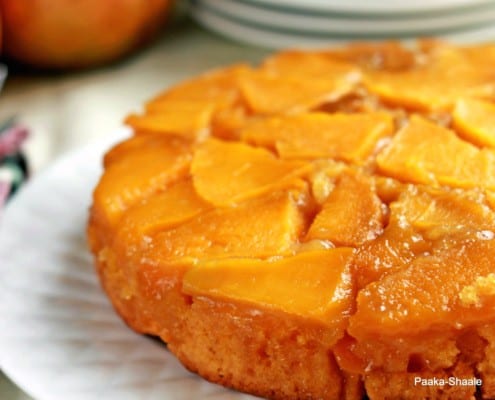 I have always liked baking with fruits. There is something addictive and magical about cooking or baking with fruits. No matter what dish you are baking or cooking, the house always transforms into an aromatic tropical heaven. Apart from this, the end product, always ends up tasty. Considering all these facts, I am sure it would not surprise any one when I say that I heart upside down cakes.
Traditionally in an upside down cake, fresh fruits or berries are embedded in caramel and baked with a buttery cake batter which offsets the fruit on top. However, this recipe has got an elegant twist. Instead of baking the caramelized mangoes with the usual sponge cake batter, I have paired the mangoes with the golden yellow cake. The match was just outstanding as mangoes and custard always go very well together. As up side down cakes are very versatile, any seasonal fruit works well for this recipe
See Also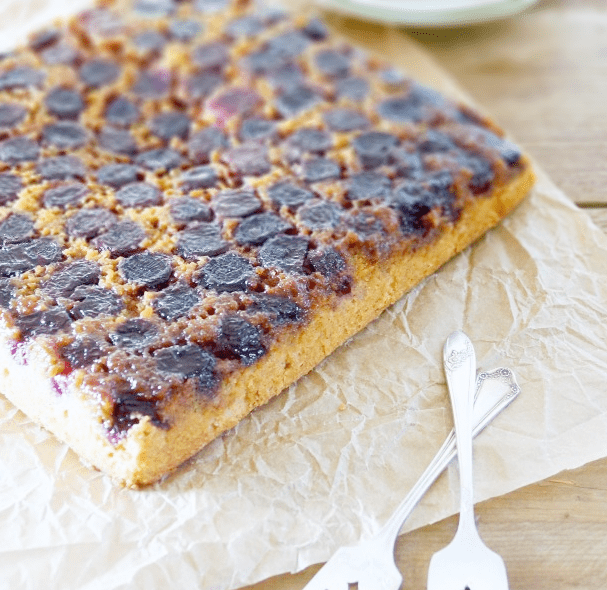 Golden Mango upside down cake
A golden twist to the traditional upside down cake
Ingredients
Sliced ripe mango- 2cups
Lemon juice- 1tbsp
Butter- 1tbsp
Brown sugar- ⅓ cup
For the cake:
Milk- 1 cup or 250ml
Granulated sugar- ¾ cup
All purpose flour- 1-1/2 cup
Custard powder- ½ cup
Baking powder- 2tsp
Baking soda- ¼tsp
Vanilla extract- 1tsp
Butter- ½ cup
Instructions
Pour lemon juice over the mango slices and let them stant for 15min.
Melt butter in an 8" cake pan and add the brown sugar. Cover with mango slices and set aside.
For the cake, Sift the flour along with the baking powder and baking soda and keep aside.
Heat milk in a pan and add the sugar. Stir until the sugar is completely dissolved and set aside to cool.
Once the milk has reached room temperature, add the custard powder and vanilla extract and mix.
Stir in the butter and mix again.
Pour the prepared milk mixture to the flour mixture and mix well until there are no lumps.
Pour the batter over the mangoes and bake in a pre heated oven at 180C for 45min or till an inserted skewer comes out clean.
Allow the cake to cool in the pan for 5min. Remove and turn it upside down on a plate. Serve warm.
Nandita Nataraj
Nandita was born, bred and spread in India, but right now lives in Tanzania where her quest for simple and exotic pleasures of food led to the creation of the blog Paaka-Shaale. She believes that food is not just a means to feed a body. But it is also meant to appeal the mind and satiate the soul.