Gluten Free: Ham and Cheese with Scallion Biscuits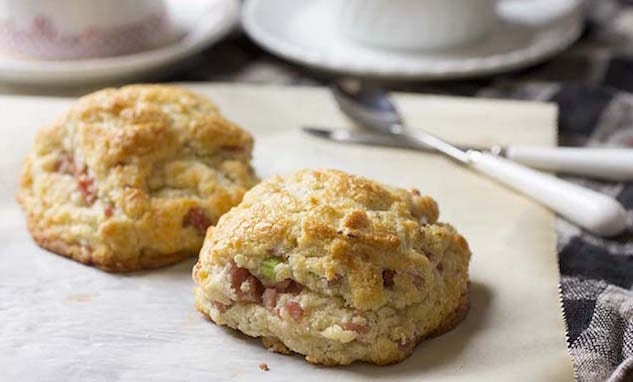 This is a go-to biscuit recipe with a multitude of flavor options. The best part, you can make them ahead and bake them off for brunch whenever.
By Debra Smith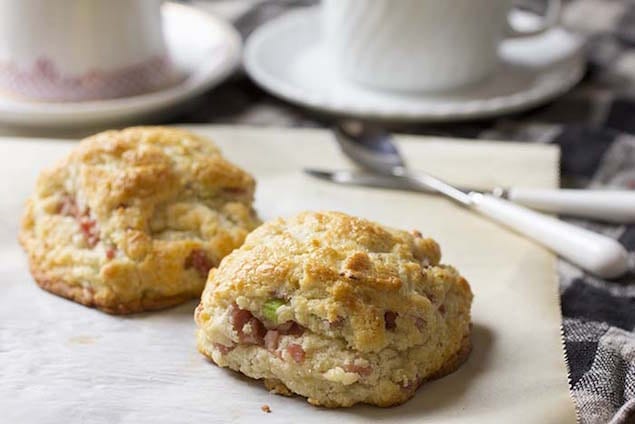 If you're looking for a fluffly, buttery biscuit to add to your brunch table, especially on New Year's Day, these are the biscuits to make; the best part about this recipe is that they're not only gluten-free, they're also make-ahead so you can pull the recipe together today, pop in the freezer and bake off about 30-minutes before you're ready to sit down at the table. In fact, we make a batch of these, bake off two, freeze the rest on a parchment-lined baking sheet; once completely frozen, I place the biscuits in zipped pastic baggies. You can bake them off straight from the freezer, no need to thaw – just add another 5-minutes or so to the baking time.
And honestly? Don't save these just for the holidays. Sunday Brunch or even a weekday supper with a soft scrambled egg – you won't be disappointed, pinky-swear!

Gluten Free: Ham and Cheese with Scallion Biscuits
This is our 'go-to' biscuit or scone recipe (I add a bit of sugar for scones) and adapt the ingredients to whatever flavor profile we'd like; want a vegetarian option? Omit the ham. Substitute cooked bacon lardons for the ham; add herbs, etc. Additionally, the technique is critical for the success of any biscuit or scone. Always start with cold ingredients, grating the butter allows the butter to be distributed evenly throughout the dough, gently folding the dough into thirds allows you to layer the ham and scallions – again a more even distribution and press the dough with your hands versus rolling it out with a rolling pin. Your rectangle should measure 8-inches long by 4-inches wide by 2-inches high. And finally, you'll note that even though these are gluten-free biscuits, there is no xanthan or ground psyllium – it's not needed with this flour blend and the added protein of eggs and cream.
Ingredients
48 grams (1.7 ounces) buckwheat flour
48 grams (1.7 ounces) brown rice flour
72 grams (2.5 ounces) potato starch (NOT potato flour)
72 grams (2.5 ounces) tapioca starch
1 tablespoon baking powder
1 teaspoon salt
8 Tablespoons (1 stick or 4 ounces) butter, frozen
4-ounces extra sharp cheddar cheese
2 eggs, slightly beaten
½ cup heavy cream (or enough to make 1 cup of liquid when added to the eggs)
4-ounces Fork In The Road Black Forest Ham, finely diced
2 Tablespoons finely chopped scallion (green onion); can substitute chives
2 Tablespoons heavy cream for brushing biscuit tops
Instructions
Preheat oven to 400°F.
Whisk flours, starches, baking powder and salt together in a medium bowl and set aside
Grate the stick of butter and cheddar cheese using a food processor
Add the flours, baking powder and salt; pulse food processor 5-7 times to coat butter and cheese
Lightly whip the two eggs and cream and add to the flour-butter mixture; pulse food processor
until dough starts to come together and a ball forms
Turn out the dough onto a lightly-floured surface and knead gently to gather the dough – less than
one minute
Pat dough out to a 1-inch thickness and sprinkle with half the ham and scallions; fold the dough
over in three sections (like folding a piece of paper) to cover ham and green onion. Pat dough
again into a 1-inch thickness and sprinkle with the remaining ham and cheese
Fold into thirds again but this time press into a rectangle measuring 8-inches long by 4-inches
wide by 2-inches thick; cut into 8 equal squares about 2 inches high
Place on a parchment-lined baking sheet and freeze for at least 20-minutes; overnight is optimal
Brush the scones with 2 Tablespoons heavy cream and place on a parchment-lined baking sheet
Bake for 25 minutes or until golden brown.
Debra Smith
Debra and 'The Professor', Midwest-based husband and wife freelance videographers, photographers, writers, storytellers, and publishers of the Smith Bites. Using images, words, music and video, they connect the stories about food, friends and family to the world around them.