The blueberries for this recipe are perfect when they are at their best: sweet and plump.
By Sherron Watson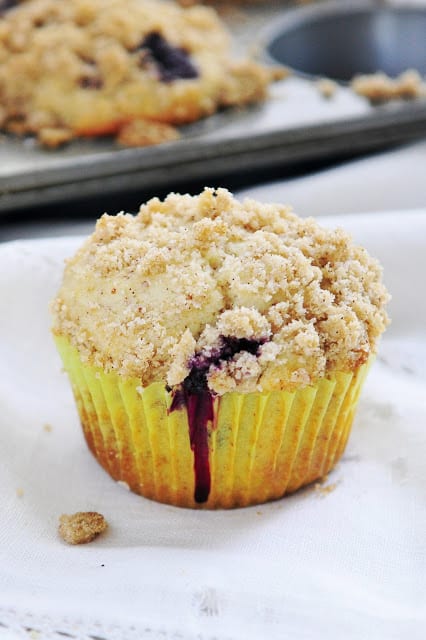 What I enjoy the most about these muffins is the streusel topping–the crunchy, sweet nuggets add the right amount of texture to the soft muffin. I love them when they are warm on the first day. They do reheat in the microwave well too.
Gluten Free Blueberry Streusel Muffins
The blueberries for this recipe are perfect when they are at their best: sweet and plump.
Ingredients
½ cup almond meal
1 cup white rice flour, fine (see note below)
½ cup tapioca starch
½ teaspoon xanthan gum
2 teaspoons baking powder
¼ teaspoon nutmeg
⅔ cup white sugar
½ cup soft butter
1 teaspoon vanilla
2 large eggs
½ cup milk
1-1/2 cup fresh blueberries
Topping
⅓ cup white rice
3 teaspoons tapioca starch
¼ cup brown sugar
½ teaspoon cinnamon
pinch of salt
2 tablespoons soft butter
Instructions
Preheat oven to 350 degrees and line a cup cake/muffin tin with 12 liners.
In a medium bowl, combine all of the dry ingredients: almond meal, white rice flour, tapioca starch, xanthan gum, baking powder and nutmeg. Stir with wire whisk until well combined, set aside.
In a large bowl, combine sugar and butter. Blend on medium speed until butter is light in color.
Add eggs one at a time and blend in. Add vanilla and milk.
Slowly add dry ingredients to wet ingredients and stir to combine.
Add blueberries and gently fold them in. If you over stir the batter the blueberries will break apart and turn your muffins purple.
Add batter to liners. Fill to the top; it is okay if they are a little over full.
To make topping: Combine all of the ingredients in a small bowl. Using a pastry cutter, cut in butter until mixture is crumbly.
Add topping generously to the top of each uncooked muffin
Bake for 25 minutes or until the tops are firm to the touch. Remove and transfer to wire rack and let cool.
Sherron Watson
Sherron Watson is a writer and photographer. Her passion for food started at a young age while working with her family in their restaurant business. A career in photography gave her the experience she needed to start capturing images of her favorite dishes. This led to the creation of her blog: simply-gourmet.com. She is currently a food writer for Capital Style Magazine in Annapolis, MD.