Filled with spices and topped with a rich cream cheese and ricotta frosting, these cupcakes would be a great addition to a holiday party.
By Liz Swartz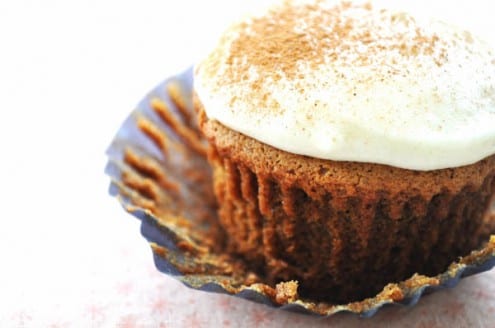 Gingersnap Cupcakes
Filled with spices and topped with a rich cream cheese and ricotta frosting, these cupcakes would be a great addition to a holiday party.
Ingredients
for the cupcakes
2 cups all purpose flour
1½ tsp baking soda
¼ tsp salt
6 tbsp butter, soften
1 cup brown sugar
2 tsp ground ginger
2 tsp ground cinnamon
½ tsp ground cloves
¼ tsp ground black pepper
1 large egg
¼ cup molasses
¾ cup milk
for the frosting
15-ounces cream cheese (most of 2 bars), at room temperature
1 cup ricotta cheese, drained (overnight if possible, but at least for an hour)
½ stick butter, at room temperature
1 teaspoon vanilla
3 cups powdered sugar
Instructions
for the cupcakes
Preheat oven to 350F. Fill two 12-count cupcake pan with cupcake liners.
In a medium bowl, whisk together flour, baking soda and salt.
In a large bowl, cream together butter and brown sugar until light and thick. Add the spices and egg, followed by molasses, stirring in between each addition. Stir in half of the flour mixture, then all of the milk and the remaining flour mixture. Mix only until no streaks of flour remain, don't overmix it!
After you've ⅔ filled each liner, bake for 17-20 minutes, until a toothpick inserted into the center comes out clean. Cool cupcakes completely on a wire rack before frosting.
for the frosting
Combine butter and cream cheese with an electric mixer.
Add in ricotta, sugar and vanilla until smooth.
Lizzy Wolff
Lizzy Wolff, creator of Sugar + Butter, loves to make you drool on your keyboard. It's a real thrill for her. For more recipes, click 'website' below.