Ginger and lemongrass meatballs float in a bok choy miso broth for a warm, satisfying soup that will keep you cozy without weighing you down.
By Cheyanne Holzworth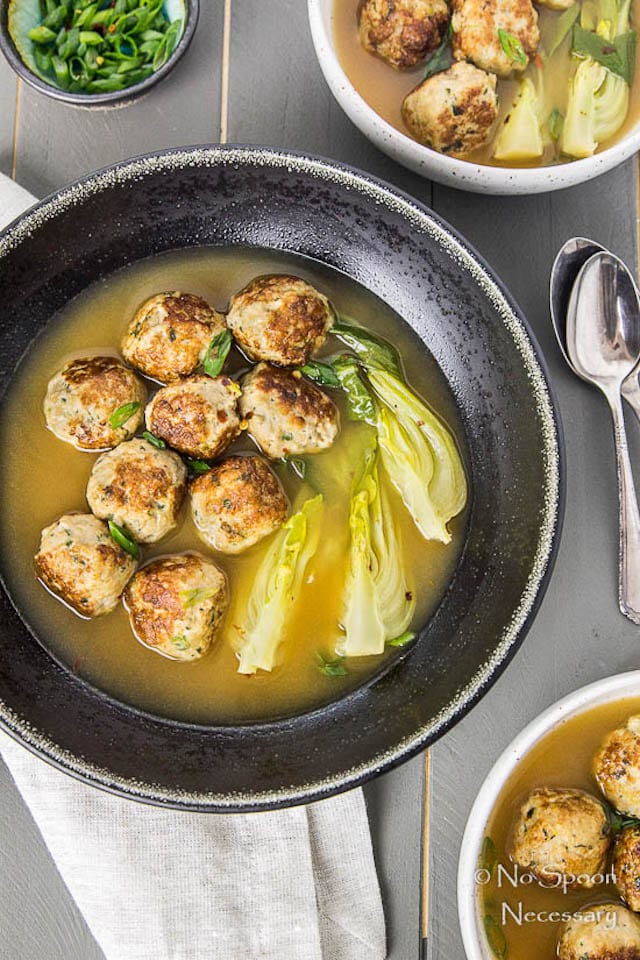 Italian wedding soup is always a winter favorite, because of the meatballs! So I wanted to do an Asian twist on one of my favs, and in my humble opinion, this soup gives the classic a run for its money. There is still the perfect marriage of meatballs and greens in a piping hot broth, just sans the Italian flavor.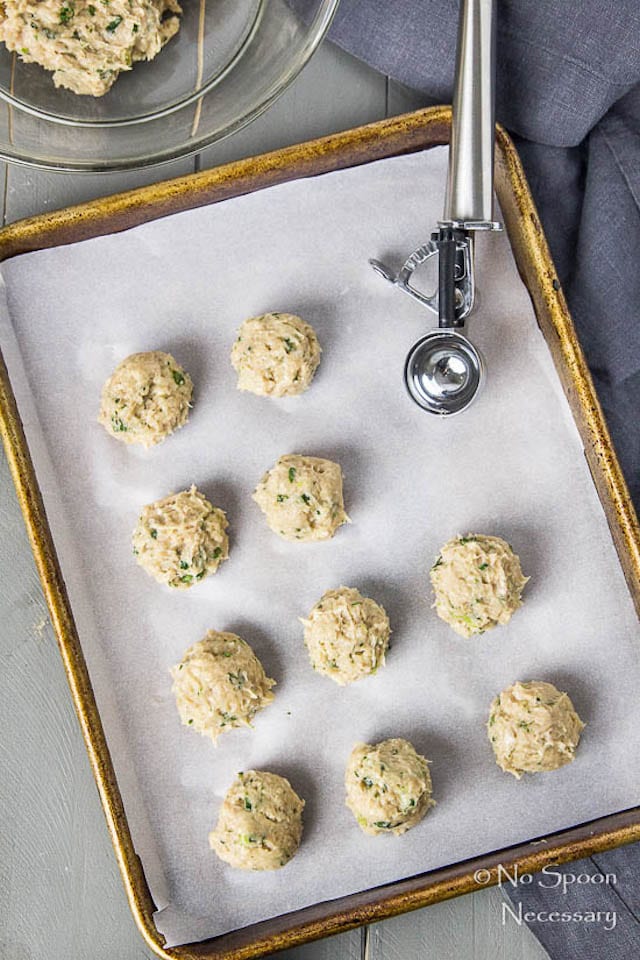 The ginger lemongrass chicken meatballs are tender, juicy and packed with savory Asian flavor. Honestly the meatballs are fabulous on their own, so I highly recommend you make double and freeze half of them to have on hand for a rainy day.
The baby bok choy adds a subtle bitterness and slight sweetness. It also adds a ton of nutrients to the soup.
While the meatballs and the bok choy are fabulous, it is the miso broth that makes this soup stellar. It is slightly spicy, a smidgen salty, and explodes with umami flavor. It is healthy, light and seriously slurp-tastic. My tastebuds were definitely doing a happy dance with each loud gulp.
See Also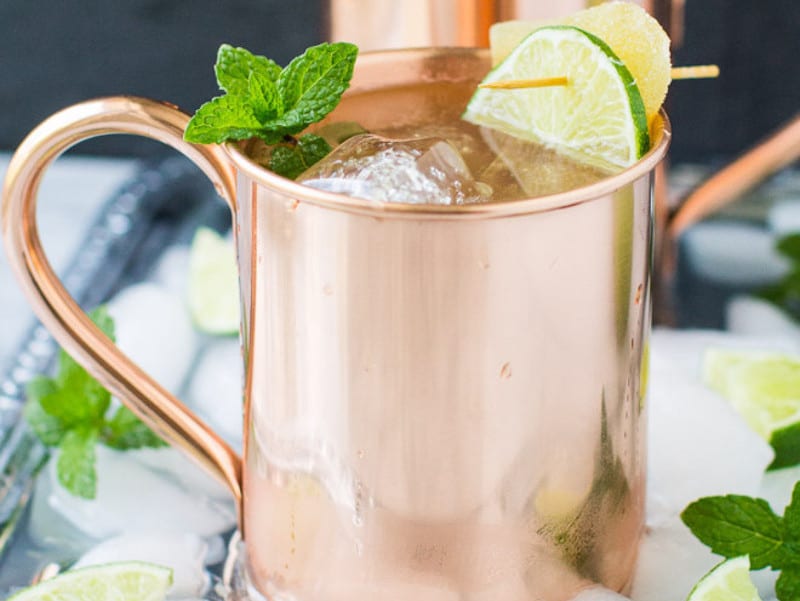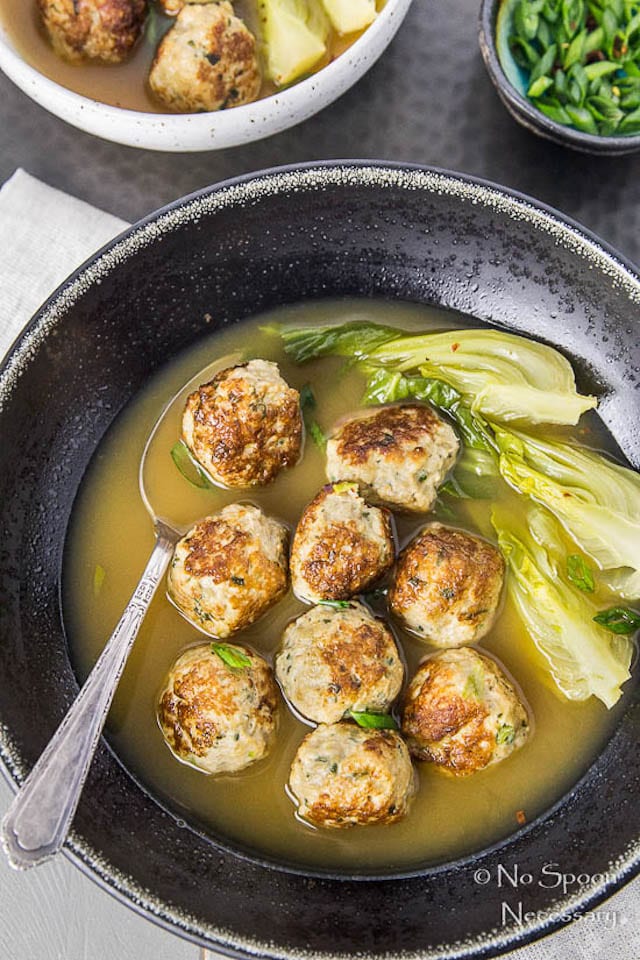 If you love meatballs, next be sure to make Jack Daniels Glazed Chicken Meatballs.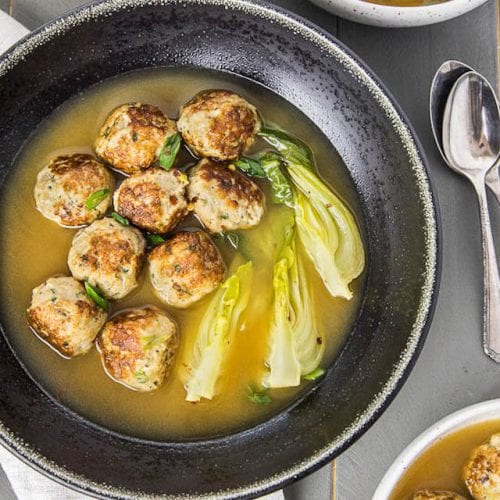 Ginger Meatballs in Miso Broth
Cheyanne Holzworth
Ginger and lemongrass meatballs float in a bok choy miso broth for a warm, satisfying soup that will keep you cozy without weighing you down.
Ingredients
1

Pound

Ground Chicken*

1

Cup

Plain Panko Breadcrumbs

2

cloves

of Garlic

divided – 1 minced and 1 peeled and smashed

1

medium Shallot – peeled and sliced

1

TBS

Reduced-Sodium Soy Sauce

Ginger

divided – 2 tsp freshly grated + 1 (1'' piece) sliced

8

Scallions – white and green part

thinly sliced, plus more for garnish

1

TBS

Fish Sauce

divided

1

TBS

Lemongrass

white part only – minced

1

TBS

Fresh Cilantro – roughly chopped

5

Cups

Low Sodium Chicken Broth

divided

1

Cups

Water

1

Thai Chili – sliced

optional

2

TBS

Miso

red or white

2

TBS

Vegetable Oil

2

heads Baby Bok Choy

quartered into wedges (can substitute 1 regular head)

¼

tsp

Crushed Red Pepper Flakes

plus more for garnish

Kosher Salt and Pepper

to taste
Instructions
Make the Meatballs:
In a large bowl combine the chicken, panko, minced garlic, soy sauce, grated ginger, half the scallions, 1 tablespoon fish sauce, lemon grass, cilantro and 2 tablespoons of broth. Use your hands or a rubber spatula to gently mix, just until combined. Use your hands to scoop out about a tablespoon and form mixture into (1''-diameter) meatballs. Transfer to a plate or clean work surface lined with parchment paper. Repeat until all meatballs are formed.

In a medium pot over medium heat, combine remaining broth, water, Thai chili, smashed garlic, shallot, sliced ginger, 1 tablespoon fish sauce and remaining scallions. Bring to a gentle simmer over medium-high heat. Reduce heat to maintain a simmer and cook for 15 minutes. Use a slotted spoon to remove solids and discard. In a small bowl combine miso with 2 tablespoons of the broth and whisk to combine. Add the miso mixture to the pot of broth. Stir to combine.
Meanwhile
Heat oil in a large skillet over medium heat until shimmering. Add meatballs to skillet (in batches if necessary to not overcrowd the pan) and cook, turning occasionally, until golden brown on all sides, about 6-8 minutes. Remove and transfer to a clean plate.

Add the bok choy and crushed red pepper flakes to the broth. Simmer until bok choy is almost tender, about 3 minutes.

Add in the meatballs and bring broth back to a simmer. Simmer until meatballs are cooked through, about 5-8 minutes. Taste broth and adjust for seasoning with salt and pepper.

Serve garnished with scallions and crushed red pepper flakes.
Cheyanne Holzworth
Hi there! My name is Cheyanne. I am an avid foodie, culinary school graduate, recipe developer and newbie blogger. I find peace and joy being in the kitchen and am obsessed with feeding anyone who has an appetite. I am also a lover of food porn. I picked up a camera one day and fell in love with food photography. Then I got a wack-a-me-me idea to start a food blog and the rest is history. No Spoon Necessary is a place where I share my passion for food and photography with all who care to join me. I also rant, ramble on and share my life a little. In a world filled with so many talented food bloggers, I am simply trying to carve my space in www dot com land, take you all with me on the crazy ride and cook 'n eat some delicious food along the way! So, strap on that apron and work some culinary magic with me. Cheers!