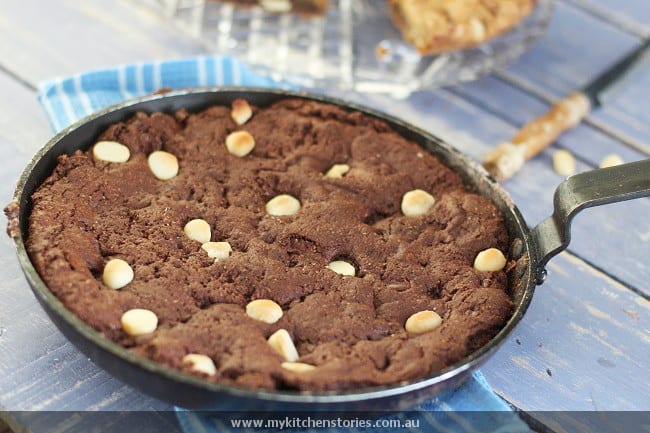 This really couldn't be easier. One pot cookies that you can make anytime.
By Tania Cusack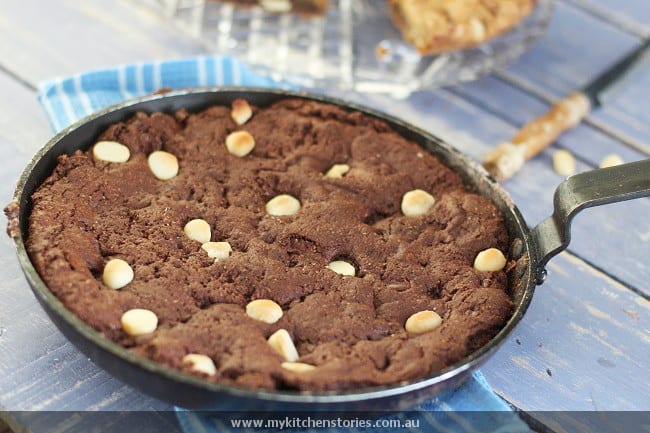 "I'd just like a cookie that is so big it would take me all day to eat it", said my friend Sally. I looked at her and realised that she really meant it. Sally can eat more cake, cookies and pastry than anybody I have ever met. Her house is the ideal place to deliver excess baking of any kind. That is where these giant cookies have found a home. Sally has been very down lately and I wanted to surprise her with these giant skillet cookies. "Skillet" or frypan baking has been quite the trend for a while, especially in the US, where cookies are an addiction. You'll find all sorts of Giant Skillet Cookies are served in restaurants there.

Giant Skillet Cookie
This really couldn't be easier. One pot cookies that you can make anytime.
Ingredients
1x oven proof skillet or frypan 10in or 24cm. Pre-heat the oven to 180C/ 350F
125gm ( 1 stick) of butter
½ cup of brown sugar
½ cup of caster sugar ( granulated sugar)
1 egg
1 teaspoon vanilla
1½ cups of flour
1 teaspoon bi carbonate of soda
1 cup of chocolate chips ( or chopped chocolate)
Instructions
Put the skillet onto the stove top and add chopped butter. Leave over a medium heat till the butter has only just melted. Turn off the heat
Add the two sugars and vanilla to the frypan and stir well.
Crack the egg into a cup and break up with a fork and stir into the sugar butter mix
Mix the flour and bi carb together well and add ½ to the frypan stirring well.
Add the remaining flour and chocolate chips and stir. Flatten down the mixture and add nuts (if using)
Bake the cookie for 18-20 minutes, or until just firm.
Serve the cookie in the skillet with ice cream or wait till it is cool and release onto a plate.
Tania Cusack
After completing Culinary School in Sydney, Tania travelled the world working as a Chef in restaurants, doing catering and cooking on road for a travel company in Europe and the US. Once back at home, the birth of her son meant a change, and during his small years, she enjoyed jobs in wholesale food, buying Artisan food products, testing and recipe writing as sales and educational tools. Tania is now back to what she loves, working as an in house Chef for a large retailer, conducting Cooking Classes and writing recipes for her blog.