Crispy and buttery on the outside, these knots are tender and soft on the inside and lovingly smothered with crispy bacon, fresh garlic, and grated cheese. Don't forget to dunk them in the beer and cheese sauce.
By Cheyanne Holzworth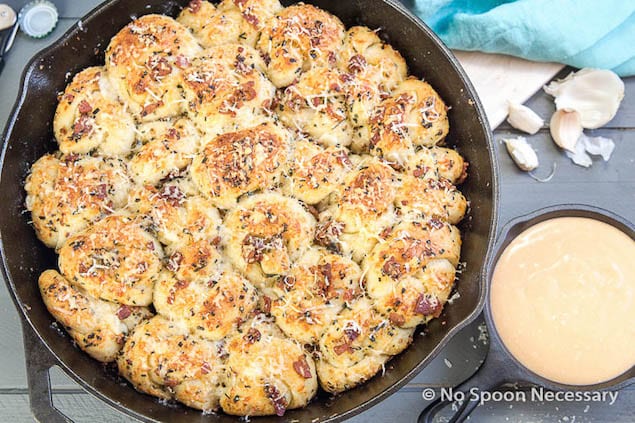 I find the whole process of making bread therapeutic and relaxing. I adore the smell of fresh bread baking in the oven and wafting through the house. To me, it is literally, the smell of love. However, some days Boy gets a hankering for freshly baked bread and I simply don't have the time to spend kneading, rising, proofing, and baking. On those days these Easy Bacon and Garlic Pull Apart Knots with Beer-Cheese Dip are perfect.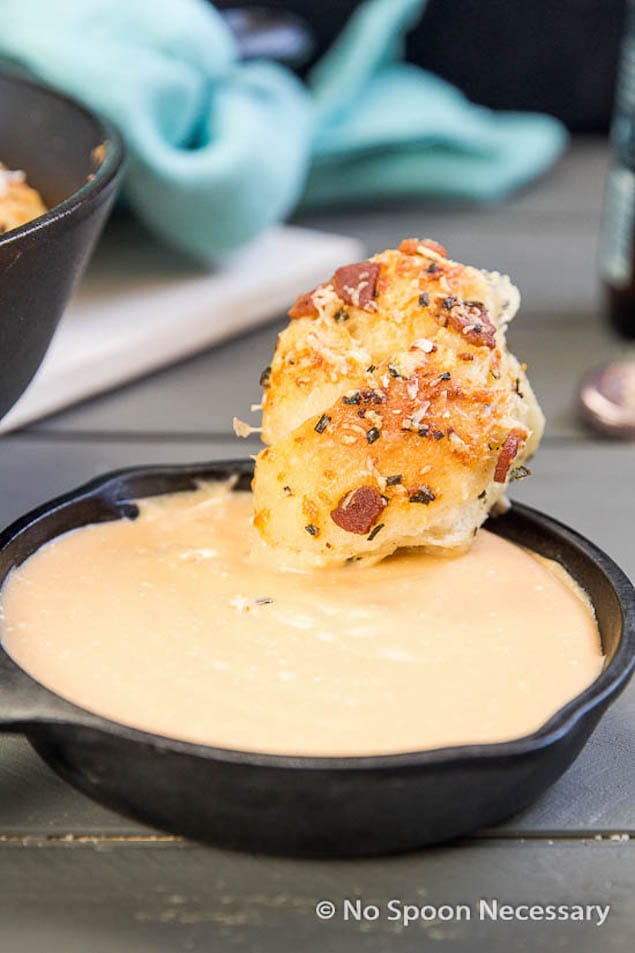 These knots utilize store bought or your own recipe for already made pizza dough for easy-peasy, delicious bread you don't have to slave over. These pull apart knots are crispy and buttery on the outside, while remaining tender and soft on the inside. Lovingly smothered with crispy bacon, fresh garlic, and grated cheese, it is impossible not to "ohhh and ahhhh" over these. While rapidly inhaling one after the other, of course.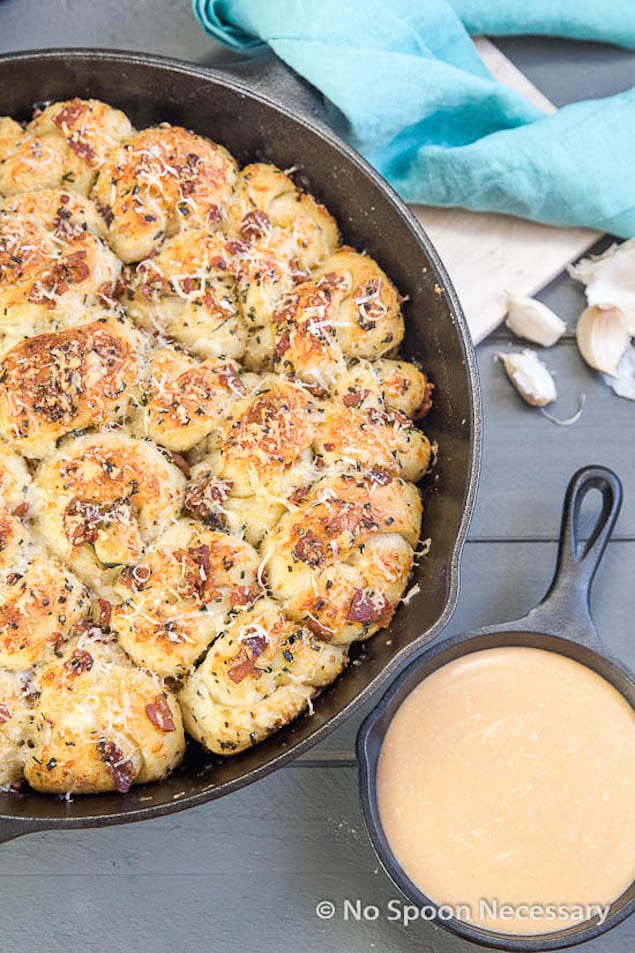 Try this recipe for a pizza dough base.
Print
Garlic and Bacon Pull-Apart Bread with Beer Cheese
Crispy on the outside, these knots are tender on the inside and smothered with bacon, garlic, and cheese. Don't forget to dunk in the beer-cheese sauce. Knots adapted from Serious Eats
Author:

Cheyanne Holzworth

Yield:

4

-

6

servings or

24

knots

1

x
Category:

Bread, Baking
Bacon Garlic Knots:
1

Pound Pizza Dough (see the link above for a great recipe)

6

slices of thick cut Bacon – diced

2

TBS Butter
Pinch Red Pepper Flakes

6

Cloves of Garlic – minced (roughly

2

TBS)
? Cup Chives – minced

¾

heaping Cup Parmesan (about

2 oz

.) – grated, divided. Plus more for topping
All Purpose Flour, for work surface

1

TBS Extra Virgin Olive Oil
Beer Cheese Sauce:
2

TBS Butter

2

TBS All Purpose Flour

1

(12 ounce) Bottle Ale

1 tsp

Mustard Powder

1 tsp

Worcestershire Sauce

½ tsp

Sriracha (can substitute hot sauce of choice)

1

large clove of Garlic – minced

½ Cup

(

4 oz

.) Cream Cheese – softened and diced

2 ¼ Cups

(

6 oz

.) Sharp Cheddar Cheese – grated

¼ tsp

Kosher Salt, plus more to taste
Ground Black Pepper, to taste
Instructions
For Bacon-Garlic Mixture:
Heat a 10'' cast iron skillet over medium heat. Add diced bacon and cook until crispy (about 12 minutes). Use a slotted spoon to remove bacon and transfer to a large mixing bowl, leaving bacon drippings in pan.
Add Butter and heat until melted and starting to foam. Add the red pepper flakes and garlic to the pan. Cook, stirring, 30 seconds-1 minute, or until fragrant. Transfer mixture to mixing bowl with the bacon. Allow to bacon/ butter mixture to cool slightly. Stir in ½ cup parmesan cheese and chives. Set cast iron skillet aside, leaving the bacon dripping/butter residue in the pan.
For the Knots:
Lightly flour a clean work surface. Divide the pizza dough into two even halves. Working with one half at a time, use a rolling pin to roll/stretch to form a long rectangle, 8''x4''. Use a pizza cutter or bench scraper to cut the rectangle, crosswise, into 12 even strips. Repeat stretching, forming a rectangle and cutting strips with the other half of the dough.
Sprinkle the dough strips with a little bit of flour to prevent sticking. Working one strip at a time, roll to form a small rope. Tie into a knot and transfer to the mixing bowl with bacon. Continue rolling and tying until all the dough is knotted. Use your hands to toss the knots with the garlic/bacon until thoroughly coated.
Transfer the knots to the cast iron skillet, in a single layer. Cover the knots tightly with plastic wrap and allow to rest in a warm place until doubled in size, about 4 hours. Or, refrigerate the wrapped knots until doubled in size, 12-14 hours.
Meanwhile, Prepare the Beer-Cheese Dip: In a medium sized sauce pan over medium heat, melt the butter until slightly foaming. Whisk in the flour and cook, stirring continuously, for 1 ½ – 2 minutes, until pale in color.
Slowly whisk in the beer. Increase the heat to medium-high and bring to a boil. Immediately reduce heat to medium. Stir in the mustard, Worcestershire, Sriracha and garlic. Cook, whisking occasionally, until the mixture is slightly thickened, about 4-5 minutes.
Add in the salt and cream cheese. Stir to thoroughly incorporate.
Reduce heat to medium low. One handful at a time, add the cheddar cheese, stirring in between each addition. Season to taste with salt and pepper. Reduce heat to low and keep warm, stirring occasionally, until ready to serve.
When ready to bake the knots: Adjust oven rack to the center position and preheat to 425 degrees F. If you refrigerated the knots, allow to come to room temperature on the counter for 30 minutes.
Sprinkle the tops of knots evenly with remaining ¼ cup parmesan cheese. Bake for 25-30 minutes, or until knots are cooked and golden brown in color.
Remove from oven, brush with a tablespoon of olive oil while still hot and sprinkle generously with additional parmesan cheese.
Serve the warm bacon-garlic knots with the hot beer cheese dip.
Cheyanne Holzworth
Hi there! My name is Cheyanne. I am an avid foodie, culinary school graduate, recipe developer and newbie blogger. I find peace and joy being in the kitchen and am obsessed with feeding anyone who has an appetite. I am also a lover of food porn. I picked up a camera one day and fell in love with food photography. Then I got a wack-a-me-me idea to start a food blog and the rest is history. No Spoon Necessary is a place where I share my passion for food and photography with all who care to join me. I also rant, ramble on and share my life a little. In a world filled with so many talented food bloggers, I am simply trying to carve my space in www dot com land, take you all with me on the crazy ride and cook 'n eat some delicious food along the way! So, strap on that apron and work some culinary magic with me. Cheers!