This post is sponsored by Cavit. Inspire your pairings, recipes, and gatherings with new wine ideas.
Topped with crispy bacon and a creamy garlic crème fraîche, this roasted cabbage is a decadent treat that pairs well with Pinot Noir and still is packed with nutrients.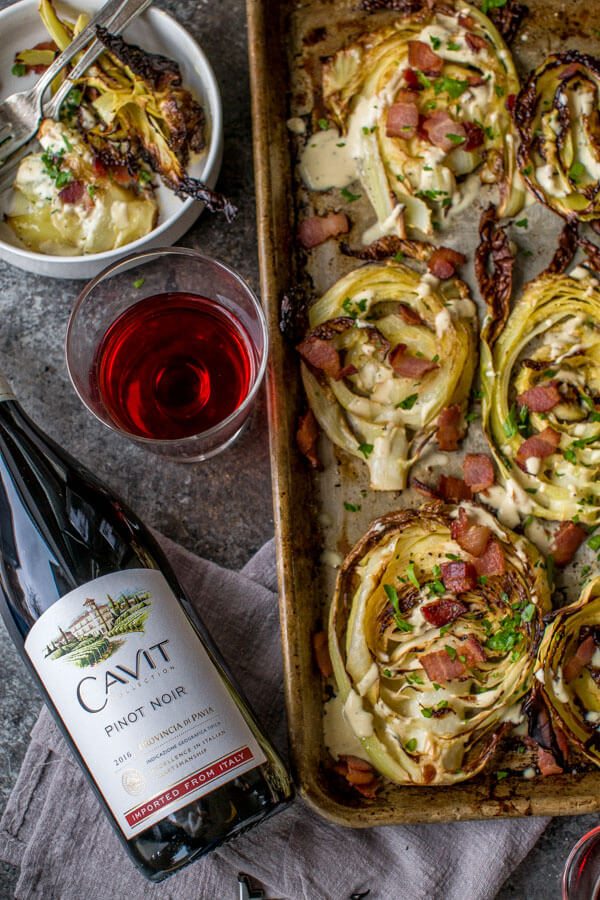 Now that the holidays have passed, it's time to start thinking about eating a bit healthier, but that doesn't mean that dinner can't still be delicious! This recipe for roasted cabbage steaks is going to prove that to you – Promise. The reason? I'm not leaving off any of the good stuff… There's bacon and there's an amazingly delicious drizzle made of creme fraiche, lemon juice, dijon mustard and a bit of garlic.
I once heard that to make the perfect steak, you need to balance out the fat with a bit of citrus and salt. So, when you're done grilling a steak, squeeze a bit of lemon over the top of it and then sprinkle on some flaky sea salt. I took that concept and put it to use on these roasted cabbage steaks – The citrus comes into play with the garlicky creme fraiche sauce and the salt comes from that crispy, smoky bacon. These two play so well together you guys…
For the garlicky creme fraiche, you want to be sure that you get your garlic grated really fine. I use a microplane. However, if you don't have one, you can also throw all the sauce ingredients into a blender or food processor and let it get nice and smooth in there.
Now let's talk about the true star of the show – The cabbage.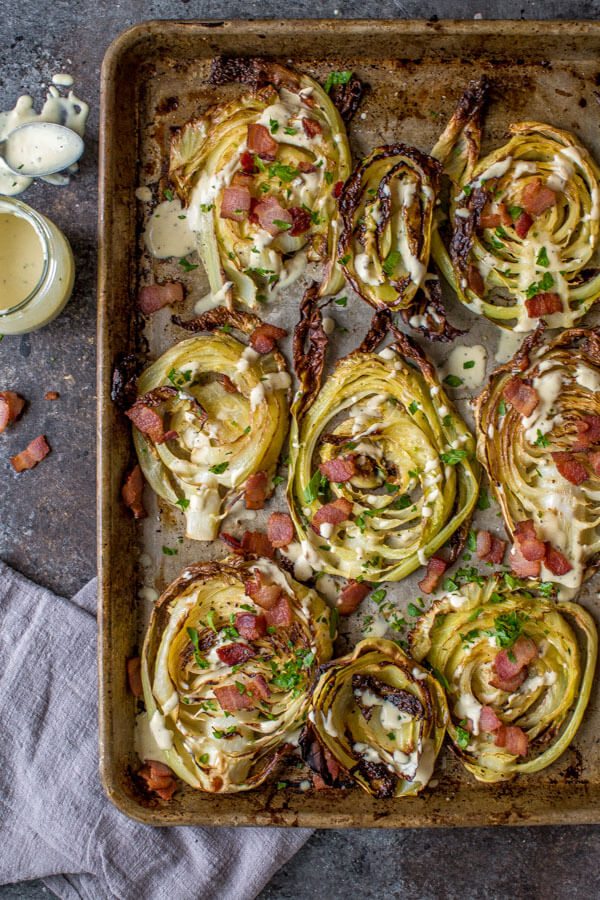 These roasted cabbage steaks take on almost a caramelized quality and the best part (the edges) get all nice and crispy and charred. The key is high heat, and really, a good amount of cooking time – 36 minutes in total with a flip in between. Be sure that you drizzle them with a good bit of olive oil and a hearty dose of salt and pepper before popping them into the oven too.
Look at that beauty…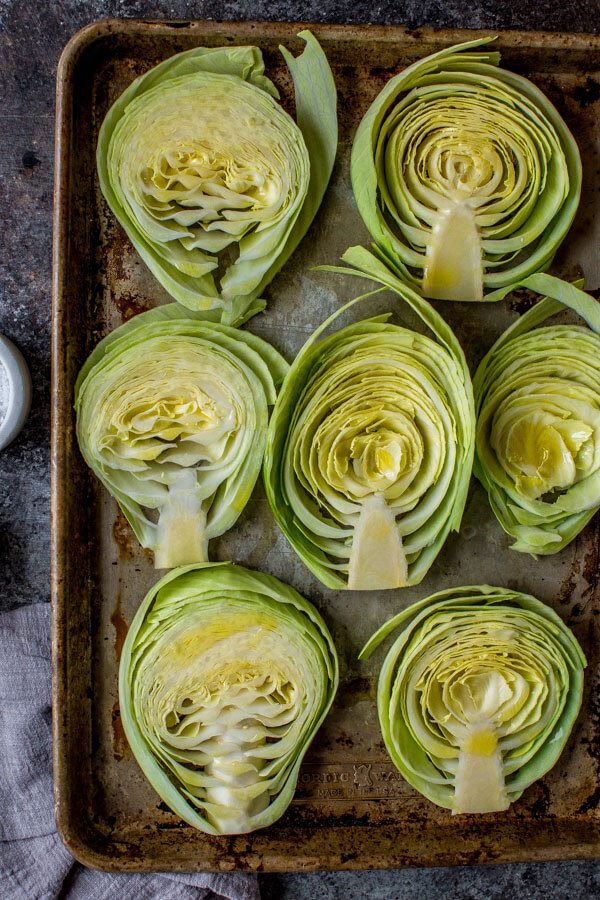 When they're out of the oven, dress them up with as much or as little of the garlicky creme fraiche sauce as you'd like (you'll have extra). And feel free to pile on as much bacon as you want… I find myself nibbling on it as it's cooling, so I always make maybe a strip or two too much.
See Also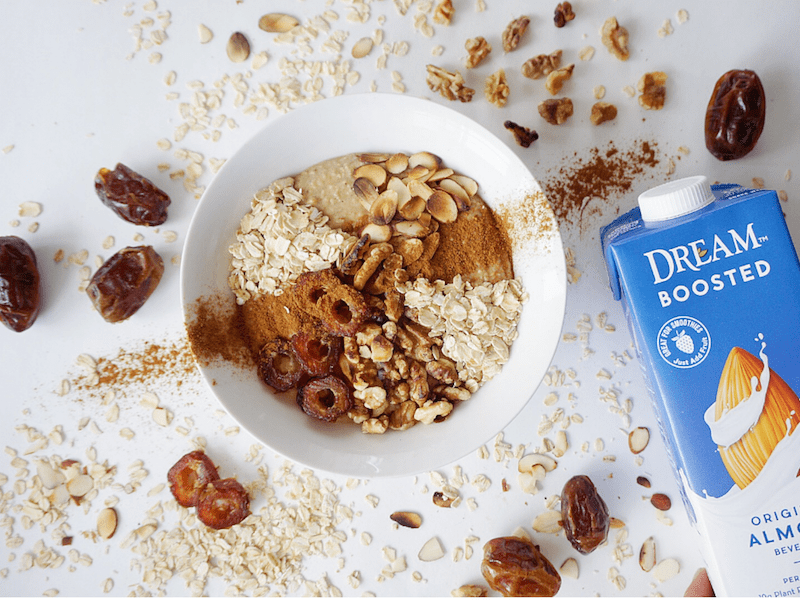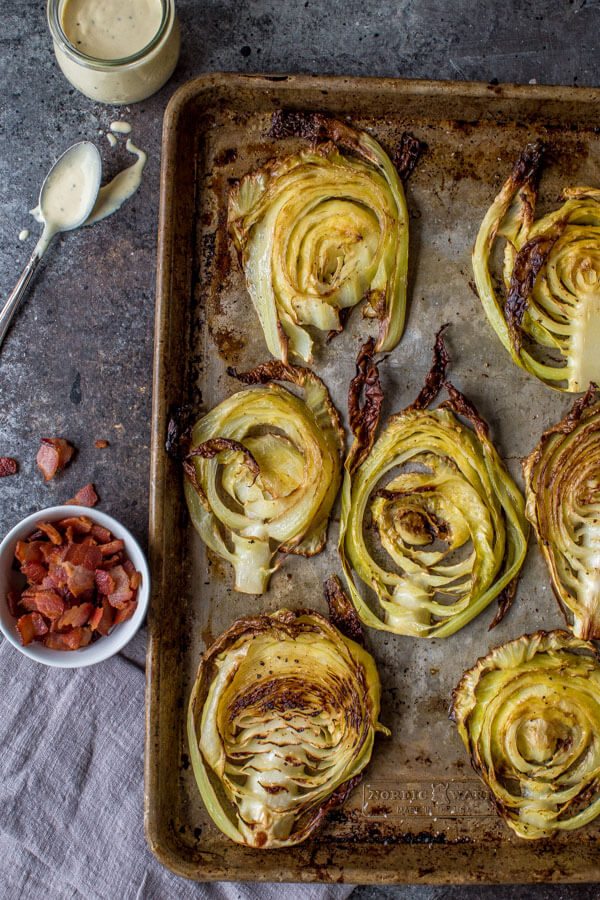 My New Year's Resolutions do not include drinking less wine, so of course, I had to pair these roasted cabbage steaks with a bottle. I found the perfect wine pairing with a bottle of Cavit Pinot Noir – This pinot is silky smooth with a hint of red berries. It's earthy notes make a great match with the charred cabbage and the acidity balances out the rich bacon and garlicky creme fraiche.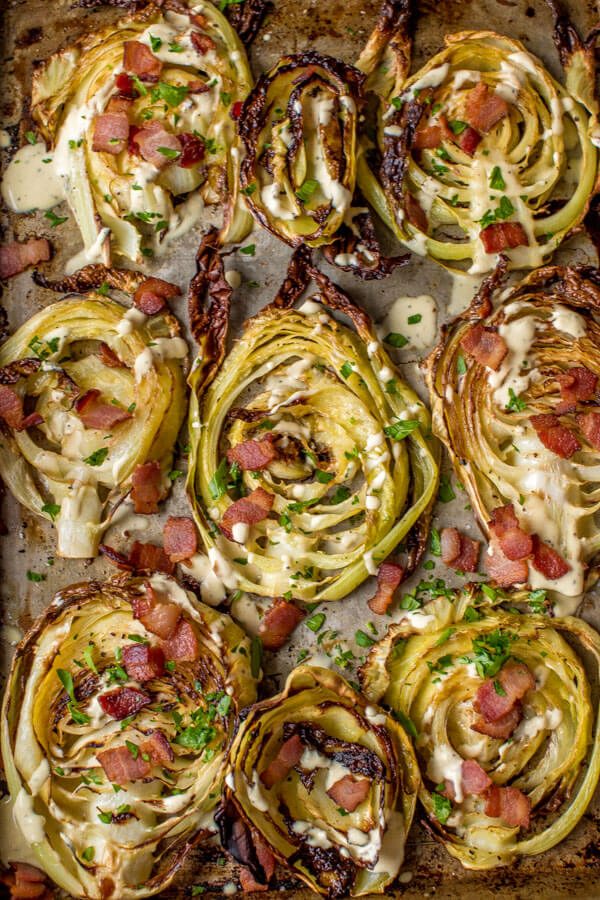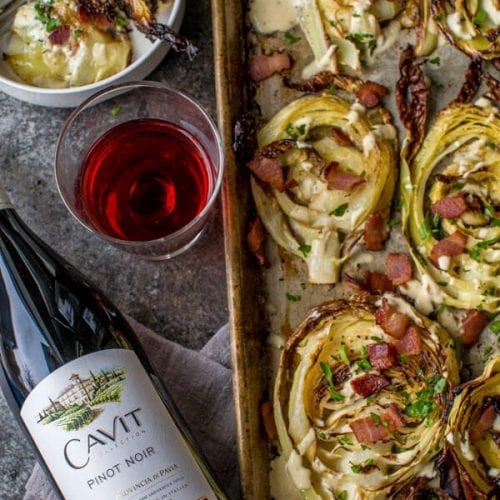 Garlic and Bacon Roasted Cabbage with Pinot Noir
Erin Rebecca
Topped with crispy bacon and a creamy garlic crème fraîche, this roasted cabbage is a decadent treat that pairs well with Pinot Noir and still is packed with nutrients.
Ingredients
2

heads cabbage

4

Tbsp

olive oil

5

slices

bacon cut into 1-inch pieces

½

cup

creme fraiche

½

lemon juiced

1

Tbsp.

dijon mustard

1

clove

garlic grated

Salt and pepper to taste
Instructions
Preheat oven to 400 degrees.

Stand the cabbage up root end on your cutting board. Cut into ½ inch thick slices, being careful to hold the leaves together. You can leave the core in, it will soften as it cooks.

Arrange the cabbage steaks on two cookie sheets. Drizzle with olive oil and sprinkle with salt and pepper. Roast for 18 minutes, turn over, then roast for 18 additional minutes.

Meanwhile, fry the bacon and make your sauce.

Add the bacon pieces to a skillet set over medium heat. Cook until bacon is crisp and then remove with a slotted spoon to a paper towel lined plate.

Combine the creme fraiche, lemon juice, dijon mustard and garlic in a small bowl and stir to combine. Season with salt and pepper, to taste.

One the cabbage steaks are cooked, drizzle them with the creme fraiche sauce and sprinkle them with the bacon. Serve immediately.
Erin Rebecca
I'm Erin - a self-taught weeknight cook. I occasionally like to delve into the more complicated recipes, like homemade pasta, Cioppino, and boeuf bourguignon. But for the most part, I work full-time, come home, pour a glass of vino and start cooking away.