These peanut butter rice Krispie treats treats are anything but ordinary. The bottom layer of these bars is a fudgy blondie base that you will adore.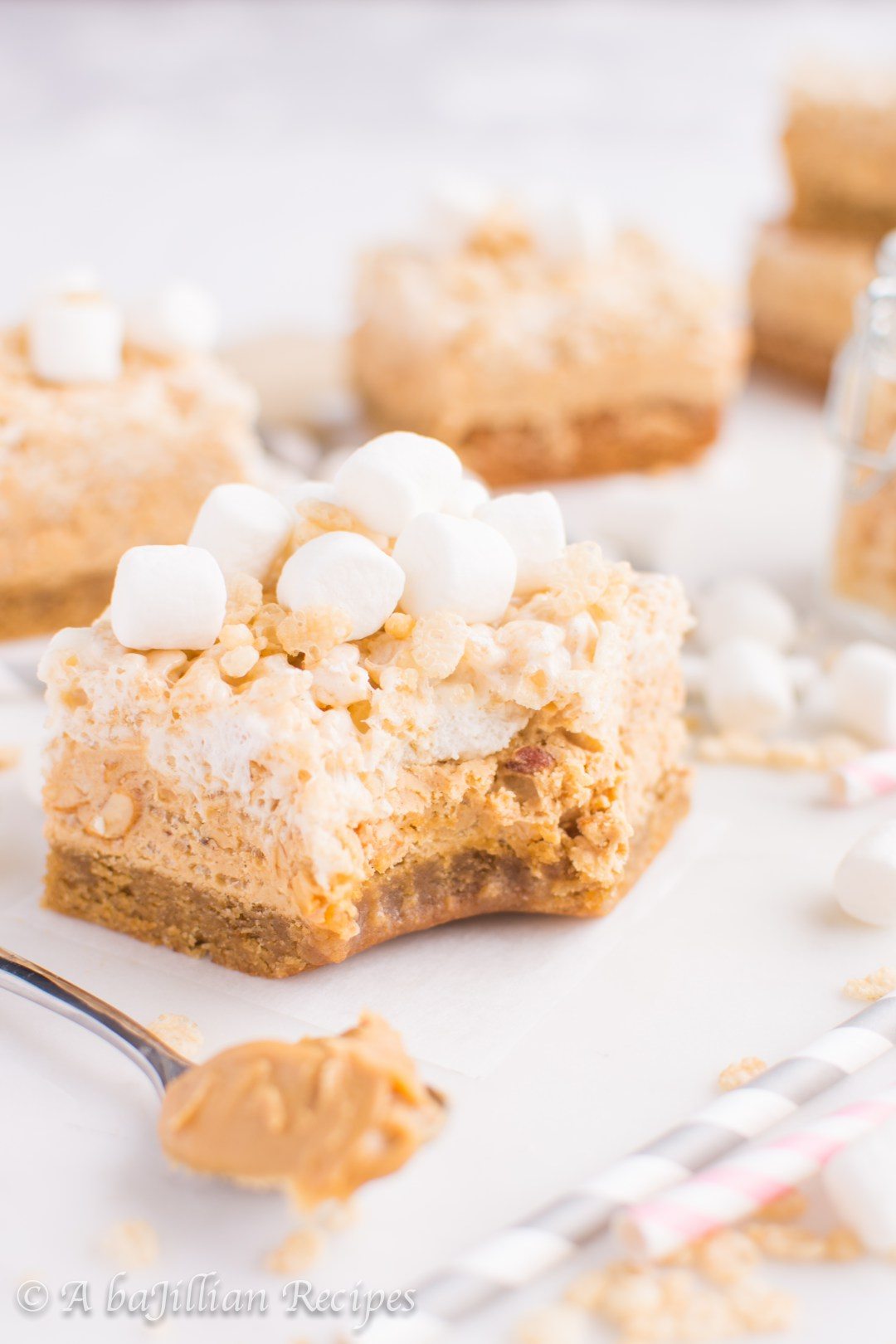 A soft and chewy layer of peanut butter blondies, a layer of white chocolate peanut butter krispies, and a marshmallowy layer of rice krispy treats! Heaven.
As a kid, I always loved the sugary marshmallowy sweetness and satisfying crisp of rice krispies treats. It didn't matter if it was the original ones in the blue wrappers that you bought from the grocery store, or the huge honkin' ones sold in the bakeries–I loved them all. So it should come as no surprise that after posting seven rice krispies recipes on this blog, I still haven't run out of ways to incorporate this underrated cereal into something magically sinful.
It's definitely been what feels like forever since I've posted a rice krispies recipe, so these Ultimate Peanut Butter Krispies Blondies were WELL overdue.
Similar to my line of Ultimate Rice Krispies Treats, these are basically rice krispies treats on steroids. With THREE different layers of rich, chewy, gooey deliciousness, one bite will knock you to your knees.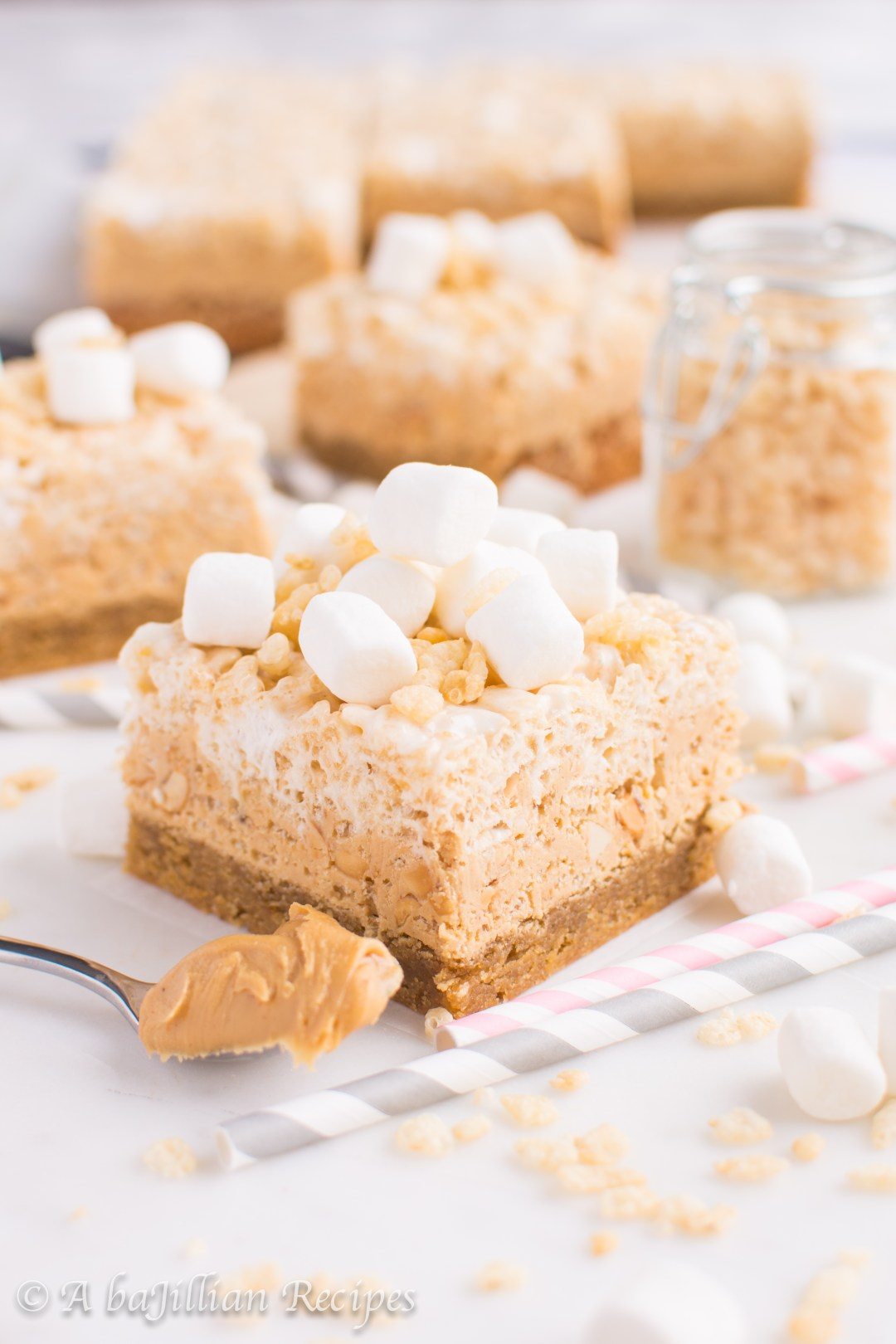 Starting from the bottom, we have an ultra soft and chewy layer of peanut butter blondies. It's fudgy like a brownie, but without the chocolate/cocoa flavor–just pure peanut buttery goodness. I ended up using the same blondie recipe that I used for my Nutella-Stuffed Peanut Butter Blondies because I knew it would make the perfect base.
And since one layer of peanut butter just wasn't sufficient enough, I topped the blondies with a crispy layer of white chocolate peanut butter krispies. It's a mixture of peanut butter melted with white chocolate then combined with rice krispies cereal and chopped peanuts. I used honey-roasted peanuts for some extra sweetness, but plain will also due. It's just four simple ingredients, but I swear it's like crack. I'm seriously thinking of just making up a batch of it and eating it straight from the bowl.
Don't judge me…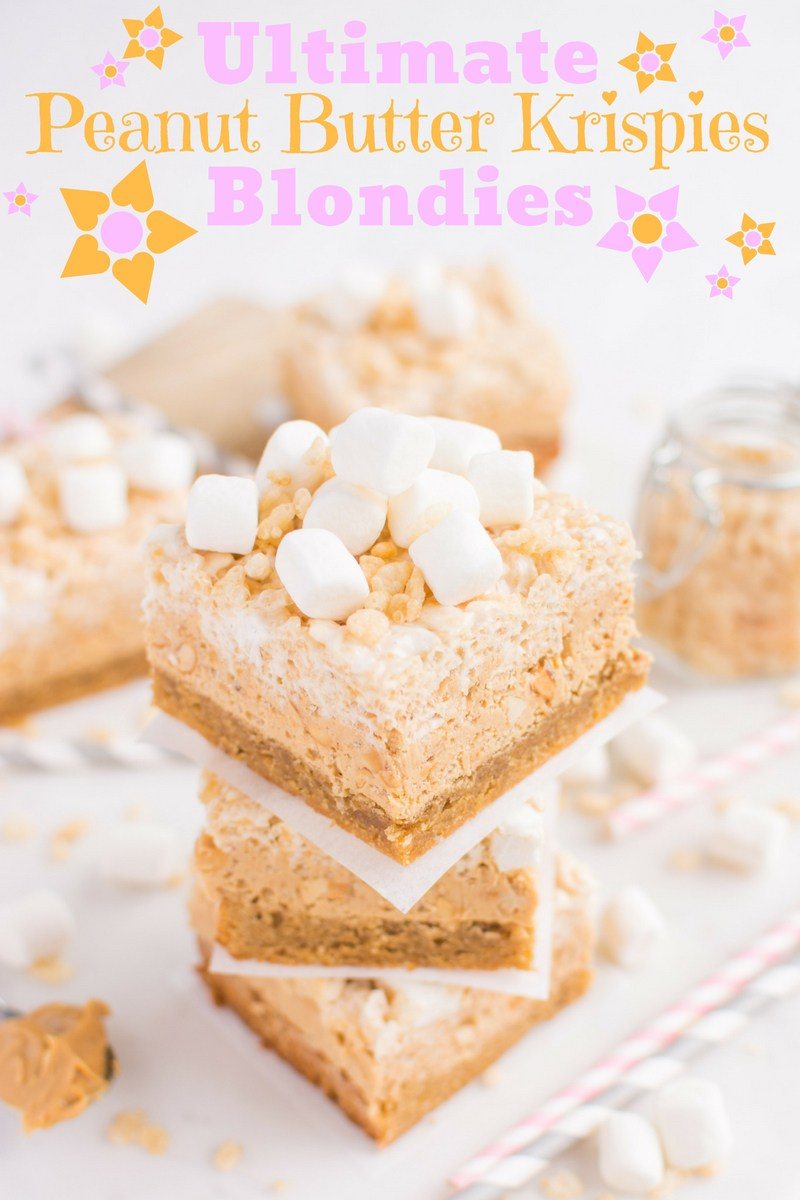 Once that layer set, I made up some rice krispies treats for the third and final layer. Since there's already two layers of peanut butter in these puppies, I decided to stick with the original. To get them soft and ooey gooey, I melt the butter first, then stir in the marshmallows (minus a half cup or so), heating them just until they're mostly melted and puffy. I've found that when you heat the marshmallows and butter together for too long, it results in tougher treats. Once the marshmallows are nice and puffy, I stir in the cereal and reserved marshmallows until just combined. It's having those thick streaks of marshmallow throughout the treats that create that gooey marshmallow pull.
Click here for the blondie recipe for the bottom layer.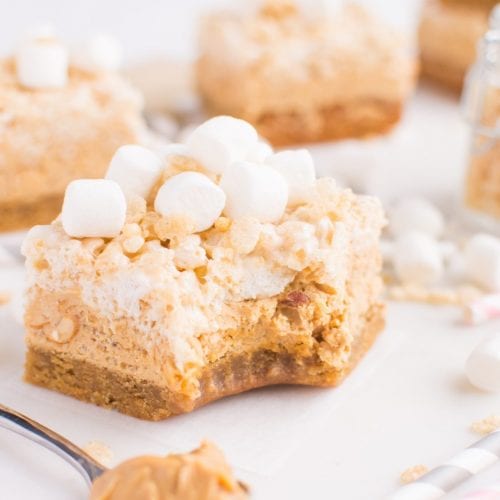 Fudgy Peanut Butter Rice Krispie Treats
Jillian Hatsumi
Ingredients
Peanut Butter Blondie:
Click the link above for the recipe.
Peanut Butter Krispies:
3/4

cup

peanut butter

6

ounces

white chocolate

chips or chopped

1

cup

crisp rice cereal

1/2

cup

chopped peanuts

I used honey-roasted
Rice Krispies Treats:
2

Tablespoons

salted butter

3

and 1/2 cups mini marshmallows

divided

2

cups

crisp rice cereal
Instructions
Make the Blondie
Click the link above for the recipe.
Make the Peanut Butter Krispies:
In a medium microwave-safe bowl, heat the peanut butter and white chocolate in the microwave for 1 minute, remove, stir, then return to the microwave for another 30 seconds. Stir until smooth, then add the cereal and chopped nuts, stirring until incorporated. Spread mixture evenly on top of the cooled blondies. Refrigerate while you work on the rice krispy layer.
Make the Rice Krispies Treats:
In a medium saucepan, heat the butter until fully melted. Add 3 cups of the mini marshmallows, stirring until marshmallows are mostly melted. Pour in the cereal, stirring until combined. Turn off the heat and stir in the remaining 1/2 cup of marshmallows. Dump mixture on top of the peanut butter krispies layer, using a spatula to gently pack it into an even layer. Refrigerate for 1 hour to allow all layers to set up.

Run a knife around the sides of the pan to loosen. Using parchment overhang, lift the treats from the pan and onto a cutting board. Slice into squares, serve, and enjoy!
Notes
*This recipe can easily be doubled and made in a 9×13-inch baking dish.
Jillian Hatsumi
I'm Jillian, the writer, baker, chef, recipe creator, and amateur (very amateur) photographer of A baJillian Recipes. Though I'm not a classically trained chef, I like to think I know my way around a kitchen pretty well. Aside from baking, cooking, and EATING, I also enjoy acting, couponing (I LOVE saving money!!), running, working out, photography, and playing with my little fluffernutter, Olivia. She's a dog, if you're wondering...