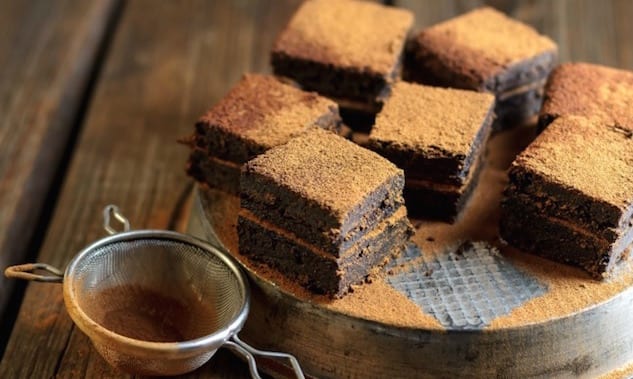 Mexican Hot Chocolate Double Fudge Brownies are rich, fudge-y, have a spicy kick, and an interesting secret ingredient.
By Gin Butters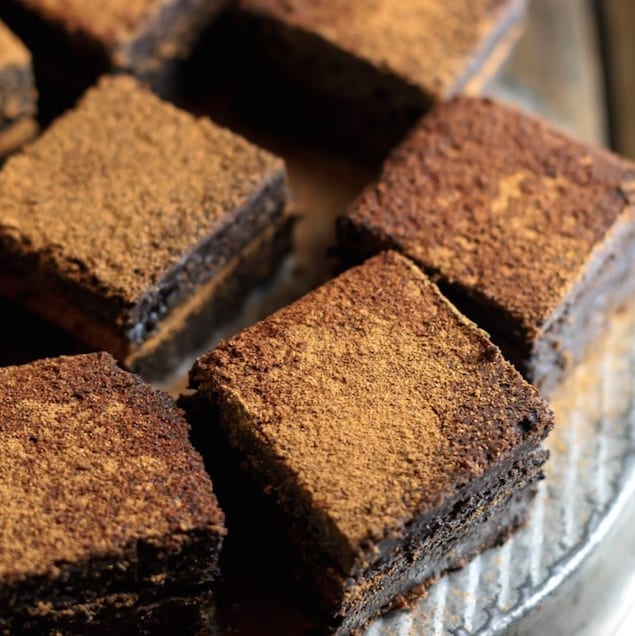 Since we're having double fudge brownies, this is an awesome way to do it. These are black bean brownies, which I always love because they're so moist and fudgy (I feel like I'm saying fudge a lot), and they're full of fiber and protein too. And they help them hold up to being vegan and gluten free. They don't taste like black beans. For real. I wouldn't kid you about something this important.
We're making kind of a brownie sandwich here, and there's fudge in the middle made from dates and cocoa. It's totally delicious! Dates + cocoa = amazing fudgy edibles. I've explored this important topic a few times, in vegan no bake cookies, coconut pecan brownies and this frosting. It's pretty much the same frosting we're using here, except I added some cinnamon and cayenne this time to get all Mexican hot chocolate with it.
So are you ready to get down with some Mexican Hot Chocolate Double Fudge Brownies? Oh-lay!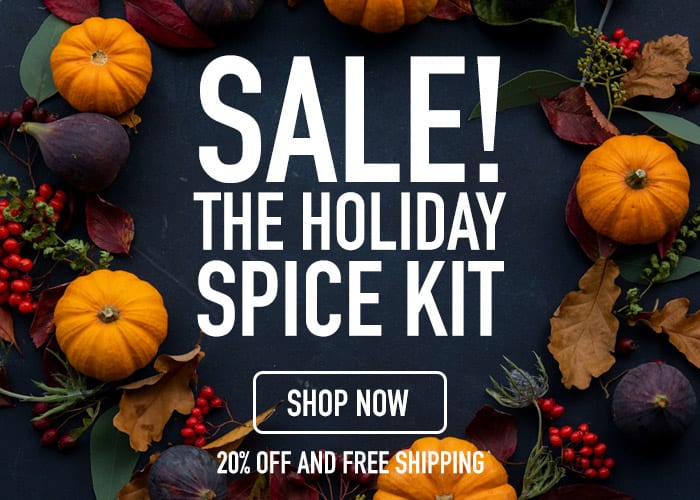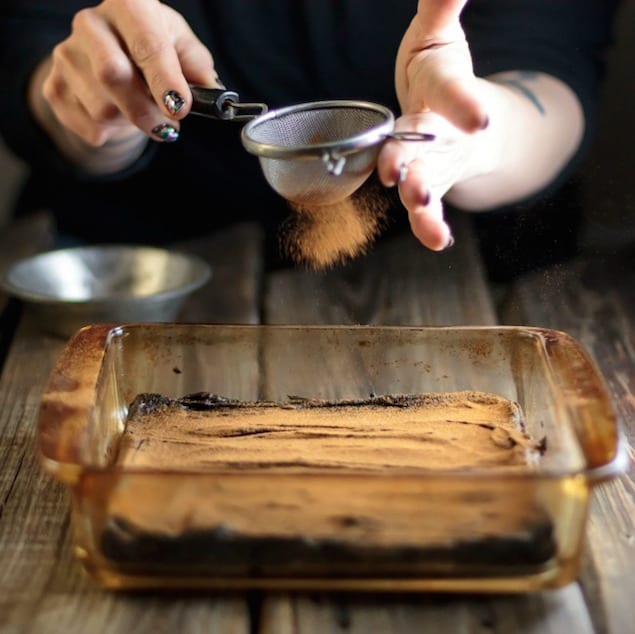 See Also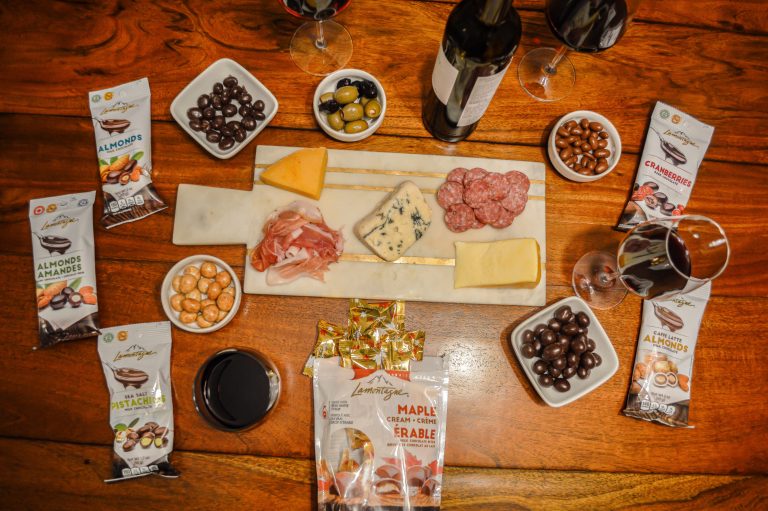 Make the brownies. Then spread them with fudge. At this point I'm kind of tempted to abandon ship and start hacking off pieces and eating them. But if I can just hang on a little bit it gets even better. There's already cinnamon and a little cayenne mixed right into the fudge frosting, but we're going to Mexican hot chocolate to the max and give the fudge a good dusting of cinnamon too.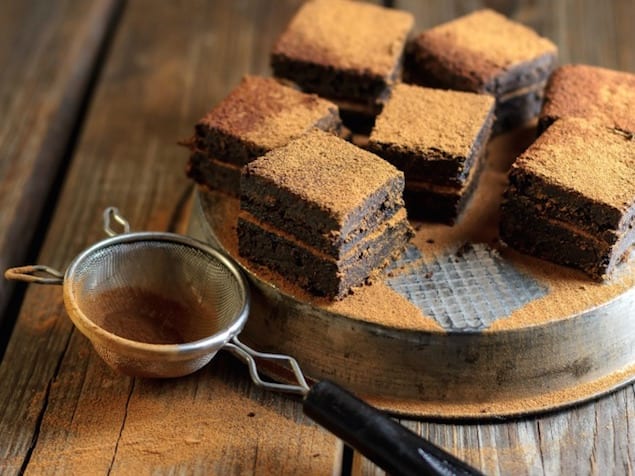 Fudge Brownies with Mexican Chocolate
Mexican Hot Chocolate Double Fudge Brownies are rich, fudge-y, have a spicy kick, and an interesting secret ingredient.
Recipe Type:
Dessert, Chocolate
Cuisine:
Vegan, Gluten Free, Clean Eating
Ingredients
1½ cups cooked black beans (check this out for how to cook em, or use a 15 oz. can rinsed and drained well)
2 Tbs almond or any other milk
2 Tbs peanut butter or your favorite nut butter
1½ Tbs olive, coconut or your favorite oil
3 Tbs gluten free flour blend
¼ c cocoa or cacao powder
½ c agave (use maple syrup for a clean version)
1 Tbs flax meal
3 Tbs water
1 tsp baking powder
1¼ tsp cinnamon
a pinch or two cayenne pepper
dash salt
Fudge Filling:
1 c dates, pitted
½ c boiling water
¼ c cocoa or cacao powder
¼ tsp cinnamon
pinch cayenne
pinch salt.
Extra cinnamon for filling and topping (about 2-3 Tbs)
Instructions
To make the brownies:
heat the oven to 375. Grease an 8"x8" baking pan. Combine all the brownie ingredients in a food processor and pulse until well combined and smooth. Scrape batter into pan and bake for about 3o minutes. The brownies should be pulling away from the sides of the pan and lightly springy to touch. Remove from oven and let cool.
To make the fudge filling:
Place the dates in the food processor and cover with boiling water. Let stand 10-15 minutes, then process until very smooth. Add the rest of the filling ingredients and process until smooth and well combined. Refrigerate for about 30 minutes to let filling firm up enough to spread easily.
Assemble the brownies as shown in the post and cut into 8 pieces. Top with additional cinnamon.
Gin Butters
Gin's a crazy food romantic who's head over heels for big flavors and fresh, healthy ingredients. She's extra-inspired by Indian, Mexican and Indonesian cooking, and will put peanut butter on just about anything.