This is the kind of meal you make after a grueling day at work, a perfect recovery food- salty, fatty, lip-smacking delicious. The perfect balance of earthy eggplant and herbaceous bok choy served as the perfect foil to the salty combination of soy and miso.
By Mariela Alvarez Toro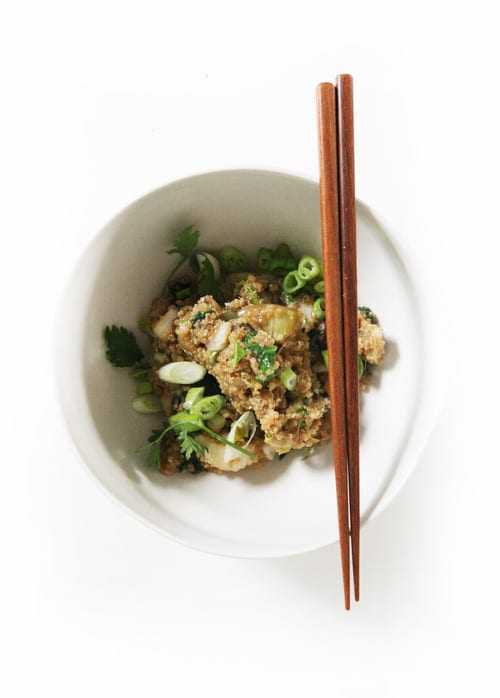 This is the kind of meal you make after a grueling day at work that turns into an even longer night of a few too many pre-dinner drinks to compensate the above stated stress. Whether overworked, over stressed, or hung-over, this is the perfect recovery food salty, fatty, lip smacking delicious, that also happens to be good for both your body and soul.
I have never been a late-night-Chinese-take-out food kinda gal, but several months back, I got home from a long day turned into night to an empty fridge, with nothing but leftover, quinoa, a bag of frozen peas, eggs, and soy sauce. Without much hesitation, or a plan mapped out, everything magically landed on the pan and came together beautifully in minutes, though as messy as I felt. Every single craving I might have been having was immediately satisfied, one bite at a time. Sweet peas popping one after the other coated in salty miso and soy, laced in velvety egg and spiked with spicy ginger. Delicious.
Because my immediate crush on this newly discovered recipe was not going naway, I decided to build on it and develop a recipe that was as delicious but slightly more complex. I wanted to explore the potential of using different vegetable combinations to achieve a layered flavor experience. Since the end of summer is upon us, eggplant was the vegetable of choice. To balance the eggplant's creaminess I incorporated bok choy for crunch and freshness. The perfect balance of earthy eggplant and herbaceous bok choy served as the perfect foil to the salty combination of soy and miso.
This recipe is flexible, and you should feel empowered to work with whatever ingredients the season brings as long as that soy-miso-ginger to egg and quinoa balance remains intact. I can't wait to try a version during fall with cauliflower and some sort of squash, or even carrots and sweet potatoes could be amazing, or during early spring a combination of wild leeks and peas. The key here being to keep it simple, while still experimenting with the flavor profiles and textures you like.
Print
Fried Quinoa with Eggplant and Chinese Cabbage
A recovery meal after a grueling day— salty, fatty, lip-smacking delicious. A perfect balance of earthy eggplant and bok choy to the salty soy and miso.
Author:

Mariela Alvarez Toro

Cook Time:

35 mins

Total Time:

35 mins

Yield:

4

1

x
Category:

Side, Main

Cuisine:

Asian Inspired
1 cup

quinoa

1 cup

vegetable broth or water

1

pinch of salt

1 cup

eggplant cubed small, from half a large eggplant

2 tbsp

. vegetable or sunflower oil

2

garlic cloves, peeled and diced

1

small onion, diced small

2 tbsp

. tamari, or soy sauce

1 tbsp

. water

1 tbsp

. miso paste

1

-inch knob fresh ginger, peeled and grated

1

bunch Chinese cabbage (bok choy)

2

eggs

1

handful fresh cilantro

2

green onions, sliced

1 tbsp

. roasted peanuts or sunflower seeds
Instructions
To cook quinoa:
Place quinoa in a large bowl with enough water to cover it by an inch. Using your hand stir quinoa a couple times, then drain through a sieve. Rinsing removes quinoa's subtle bitter taste. In a pot, place 1 cup of vegetable broth or water with 1 cup of quinoa and a pinch of salt. Bring water to a boil, and then reduce heat to medium high. Simmer until most of the water has been absorbed. Turn heat to low, cover and cook for another 10-15 minutes. Quinoa is cooked when translucent, a small white ring will emerge around the grain when ready. Remove from heat and set aside until ready to use.
To make Fried Quinoa:
Place a cast iron* pan over high heat. When cast iron is hot, add a tablespoon of oil and eggplant. Cook stirring occasionally for about ten minutes. Eggplant should be soft throughout and crispy on the edges. Add another tablespoon of oil if necessary. While eggplant cooks place another large sauté pan over high heat. Add another tablespoon of oil, diced onions and garlic. Reduce heat to medium and sweat vegetables out until translucent and soft (about 5-8 minutes). In a separate cup whisk together soy sauce, miso paste, and ginger. Add soy-miso paste into the pan and stir. Reduce heat to low.
Add cooked quinoa and eggplant. Stir until well incorporated. Thinly slice Chinese cabbage and add to pan, cover for a couple of minutes, until cabbage starts to wilt. Whisk two eggs together then pour over rice. Stirring constantly for two minutes until softly scrambled and well incorporated into the rice. Remove from heat. Add Chopped cilantro, green onions and peanuts over quinoa. Serve immediately with a side of soy sauce.
Notes
I like to cook the eggplant in a cast iron pan, to ensure crispy edges and deep roasted flavor. Nonetheless, if you do not have a cast iron, cook the eggplant in a regular pan with the onions.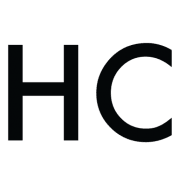 Mariela Alvarez Toro
Recently graduated with from Harvard University's Graduate School of Design. She has recently completed "People in Food-Space", an ethnographic study on the cultural production of taste in space. She has also examined post-soviet food production systems and housing projects in Havana, Cuba. Originally from Puerto Rico, Mariela has been living in the United States for eight years. She has involved herself in both teaching and practice, while writing on food at tastyplan.com. Her goal as a food writer is to cook creatively, using the best ingredients to find new flavor combinations every day.