Miriam Garcia with one of the most classic Spanish tapas – fried padron peppers.
By Miriam Garcia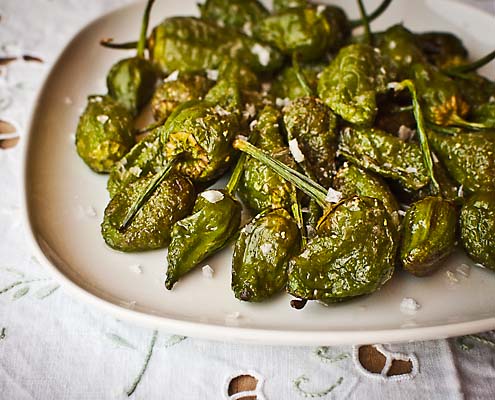 Have you ever heard about Padron peppers? There's a saying that goes Pimientos de Padrón, unos pican y otros no (Padron peppers, some are hot and some are not). This refers to the fact that most of Padron peppers are sweet and flavorful, while only a few of them can be quite hot, making eating them a culinary Russian roulette. They are not only a gastronomic pleasure, but a lot of fun too.
These little morsels of vegetable goodness originate in the northwestern region of Galicia, around the town of Padrón, hence their name. I have some kinfolk living in Galicia, at Santiago de Compostela, so I visit often and have the chance to eat fried Padron peppers at the local bars… delish. Padron peppers are usually eaten fried in olive oil and with a sprinkle of coarse salt that not only enhances their flavor, but adds a nice crunch. No need for any other garnish, simplicity and quality food at its best.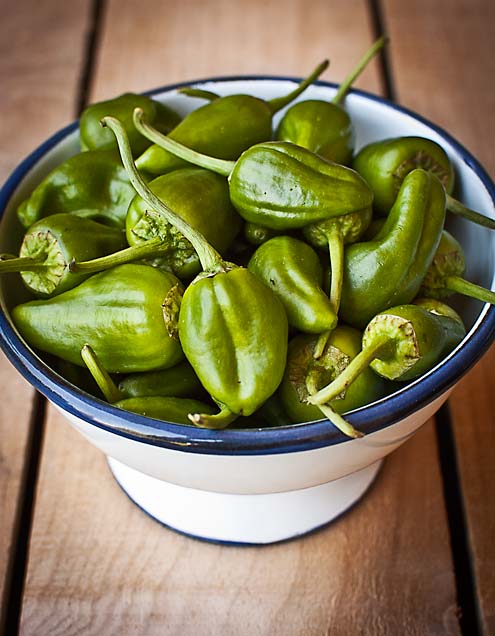 Print
School of Tapas: Fried Padron Peppers
Flavorful fried green peppers typical from the Galician town of Padrón
Author:

Miriam Garcia

Cook Time:

10 mins

Total Time:

10 minutes

Yield:

4

1

x
1/2

pound fresh Padron peppers
Virgin olive oil for frying
Coarse salt or fleur de sel to taste
Instructions
Wash the peppers thoroughly and pat dry with kitchen paper.
Pour the oil in a pan to a depth of 1″ approximately and put it on medium heat.
When the oil is hot, grab a handful of peppers and throw them into the oil. Use a lid as the oil will splash quite a lot. They should brown on both sides, but should not get too dark. Turn them over if necessary.
When done, take them out with a slotted spoon and sprinkle with the salt. Serve immediately while piping hot accompanied by a sturdy country bread.
For eating the peppers, you've got to hold them by the stem, bite into the flesh and pull, leaving the stem intact. You'll end up with a nice collection of little stems on your plate. Fried Padron peppers are superb served with a chilled fruity Galician white wine like Ribeiro or Albariño.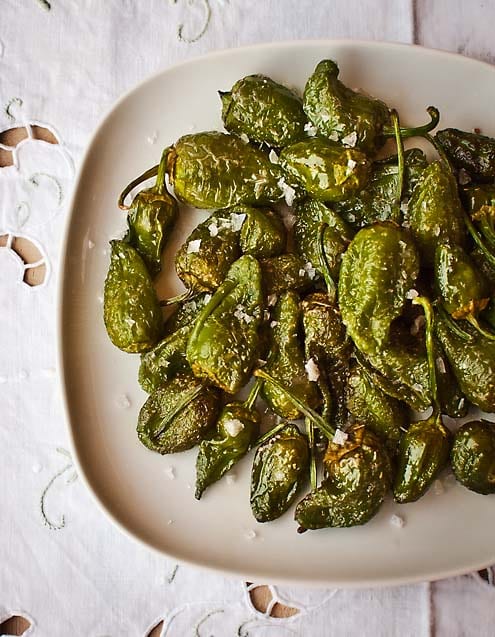 Miriam Garcia
Born in Madrid, Spain, Miriam lives in a small town North-West of Madrid with her family. Passionate foodie and amateur photographer, her liking for cooking originates mostly from her mother and her paternal grandmother. Miriam is the creator of the awarded Spanish food blog The Winter Guest.