Fried Green Tomato Salad with Yogurt Dressing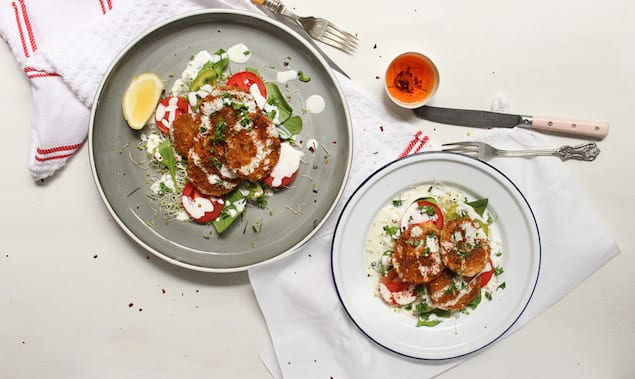 Fried green tomatoes are nestled atop a spinach and red tomato salad and drizzled with a tangy yogurt sauce to contrast the rich fried topping.
By Rebecca Thexton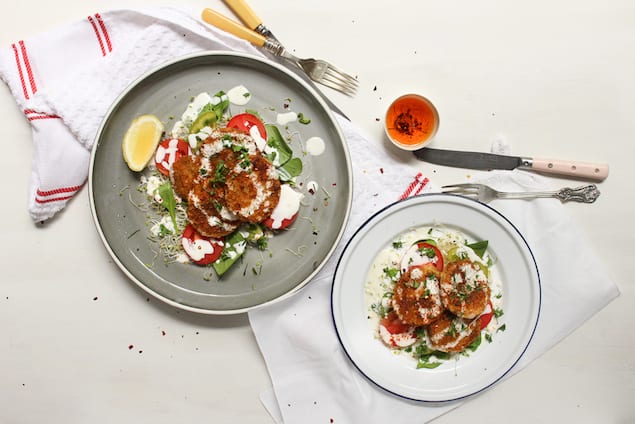 I used to be skeptical of green tomatoes. I must have thought that because the tomato was green is tasted something like cucumber, which I quite like so none of this made much sense at all. My fears slowly melted away into this delicious fried vegetable goodness.
Fast forward a long time and I have a sudden need to fry green tomatoes.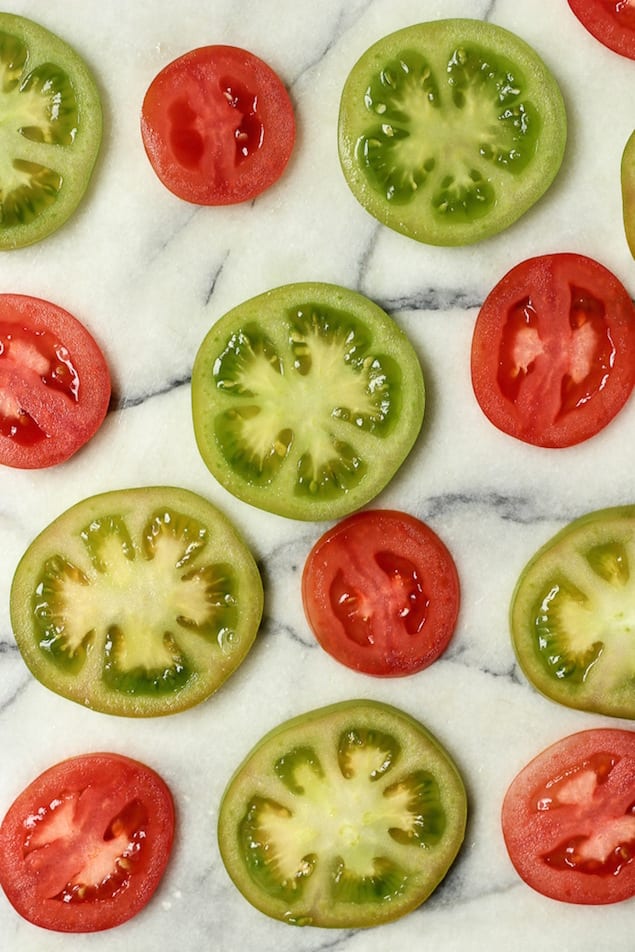 The green tomatoes in this dish melted inside the salty, crispy panko crumb casing and the fried tomatoes were piled on top of some spinach, sprouts and some red tomatoes. The drizzle was a cumin & lemon greek yoghurt garnished with parsley and a tiny sprinkle of smoked paprika.
See Also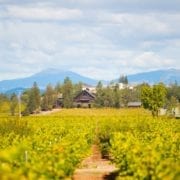 It sounds like a lot of effort but by far the largest part of the meal is crumbing the tomatoes and it's not too difficult. A simple dusting in flour, then egg wash and in some panko bread crumbs – the rest is as easy as pie. Fried green pie.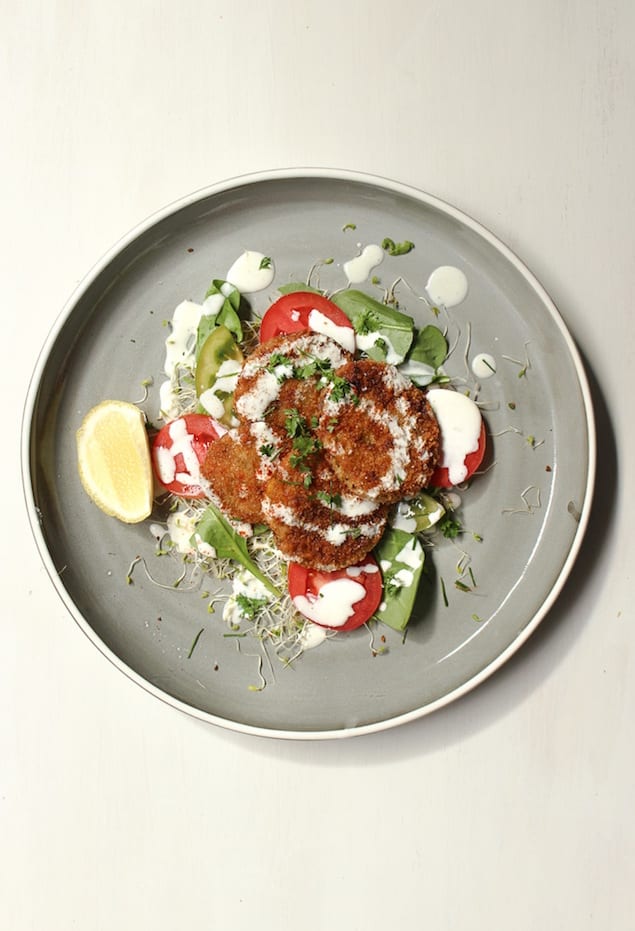 Fried Green Tomato Salad with Yogurt Dressing
Fried green tomatoes are nestled atop a spinach and red tomato salad and drizzled with a tangy yogurt sauce to contrast the rich fried topping.
Ingredients
Salad
3 green tomatoes
plain flour, for dusting
1 cup panko breadcrumbs (or normal)
1 egg, lightly beaten
1 red tomato
1 cup spinach
alfalfa sprouts
handful of parsley to garnish
lemon wedges to serve
oil for frying
Yogurt Dressing
½ cup natural greek yoghurt
1 tablespoon lemon juice
½ teaspoon ground cumin
Instructions
Combine the greek yoghurt, lemon juice and cumin and a teaspoon of water and stir until combined. Set aside in fridge.
Dust the green tomatoes in flour, dip into the eggwash and coat in the panko crumbs.
Heat the olive oil in a large non-stick frying pan over medium heat, add the crumbed tomatoes and cook for a minute each side or until golden brown. Drain on absorbent paper and sprinkle with salt.
Once all the tomatoes have cooked, arrange them on the spinach, sprouts and sliced red tomato.
Drizzle with the yoghurt sauce, garnish with chopped parsley and serve with a wedge of lemon.
Notes
I also sprinkled the salad with some smoked paprika however it's not necessary.
Rebecca Thexton
Hi! I'm Bec, I live in Melbourne, Australia. I'm obsessed with breakfast foods. I love to cook for people I care about. I am business minded but have a creative heart. My blog, Dancing Through Sunday is about enjoying the little things in life, like a Sunday brunch.