A flavorful blend of traditional Italian cuisine with a slight twist, marrying the tenderness of cavatelli with a fun pesto rich in the fresh flavors of spring and summer.
Originating from the Basilicata, also known as Lucania, in the southern region of Italy, ricotta cavatelli is a pasta with a deep cultural resonance. Unlike its cousin gnocchi, which is made with potato, cavatelli is traditionally made with ricotta and whole milk. The result is a pasta dumpling that's as tender and light as a feather, yet firm enough to support an all kinds of sauces when cooked al dente. While creating handmade pasta like cavatelli may seem daunting, with patience and a bit of time, it's actually both fun and totally achievable.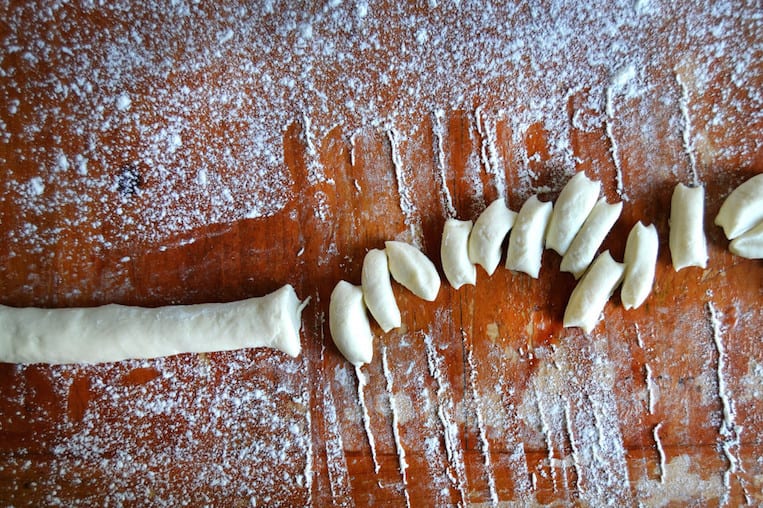 Making cavatelli by hand is often helped by a specially designed board lined with thin ridges. However, if this tool isn't readily available, the tines of a common kitchen fork or the base of a whisk can serve as practical alternatives. The goal is to create a dumpling that has horizontal ridges on one side with a distinct, elongated indentation down the other. This combination of texture and shape ensures the cavatelli's ability to hold on to the sauce effectively.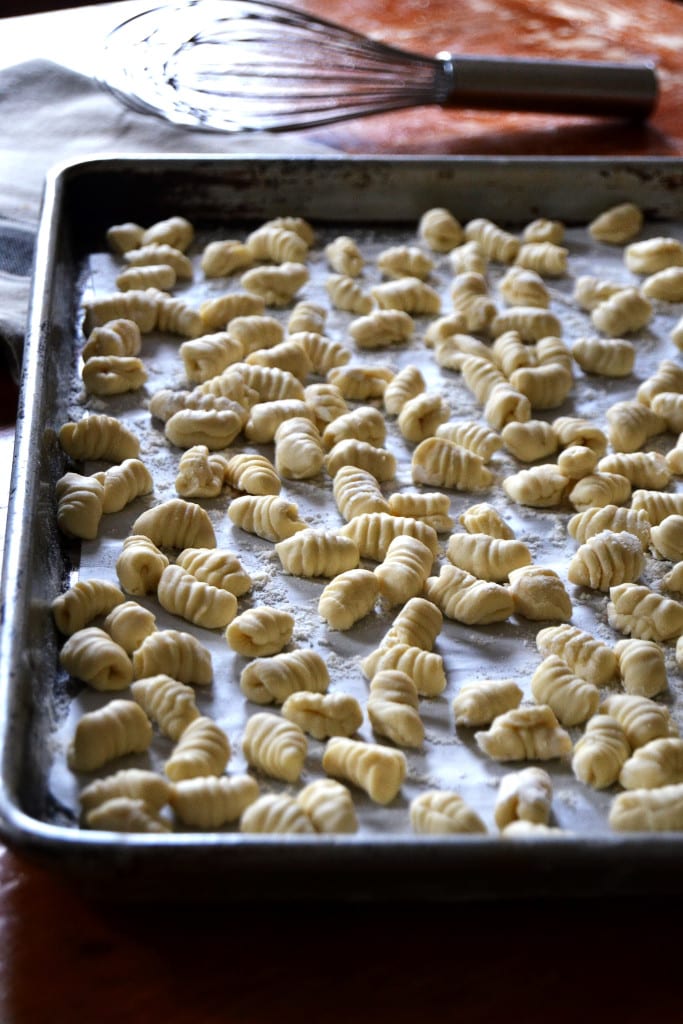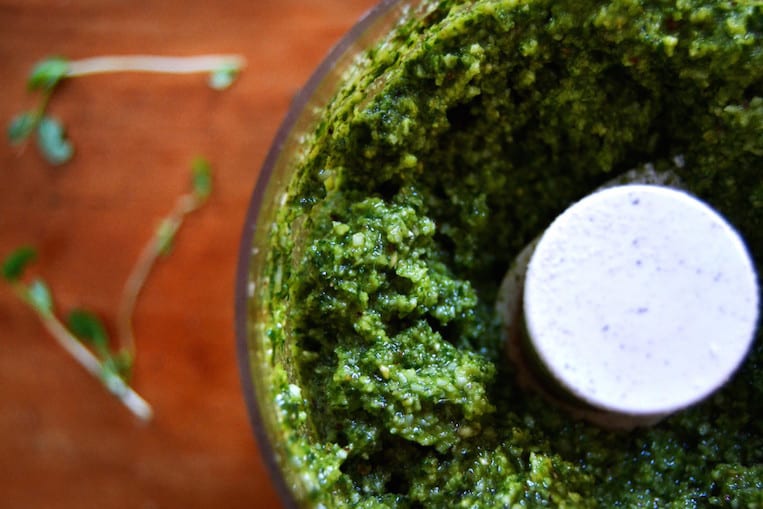 See Also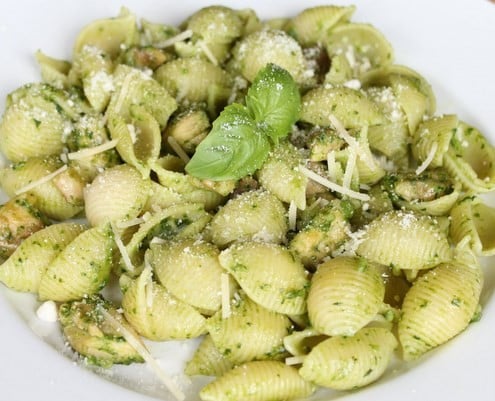 Ricotta cavatelli is traditionally dressed with pesto during the summer months. This dish takes that tradition and gives it a nuttier twist. Steering clear from the customary pine nuts, this recipe uses toasted hazelnuts for an earthier flavor. It also kicks in some seasonal pea sprouts alongside the traditional basil, resulting in a pesto that brings to mind the sweetness and rejuvenation of spring.
This awesome take on a classic dish is a great example of how even the most= traditional recipes can be leveled up. It's a deliciously delightful gastronomic journey from the sunny climes of Southern Italy to the freshness of a spring garden.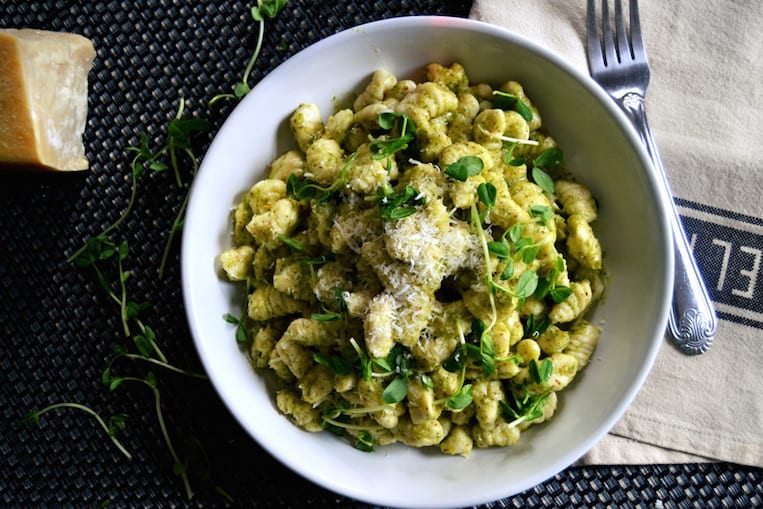 Print
Ricotta Cavatelli with Pea Sprout Hazelnut Pesto
---
Author:

Jenn Louis

Total Time:

3 minute

Yield:

4

-

6

portions

1

x
Description
This Ricotta Cavatelli with Pea Sprout Hazelnut Pesto offers a flavorful blend of traditional Italian cuisine with a slight twist, marrying the tenderness of cavatelli with a pesto rich in the fresh flavors of spring and summer.
---
For the hazelnut pea sprout pesto sauce (makes 2 cups):
1/2

cup

hazelnuts

2

cloves garlic

1 tsp

salt

2

cups

fresh basil (rinsed)

1

cup

pea sprouts (rinsed)

1/2

cup

grated parmesan cheese

3/4

cup

extra virgin olive oil
pepper to taste
For the ricotta cavatelli:
3 1/2

cups

+

1

tbsp

(500g all purpose flour)

1 tsp

kosher salt

2

cups

480 whole milk ricotta cheese

1/4

cup

55g whole milk

1

large egg
---
Instructions
For the pesto:
Toast the hazelnuts in a small frying pan on medium heat for a few minutes, then rub their skins off with a kitchen towel – don't sweat it if they're not perfectly skinless. Throw them into a food processor.
Roast the cloves of garlic, unpeeled, in the same frying pan for a few minutes until slightly tan and aromatic. Remove from heat and use the flat side of a chef's knife to press the garlic until the peels come off, then add the cloves to the hazelnuts in the food processor and pulse them together.
Add the salt and the basil with half the olive oil, pulse, then add the remaining basil, pea sprouts, and olive oil. When it's all blended together evenly, add the parmesan and pepper to taste. You'll need a few tablespoons of pesto per serving; the leftover pesto will keep in the fridge for a few weeks.
For the cavatelli:
Combine all the ingredients in the bowl of a stand mixer fitted with the dough hook (or use your hands) and knead on medium speed for about 10 minutes, until the dough is soft and silky smooth. The dough will be a dream to work with. Cover the dough with plastic wrap, touching the plastic to the dough so no skin forms. Set aside to rest at room temperature for half an hour.
Prepare two sheet pans with parchment paper and sprinkle them with flour. Pinch off a piece of dough roughly the size of two golf balls combined and keep the rest of the dough covered. Roll this small ball of dough into a long thin log about 1/2" wide on a lightly floured work surface. Cut the log into 1/2" pieces. When your small log has been cut into pieces, take each tiny piece of dough and roll it against your tool of choice – if using a whisk, press the dough flat against it where the tines meet the handle, then roll it together to form ridges along the outside of the dumpling.
Lay the shaped cavatelli on the prepared sheet pans, making sure they don't touch or stick together. Repeat this process with the rest of the dough. If you're not cooking all the cavatelli right away, freeze the rest: first freeze them on the sheet pan, then transfer the frozen cavatelli to a ziplock bag or airtight container. The frozen cavatelli will keep for a month or two. Don't thaw before boiling.
Bring a medium pot of heavily salted water to a boil, then add the shaped ricotta cavatelli. Boil for only 1-3 minutes (more if cooking frozen cavatelli) or until they float to the top. As they rise to the surface, scoop them out with a slotted spoon or sieve. Reserve some of the cooking water for serving.
Evenly toss each serving of cooked cavatelli with a few tablespoons of pesto, a little extra olive oil, and a tablespoon of the reserved cooking water, because the starches help bind the sauce to the pasta. Serve with extra salt and pepper to taste, and garnish with pea sprouts and a light grating of parmesan.
Buon appetito!
Prep Time:

2hrs

Cook Time:

15 mins

Category:

Pasta, Pesto, Primi

Method:

Boiling

Cuisine:

Italian
Keywords: pasta, cavatelli, italian food, homemade pasta, main course
Leili Ansari
Leili is a Boston-based food writer and recipe developer who shares all of her kitchen adventures on her food blog, Yin and Yolk. She loves cooking up healthy comfort food dishes but also has a passion for pastries, and strives to create recipes that are both delicious and wholesome. When she's not experimenting in the kitchen, she can be found perusing the local farmer's market, jogging through the city, or trying out new places to eat.