A festive take on the French toast with a touch of brandy. Easy and delicious to make everyone happy on a Sunday morning.
By Vassia Simou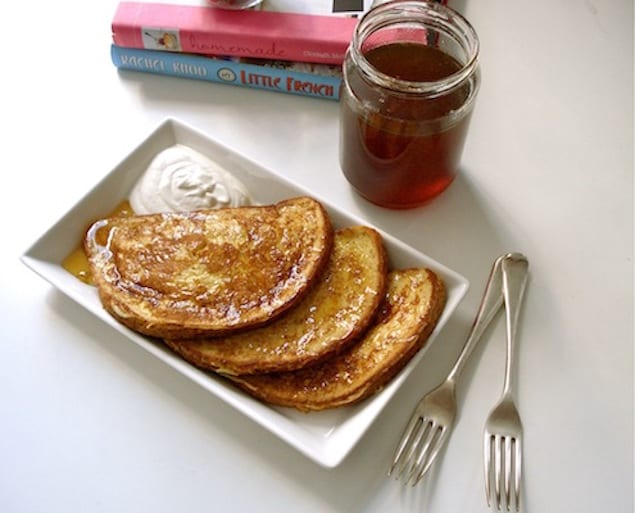 After a whole day of hiking at Box Hill, which by the way was an amazing experience, all I could think of was a relaxing bath and the breakfast I would cook the next morning… Breakfast is my favourite meal of the day and there is nothing better than a nutritious meal after a full on day!
My pick? A festive take on the beloved French toast. And by festive, I mean boozy! You don't need to get drunk… Just add a few tablespoons of brandy cream in the eggs and it will do the trick! And as for toppings, take your pick: bacon and maple syrup if calories don't mean a thing for you or vanilla yogurt and honey as a lighter option.
I won't tire you with further blabber. I will just give you the recipe and I am sure you will make everyone happy on a Sunday morning!

Festive French toast
A festive take on the French toast
Ingredients
bread (I prefer thick slices)
eggs (1 for each slice of bread)
milk (1 tbsp for each egg)
2 heaped tbsp brandy cream ( I used this portion for 3 slices of bread)
Greek yogurt
vanilla sugar
good quality honey
Instructions
Beat the eggs with the milk and the brandy cream. Tip in the mixture the bread (one slice at a time). Allow 2 minutes on each side. The bread needs to absorb the mixture.
Place a large pan on the stove with some olive oil (just enough to cover it) and heat. Place the bread in the pan and fry for about 4 minutes on each side or until it turns golden brown.
In the meantime mix the yogurt with the vanilla sugar.
Serve warm with the yogurt on the side and honey on top.
Vassia Simou
A former Beauty Editor with a passion for cooking, exploring her culinary boundaries in the heart of London. As much as it sounds cliché, my interest for food began while watching granny in the kitchen mixing and stirring to please her loved ones. A child's curiosity that developed into a passion through the years. And of course my Greek roots have always guided me.