Heather Sharpe discovers the simple but delicious invention that is french toast melted cheese toasties.
By Heather Sharpe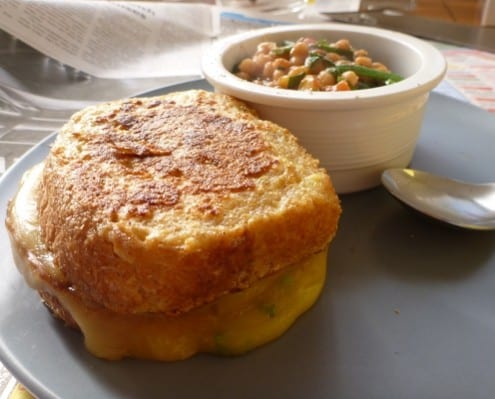 This morning I discovered a wonderful invention: french toast melted cheese toasties. The perfect breakfast or snack before a busy day. It's got a hit of protein from the eggs, dairy from the cheese and if you use wholemeal bread – complex carbohydrates to keep you energised for a fair while. we also served it with some spinach and baked beans, which gave us some extra vitamins. Seriously: it was GOOD.
French Toast Melted Cheese Toasties
Ingredients
3 eggs
2 tbsp cream or milk
4 slices of good quality bread
a pinch of ground nutmeg
salt and pepper
2 tsp olive oil
4 large slices of cheese (preferably something strong like gruyere)
1 tsp of chopped sage leaves
Instructions
Whisk the eggs, salt pepper, nutmeg and cream together in a baking dish big enough to fit all the slices of bread in at the same time.
Place the bread in, soak on one side for 1 minute, then turn over and soak for a further minute.
Heat a non-stick pan to a medium heat with the olive oil.
Fry the slices of French toast in the pan on one side golden brown.
When you flip the french toast place the cheese on the golden brown, cooked sides of each of the slices.
Cook the under-side until golden brown.
Sprinkle the sage over the top of the cheese, then make two sandwiches with the bread, putting the cheese in the middle.
Lower the heat slightly and continue to cook, flipping occasionally until the cheese melts.
Serve immediately with sides of your choice.
Notes
This would work really well with some sliced apple in the middle of the sandwich and some ham, in addition to the cheese and sage.
Heather Sharpe
A frequenter of farmer's markets and fan of things free-range and organic, Heather concerns herself with trying to live/eat/cook more ethically and sustainably. Her playful approach to flavour combinations promotes the idea that cooking healthy, more ethical food is an attainable goal, even with our hectic lifestyles. Heather's recipes have been published in Metior Magazine and Dash Magazine, Heather also not-so-secretly blogs as the culinary super-hero, The Kitchen Crusader.