SPONSORED POST: Get inspired with new sides, appetizers main dish recipes perfect for your fall and winter dinner parties with artisanal cheeses from Goat Cheeses of France.
These French Goat Cheese and Beet Puff Pastry Bites are made with creamy Mothais-sur-Feuille and beets. They're a perfect way to kick off your next gathering.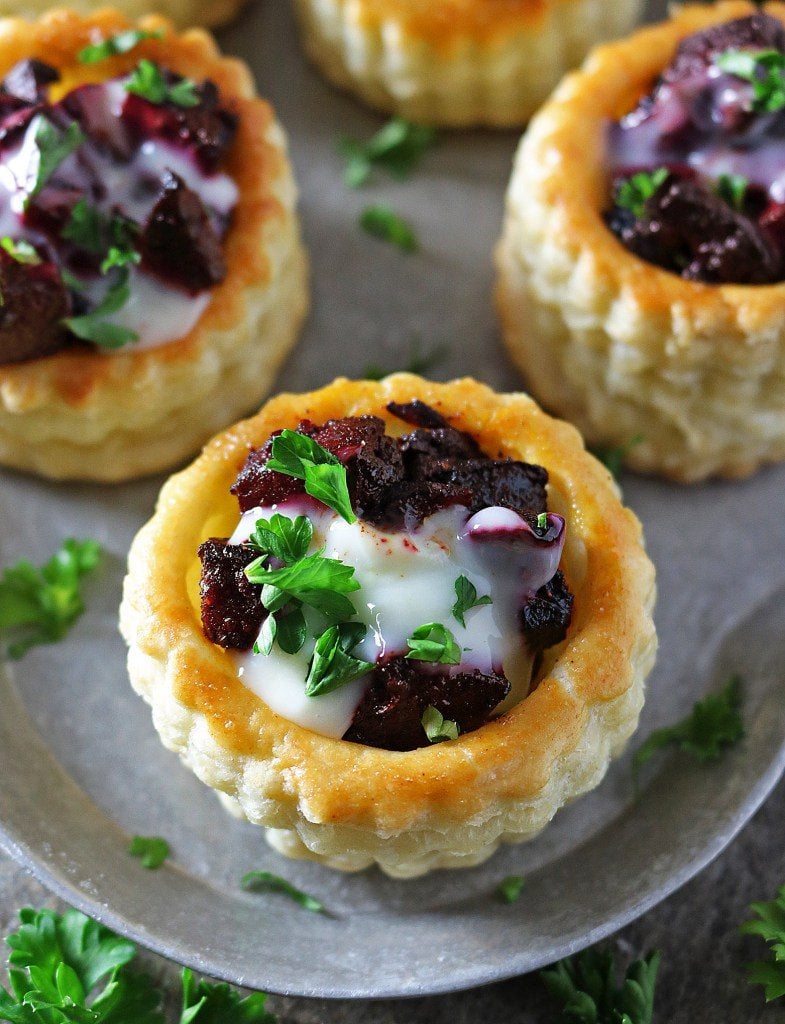 As teenagers, most of us have had our share of crazy or strange (or, in some cases, crazy and strange) moments – right?
Well, many, many moons ago when I was a teenager, I was crazy for Morten Harket, the lead singer of a group called A-Ha! If you happen to be a fan of Eighties music then you've probably seen his gorgeous mug on the music video to "Take on Me." Well, back then, in a Google-less world, I perused every magazine I could get my hands on to find out what foods he ate. You might be thinking that's so odd… and yes, I agree…am still not sure what I was thinking back then… except… maybe… once a foodie, always a foodie?
Well… it was during this strange obsession of mine, that I was introduced to goat cheese. I mean, if Morten (yes, in my world, we were on a first name basis) could enjoy it, so could I! And, enjoy it I did back then on toast and crackers. At times, even choosing to spend the money I earned from tutoring on small batches of goat cheese that I hid in the back of the fridge so my sis wouldn't find it.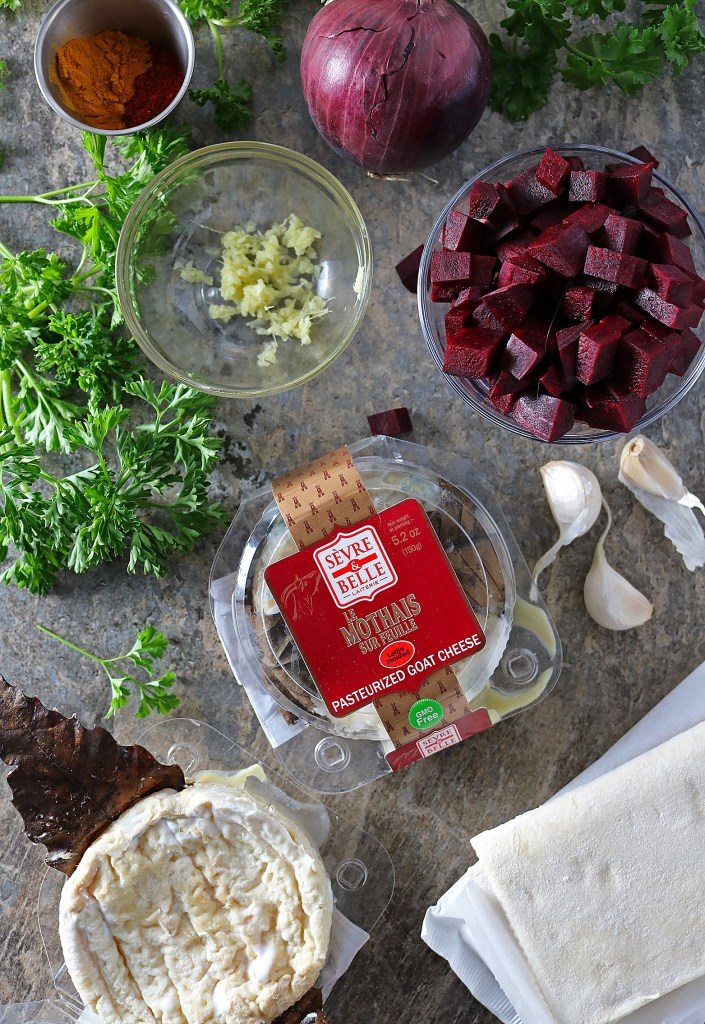 Well… eventually I graduated from crushing on Mr. Harket (who, BTW, still happens to be releasing singles) and goat cheese on toast and crackers to appreciating just his music and enjoying goat cheese in these French Goat Cheese and Beet Puff Pastry Bites! You could use pre-made puff pastry shells or make your own by following the simple directions in the recipe card below. For these stacks, I used a creamy French goat cheese called Mothais-sur-Feuille. It's great taste and excellent quality was perfect for these little appetizers that could become a favorite at your next holiday gathering, or anytime gathering.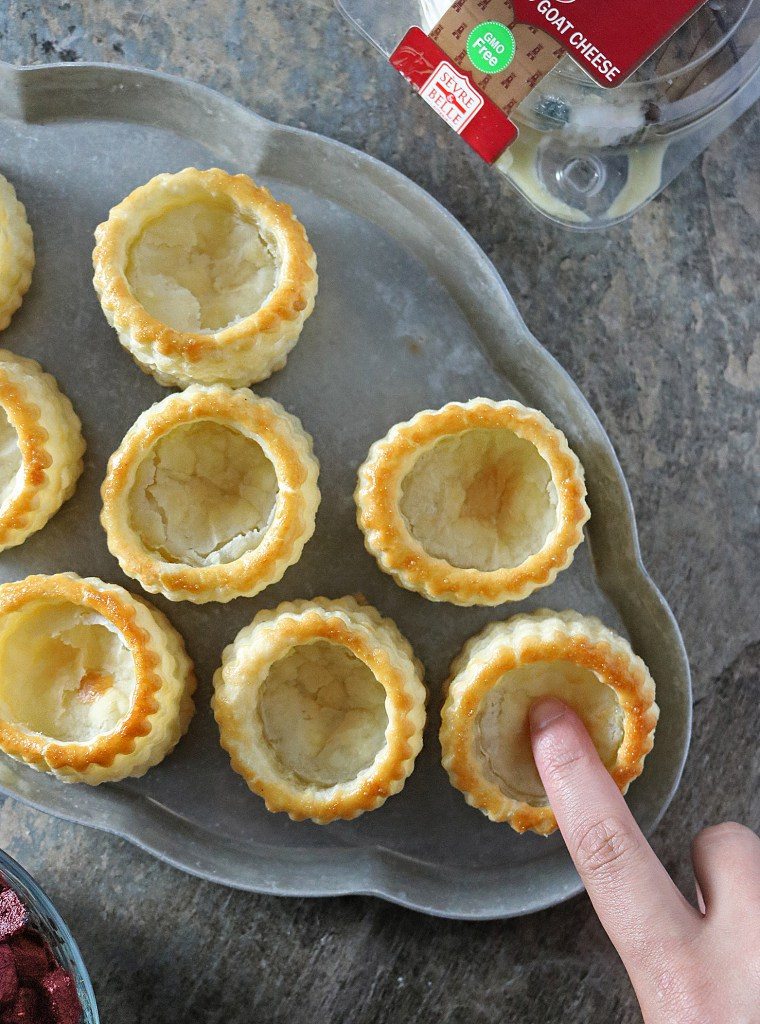 France is not only the country of origin for goat cheese 'par excellence,' but it is also the no.1 producer of goat's milk cheese in Europe and even the world. In 2016, France produced about 265 million pounds of goat cheese (120,000 tons)! Hailed as the original chèvre, which in French simply means 'goat', farmers have been using fresh goat's milk to make cheese referred to as 'chèvre' for centuries. The craft of making authentic French chèvre has been passed down between generations of farmers for thousands of years. Dairy farms in France are mainly located in several regions south of the Loire river where the climate, geography and geology form the goats' diets. These specific diets produce flavor profiles unique to these regions. French goat cheeses are also celebrated for their variety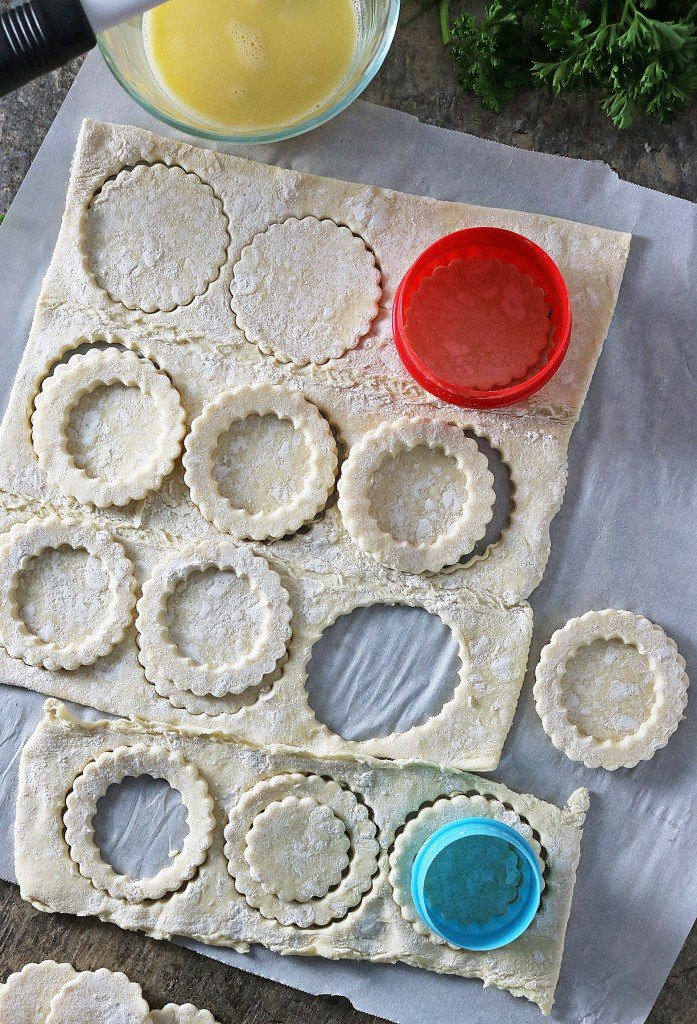 Throughout France, there are 6,000 producers of goat's milk including: 3,000 who produce their own goat cheese and 3,000 who sell their milk to one of the 60 dairy companies that produce goat cheese. French Goat Cheeses' can be easily incorporated in quick home recipes such as in sandwiches, omelets, salads, etc. By the way, eating French Goat Cheeses can be part of a balanced, healthy diet, providing satiating healthy fats and other nutrients.
See Also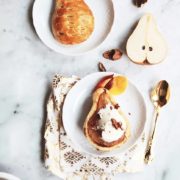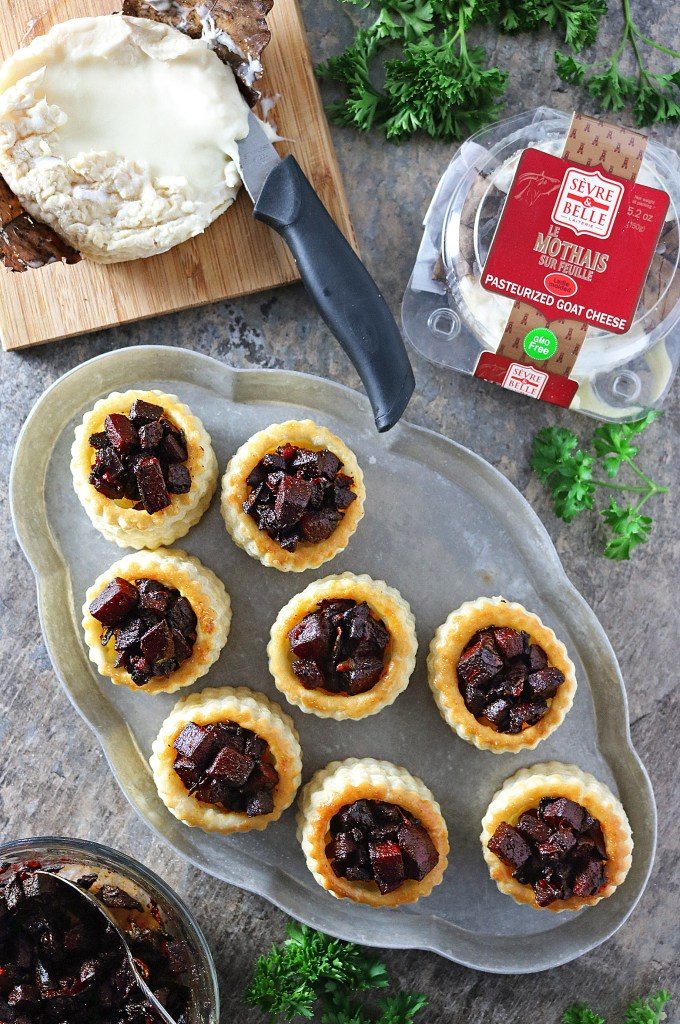 If you would like to find out more about French Goat Cheese and it's many varieties such as Crottin, Le Chevrot, Bûcherondin, Valençay, Selles-sur-Cher, Tomme de Chèvre, Le Cornilly, Florette, Mothais-sur-Feuille, Chèvre d'Argental, Bleu de Chèvre, or would like recipe inspirations and ideas, make sure to check out Goat Cheeses of France on their website. You can also follow them on Facebook and their newly launched Instagram!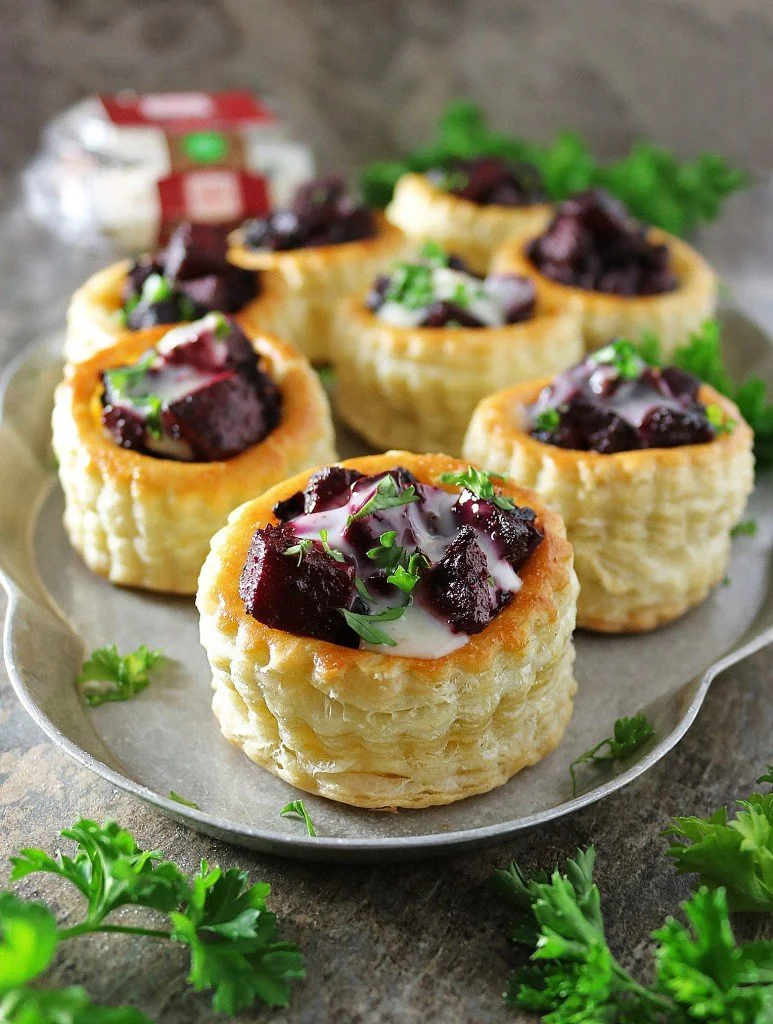 Print

French Goat Cheese and Beet Puff Pastry Bites
---
Author:

Shashi Charles

Total Time:

40 minutes

Yield:

9

servings

1

x
Description
These French Goat Cheese and Beet Puff Pastry Bites are made with creamy Mothais-sur-Feuille and beets. They're a perfect way to kick off your next gathering.
---
3 tbsp

olive oil

3

medium beetroot peeled and diced

1

medium red onion diced

3

cloves garlic diced

1/2 tsp

freshly grated ginger

1/2 tsp

turmeric

1 tsp

smoked paprika

2 tablespoons

water
salt and pepper to taste

2

puff pastry sheets

1

egg

9

tsps Mothais-sur-Feuille French goat cheese
parsley
---
Instructions
Take puff pastry sheets out of freezer and set aside to thaw.
Meanwhile, add olive oil to a pan over medium heat and add onion to it.
Saute onion for about 10 minutes, then add in ginger and garlic and stir.
Add in diced beetroot, turmeric, smoked paprika, and water and stir. Then cover and let cook for about 10 minutes, stirring it every now and then.
When beetroot is soft, take pan off flame, season with salt and pepper to taste and set aside.
When puff pastry sheets are thawed, grab two cookie cutters of the same shape – but differing sizes (one large and one small). Using the large one, cut 9 shapes out of 1 puff pastry sheet. Then, take the other puff pastry sheet and, using the large cutter again, cut nine more shapes. Using the small cutter, cut out the center of the large shapes. You can bake up the leftover small discs that were cut off later but for now set them aside.
Add the egg to a bowl and whip it up well with a teaspoon of water.
Then, take the shape with the hole in it and brush one side of it with the egg wash. Lay down one of the larger shapes without a whole. Then, place the egg wash side of the shape with the hole in it, onto the large shape so it "nests" or "stacks" on top – make sure the shapes are aligned. Repeat with the other eight large shapes and shaped with holes (if your puff pastry gets warm, place it in the freezer so it cooles down again).
Preheat oven to 400 degrees, brush tops of the stacks with the egg wash and place in oven for 15 minutes.
Remove from the oven and using your fingers, gently push down the risen middle.
Then, spoon the beet mixture into the center of the stacks.
Spoon over some creamy French goat cheese, drizzle with chopped up parsley and enjoy.
Prep Time:

5 minutes

Cook Time:

35 minutes

Category:

Appetizer
Shashi Charles
I am a healthy food lover - and tricking my loved ones into eating their veggies disguised as treats is my specialty! I am also a graphic designer by day and blogger by night and a mom 24/7!