Perfect for the weekend and using the excess from a sourdough starter, these pancakes are fluffy and just a little acidic, perfect with maple syrup or jam.
By Katherine Sacks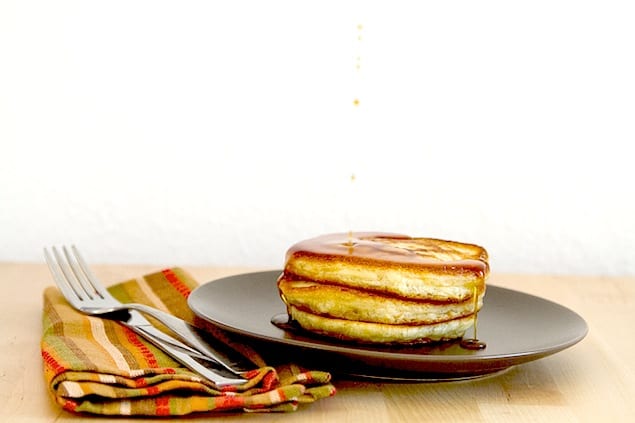 When I said I wanted to get into bread last year, I had just met Malin, a talented baker who trades her bread for everything from artisan salts to horse back riding excursions with her bread exchange. Inspired, I decided to try my hand at sourdough and worked at creating a starter. After a nice sour start, my first bread fell flat and without much free time on my hands, I let the project go forgotten. But this December, my bread baking was renewed when my good friend Jes shared some of her restaurant's 8-year-old starter. I managed to travel with it from California to Berlin and have been baking ever since.
This recipe comes thanks to the problem of the starter's feeding cycle: everyday you encourage the natural yeast with fresh flour and water, and if you can't bake everyday, you end up tossing out some of the original. Instead, thrifty bakers use the excess starter for everything from pizza dough and pop-overs to waffles and pancakes. Many recipes require an overnight resting of the dough—called a preferment or a poolish—which helps feed the yeast further and create an airy end product. I like this recipe because it is quick and yields wonderfully fluffy pancakes all the same. I add in the orange zest for a nice boost of floral sweetness. If you don't have a starter but are interested, there are all sorts of helpful posts over on King Arthur's blog to get you started and Chad Robertson's Tartine Bread and the folks at the Weekend Bakery are also very helpful.
Fluffy Sourdough Pancakes
Utilize your leftover sourdough starters or read the links to learn how to make your own starter. Adapted from Completely Delicious.
Ingredients
½ cup sourdough starter
1¼ cups all-purpose flour
¼ cup yogurt or crème fraîche
¾ cup water
1 tablespoon vegetable oil
1 large egg
½ teaspoon salt
2 tablespoons sugar
1 teaspoon baking soda
½ tablespoon orange zest
Butter or cooking oil
Instructions
In a large bowl, mix together the starter, flour, yogurt, and water. Let batter rest for 30 minutes
then stir in the oil, egg, salt, sugar, baking soda, and orange zest. Stir until just combined; it's okay if the batter is slightly lumpy.
Heat a sauté pan or griddle over medium heat. Add butter or oil to the pan, then add batter in ¼ cup spoonfuls.
Cook pancakes until bubbles start to appear on the surface and the edges appear dry, about 5 minutes.
Flip and cook for an additional 2 to 3 minutes, until golden brown.
Repeat with remaining batter, holding cooked pancakes in a warm oven.
Serve pancakes with butter, maple syrup, jam, or fresh fruit. Store leftover pancakes in a sealed container for up to 5 days, or in the freezer for up to 4 weeks.