For breakfast or dinner, these pancakes are soft, fluffy and sweet, drizzled with delicious pure maple syrup, and you don't even need to have dessert.
By Trang Whisk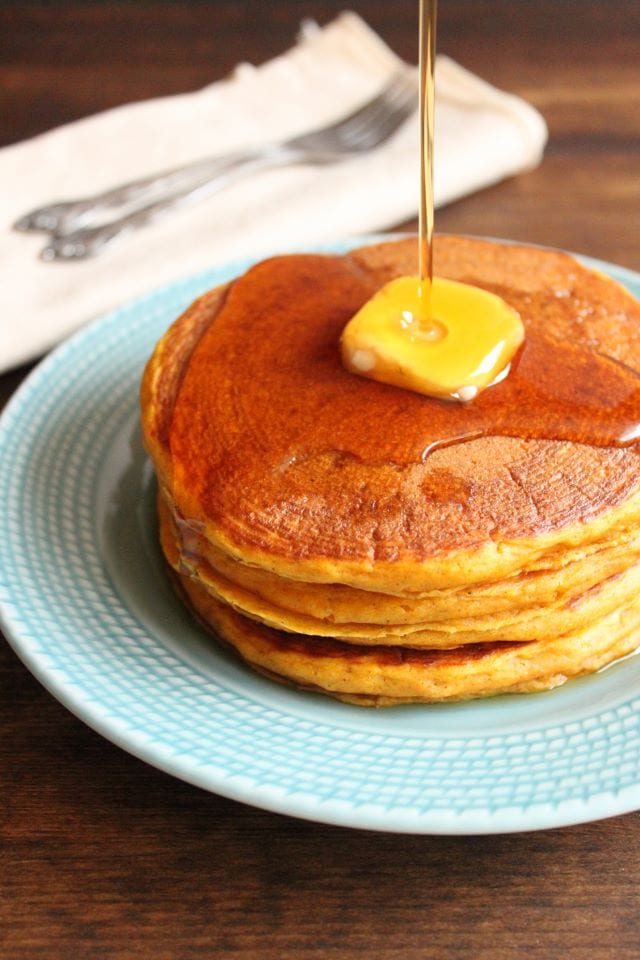 It is pumpkins galore on the internet these days. And I'm kind of a sucker for pumpkin so I'm whipping up a batch of pumpkin pancakes for breakfast, or dinner. It's my favorite kind of dinner, soft, fluffy and sweet, drizzled with delicious pure maple syrup, and you don't even need to have dessert! Or what the heck, have dessert anyways! Serve these with sausages and eggs or by themselves. Either way, they will be the star of your meal.
Pumpkin Pancakes
This recipe makes 8 - 9 medium size pancakes. Use a super nonstick skillet and skip the butter for that perfect first born... I mean first pancake!
Ingredients
1½ cup all-purpose flour
½ teaspoon kosher salt
1 tablespoon baking powder
¼ teaspoon baking soda
¼ to ½ teaspoon pumpkin pie spice
3 tablespoon brown sugar
1 cup pureed pumpkin (I used canned pumpkin)
1 large egg
1½ cup buttermilk
2 tablespoon unsalted butter (melted and cooled)
1 teaspoon pure vanilla extract
Instructions
Preheat the oven to 200°F, place a baking sheet in the middle rack.
Add flour, salt, baking powder, baking soda, pumpkin pie spice and sugar in a large mixing bowl, whisk all ingredients together to combine. Adjust pumpkin pie spice to your taste, more spice will make spicier pancakes.
In another bowl or a large measuring cup, add pumpkin, egg, buttermilk, melted butter and vanilla extract, beat to combine thoroughly.
Make a well in the center of the dry ingredients and pour the liquid mixture in. Mix with a whisk or spatula until combined, but not completely smooth. The batter should be somewhat thick but pourable.
Heat a non-stick skillet to between medium-low and medium heat, pour about ⅓ cup of batter on the skillet and let it cook.
When the top is starting to bubble and the bottom is browned (a few minutes), flip the pancake over and cook the other side until brown (couple more minutes).
Transfer the cooked pancake to the baking sheet in the oven to keep warm while you continue cooking.
When all the pancakes are done, remove baking sheet from the oven, serve warm with a slab of butter and plenty of maple syrup.
&nbsp