These brownies from Julie Andrews are dense, amazingly rich and chocolaty.
By Julie Andrews
Lately I've been feeling a bit left out. I got to the "beans in dessert" party really late. In fact, I don't think even think I was invited.
I am the self-proclaimed queen of sneaking healthy ingredients into otherwise not-so-healthy foods, but I had never contemplated using beans in a dessert. Then one day, while gawking at all the gorgeous food photography on the web, I saw the most mouthwatering brownie picture. The title was Black Bean Brownies. Whaaat?
This revelation was truly life changing. My kids will not touch a bean. Unless it's olive green and came out of a can. Where did these kids come from, anyway? Through some research I found out that people are using all kinds of beans in dessert, from garbanzos to pintos. Eureka!
These brownies are amazingly rich and chocolaty. To be completely honest, the texture is a bit… off. Not off in a bad way, just not exactly what you would get out of a boxed-mix brownie. However, they are rich and dense and not at all like cake (a terrible characteristic for a brownie, in my opinion). The texture also gets better after they cool making this only baked good for which I am able to practice enough restraint to let them rest before digging in.
See Also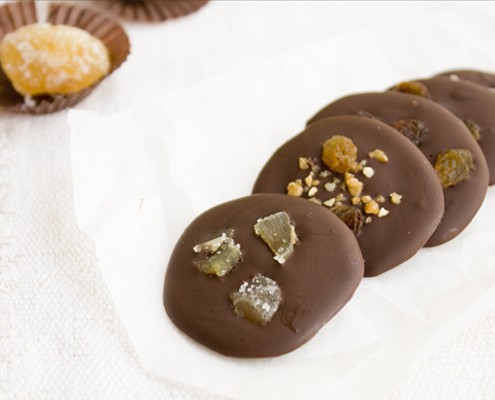 I promise no one will ever suspect that these are bean brownies. That's why I prefer to call them flourless. Even my most fickle of fickle children declared these the "best brownies ever". I've made them for her three times and she hasn't suspected a thing. Score one for mom.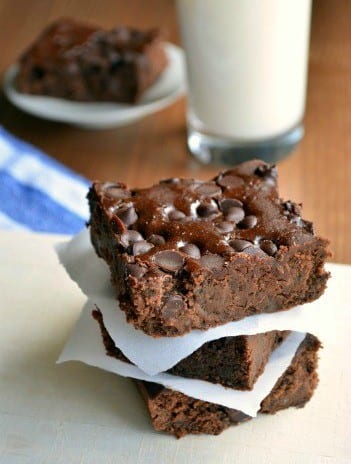 Flourless Chocolate Chip Brownies
Ingredients
1 (15-ounce) can black beans, drained and rinsed
2 large eggs
2 egg whites
¼ cup melted butter
¼ cup plus 1 tablespoon cocoa powder
1 teaspoon vanilla
⅔ cup sugar
½ cup semi-sweet chocolate chips
Instructions
Preheat oven to 350 degrees F
Grease or spray an 8-inch baking pan.
Process all ingredients EXCEPT chocolate chips in a food processor until well blended.
Transfer mixture to the prepared pan. Sprinkle with chocolate chips.
Bake the brownies for 30 to 35 minutes, or until just set in the center.
Cool before cutting into squares.
Adapted from Whole Foods.
Julie Andrews
Julie is a Registered Dietitian, food writer, and food photographer. Her blog emphasizes healthy eating and features an eclectic mix of savory and sweet recipe ideas. Her photography is frequently published on Foodgawker, Tastespotting and Healthy Aperture. Read more at tastefullyjulie.com.