Take the time to try this homemade bread that pairs two delicious flavors for a no-knead recipe that rises overnight.
By Emily Nelson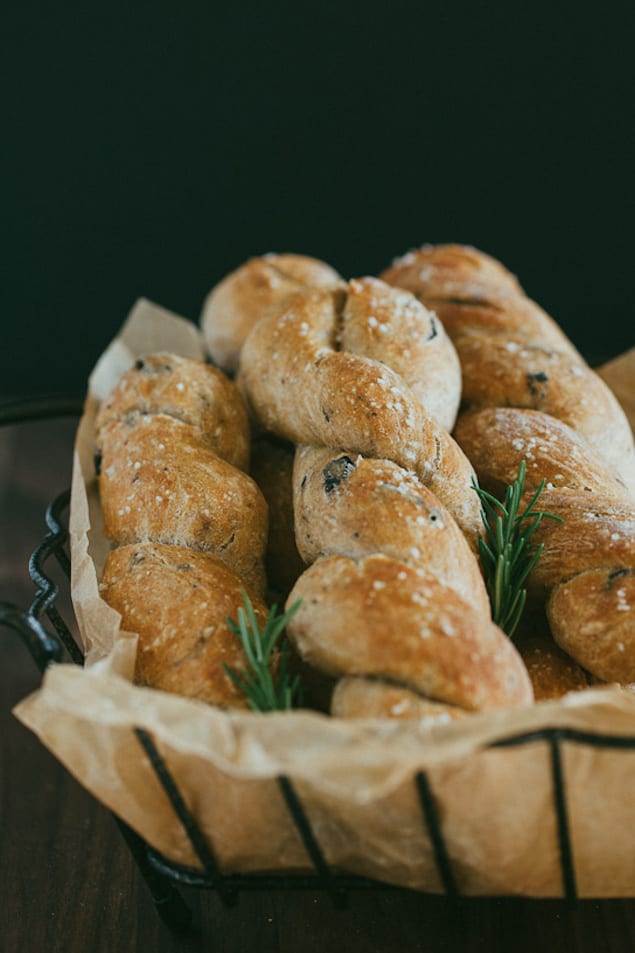 There is a certain reward that comes from baking your own bread at home. Unlike other forms of cooking or baking, working with bread dough forces me to slow down and it calms my soul. The process is beautiful and there is no substitute for warm crusty bread fresh out of the oven.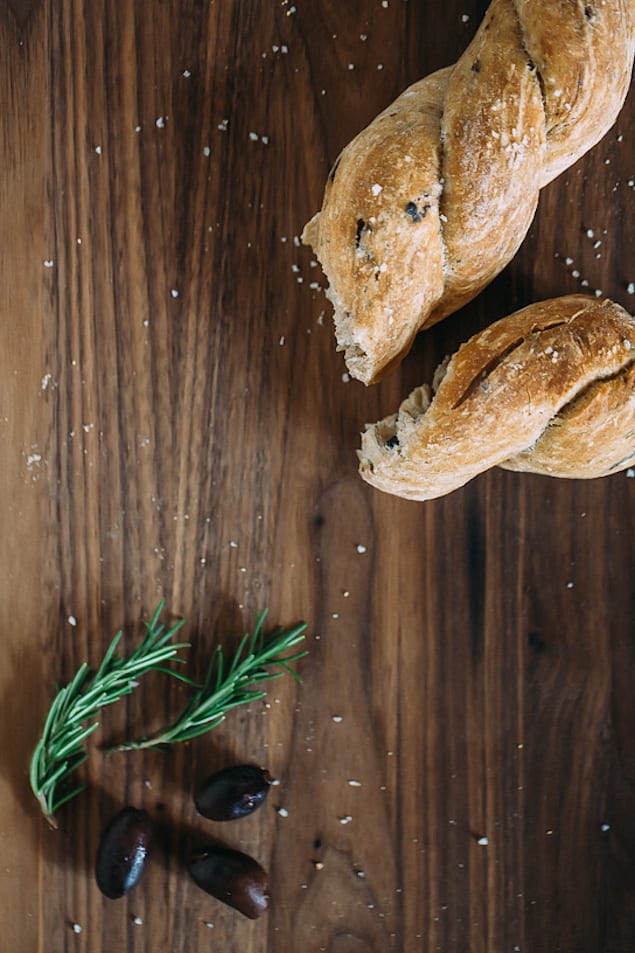 For these Olive and Rosemary Breadsticks, I used a steaming method that I once learned from a Zingerman's bread baking class. In addition to making a fairly wet dough, a steam tray is placed in the bottom of the oven, helping the bread to develop a golden, crisp, and chewy crust.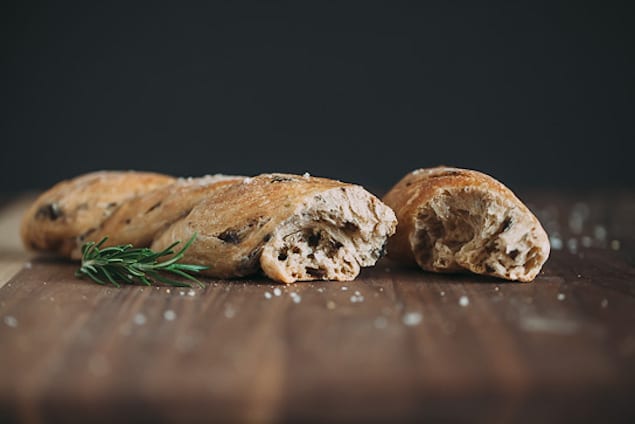 In these breadsticks, I added kalamata olives with the rosemary and found that they pair well in this savory bread. I used a combination of all-purpose, whole wheat, and rye flours for character and flavor. This bread does require some planning ahead as it needs to be started the night before, but the dough comes together quickly and no kneading is necessary. During the overnight resting period, the bread develops an incredibly deep flavor and a great chewy texture. Lastly, in the recipe I've included measurements by weight and by volume, but using weighted measurements will most accurately help you to achieve the correct flour to water ratio. It's hard to believe that such a simple method can lead to such great results, but I hope you will give this a try!

Flavorful Rosemary and Olive Bread
Take the time to try this homemade bread that pairs two delicious flavors for a no-knead recipe that rises overnight.
Ingredients
10 ounces all-purpose flour (about 2 cups)
3½ ounces whole wheat flour (about ¾ cup)
1½ ounces rye flour (about ¼ cup)
½ teaspoon salt
¼ teaspoon yeast
2 teaspoons chopped fresh rosemary
⅓ cup kalamata olives, pitted and chopped
7 ounces water (about ? cup)
3 ounces beer (about ? cup)
1 tablespoon white vinegar
coarse finishing salt for sprinkling on top
special equipment: pizza stone
Instructions
In a large mixing bowl, whisk together the flours, salt, and yeast. Stir in the rosemary and kalamata olives. In a small mixing bowl or liquid measuring cup, mix together the water, beer, and vinegar. Add the wet ingredients to the dry ingredients and stir together with a wooden spoon until well combined.
Cover and let rest for 8-18 hours.
Place pizza stone on the middle rack of the oven. Place a large rimmed baking sheet on the bottom rack. Preheat oven to 425.
Transfer dough to a floured surface and knead 10-15 times. Divide dough to make 10 smaller pieces. Roll each piece to make a 10-inch rope. Twist 2 pieces together and pinch the ends. Repeat with the remaining 8 pieces. Cover and let rise 30-40 minutes, until the indentation springs back when a finger lightly presses the dough. Sprinkle lightly with coarse salt.
Quickly sprinkle the pizza stone with cornmeal and gently transfer the breadstick twists to the pizza stone. Pour 2 cups of water in the rimmed baking sheet and quickly close the oven door.
Bake for 30-35 minutes, until bread is golden brown.
Emily Nelson
Emily is a self-taught cook and photographer with a passion for creating beautiful and wholesome food for the family. Her focus is mostly on whole grains, fresh and seasonal produce, and naturally raised meats. When she's not in the kitchen, she loves playing music and spending time with her husband and two children.