Paul Liebrandt's The Elm serves up some of the most delicious and affordable — not to mention beautiful — French-influenced food around.
By Mitch Weinstein
It might've been fun if I'd been able to title this blog post "Nightmare on Elm Street." But then again, since it's been almost two months since The Elm opened, that would've already been used. And even though it's sometimes hard to come up with titles to blog posts, it's not true. What is true is that The Elm is damn good – even to someone like me, who often finds food as art kinda hard to digest.
First, have a look at the titles of a few of the blogs I read regularly:
The Elm Grows in Brooklyn – Insatiable Critic
An Elm Grows in Brooklyn – at the Sign of The Pink Pig
An Elm Grows in Brooklyn – NY Observer
See what I mean? But back to The Elm, Paul Liebrandt's new restaurant in the King & Grove Hotel. As mentioned above, it's been open less than two months. And in a couple of meals there, I've seen and tasted a good chunk of the menu, and even though it is art on a plate, I liked it just fine.
Last week, Significant Eater and I started with a pre-dinner drink at the bar, and her Charred Lime Mojito, made with 8-year Barbancourt, hit the spot on a really hot night. Moving to our table, we shared our "first course" (because who really knows what a course is these day? – the menu is divided into Raw, Sea, Land and Share – so you tell me), which was Kanpachi "Jamon," the fish cured for 24 hours, and served mixed in with watermelon and heirloom tomatoes.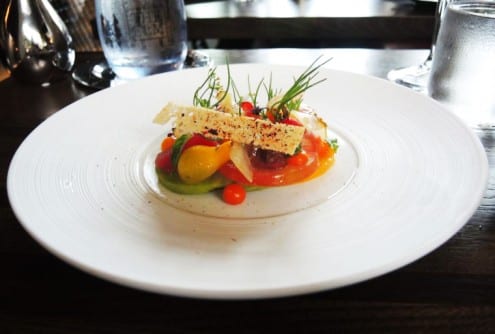 On to our appetizer course, Sig Eater had the Gnudi, a perfectly seared scallop served in a pool of tom yum broth, with tiny little gnudi floating around. Wow.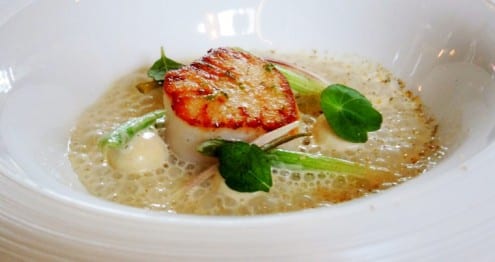 I had to have the Swiss Chard Agnolotti, because the first time I had it, by the time the plate was passed to me there was nothing left. Of course, it's not just agnolotti, but a sweet corn broth laced with lobster and shisito peppers.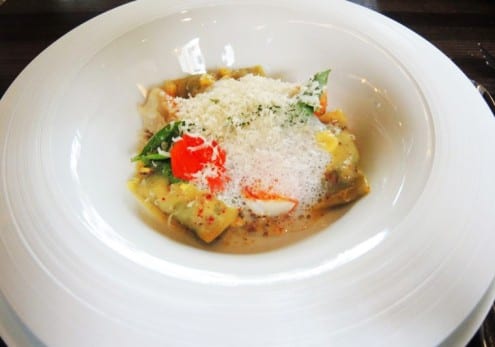 See Also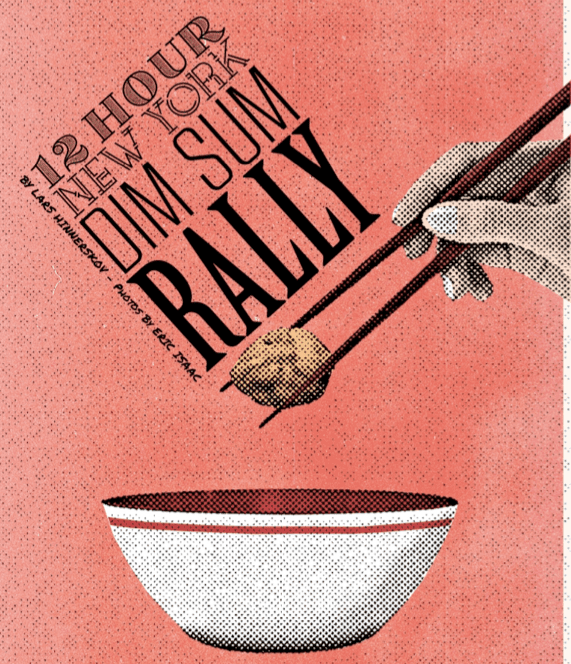 They grate some 5-year old (i.e. pretty intense) cheese over this dish at table, and I still can't figure out if it adds or detracts from the lobster, but I'd eat it again in a second.
Our mains were next up, and Sig Eater didn't love her lamb dish – lamb neck can tend to be pretty fatty, and this was. The charred eggplant served alongside literally tastes like it came right out of a fire, so if you like baba ghanoush to the tenth power, please order this dish. My slow-roasted duck with pickled plum, on the other hand, is something I'd order every time.
There's usually a time during the meal when the picture taking stops. Either it's too much of a distraction because you just want to eat, the old man might've had a little too much wine, the food's not worth it, etc. So while we loved our cheese and dessert courses (especially the roasted peach ice cream), there are no pictures to post.
Liebrandt's a highly regarded chef in this city, and deservedly so. The Elm is serving, at reasonable prices, some of the best French-influenced food around, and is easily one of the top two or three restaurants to open this year. There is plenty of consternation on food boards and blogs alike as to whether PL will be in the kitchen for long, as there are other projects in the works. There's also the question of pricing and whether it will remain this friendly for long. So there are plenty of reasons to try it – and soon.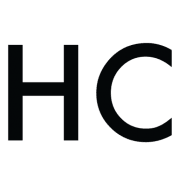 Mitch Weinstein
Mitch Weinstein is an avid seeker of good food, culinary school grad and writer of the blog Tasty Travails. When not cooking at home, he is on the hunt for that next delicious restaurant meal, great market or maybe even a cocktail. He regularly contributes to the food and drink forums on mouthfulsfood.com, eGullet.org, Chowhound.com and others.