Filled Cinnamon Roll Sandwich Cookies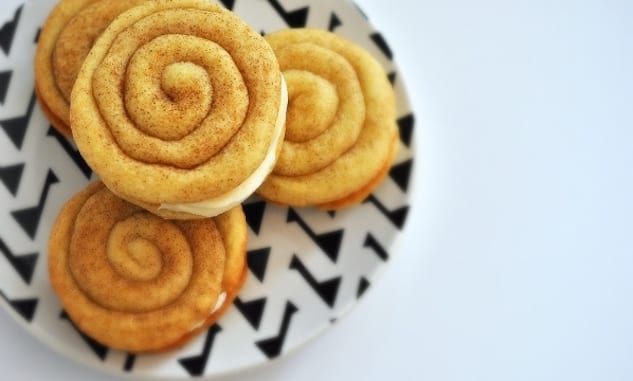 Cleverly swirled cinnamon cookies hold the secret to happiness, also known as cinnamon roll glaze in frosting form. For breakfast or dessert, these soft, spiced cookies with cream cheese icing are dreamy.
By Lizzy Wolff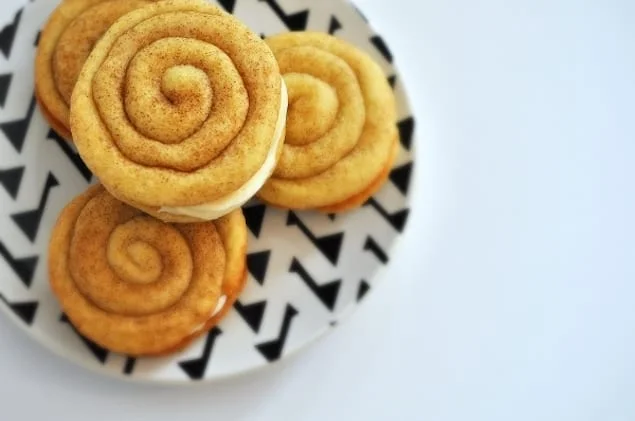 I know, 'cinnamon roll cookie sandwiches' sounds like too many words. But we love cinnamon rolls, so it's ok.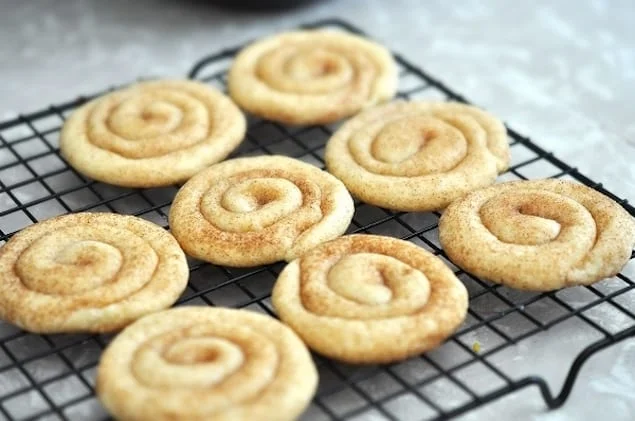 I MEAN IT'S A CINNAMON ROLL, BUT ALSO A COOKIE.
See Also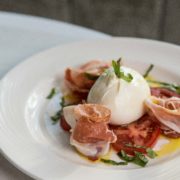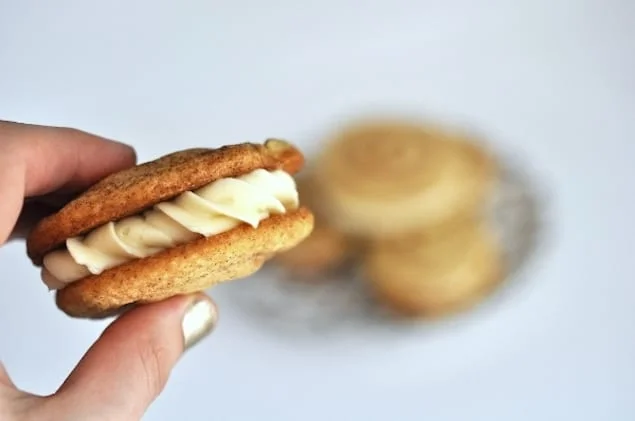 See? It doesn't take many words to convince you to make these beauties.

Filled Cinnamon Roll Sandwich Cookies
Swirled cinnamon cookies hold the secret to happiness, aka cinnamon roll glaze in frosting form. These soft cookies with cream cheese icing are dreamy.
Recipe Type:
Dessert, Baking
Ingredients
For the cookies
2 cups all-purpose flour, plus more for rolling
½ tsp baking powder
¼ tsp salt
½ tsp ground cinnamon
8 tbsp (1 stick) unsalted butter, room temperature
1 cup granulated sugar
1 large egg
1 tsp pure vanilla extract
For the frosting
8 oz cream cheese, room temperature
8 tbsp (1 stick) unsalted butter, room temperature
1 cup confectioners' sugar
1 teaspoon pure vanilla extract
Instructions
For the cookies
In a large bowl, whisk together flour, baking powder, salt, and cinnamon. In another large bowl, using an electric mixer, beat butter and granulated sugar until light and fluffy. This should take at least a minute, usually two. Thoroughly scrape the sides and bottom of your bowl and beat for another few seconds to incorporate anything stuck to the sides.
Beat in egg and vanilla. With mixer on low speed, add the flour in three sections. Mix until combined. Divide dough in half; form into two ¾-inch-thick disks. Wrap each in plastic; refrigerate until firm, at least 1 hour.
After they're chilled, place one disk on a well floured surface and roll out to an ⅛-inch thickness, lightly dusting dough with flour as needed. Then, cut the dough into long strips about ¼ inch wide. Once all your rolled dough is sliced, sprinkle it with cinnamon. Then take each strip and gently (it'll be fragile) roll them into snakes. Then coil each snake into a spiral shape. Coil them pretty tightly and push the end of the snake underneath the cookie so it won't come apart when baking.
Preheat oven to 325. Line baking sheets with parchment or a silicon baking mat. Then bake them until edges are golden, 10 to 15 minutes. If you know your oven bakes unevenly sometimes, rotate your cookies at 7 minutes and set your timer for 3 more. If they need a couple more minutes, give them 2-3. Cool cookies for 1 minute on the baking sheet, and transfer to wire racks to cool completely.
For the frosting
While your cookies are baking, you can throw together your frosting. Take your cream cheese and butter (which are at room temp - if they're not, microwave them on 50% power for about 15 seconds) and beat them together using an electric mixer. Scrape down the sides and bottom of the bowl and mix again to incorporate anything unmixed bits. Then add your vanilla extract and mix thoroughly. Little by little, add your confectioners sugar until you get a frosting that has some stickiness to it, but can hold shape. Place into a piping bag, or a ziploc with the corner cut out, to prepare it for frosting your cookies.
Then once your cookies are totally cool, pipe in a circle starting in the middle on the bottom of the cookie. Place a similarly sized cookie bottom side down onto the frosting. Repeat this until you have a bunch of delicious sandwich cookies.
Lizzy Wolff
Lizzy Wolff, creator of Sugar + Butter, loves to make you drool on your keyboard. It's a real thrill for her. For more recipes, click 'website' below.