Take a journey through the thought-provoking foods of Jordan.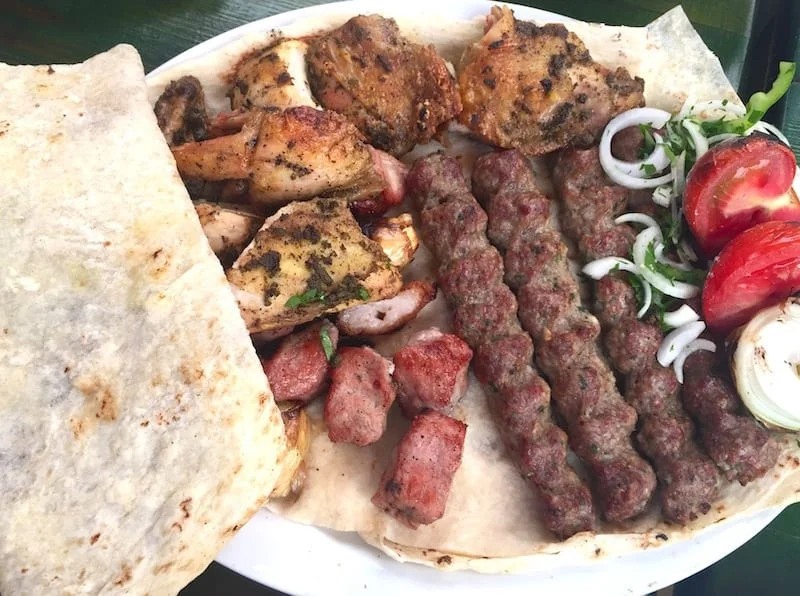 At the final dinner on a recent ten day trip through Jordan, our group of eight was asked to describe our journey in one word. The answers came fast and furious, "inspiring, unforgettable, breathtaking, amazing, exciting, transcendent, and thought-provoking." If you throw in the word "scrumptious", these superlatives could also be used to describe Jordanian cuisine. Wait… I'd also have to include "super healthy" to the mix.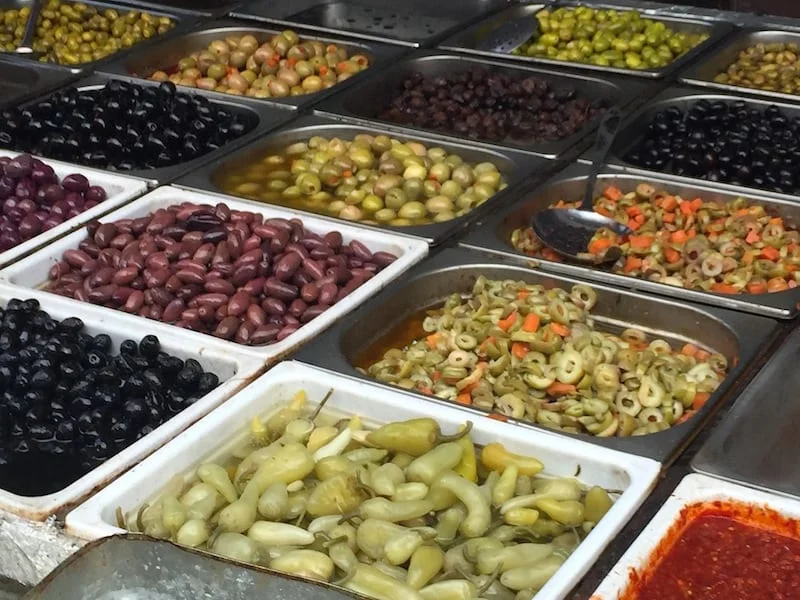 Yes, the food has many similarities to other Middle Eastern countries; however, Jordan's rich culinary heritage offers its own interpretation on classical favorites such as hummus, falafel, and baba ghanoush as well as many unique Jordanian specialties, perfect for both veg-heads and meat lovers. Most meals are social affairs served communal-style and begin with a hospitable "Sahtain wa 'Afiya" meaning "I wish you health and well-being".
Don't leave without trying these 8 local delicacies: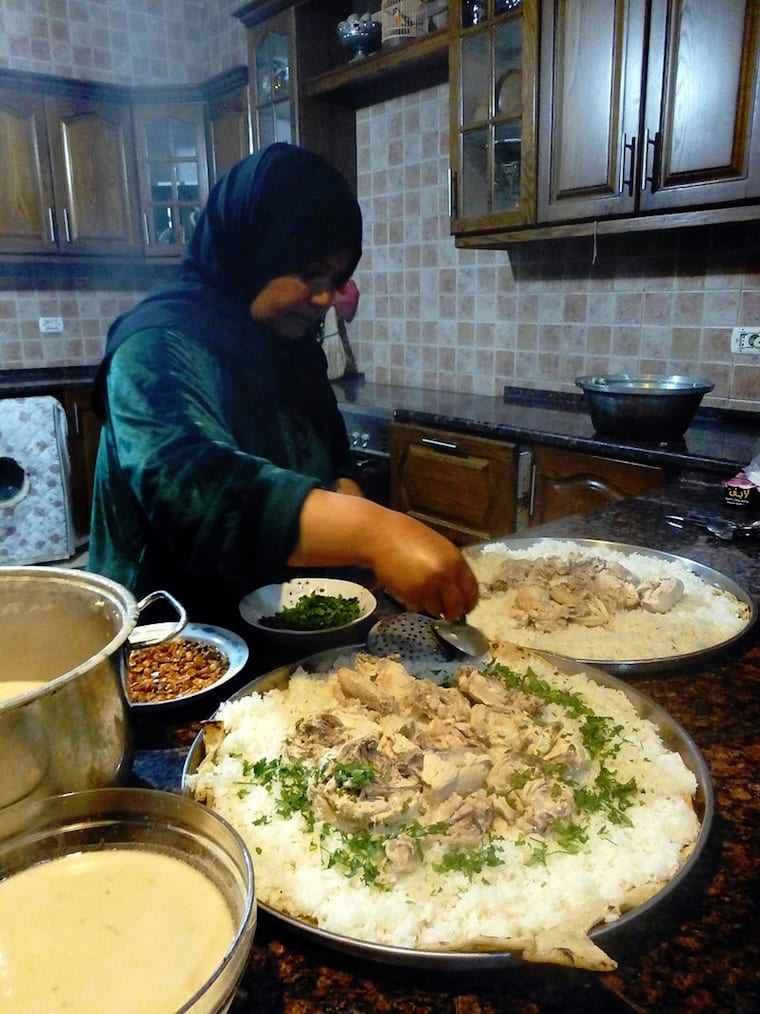 Mansaf:
The granddaddy of all Jordanian foods is Mansaf, considered their national dish. This special occasion, time-intensive recipe consists of chunks of marinated lamb and rice that is simmered in a rich sauce made from rehydrated jameed, rock-hard balls of fermented, dried yogurt favored by Bedouin tribesmen who wandered the desert.
Best Bite- Mansaf is one of those dishes that is best when home-cooked for a family celebration. Since I hadn't yet made good buddies with any locals, I have to admit, I still thoroughly enjoyed it at our hotel, the Kempinski Hotel Aqaba.
Zarb:
Another uniquely Jordanian dish is Zarb, aka Bedouin BBQ. Layers of chicken, lamb, and vegetables are buried beneath the desert sand where they are slowly cooked over burning embers in a large underground pit. There's nothing quite like heading out under the desert stars to watch as the cooks dig up the pot, carefully brushing off the steaming sand before removing the lid; releasing mouthwatering, smoky aromas and fall-off-the-bone tender meat for an unforgettable edible experience.
Best Bite- Hold off on trying Zarb until you are down south around the Wadi Rum region, where you can arrange a memorable overnight tour in a private Bedouin Camp, Captain's Desert Camp offers a unique an authentic desert experience with classic Bedouin meals prepared daily. P.S.-this would also be a good spot to book your camel ride.
Mezze:
My fave part of a Jordanian meal is the communal mezze, a rainbow of small dishes that will send your taste buds into overdrive by their profusion of colors, textures and flavors. Here are just a few standouts:
Tabbouleh: refreshing made of tomatoes, finely chopped parsley, mint, bulgur, and onion, with a tangy dressing of olive oil, lemon juice, and salt.
Fattoush: a chopped tomato, pepper, and cuke salad topped with fried pieces of flatbread, olive oil, sumac and lemon juice.
Falafel: Balls of fried chickpea flour and Middle Eastern spice that can be dipped in the hummus.
Hummus Billahmeh-mashed chickpeas topped with minced meat.
Halloumi: Semi-soft white cheese- similar to Feta but not as salty. Best served with a sprinkle of olive oil and za'atar, a mixture of thyme and sesame seeds.
Ful medames: Crushed fava beans served with a variety of toppings such as olive oil, lemon juice, parsley, chili pepper, and sumac, a popular red spice with a tart, citrus-like flavor.
Kibbeh: Herbed, minced football shaped meat covered in a crust of bulgur (crushed wheat) then fried. .
Labaneh Jarashyyeh: This creamy yogurt is thick enough to spread on sandwiches instead of mayo.
And then we come to the great Mutabbal vs Baba Ghanoush debate. Both eggplant dips are flavorsome but the Mutabbal (made with yogurt, tahini and garlic) is more what Americans think of as Baba Ghanoush while the Jordanian B.G. is prepared with pomegranate molasses, tomatoes, parsley and walnuts.
Best Bite: For the perfect introduction to mezze, head to Sufra restaurant in Amman, where there are dozens of beautifully presented hot and cold mezze to choose from.
And speaking of hummus and falafel, Hashem's, a tiny restaurant that spills over into the alley off Al-Amir Mohammed Street in downtown Amman, rules. It really does since even King Abdullah and Queen Rania comes here for their fix of lighter-than-air, bite-sized falafel dipped into their hummus, made from the perfect ratio of chickpeas to olive oil.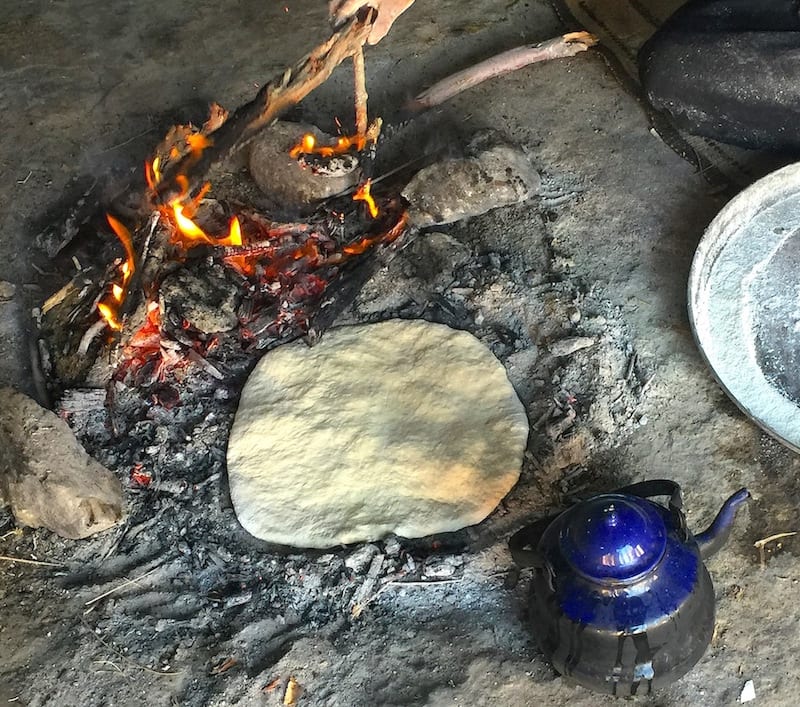 Bread:
Bread is widely used in place of utensils. There's nothing like tearing off a piece of hot bread for scooping up the last bits of Mansaf and yogurt sauce.
Popular bread includes Khubz, the local version of pita, Shrak, a paper-thin flatbread similar to a crepe, Abud, dense, chewy Bedouin bread that is baked by burying it under hot ashes.
Best Bite- when you eat at Sufra, ask them to take you to see the tannour room, where the baker gracefully navigates his way around the burning hot oven to produce the tasty flatbread.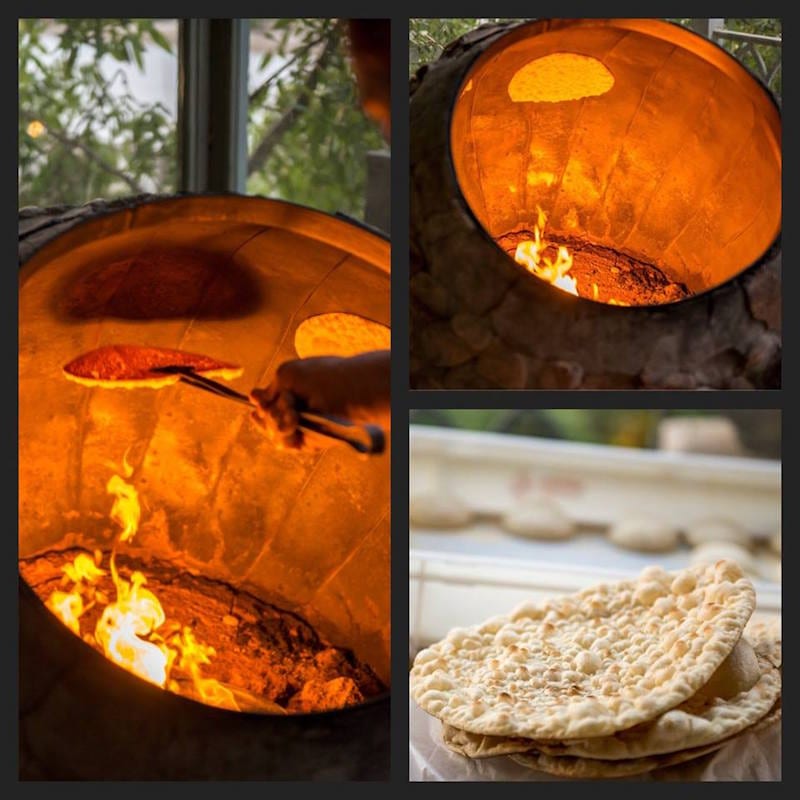 Shawarma:
A hot shawarma sandwich (similar to gyro) filled with your choice of shaved meat, stuffed into a warm iota along with copious amounts of fresh salad, hummus, lemony tahini and a dash of hot sauce is Jordan's answer to McDonald's. While the price points might be similar, a well-made shawarma kicks butt when it come to quality and flavor!
Best Bite: If you're willing to stand in line, the acclaimed Reem shawarma stand in Amman spews out thousands a day. Or just check the street for the nearest shawarma stand, easily located by the huge vertical spit outside to bring in customers.
Araies Iahma:
Also fondly referred to as Bedouin Pizza this smoky, crunchy flatbread appetizer will never replace my preferred wood-fired Amatriciana (with pancetta, chilies, pecorino, and an egg) pizza in San Francisco, as Jordanian street food it certainly hits the spot.
Best Bite: This was just one of many dishes we learned to make at the PetraKitchen cooking school. Under the guidance of Chef Mustafe, we cooked and laughed alongside local chefs who taught us how to prepare a traditional family dinner. For more in-depth culinary training special 5-night cuisine classes are also available.
Beverages:
After a long hot camel ride, there's nothing like a cold one i.e.: a chartreuse green lime-mint juice to refresh yourself, unless you'd rather a healthy fruit juice such as pomegranate, tamarind or fresh O.J.
Jordanian tea is a strong dark affair, heaped with enough sugar in it to make your spoon stand up. Mint and sage are popular infusions.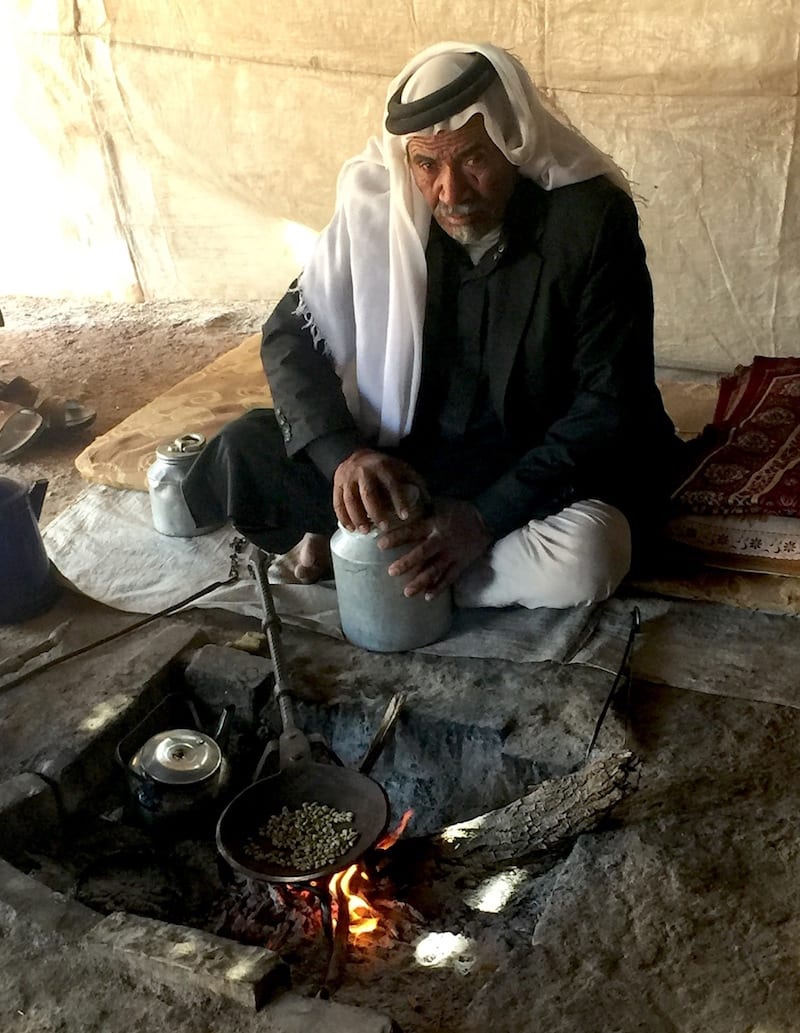 But what you really need to try is an Arabic or Bedouin coffee at a traditional coffee ceremony. To simply call this coffee is like saying Dame Helen Mirren is a decent actress. Partaking in a cup of freshly roasted inky black, cardamom flavored coffee (called sada) is an important part of Jordanian culture, bound by rules of etiquette that are centuries old. Some of the rules are:
1.The host drinks the first cup to check whether the coffee is well prepared or not.
2. Next, the host serves his guests three tiny cups of sada. (It's polite to drink all three but to take more is considered "piggy".)
3. When you've had enough tilt your cup from side to side two or three times as you hand it back.
4. Coffee is used to settle disputes between the tribes. The leader will not drink the coffee until the other family forgives the offender and agrees on the proposed settlement.
Best Bite: FeynanEcolodge, an award-winning ecolodge located deep in the Dana Biosphere Reserve, offers a particularly interesting coffee ceremony conducted by a neighboring Bedouin tribe.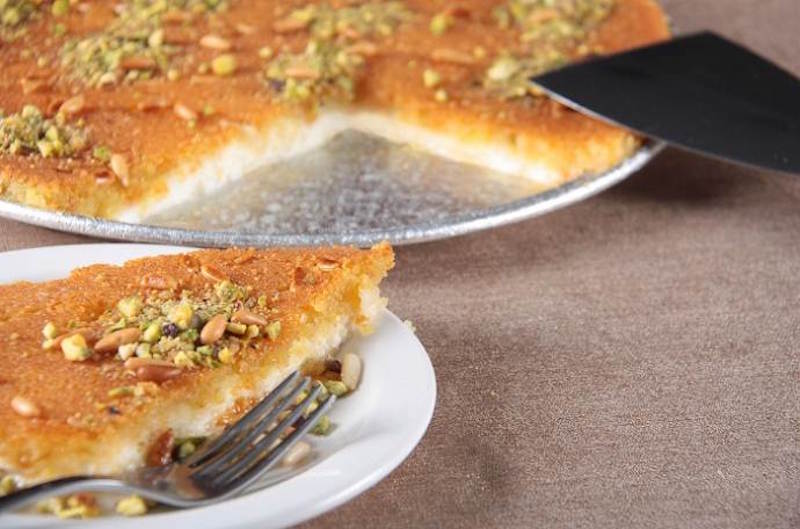 Kanafeh, Knafeh, or Kunafa:
Saving the best for last, whichever way you spell it, the Kanafeh served at Habibah Sweets is absolutely life changing. Lines down the alley attest to the deliciousness of this hot, salty, melty slab of cheese surrounded by the buttery, shredded, toasted phyllo and doused with sugar syrup and pistachios.
Best Bite: Since Habibah is conveniently located right around the corner from Hashem's, cut your queue time in half by one of you standing in each line and then meet in the neighboring alley to share your bounty.
Print
1

pound ground meat

1

medium onion (diced)

½ cup

olive oil

1

green chili pepper

2

cloves garlic (crushed and diced)

2

to matoes (blanched, skinned and diced (see preparation))

1 teaspoon

ground cumin

1 teaspoon

sea salt

4

pita bread
Instructions
Preheat oven to 350°F
Finely dice the tomatoes, onion, chili and garlic.
Add the salt, cumin, and diced vegetables to the ground meat and mix well.
Cut each round of pita in half. Fill each pocket with a thin layer of meat inside. Brush the stuffed with olive oil and put on a sheet pan.
Bake for 7 minutes, then turn pitas over and bake for 5 minutes more.
Janice Nieder
Janice could be the love child of Indiana Jones and Julia Child. She was a specialty food consultant in NYC with a client list that included Tavern on the Green and Dean & Deluca. A culinary trendsetter, Janice has visited almost 100 countries searching out gastronomic adventures. She might be found sharing a smoked monkey dinner with Shuar Indians in the Amazon jungle or "running with the dogs" while truffle hunting in Marche, Italy. To keep things in balance, Janice also writes about her Girlfriend Getaways, including everything from luxurious city penthouses and Michelin starred meals to bespoke travel in remote destinations. You can follow her travels at www.janicenieder.com