These savory falafel waffles can be loaded with a tomato and cucumber salad, harissa, tahini sauce and more.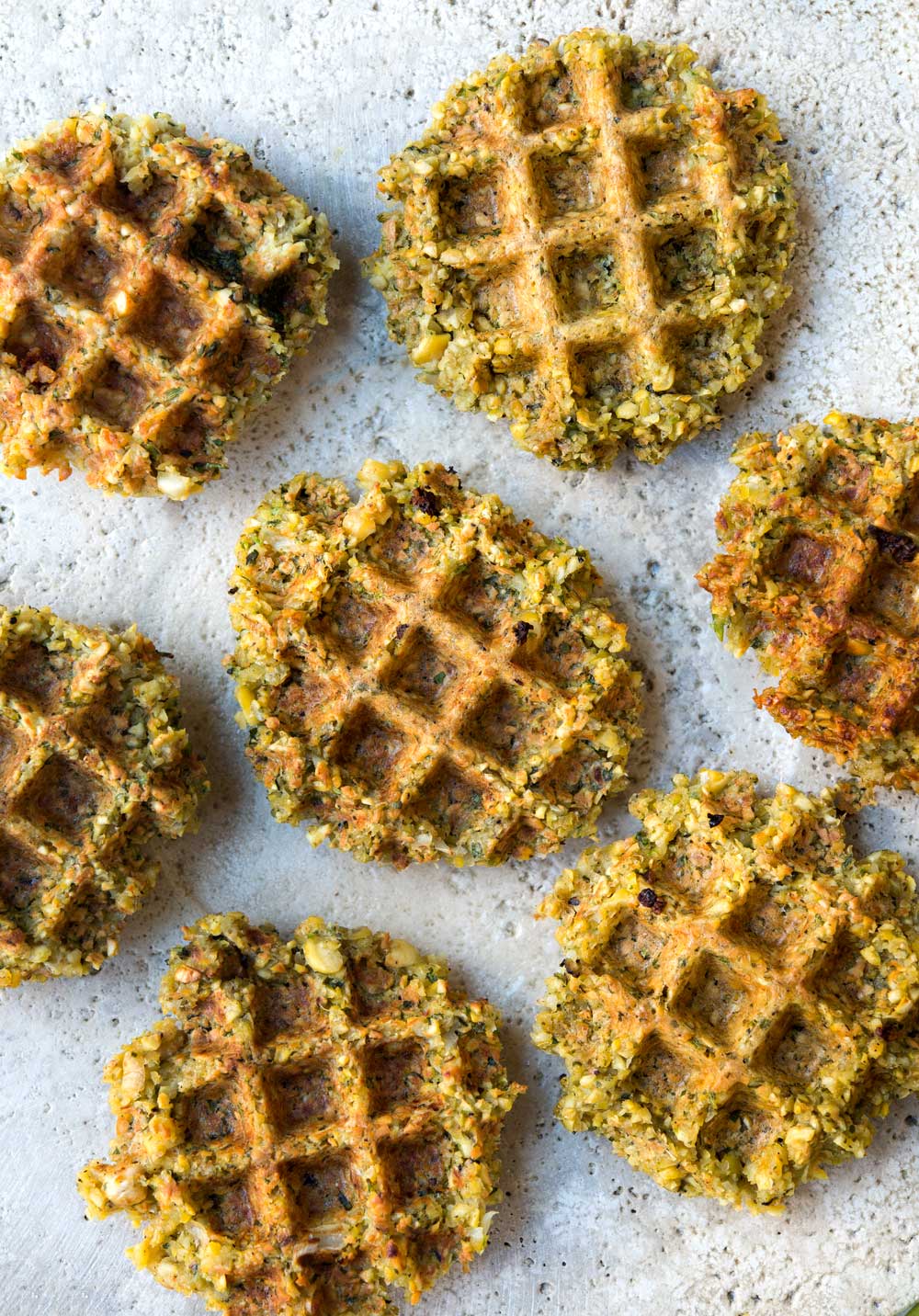 I can't take credit for today's creation, as there's nothing new about falafel or, for that matter, falafel waffle.
Nonetheless, I happen to be a big fan of falafel. The best falafel, no doubt, is one that is made-to-order. The falafels come fresh out of the deep fryer, piping hot, crispy on the outside, moist and tender on the inside. After they've sat around a while, falafels become noticeably dry and dense ? Since I'm not a huge fan of deep frying at home — it can be messy — I've yet to attempt my own falafel. At some point my curiosity will surely get the better of me me and I will give it a try.
I've had falafel waffle (it's fun to say, isn't it?) on my to-do list for quite some time. So, I dusted off the ole waffle machine that was sitting idly in the basement and took it for a spin.
I had two approaches in mind for the falafel waffle: 1) using a traditional falafel mixture of dried chick peas soaked overnight, then pulsed in the food processor with herbs and spices and 2) using chickpea flour in place of dried chickpeas.
The former was my preference. The chickpea flour waffle didn't crisp up much and was a bit rubbery. Although, after it came out of the waffle machine, I reheated it in a skillet with a little oil, which yielded a pleasantly crispy falafel waffle (an extra step, but well worth it). The dried chickpea waffle version possessed more of the taste and texture you would find in a traditional (deep-fried) falafel. I cannot lie, the deep-fried version is still my favorite. Really, who doesn't like fried food?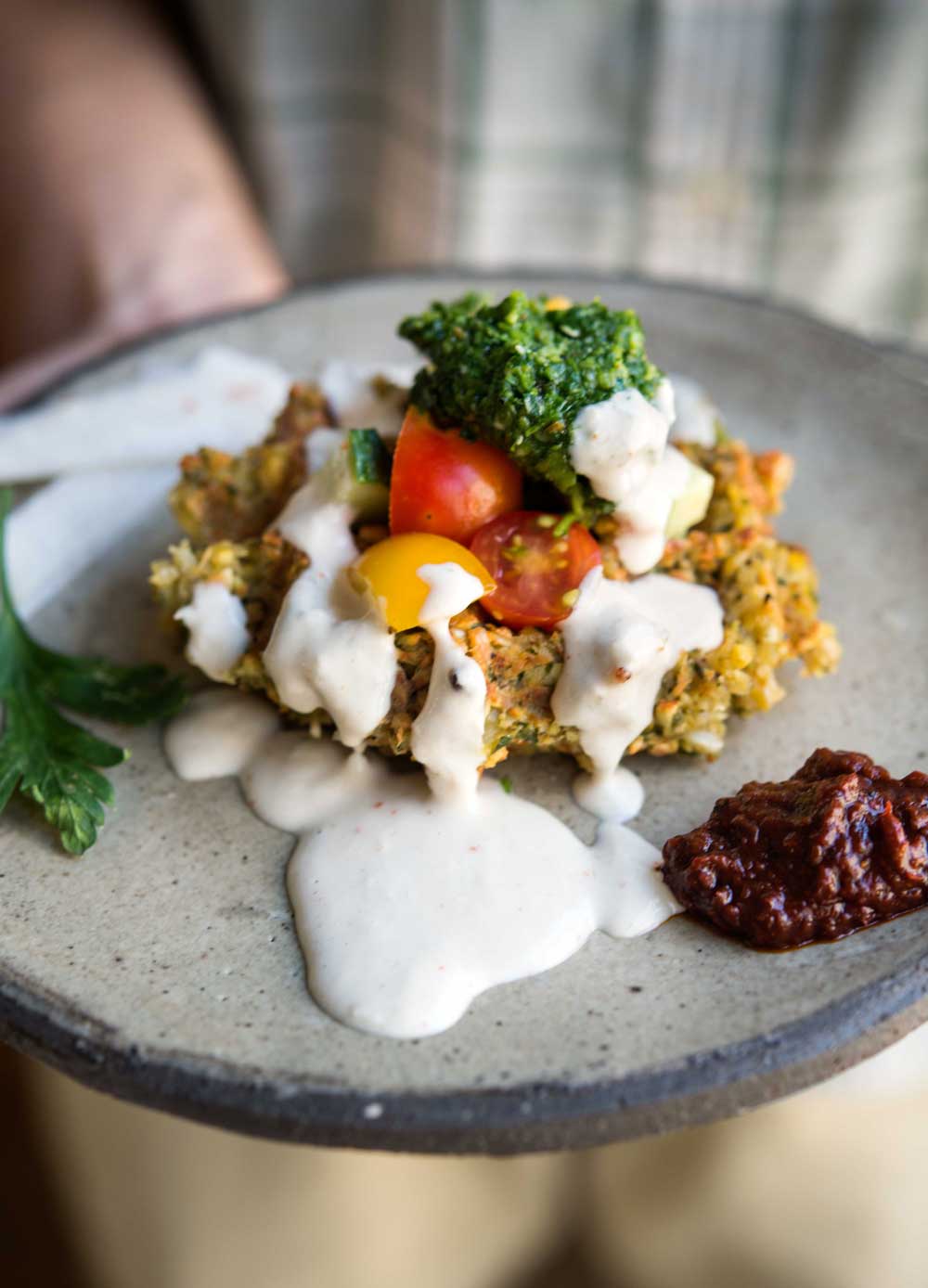 From there you simply need to choose your preferred condiments. My favorite falafel accompaniments include:
A simple tomato and cucumber salad.
Zhoug: a green, herbaceous, spicy condiment with Yemeni roots. I added a couple Thai bird's eye chiles for heat along with plenty of parsley, cilantro, and spices.
Harissa: a North African chile paste featuring dried chiles, spices, and olive oil.
Something pickled. Today, I prepared some pickled kohlrabi. Kohlrabi, a cultivar of cabbage, makes for a nice crisp, quick pickle.
Tahini Sauce. Creamy, nutty, slightly garlicky dipping sauce.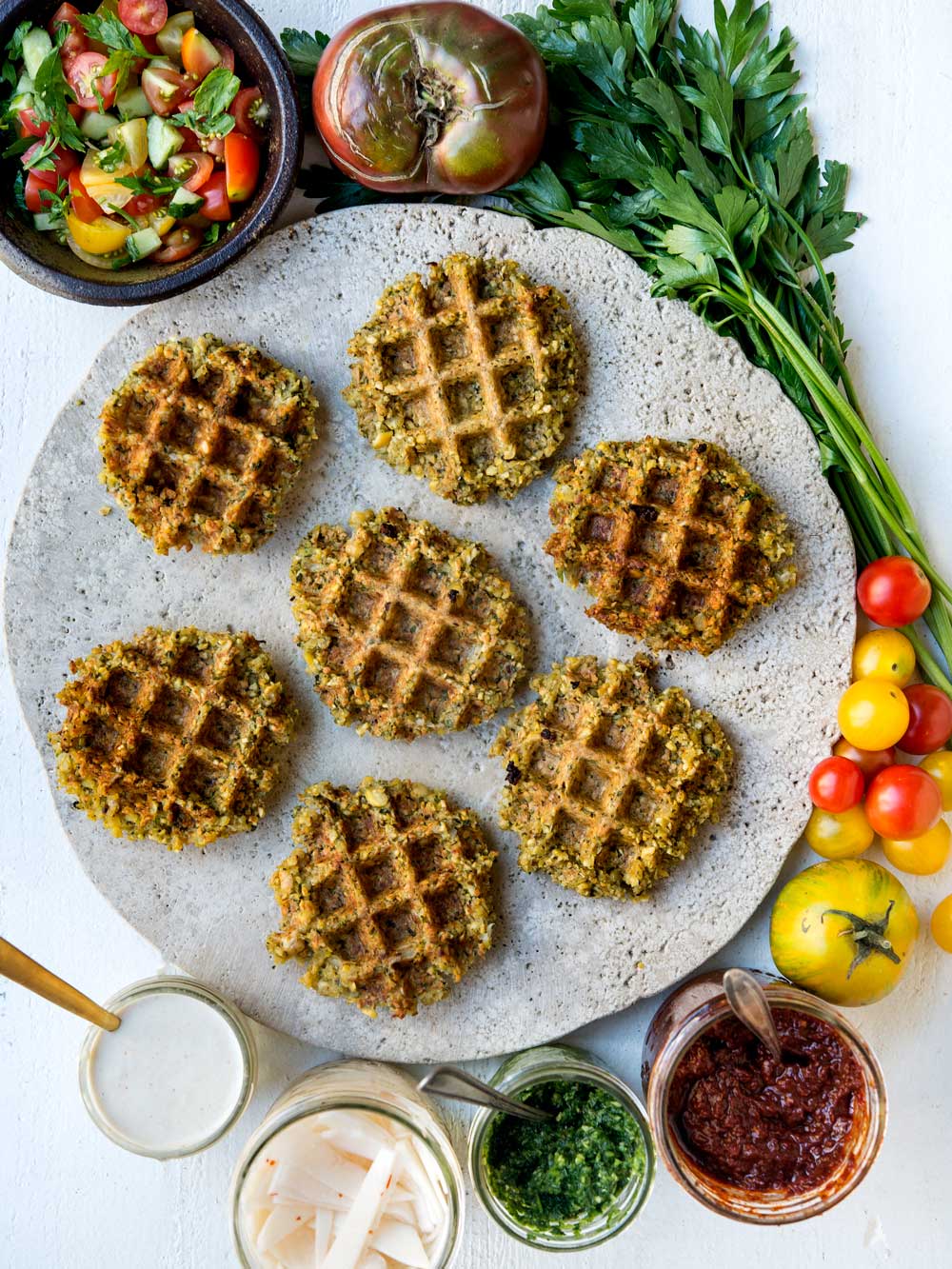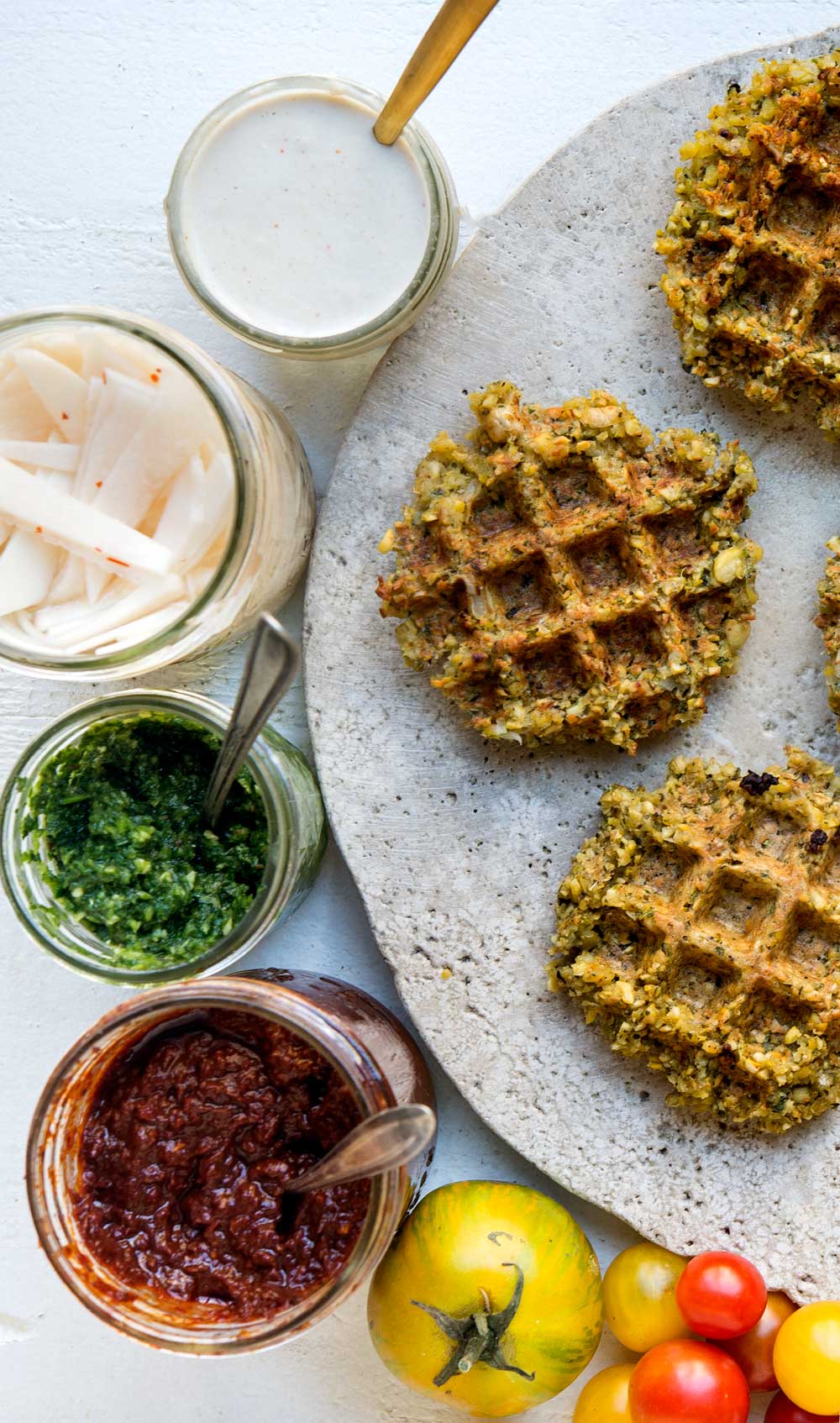 Click here for the topping recipes, including Zhoug, Harissa, Quick Pickled Kohlrabi, and Tahini Sauce.
Print
Falafel Waffles
These savory falafel waffles can be loaded with a tomato and cucumber salad, harissa, tahini sauce and more.
Author:

Linda Schneider

Yield:

0

Makes 6 Waffles

1

x
Category:

Side
Falafel Waffle
1 cup

dried chickpeas

1/2

small onion (diced)

3

garlic cloves (minced)

3 tablespoons

chopped parsley

3 tablespoons

chopped cilantro

2 tablespoons

all-purpose flour

1 teaspoon

salt

1 teaspoon

ground cumin

1/2 teaspoon

ground coriander seed

1/4 teaspoon

baking powder

1/4 teaspoon

black pepper

1/4 teaspoon

cayenne
Instructions
Falafel Waffle
Soak the chickpeas 8 hours or overnight in cold water. Drain.
Combine the soaked chickpeas, onion, and garlic in a food processor. Pulse until blended but not pureed. Add the parsley, cilantro, flour, salt, cumin, coriander, baking powder, black pepper, and cayenne and pulse until just combined.
Heat your waffle machine. Form the chickpea mixture into six patties, gently pressing together so they hold together. Place patties in waffle machine, lower the lid, and cook anywhere from 5-10 minutes, depending on your machine. The falafel is done when it is golden brown and crispy.
Click the link above for the recipes for the toppings.
Linda Schneider
Linda Schneider is the blogger behind Wild Greens and Sardines, an homage to her love for all things food and [Mediterranean] travel. What she enjoys most is seasonal, farm-to-table recipes that highlight local ingredients, farmers, and food artisans. She loves going to local farmers' markets, seeing what's in season, and sharing recipes with others.