One of our favorite cookbook authors, John Gregory-Smith, has come out with a new and exciting-as-ever cookbook, Saffron in the Souks: Vibrant Recipes from the Heart of Lebanon. Discover just a few of the fascinating foods of Lebanon.
John Gregory-Smith has one of our favorite cookbooks. The one we keep cracking open. The one that's not just a beautiful binding to fill up a shelf. Orange Blossom and Honey is well-worth your time to check out, along with his new debut, Saffron in the Souks. John explains that Lebanon was the ancient capital of the world, a crossroads of Assyrians, Macedonians, Romans and more.
The food of Lebanon is reflective of its history of many cultures. Traditional Arab fare can be found along side Armenian food and distinct dishes of small communities. Here are a few of the fascinating foods of Lebanon that are showcased in the cookbook: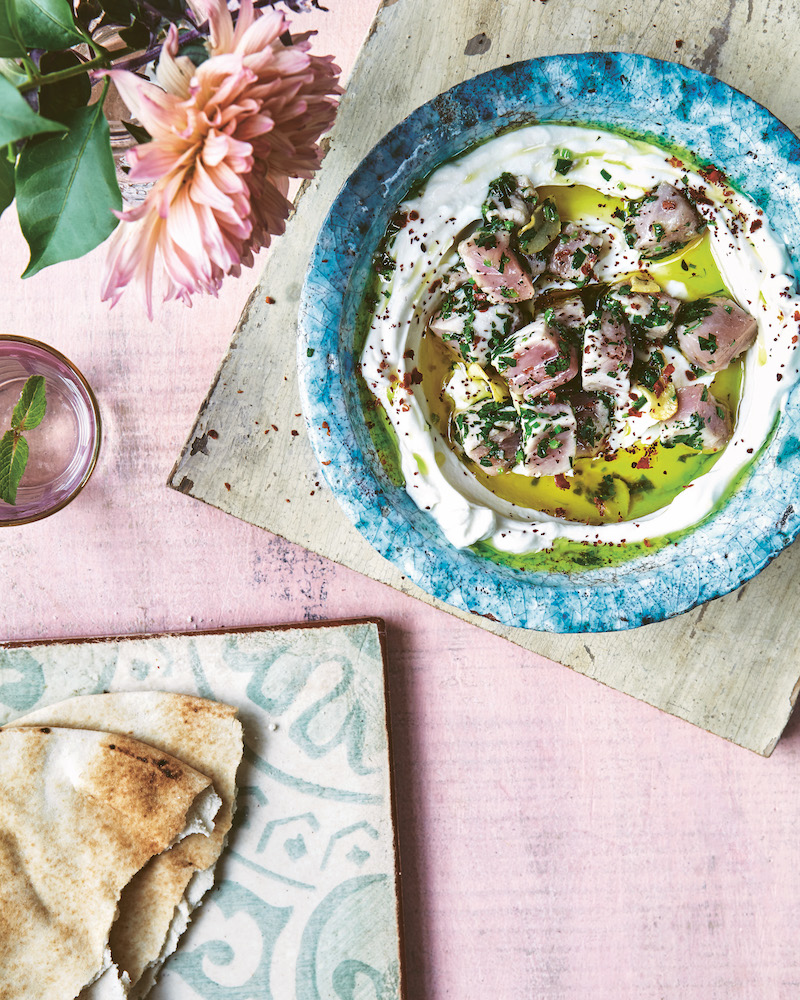 Sizzling Summer Tuna
This seafood dish is a nod to the "glistening coastline" of Lebanon. John explains that fish is usual cooked over a fire and served simply with lemon to really showcase its freshness. This dish pairs creamy labna, lemon and garlic with the fatty fish for a delightful bite.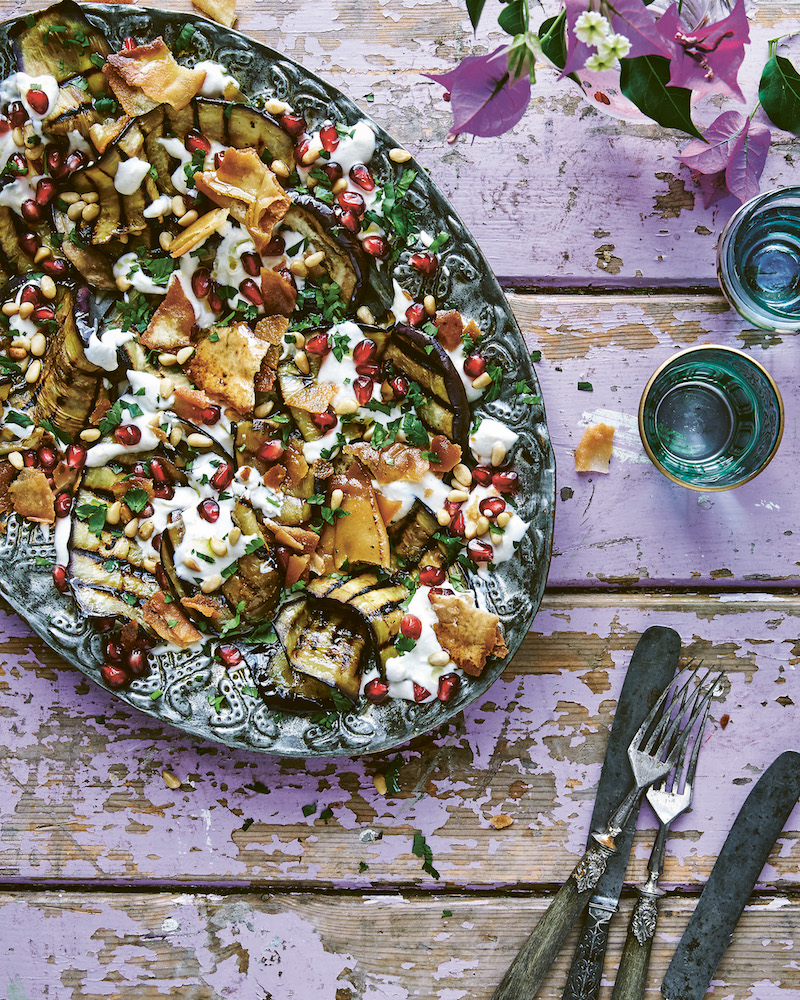 Grilled Eggplant Fatteh
In the cookbook, John offers his own version of the beloved Lebanese layered eggplant dish, fatteh. Traditionally, the eggplants are roasted and then completely covered in a tahini sauce. John's travels around the area showed him different versions of the dish that inspired him to create a lighter version that has just a drizzle of sauce and lots of fun garnishes. This is a great side dish or as a main served with flatbread.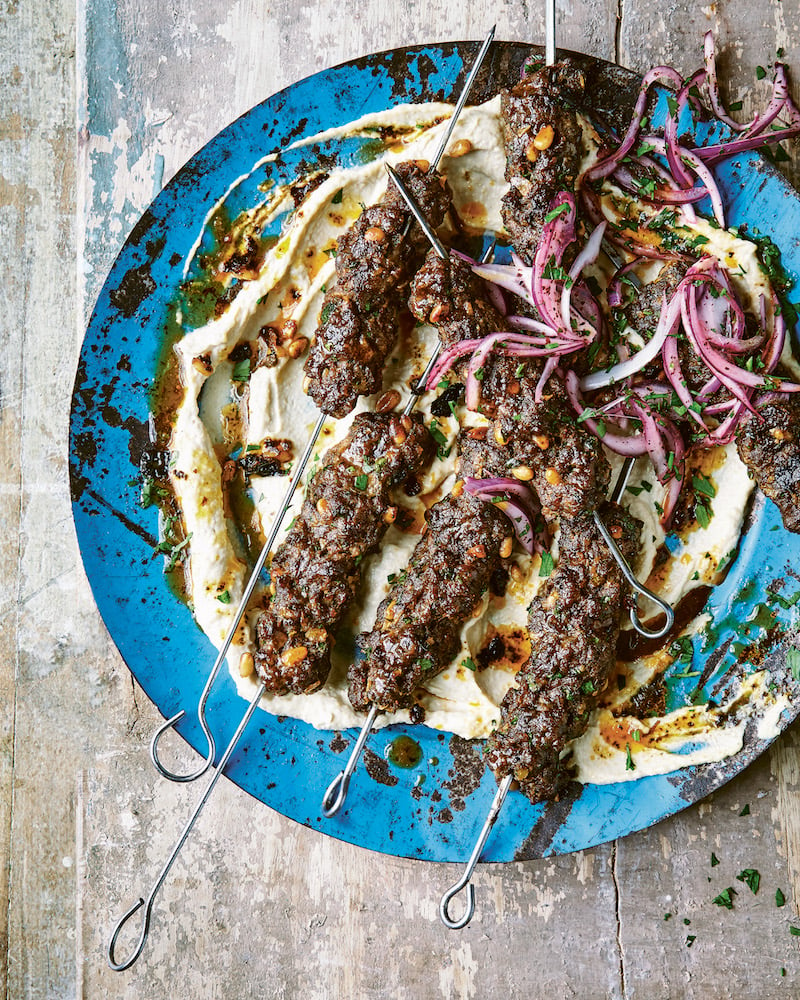 Hole-In-The-Wall Beef Skewers
The largest city in northern Lebanon, Tripoli smells deliciously of sizzling beef kebabas being cooked on grills in the street and inside. For juicy meat, a high-fat content beef is used. They're simple and quick and perfect with hummus and flatbread.
Print
Hole-in-the-Wall Beef Skewers
Wander through the medina of Tripoli and you will soon smell the sizzle of beef kebabs wafting through the air as little hole-in-the-wall stalls grill up a storm throughout the day. To get the meat super succulent you need to have a high fat content—I suggest at least 20 percent fat. These kebabs are simple to make and cook fast on a barbecue. Rather than serve them in a wrap, I like to make these a little different, plating them up on a slick of hummus—either buy your favorite or make a batch—and then top the meat with a really zesty mix of red onion, sumac, and parsley.
Author:

John Gregory-Smith

Yield:

4

servings

1

x
Category:

Main

Cuisine:

Lebanese
For the kebabs
1

pound ground beef with 20 percent fat

½

onion (grated)

½ teaspoon

allspice
a small handful of finely chopped parsley leaves

½ teaspoon

Lebanese 7 spice ?or baharat

1½ teaspoons

Aleppo pepper flakes

3 tablespoons

toasted pine nuts

2

garlic cloves (crushed)
sea salt
For the onions
1

red onion (finely sliced)
juice of

1

lemon

1 teaspoon

sumac
a small handful of finely chopped parsley leaves
To serve
10½ ounces

hummus
flatbreads
Instructions
Begin with the onions. Put the red onion slices in a bowl and add the lemon juice and a good pinch of salt. Mix well and leave to macerate for 15 minutes.
Meanwhile, preheat the broiler or barbecue to high. Put all the ingredients for the kebabs into a large mixing bowl with a good pinch of salt and mix well. Thread the meat onto flat skewers (these prevent the meat from turning when you flip them over on the barbecue) so you have a sausage shape. You should be able to make 8 kebabs. Cook for 3–4 minutes on each side until charred and juicy.
Add the sumac and parsley to the macerated onions and mix well.
To serve, spread the hummus onto a serving dish. Lay the kebabs on top and pile on the onions. Serve immediately with flatbreads.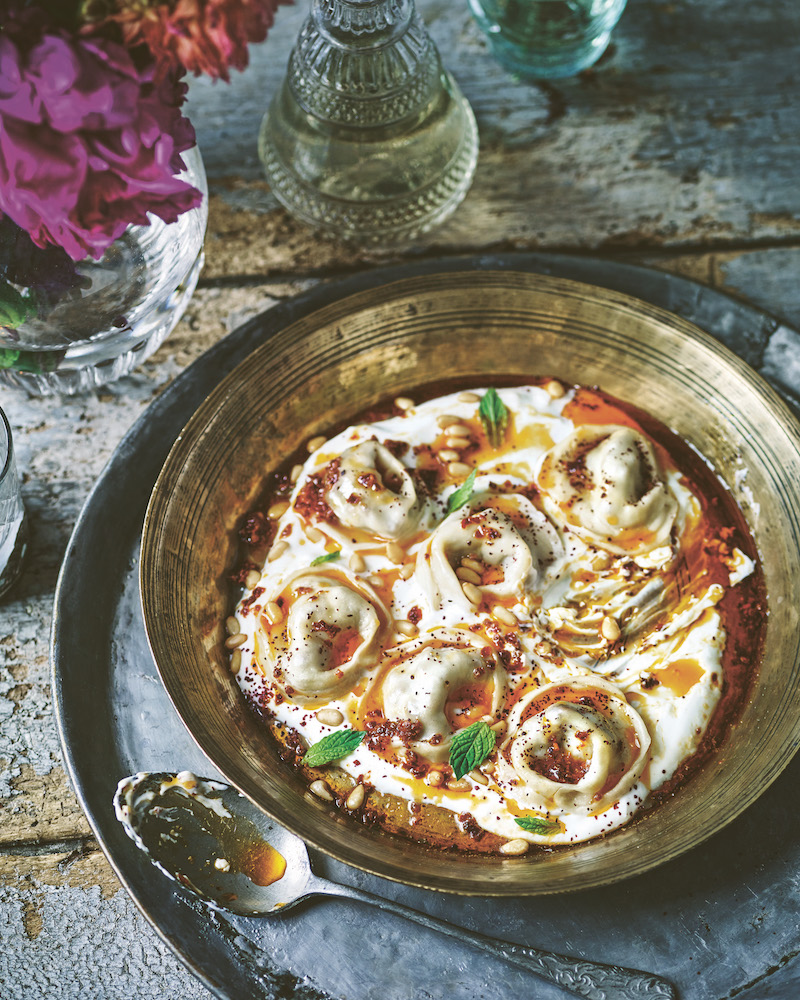 Lebanese Tortellini
Also known as shish barak, this is an ancient Lebanese dish. They're meat-filled dumplings served in a yogurt sauce that can be either baked or boiled. The name is thought to come from the Persian word for lamb's ear, hinting at its shape.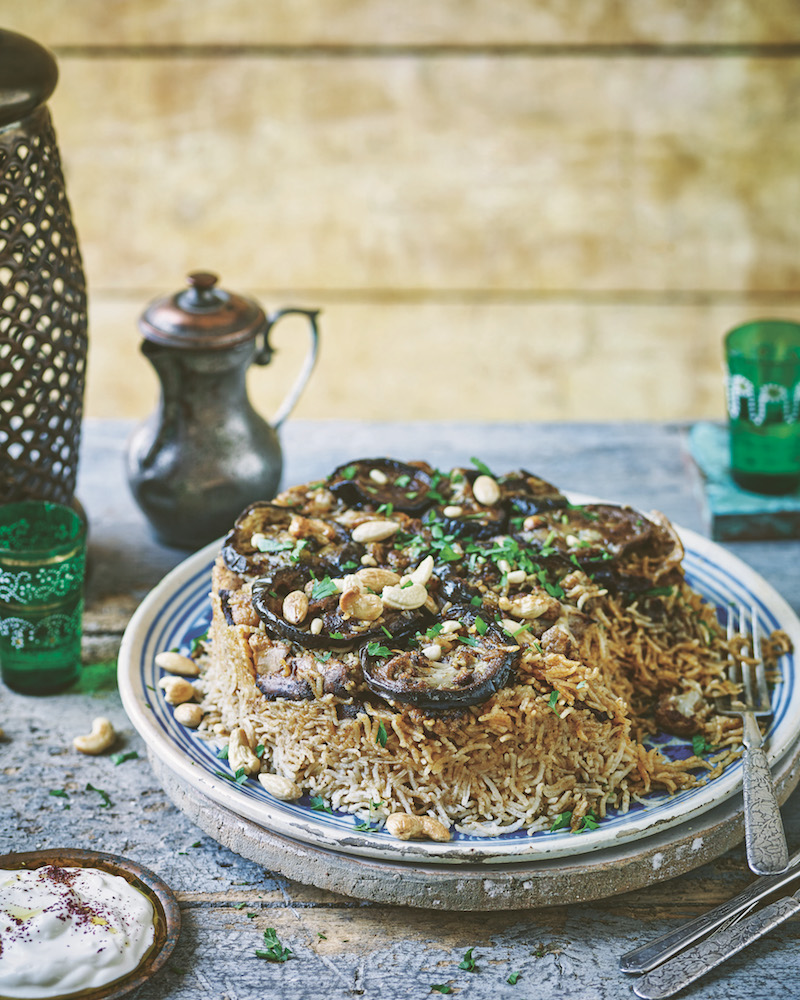 Makloubeh
Makloubeh means upside-down cake and is the name for this rice and vegetable dish that can be found all over the Middle East. John's Beirut version contains meat and is served with fresh herbs and nuts.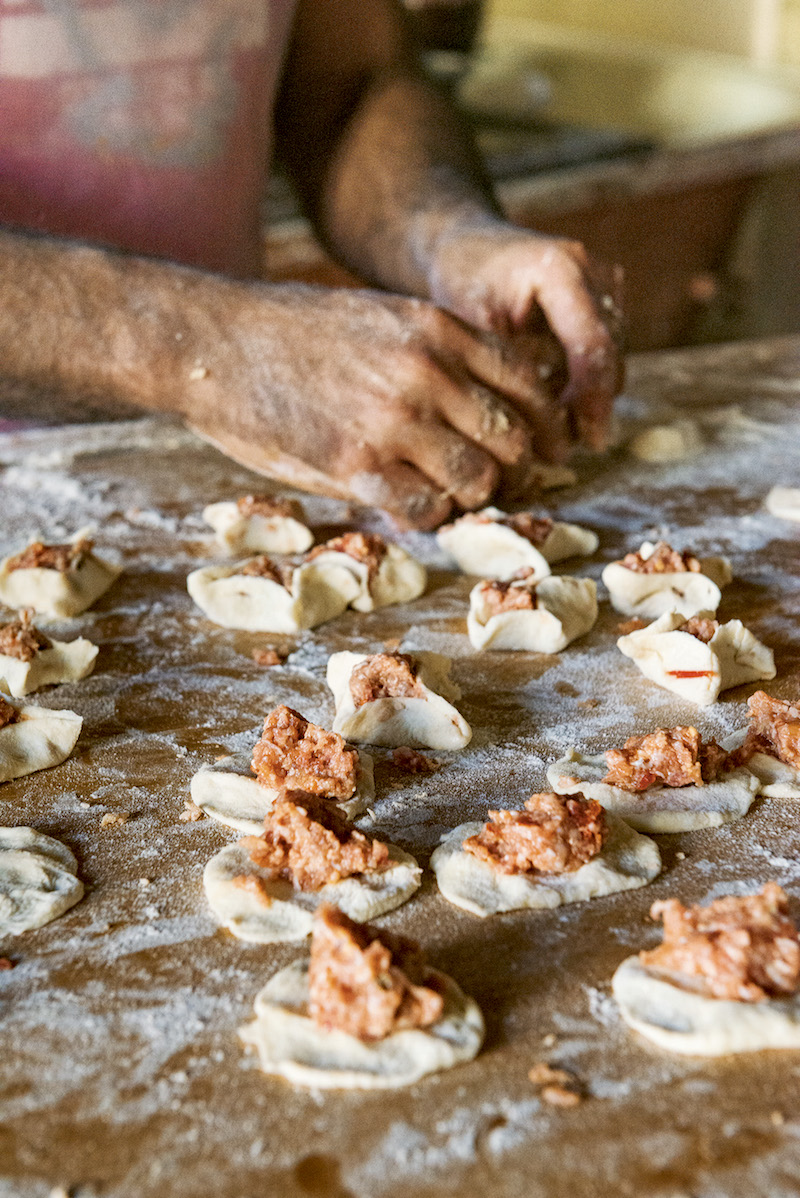 Baalbek Sfiha
Baalbek is a valley area best know for great meat and its Roman ruins. John met a local baker there and learned how to make the best meat pastries or Sfiha. Sfiha are a bit different in each area of Lebanon. This version is pretty classic with a thin, pastry crust and plenty of meat. These make for a great appetizer or meal with a salad.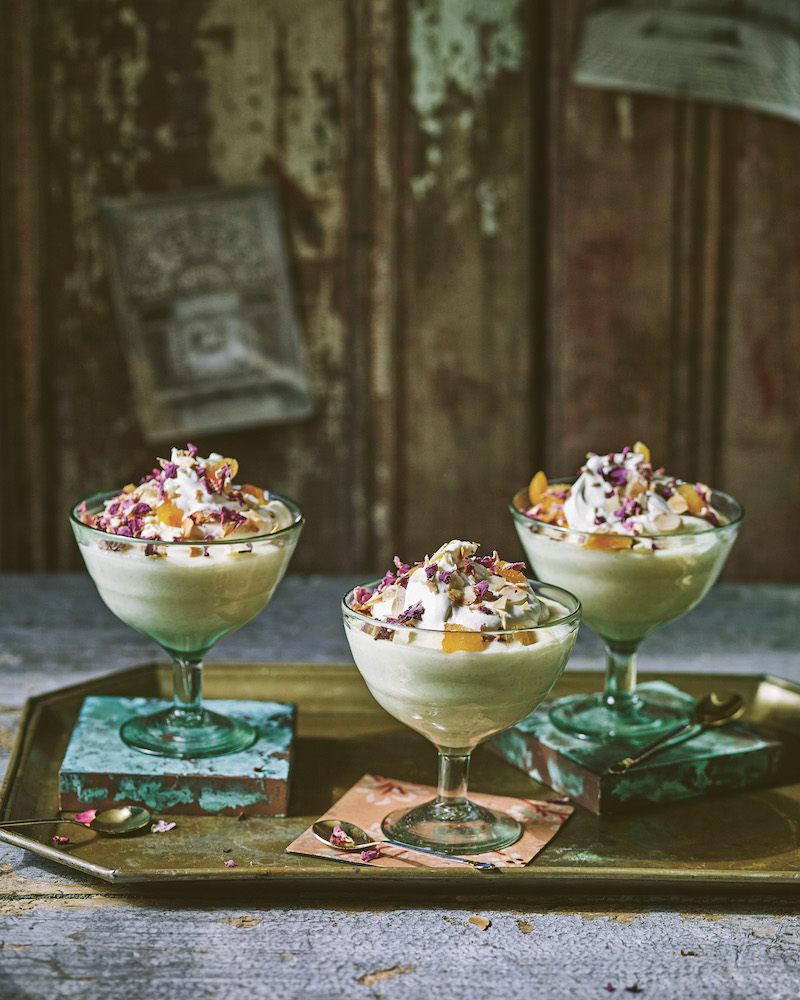 Lebanese Nights Dessert
Known as layali lubana, John came across this sweet treat in the village of Ramliyeh in the mountains. These creamy pudding cups are the perfect end to a meal. Made with cool, sweet semolina cream topped with whipped cream, it is a pure delight.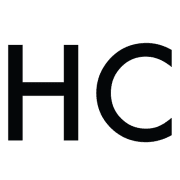 Honest Cooking
The Honest Cooking editorial team handpicks inspiring culinary stories to share with you that we think are beautiful. We strive to create an inspiring place for culinary exploration, salivating recipes, interesting personalities and stories.