Jessica Flanigan with a Greek sauce that makes her forget her dreams of Hollandaise.
Text And Photo By Jessica Flanigan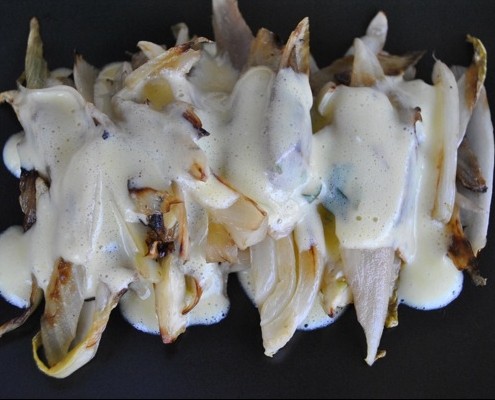 Avgolemono sauce is a Greek Sauce with Mediterranean roots. It is made of eggs, broth and lemon juice. I think of it as a good stand in for hollandaise sauce. I might dream about hollandaise sauce on almost any appropriate food, but rarely do I muster the courage to make it for fear that I would consume a whole bowl of it in all its buttery glory. This sauce is just as special, minus the rich factor. Tarragon seemed like a natural edition to the lemon and egg, and paired with caramelized fennel and endive spears, the avgolemono sauce make it feel like a special occasion dish. I am drawn to  avgolemono's simplicity having only four ingredients, all of which I had in my kitchen. Of course this kind of sauce would work magic on asparagus or oven-roasted broccolini too. One tip: don't boil the sauce or it will curdle the eggs.
Endive and Fennel with Tarragon Avgolemono Sauce
Avgolemono sauce is a Greek Sauce with Mediterranean roots, made of eggs, broth and lemon juice.
Ingredients
1 ½ cups thinly sliced fennel (300g)
4 heads Belgian endive
1 tbls extra virgin olive oil (15ml)
pinch salt
⅔ cup chicken stock (158ml)
⅓ cup lemon juice (79ml)
1 tbls chopped tarragon
2 eggs
Instructions
Trim top and bottom off fennel bulb. Slice lengthwise using a sharp paring knife and slice out the core. Discard core. Slice remaining fennel in long ½ inch strips
Trim ¼ inch off the bottom of the endives. Cut lengthwise into 1 inch thick pieces
Heat olive oil in large pan. Add fennel and cook on medium high heat for 5 minutes stirring occasionally. You are looking for the fennel to start to brown and caramelize. Add endive and pinch of salt. Cook on medium heat for about 7 more minutes or until the endive starts to wilt and becomes soft. Plate and keep in warm place
In a bowl, whisk together lemon juice and eggs until lightly frothy
In saucepan, heat chicken stock until almost simmering. Remove from heat and slowly drizzle the hot stock into the egg mixture while constantly whisking. After mixed, pour back into saucepan and add chopped tarragon. Whisk on low heat until sauce thickens (will coat the back of a spoon) making sure not to bring sauce to a boil. Remove from heat and spoon half of the mixture over the fennel and endive
Jessica Flanigan
Jessica cooks, writes, entertains and talks a lot about food. She roams around local farms, occasionally plans underground dining events and delights in unusual food pairings. She cooks and writes about uncomplicated seasonal food, and hopes to inspire others to support their local food movements.