Elegant Cauliflower Puree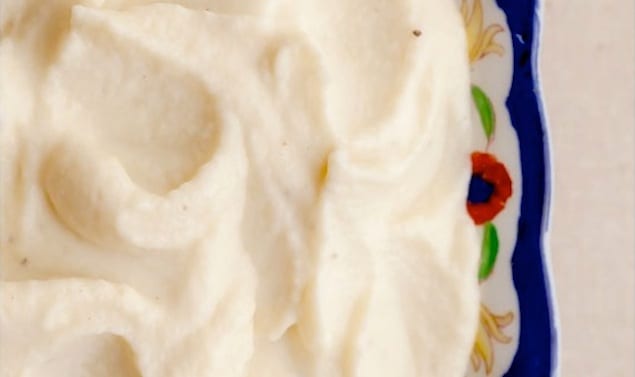 Creamy Cauliflower Puree is smooth and velvet on the tongue. Visually, this side dish is ivory and oozing elegance.
By Taylor Mathis and Sally James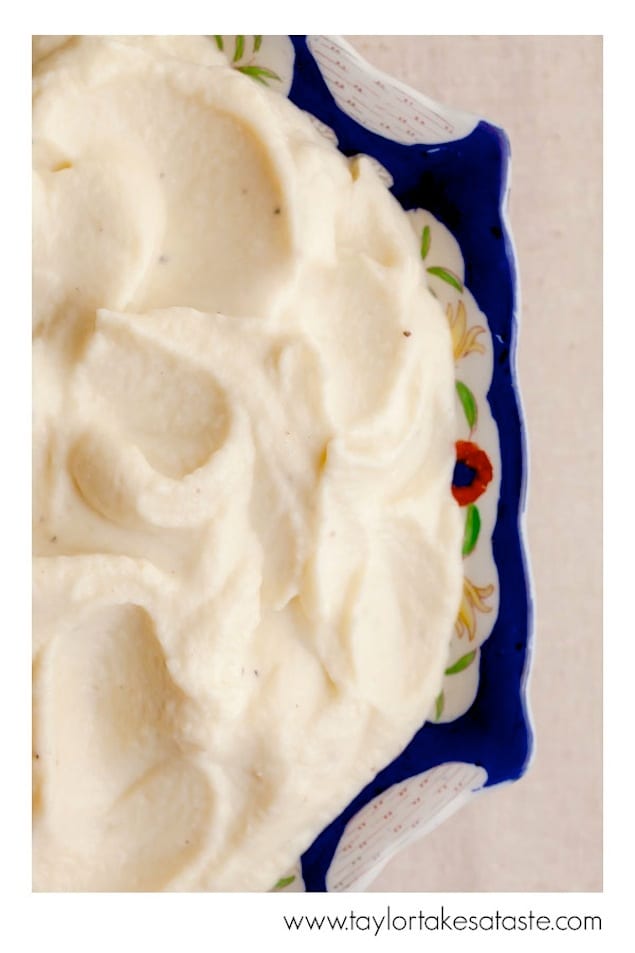 Cauliflower is an interesting word. I can pronounce it correctly in polite conversation. When my brain is on auto pilot, I pronounce it, "Collie flower." Lately, to keep me safe from embarrassment, I mentally morph back to the 4th grade, and pronounce it, "chou- fleur" (meaning cabbage flower) . I loved 4th grade french. It was all nouns and zero grammar! It was 1968 and all the girls wore colorful fish net hoisery, garter belts and go-go boots. Nancy Sinatra's hit, "These Boots Are Made For Walking" (1966) was our anthem! If you can not relate to this ramble, ask your Mom, or go to YouTube and watch Nancy sing for yourself!
In the 1960?s, little cabbage flowers (cauliflower) were frequently seen as part of a crudite platter, served with curry dip (also all the rage back then). Sadly, cauliflower was also boiled until it was as limp and grey as wet newspaper! To avoid serving this grim side dish, cook your cauliflower with milk and broth. The milk keeps the cauliflower blonde and the broth acts as a flavor booster. Creamy Cauliflower Puree is smooth and velvet on the tongue. Visually, this side dish is ivory and oozing elegance. The puree can be served immediately or chilled and reheated the next day. Thin any leftover puree with stock or cream, adjust the seasonings, and you have have a sophisticated cold soup.

Elegant Cauliflower Puree
Creamy Cauliflower Puree is smooth and velvet on the tongue. Visually, this side dish is ivory and oozing elegance.
Author:
Taylor Mathis and Sally James
Ingredients
2 heads cauliflower
4 cups chicken stock
2 cups milk
3 ounces cream cheese, room temperature
3 Tablespoons unsalted butter
½ cup heavy cream, warmed
1¼ teaspoons salt
¼ teaspoon coarse ground black pepper
¼ teaspoon Tabasco sauce
pinch fresh grated nutmeg
Instructions
Trim the cauliflower and cut into into bite-sized pieces. Put the cauliflower into a large pot. Add the chicken stock and milk. Over medium high heat, bring the mixture to a low boil.Cover the pot with a lid and reduce the heat. Cook the cauliflower, covered, at a simmer.
When the cauliflower is fork tender, about 10 minutes, remove it from the heat. Using a colander, strain the cooking liquid from the cooked cauliflower.
Put the cauliflower back into the pot it was cooked in. Cover the top of the pot with a clean towel. Let the cauliflower sit, covered for about 5 minutes.
Remove the towel from the cooking pot. Add the cream cheese, butter and warm cream to the cauliflower.
Using an immersion blender, blend the cauliflower until it forms a puree and the cream cheese, butter and cream are absorbed. Add the salt, pepper, Tabasco and nutmeg. Blend until mixed into the puree.
Serve cauliflower immediately.
Taylor Mathis and Sally James
Sally James and Taylor Mathis are a mother and son duo from Charlotte, NC. Sally, a professional recipe developer, and Taylor, a professional Food and Lifestyle photographer, work together to create beautiful and delicious recipes designed to be eaten anywhere! Together they are the creators and authors of the food Blog Taylor Takes A Taste and worked together on The Southern Tailgating Cookbook.