Eggless White Chocolate Chip Cookies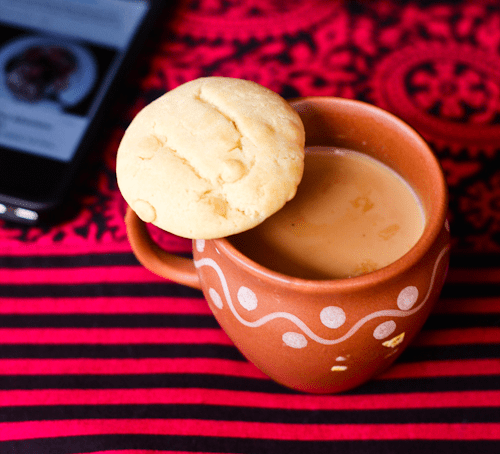 Enjoy this eggless white chocolate chip cookies recipe from Siri Pulipaka.
By Siri Pulipaka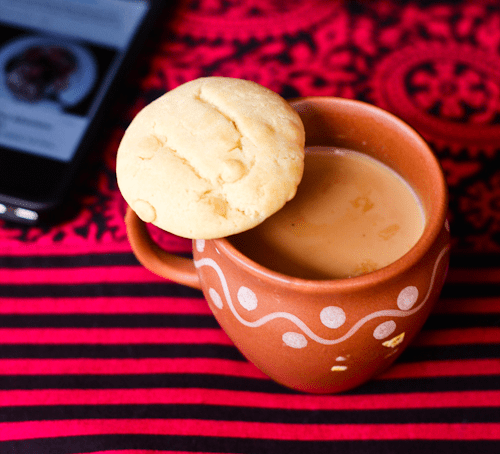 Eggless White Chocolate Chip Cookies
Enjoy this eggless white chocolate chip cookies recipe from Siri Pulipaka.
Ingredients
1.5 cups all purpose flour (maida)
½ cup white chocolate chips
½ tsp baking soda
6 tbsp unsalted butter, room temperature
½ cup condensed milk
4 tbsp sugar
2 tbsp milk
1 tsp vanilla extract
¼ tsp salt (omit if using salted butter)
Instructions
In a large bowl, beat butter and sugar with a mixer until light and fluffy (about 2 mins). Mix in condensed milk, vanilla extract and milk.
On a flat sheet of paper or in a bowl, sieve - flour, baking soda and salt. Give the dry ingredients a gentle mix.
Half cup at a time, add flour mixture to the batter. Mix in the white chocolate chips.
Chill dough in refrigerator for at least 30 min until firm enough to scoop into small lemon-sized balls.
When ready, preheat oven to 180 C or 350 F. Form small balls using two spoons or ice cream scoop and arrange on a cookie sheet or a baking sheet 2 inches apart.
Bake for about 8 to 12 minutes until the cookies look dull on the surface, have spread and still quite moist. Cool the cookies on the pans and then on wire racks for 5-10 mins. Slide them off and cool them completely. Keep the cookies between sheets of wax paper in a tin or an air-tight container.
Siri Pulipaka
Siri is an obsessed foodie, an avid blogger, a passionate photographer and one who yearns for simple pleasures of life. She writes about recipes, her culinary adventures and reviews local restaurants & events on her blog - Cooking With Siri, which she started in summer of 2007 during her stint in the US. She believes in farmer's markets, growing her own food and eating responsibly & locally. She also has a photography blog - 365 Days of Siri, where she shares and documents a slice of her daily life through the camera lens. She currently lives in Hyderabad, India along with her food-loving husband.