PARTNER POST: Discover new ways to incorporate seasonal teas into your holiday cooking and desserts with Celestial Seasonings.
These treats taste like caramel glazed apple pies, but in cookie form. Made with a spiced caramel apple tea, they're the perfect cozy fall treat.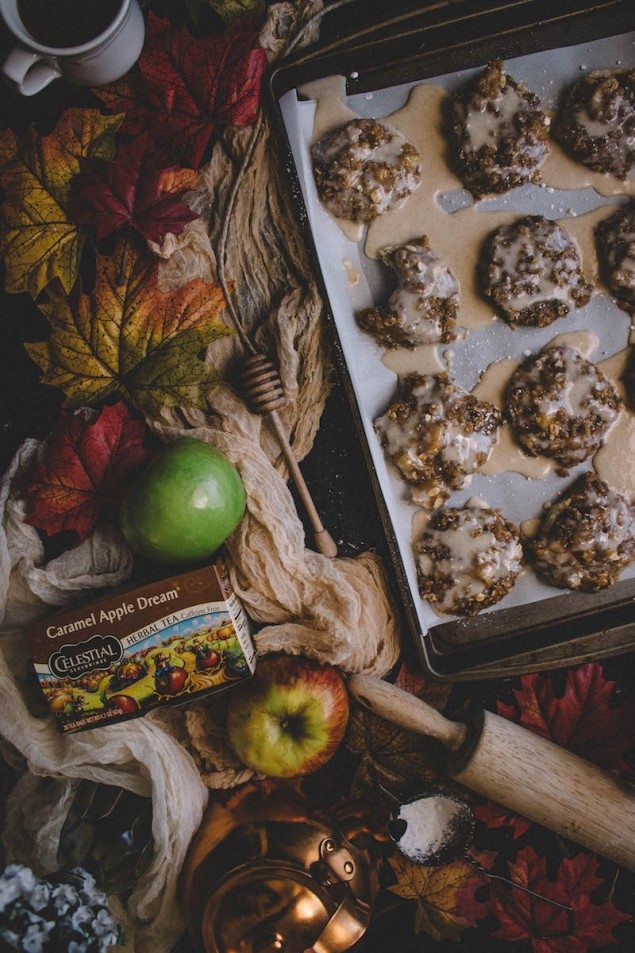 Halloween is over and November is in full swing! The days are colder and the nights are longer. During this time of year, I can be found baking my little heart out in my tiny apartment kitchen. There is something therapeutic about coming home after a long day of school, out from the biting autumn winds of Illinois, and just baking my feelings. After I am all said and done, I take a deep sigh, brew myself a steaming cup of tea, sit down at my desk and proceed to go on a photo editing binge, the sounds of smooth jazz acoustics playing softly in the background.
As I've gotten older, tea has become one of those drinks that has quickly grown on me. Coffee has always had my heart (or at least since freshman year of college when I started drinking it), but there is something so powerful about the calming, floral flavors that tea provides. It's this which has recently gotten my hooked, the warm brew trickling down my throat with each savored sip. Tea reminds of late night study sessions a friend's apartment, our laughter proceeded late into the evening. Happy memories and funny moments, all over a cup of tea, and more specifically, Celestial Seasonings tea.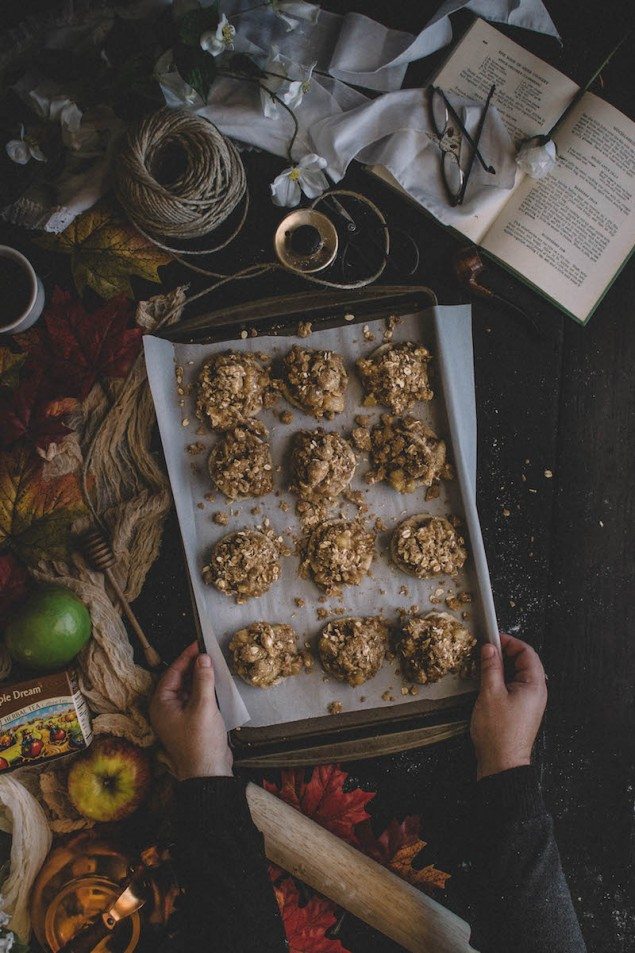 I discovered Celestial Seasoning's teas over a year ago when my parents brought home a shopping bag full of CS's holiday inspired teas. One sip of the caramel apple dream tea and I was instantly obsessed. So when Celestial reached out to me to be a part of their #TheMagicOfTea campaign, I was pretty dang excited.
With Halloween over, I am now 110% Thanksgiving! And with the holiday season upon us, it is apple baking season (one of my favorite times of the year for baking). For this post, I am getting my apple game on and sharing my recipe for these decadent apple pie cookies. I've been making these Dutch Apple Pie Cookies for years now. I discovered this recipe when I started cooking and I have been obsessed ever since. Next to Momma Crawford's chocolate chip cookie recipe, it's one of my favorite cookie recipes ever.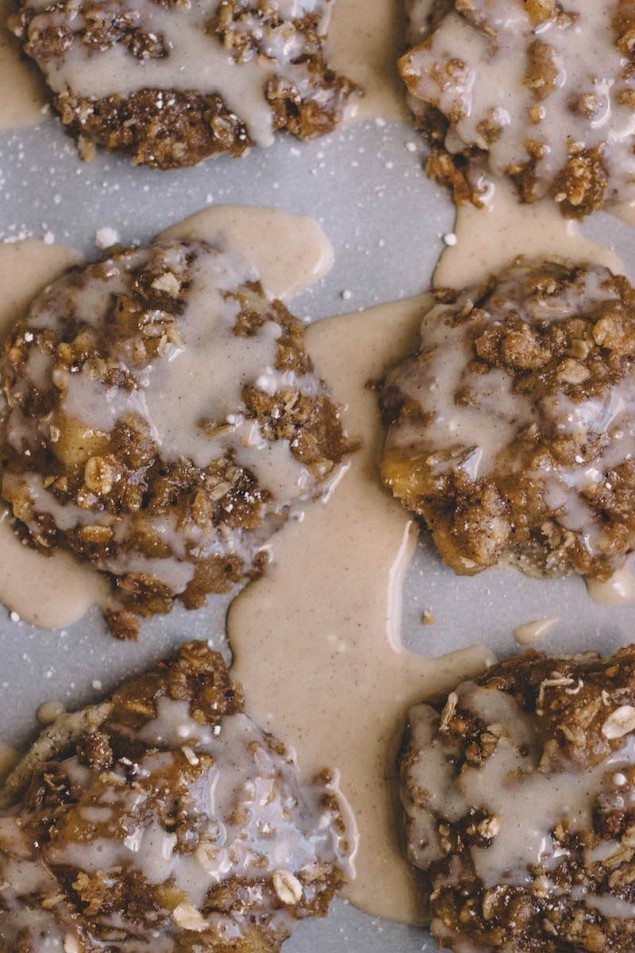 This cookie is all the best parts of an apple pie but reconstructed and assembled onto a bite-sized, buttery, crust-like cookie. The cookie base is a hybrid between a shortbread cookie and a traditional pie crust which is so addicting. I can literally eat just this dough by itself it is that good. So warm. So butter. So divine. Then the apple filling layer is bubbly and perfectly cascaded over the cookie base with the warm, sugary crumble all spiced and tender over top. A drizzle of the caramel apple icing glaze over top and you have yourself an easy, peasy, dynamite cookie! It's one of those recipes I can make in synch but still get all the beloved flavors of a traditional apple pie, which takes WAAY longer. (If you want to learn how to make an apple pie from scratch, check out this post here!) A cookie in one hand and a cup of tea in the other and friends and family around to share them with, and you have my definition of a wonderful time.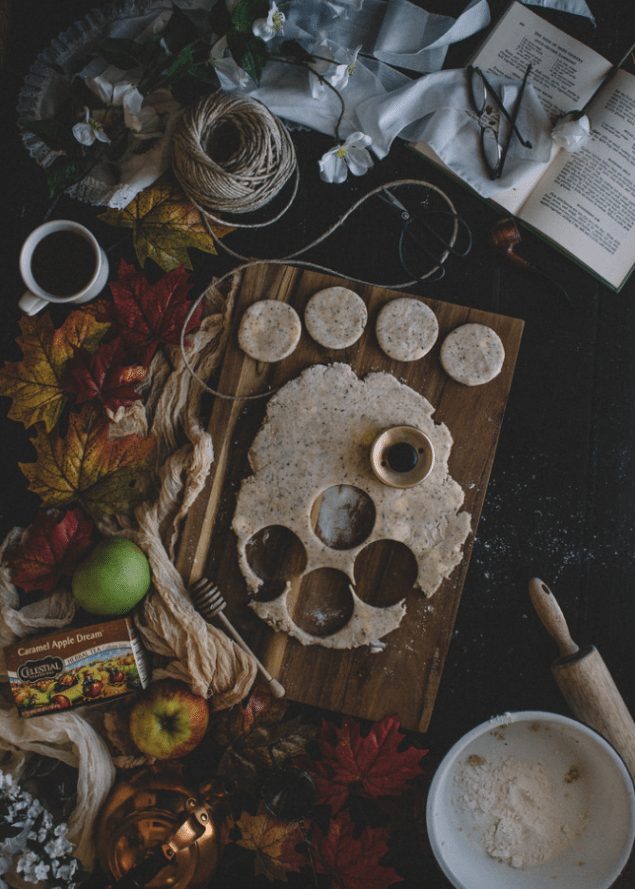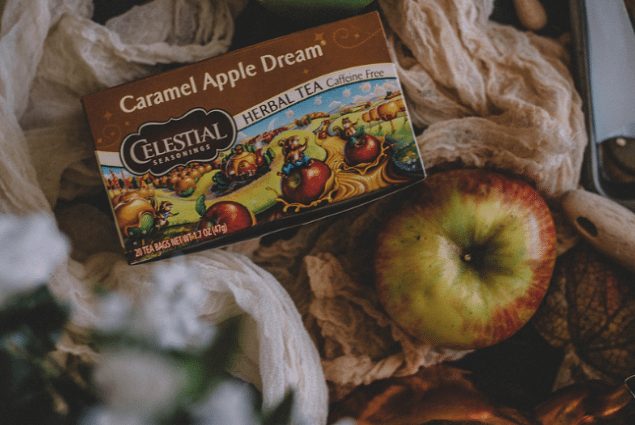 Want to try another fun scone recipe for the holidays? Check out these Sugar Cookie Sleigh Ride Scones! Recipe here.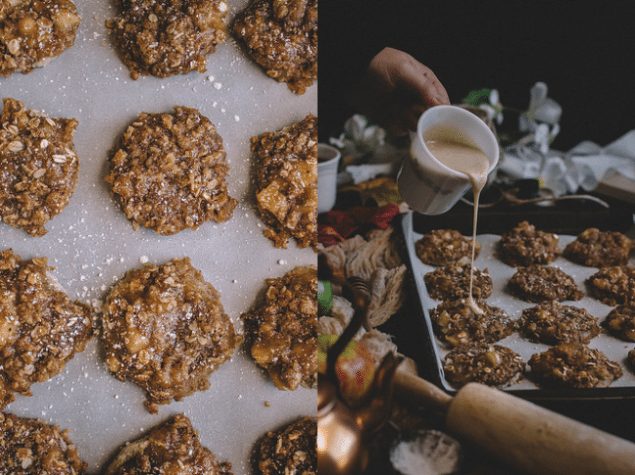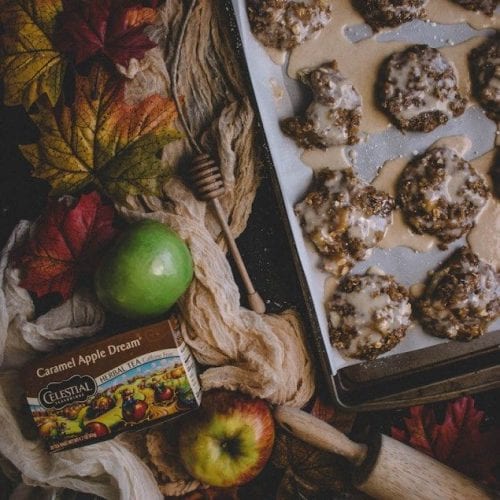 Nathaniel Crawford
Ingredients
For the crust
2 ½

cups

all-purpose flour

plus more for dusting

1

tablespoons

3 tea bags Caramel Apple Tea, dried leaves (not brewed!)

1

teaspoon

salt

8

tablespoons

butter

cubed and chilled

6

tablespoons

shortening

chilled

6

tablespoons

ice cold water
For the topping + streusel
1

cup

brown sugar

¾

cup

all-purpose flour

¾

cup

rolled oats

1

teaspoon

ground cinnamon

1

teaspoon

1 tea bag Caramel Apple Tea

1/8

teaspoon

nutmeg

½

teaspoon

salt

½

teaspoon

baking powder

1 ½

cup

canned apple pie filling

roughly chopped (a trick I found is using a sharp knife and cut the apples while still in the can)

Powdered sugar

for garnish
For the caramel apple drizzle
2

cups

confectioners' sugar

1

14oz. can of sweetened condensed milk

2

tablespoons

bourbon

1

teaspoon

vanilla extract

¼

teaspoon

apple cider vinegar

1

teaspoon

ground cinnamon
Instructions
For the crust.
Preheat the oven to 375 F. In a large bowl, whisk together the flour, tea, and salt. Cut the butter and shortening into the flour mixture until it resembles a coarse meal. Add the cold water and stir with a fork. Once the dough begins coming together, switch to your hands and gently work the dough into a ball.

Transfer dough to a lightly floured surface. Roll dough out to a 1/8" thickness. Using a biscuit cutter, cut out as many circles as you can. Place each round of dough onto a baking sheet lined with parchment paper. Collect the dough scraps and roll and cut more rounds. I ended up with 12 in total. Place the sheet pan into the fridge while you prepare the topping.
For the topping.
In a large bowl, whisk together the brown sugar, flour, oats, ground cinnamon, tea, nutmeg, salt, and baking powder. Add the butter chunks and mix with your fingers until all the butter is incorporated and it begins to form crumbles. Divide this mixture 2:1 between two separate bowls. In the bowl with more of the crumble mixture, add in the chopped apple pie filling and stir until well incorporated.
For assembly.
Place a heaping tablespoon of the apple pie topping mixture over each round of crust. Sprinkle on roughly ½ a teaspoon of reserved crumble over each cookie. Bake for 14-15 minutes or until the bottoms are lightly browned and the apple filling is oozing over the sides of the cookies (don't worry, this is a good thing!). Remove from the oven and allow to cool. If desire, take a sharp knife and cut off the excess overflowed topping (a great snack to nibble on!). Transfer to a wire rack.
For the caramel apple drizzle.
In a medium mixing bowl, combine the confectioners' sugar and sweetened condensed milk until combined. Add the bourbon, vanilla, vinegar, and cinnamon. Drizzle over cooling cookies. Optional step: top each cookie with a scoop of vanilla ice cream and just devour!
Notes
Original recipe adapted from Food Pusher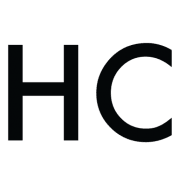 Nathaniel Crawford
My name is Nathaniel. I'm a 21-year-old food photographer and blogger. From the cornfield jungle of Central Illinois, I'm a lover of sunsets, bonfires, and warm apple pie. Every recipe tested, photo taken, and word written comes from the "test kitchen" that is my one-bedroom apartment. It's really quite a lovely abode. I started the blog on January 3rd, 2015 and it has been a crazy ride ever since. I have learned SO MUCH about food, photography, and blogging. I love the rustic and aged. I'm inspired by the contrasts of light and shadows (gotta love those shadows). When I'm not obsessing about food or geeky camera facts, I can be found walking through the woods (with my camera in hand!) or watching an excessive amount of YouTube videos.