Celebrate Derby Day with one of these riffs on the Mint Julep cocktail. A perfect way to say cheers to Mint Julep Month.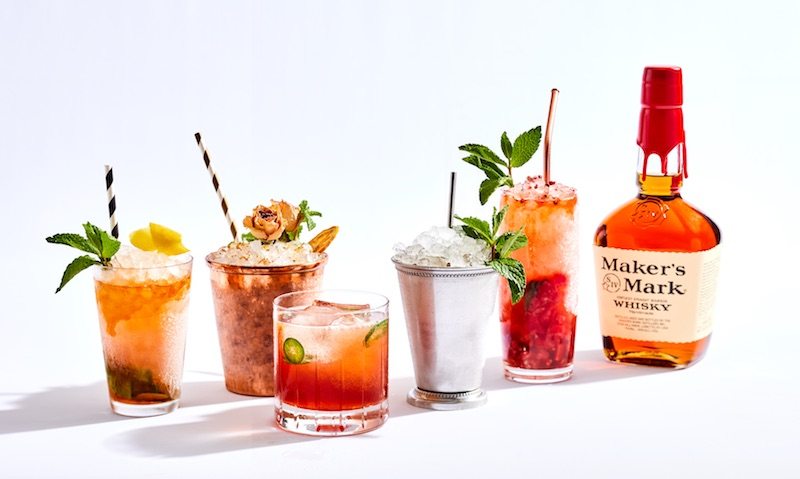 Now through May 5, 2018 participating bars and restaurants across the nation will toast the Mint Julep with custom riffs on the classic cocktail and special events in its honor for Mint Julep Month. Since the 1800s, the Mint Julep has been one of America's most iconic cocktails. The Mint Julep made its way from Virginia to its home in Kentucky, where it's celebrated as the quintessential Spring cocktail. Did you know the straw was created for this drink? Unfortunately, the paper straws of the 1800s have evolved into the modern plastic straws that contribute heavily to plastic pollution in our oceans and waterways. It's believed that America now uses over 500 million plastic straws each day, for Juleps and otherwise. The participating bars will be bringing the drink back to its paper-straw roots to limit the use of single use plastic straws and make a lasting positive difference for our environment. Historically, these deliciously sweet boozy slushies have been limited to one day a year on Derby Day, but this national initiative from Maker's Mark bourbon is giving this iconic cocktail some much deserved extra attention. More info here.
Check out just a few of the most inventive Mint Julep riffs below from top bartending talent currently available at participating bars throughout the country.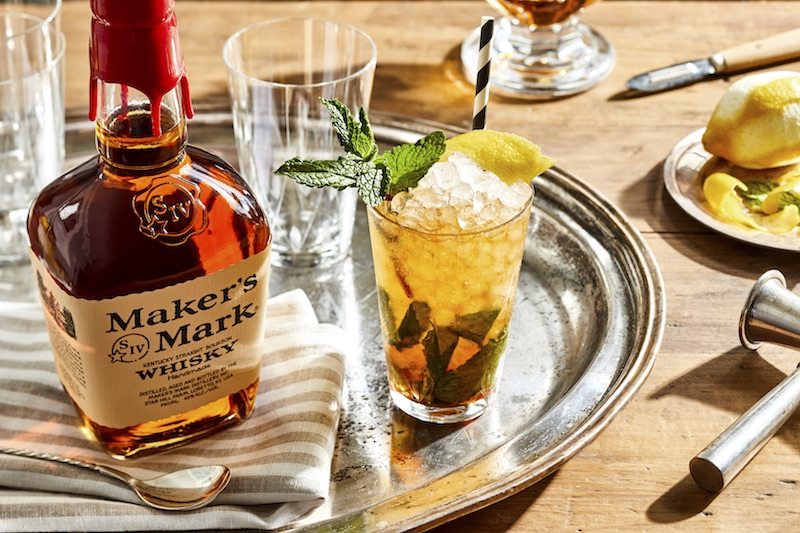 Image by Peter Frank Edwards
Sallie Gardner
Created by Matt Lofink, Bartender at Cure in New Orleans, Louisiana
1½ parts Maker's Mark® bourbon
½ part B. Lo Nardini® Amaro liqueur
1 tsp. orgeat syrup
7 mint leaves
1 dash Regan's® orange bitters
1 lemon swath
1 fresh mint sprig
Put all ingredients except lemon swath into a julep cup, fill halfway with crushed ice, and stir until outside of tin becomes slightly frosted. Express the lemon swath and drop into cup. Top with crushed ice and garnish with a fresh mint sprig.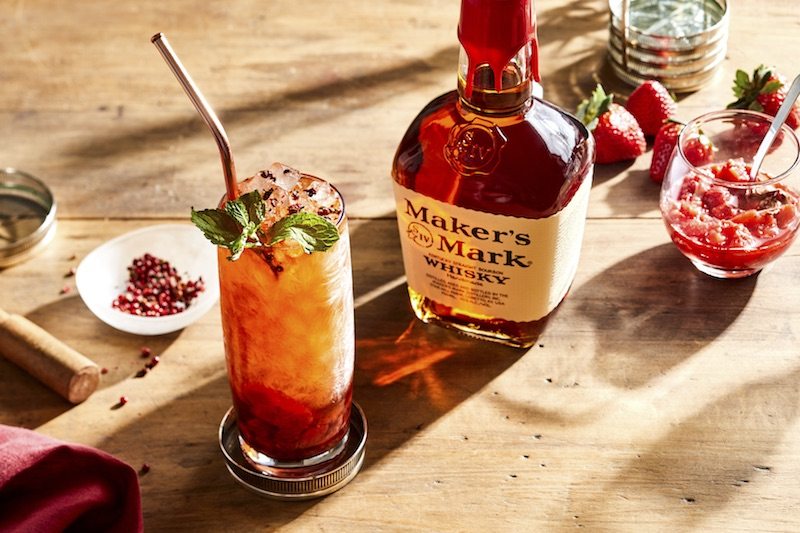 Image by Peter Frank Edwards
A Study in Pink
Created by Kellie Thorn, Beverage Director Empire State South in Atlanta, Georgia
5 parts Maker's Mark® bourbon
1 part macerated strawberry, raspberry, and mint syrup (recipe below)
1 part Lustau® "Los Arcos" Amontillado Sherry
1 part filtered water
Ground pink peppercorns
Strawberry and raspberry castor sugar (recipe below)
Bouquet of mint leaves
Combine syrup, sherry, water, and Maker's Mark® bourbon in an 11-oz. collins glass or an 11-oz. julep cup. Fill the vessel up halfway with crushed ice. Stir until the outside of the vessel is frosted. Top with more crushed ice. Top crushed ice with a dusting of strawberry and raspberry castor sugar and ground pink peppercorns. Garnish with a bouquet of mint. *For the strawberry, raspberry, and mint syrup: In a container (a mason jar works), combine 1 cup of chopped strawberries, 1 cup of chopped raspberries, and a handful of mint. Coat with sugar and allow to sit at room temperature until a syrup forms. Strain the syrup to remove any remaining fruit. Do not heat. *For the strawberry and raspberry castor sugar: Castor sugar (also called baker's sugar) is superfine but not powdered. To make the fruit-flavored castor sugar, place a handful of frozen organic berries into a clean coffee grinder and grind until it is the same consistency as the castor sugar. Mix the two ingredients. Use a small metal spoon to dust the top of the drink.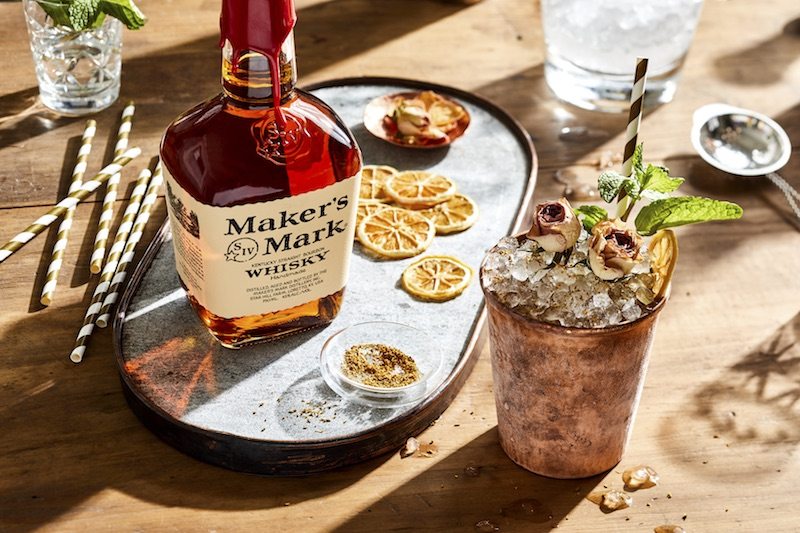 Image by Peter Frank Edwards
Nature's Sweet Restorer
Created by Ryan Casey, Beverage Director at The Dewberry hotel in Charleston, South Carolina
See Also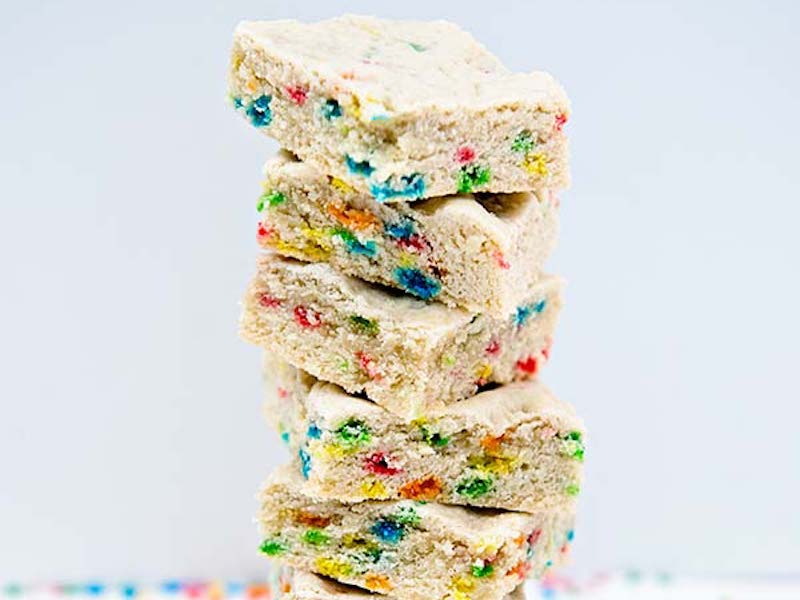 2 parts Maker's Mark® bourbon
3/4 part Strega® liqueur
1/4 part Jack Rudy Cocktail Co.® tonic syrup
1/8 part Suze aperitif
1 lemon peel
1 orange peel
7–10 mint leaves
1 tsp. aperitif
Fennel frond
Mint
Dehydrated lemon coin
Fennel pollen
Dried roses
Place all ingredients except Maker's Mark® bourbon and orange peel into a julep cup. Muddle to combine. Top with Maker's Mark® bourbon. Fill cup with crushed ice. Express orange peel over drink and discard. Garnish with fennel frond, mint, dehydrated lemon coin, dried roses (optional), and fennel pollen.
And in case you'd like to create your own twist on the Mint Julep, here is the orignal recipe as a starting point: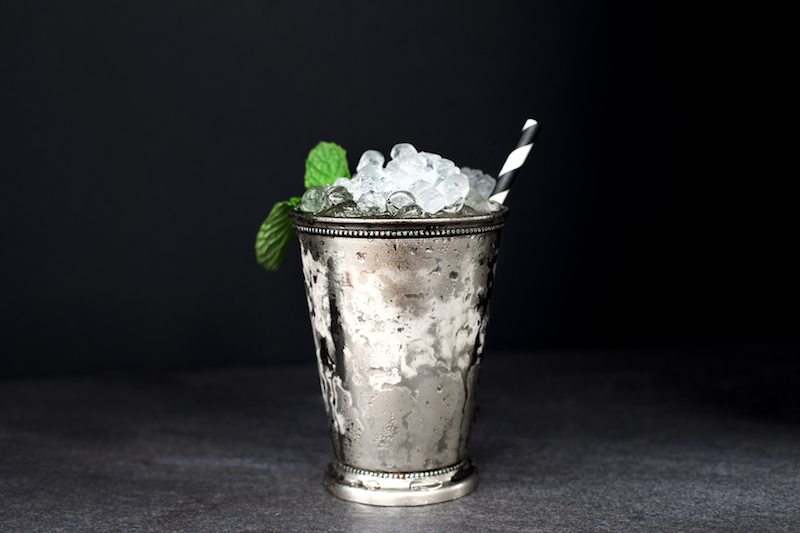 Image by Maggie Armstrong
Classic Mint Julep
Created by Chef Newman Miller, Star Hill Provisions at Maker's Mark Distillery
2 parts Maker's Mark® bourbon
3/4 part Mint Simple Syrup*
Large sprigs of mint
Combine ingredients, stir over rocks and pour into Mint Julep glass with crushed ice. Garnish with large
sprigs of mint. *For mint simple syrup, add drops of high quality mint extract to taste with traditional
50/50 simple syrup.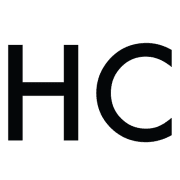 Honest Cooking
The Honest Cooking editorial team handpicks inspiring culinary stories to share with you that we think are beautiful. As an international online culinary magazine with the ambition to truly change the face of online food media we hope to create an inspiring place for serious culinary debate, salivating recipes, interesting food news and international food-fun.