PARTNER POST — Discover the unique flavors of the Dijon region with Maille.
This grilled chicken is a real crowd-pleaser. One bite of the tender, juicy meat marinated in lemon and harissa Dijon for a flavor punch and guests will be asking for the secret.
By Keith Jackie
Grilled chicken is one of Keith's favorite things to make. In fact, Keith thoroughly enjoys grilling in general. He loves to develop interesting marinades and rubs that bring out the natural flavors in meats and fish, and believe me, he is really good at it. Our friends at Maille sent us some delectable samplings of their world-famous mustards recently, and Keith chose their Lemon and Harissa blend as the key ingredient for this incredible citrus dijon marinade. This mustard is unlike anything we have ever tasted; its unique, robust flavor make it an ideal pairing for poultry. Grilled chicken has never tasted so good.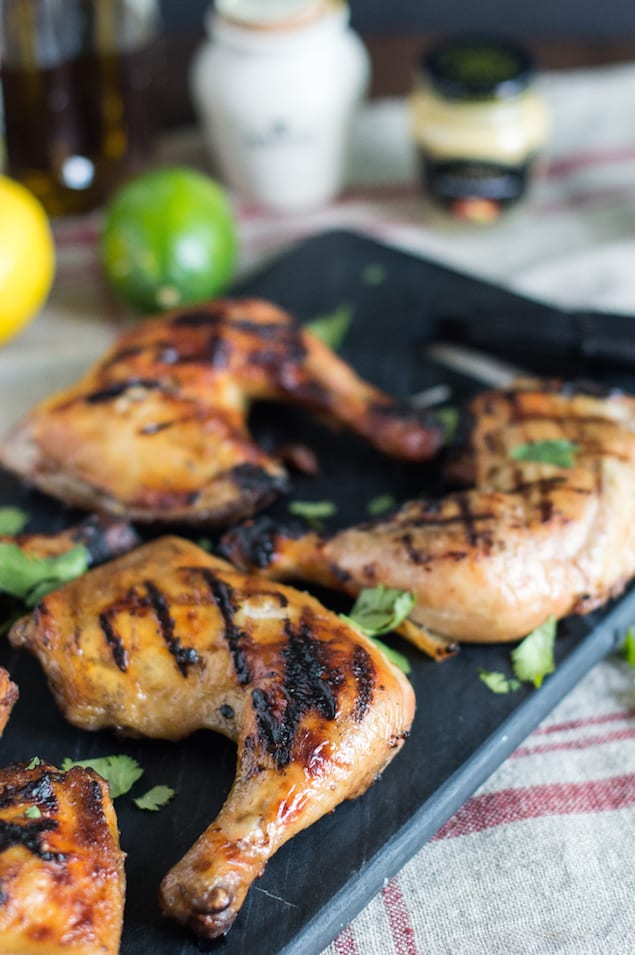 Keith believes in using bone-in leg quarters for grilling. He has explained to me on many occasions how bone-in chicken is much more flavorful when grilled, and I have learned not to question him. One bite of this tender, juicy chicken can convert any cynic. The lemon and harissa Dijon marinade packs a real punch; the exotic flavor of harissa with the cool taste of citrus was so delicious that I even snuck some of it onto my mixed greens as a dressing. Be sure to let this flavorful marinade "do its thing" by refrigerating the chicken for at least six hours (or ideally overnight). We guarantee you won't regret it.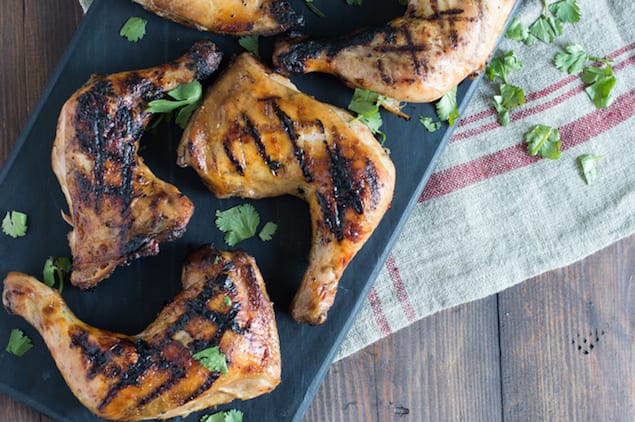 See Also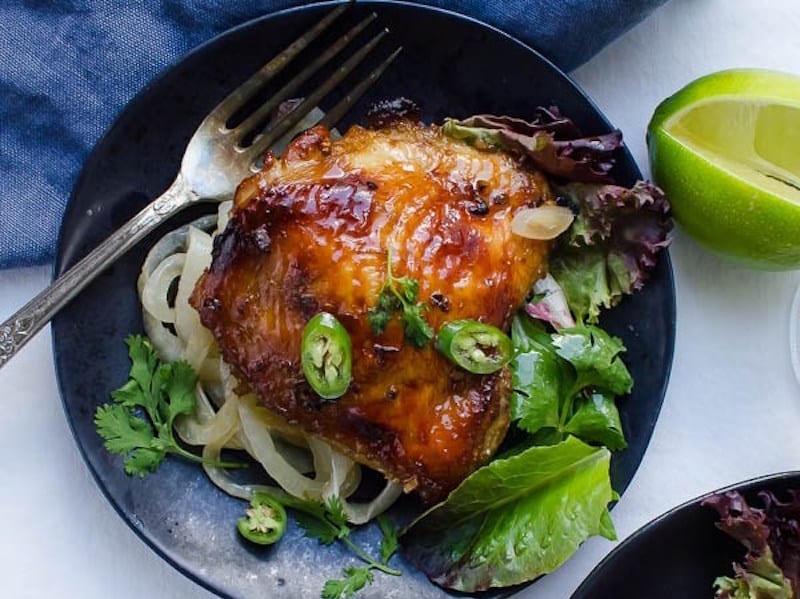 This grilled chicken is quite the crowd-pleaser. It passes the kid test, and it has that extra something that discerning adults will take notice of. What a way to kick of summer grilling season! My superman is happy at his grill, the sun is shining, and all is right with the world.
[fve]https://vimeo.com/126301319[/fve]
Print
Delights of Dijon — Grilled Chicken with Lemon-Harissa Mustard Marinade
---
Description
One bite of the tender, crowd-pleasing chicken marinated in lemon and harissa Dijon for a flavor punch and guests will be asking for the secret.
---
8

bone in chicken quarters

2

lemons

2

limes

1

C brown sugar

½

C olive oil

½

C white wine vinegar

3

garlic gloves, chopped

¼

C chopped cilantro

1

3.8 oz jar Maille Harissa and Lemon mustard
---
Instructions
In a mixing bowl, juice two lemons and two limes, leaving lemon and lime halves in bowl with juice
Whisk in brown sugar, chopped garlic, vinegar, lemon harissa mustard, and olive oil.
Add most of cilantro, reserving a tablespoon to use as garnish.
Transfer marinade to large zip lock bag and add chicken pieces.
Seal bag, while removing most of the air in the bag.
Refrigerate for at least 6 hours (preferably overnight)
Remove chicken from bag and discard remaining marinade.
Heat grill up to HIGH and spray with cooking spray to prevent chicken from sticking.
Place chicken pieces skin side down on grill and turn a quarter turn after 3-4 minutes.
Cook another 3-4 minutes, turn chicken over and repeat.
Once all chicken is browned (like in the photos), transfer chicken to one side of the grill and turn off flame on this side of grill.
On the side of the grill that has no chicken, turn grill to high. This is indirectly cooking the chicken.
Continue to cook covered for about 45 minutes turning occasionally to avoid scorching.
Chicken should reach an internal temperature of 165 degrees, you can monitor this with a meat thermometer or until juices run clear when poked with a fork.
When chicken has reached 165 degrees remove from grill and place on baking sheet and cover tightly with foil.
Allow to sit covered for 10 minutes
Transfer chicken to serving plate and garnish with remaining cilantro
This marinade also makes a great salad dressing (just be sure to not use it if there has been contact with chicken).
Keith Jackie
We met on a warm summer evening. His square jaw and engaging smile reminded me a bit of Clark Kent. We share a passion for life: music, baseball, and especially food. He makes me feel like I can fly. Welcome to our exploration of food, recipes and ideas that celebrates our life together. He creates the recipes and prepares the food, and I am the documentarian. My superman can cook! Check out our site, Superman Cooks.