Delights of Dijon — Crispy Roasted Cauliflower with Mustard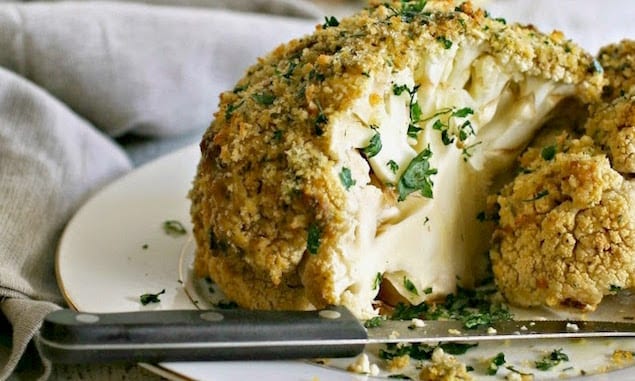 PARTNER POST — Discover the unique flavors of the Dijon region with Maille.
With simple ingredients like mustard, olive oil, garlic, parmesan cheese and breadcrumbs you can create a unique vegetable side dish that is worthy of a dinner party.
By Anita Schecter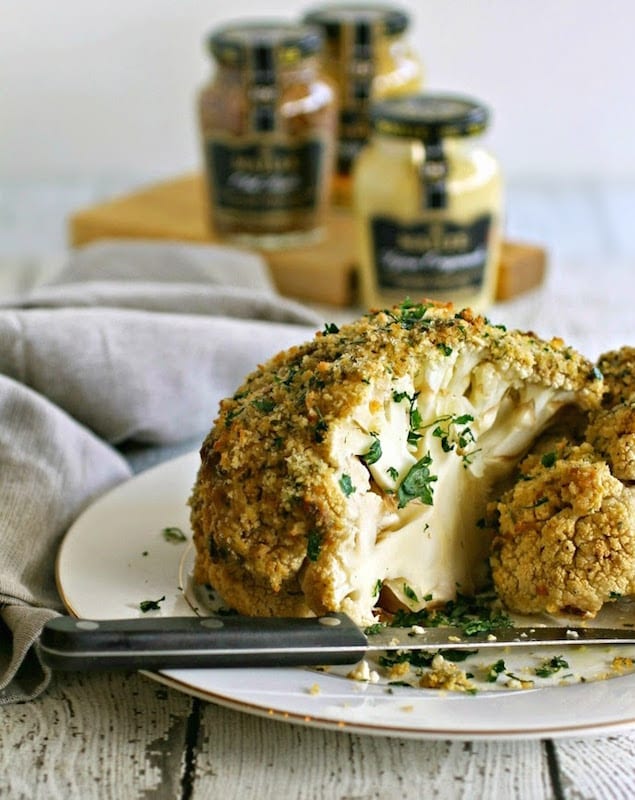 I'm not sure how much cauliflower I eat in a given year but it would not surprise me at all to find out I'm personally subsidizing some nice cauliflower grower out there. It's my favorite vegetable.
That being the case, I have a lot of recipes for it and do quite a few creative things. But sometimes I find myself staring at a head of cauliflower and wondering what else I can do to punch it up. I looked for inspiration in my fridge and pantry and stared at my jar of Maille Dijon mustard. It's great stuff, definitely my choice on a sandwich, so why haven't I thought to use it more for vegetable cooking? No idea. But I've seen the light.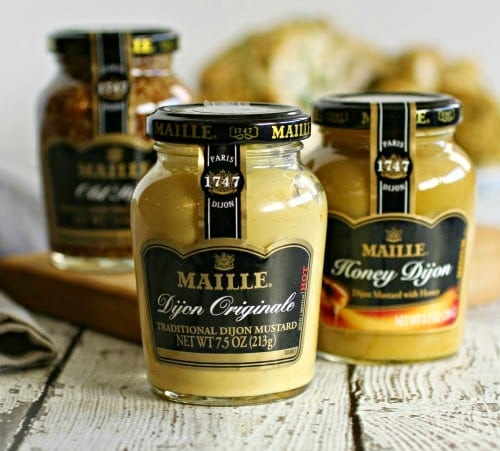 I added all the things in my pantry that pack flavor like the mustard, olive oil, garlic, Parmesan cheese and my favorite seasoned Panko breadcrumbs. This was going to be no ordinary cauliflower. It took a few tries to get the ratios and cooking times the way I wanted them but I also didn't mind eating the experiments. In the end I had a side dish worthy of company. But if I'm honest, I'm quite happy to just put the whole thing on my plate, grab a knife and fork and call this dinner. Enjoy!

Delights of Dijon — Crispy Roasted Cauliflower with Mustard
With simple ingredients like mustard, olive oil, garlic, parmesan cheese and breadcrumbs you can create a unique vegetable side dish that is worthy of a dinner party.
Ingredients
1 Head cauliflower
¼ Cup olive oil
3 Tablespoons Dijon mustard
1 Tablespoon grated Parmesan cheese
1 Tablespoon chopped parsley
½ Teaspoon black pepper
½ Teaspoon garlic powder
2 Tablespoons seasoned breadcrumbs
Instructions
Pre-heat the oven to 400 degrees.
Trim the leaves and stem of the cauliflower so that it stands up relatively straight. Wrap in aluminum foil and bake for 30 minutes. Remove from the foil and allow to cool for 15 minutes but keep the oven on.
In a bowl, whisk together the olive oil, mustard, Parmesan cheese, parsley, pepper and garlic powder. It will probably resemble a slightly thick paste. Place the cauliflower on a sheet pan lined with parchment paper and rub the mixture all over the surface. Sprinkle on the breadcrumbs and return to the oven for another 30 minutes or until the breadcrumbs are golden brown.
Note that I did not find that any additional salt was needed since the mustard, cheese and breadcrumbs were all salty. If you use unseasoned breadcrumbs, you may need to sprinkle on a bit of salt to taste.