Fresh blueberries combined with a zest of lemon make this bread unbelievably delicious.
By Kelly Hunt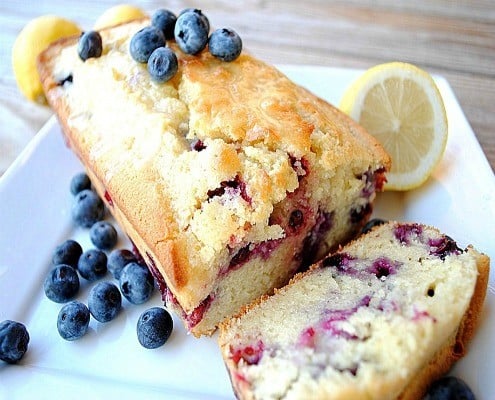 This is pretty much the BEST bread ever!  I know what you're thinking…..but it's over 100 degrees outside!!  Yes.  I'm fully aware.  However, I was recently given some adorable new loaf pans and a brand new kitchen-aid mixer for my birthday so what's a girl to do??  Now I'm not much of a baker (and I'm absolutely nowhere NEAR being a decorator) but that is something I'm really trying to do more of and want to get better at.  This was such a surprisingly quick and easy bread to make and made our entire house smell incredible!  Blueberries are so abundant right now and I already had so many on hand that this recipe was a no-brainer.  Oh and I must say, I LOVE the way blueberries show up in photos!  Aren't they just so pretty??
The lemon zest in this wonderful bread really gives it that zing that I was hoping to achieve.  I'll be honest, I didn't lighten this up as much as I had wanted to (sorry).  I did use Splenda instead of sugar which cut a lot of the calories (you really can't tell the difference) but I wanted this to be moist, sweet and delicious!  This bread is perfect to have as a morning slice with your coffee or even as a little after dinner dessert.  A little indulgence is never a bad thing and it will only give you more motivation to work out. Hope you enjoy it as much as I did.
Print
Blueberry Lemon Bread
Fresh blueberries combined with a zest of lemon make this bread unbelievably delicious
Author:

Kelly Hunt

Yield:

1

2

1

x
1 1/2 cups

all-purpose flour

1 tsp

. baking powder

1/4 tsp

. salt

6 Tbsp

unsalted butter, room temperature

6 Tbsp

Splenda (or

3/4 cup

white sugar)

2

large eggs

1/2 tsp

. pure vanilla extract

1 Tbsp

grated lemon zest (about

1

lemon)

1/2 cup

fat-free milk

1 cup

fresh blueberries

3/4 cup

confectioner's sugar

2 Tbsp

fresh lemon juice
Instructions
Preheat oven to 350 degrees F and place the oven rack in the center of the oven. Spray with a non-stick vegetable spray (or butter if you prefer) the bottom and sides of a loaf pan (9 x 5 x 3 inch). In a separate bowl, whisk together the flour, baking powder and salt.
In the bowl of your electric mixer, or with a hand mixer, beat the butter until softened (about 1 minute). Add the sugar and continue to beat until light and fluffy. Add the eggs, one at a time, beating well after each addition. Scrape down the sides of the bowl as needed. Beat in the vanilla extract and lemon zest. With the mixer on low, add the flour mixture (in three additions) and milk (in two additions) alternately, starting and ending with the flour. Mix only until combined. Gently fold in the blueberries.
Scrape the batter into the prepared pan and bake for about 55 minutes, or until the bread is golden brown and a toothpick inserted in the center comes out clean.
Meanwhile, in a small saucepan, whisk the 3/4 cup confectioner's sugar and the 2 tablespoons of lemon juice together until all blended together. Allow loaf to cool for about 10 minutes, remove from pan and drizzle glaze over top. Enjoy!
Nutrition
Serving Size:

1 slice

Calories:

159

Fat:

7 g

Carbohydrates:

21 g

Fiber:

0.9 g

Protein:

3.2 g
Kelly Hunt
Kelly is a DC based food blogger with a true passion for cooking and a love for photography. Her blog "Eat Yourself Skinny" has been featured on such sites as Cooking Light Magazine and Women's Health and she shares how maintaining a healthy lifestyle can be fun. As a home cook, she loves to put a spin on classic favorites by substituting calorie-loaded ingredients with healthier alternatives that still taste delicious.